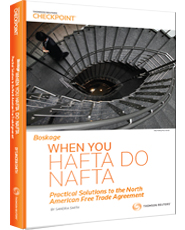 When You Hafta Do Nafta
When You Hafta Do Nafta: Practical Solutions to the North American Free Trade Agreement
The North American Free Trade Agreement explained clearly and concisely; it's the perfect text for manufacturers, importers, exporters, corporate trainers, or for producers and vendors of any products in North America. Quickly master concepts such as Regional Value Content (RVC), tariff shifts, Country of Origin marking requirements, classification and valuation, audit procedures, form and report filing, and more!
Features include:
Practical Solutions from an industry expert.
U.S. Customs Compliance advice.
Helpful icons for easy reading.
197 pages
by Sandra Smith
About the Author
Sandra Smith was employed by the U.S. Customs Service for over twenty years as an Import Specialist, Team Leader, Field National Import Specialist, and Supervisor. She now owns Import Consulting Services, Inc., and provides training and advice to importers and brokers. She has been a speaker and conducted seminars for various international trade associations, and teaches classes on importing. She is also the author of "HOWDY, DUTY!".
---