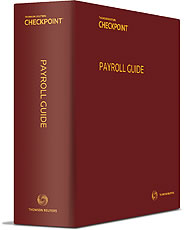 Payroll Guide

Product Information
Frequency of Updates:




Ongoing

Brand:

Research Institute of America
Payroll Guide is a comprehensive and easy-to-understand payroll reference and research tool that payroll professionals have relied on for more than 70 years, delivering the basic information and primary resources required to efficiently manage and administer a payroll.
The Guide provides detailed explanation and analysis of federal, state, and local income tax withholding. Find answers to all your questions concerning deposit and reporting requirements, Social Security and Medicare taxes, federal unemployment tax, state unemployment and disability, benefits law and regulation, federal and state wage-hour laws, garnishments and child support withholding and much more.
The Guide features a wealth of primary law directly linked to the text of the analysis to give you statutory backup whenever you need to make your point with management, unions and employees.
Coverage includes:
Full text of the Internal Revenue Code and the Federal Tax Regulations, the Fair Labor Standards Act, the Family and Medical Leave Act, and the FLSA and FMLA regulations
Cited sections of state wage-hour, wage-payment, income tax, child-support, new-hire-reporting, and garnishment statutes and regulations
Special industry coverage of the healthcare, education, government, nonprofit, entertainment, and hospitality payrolls
Federal and state forms, payroll savings ideas, calendars of deposit and filing due dates, withholding tables, quick reference charts to speed research, hundreds of real-life examples, tips, and cautions from payroll experts
Wage-Hour Opinion Letters issued by the Department of Labor Wage and Hour Division
Periodic special studies on hot topics
Includes access to e-Form RS tax form library
Includes access to five special payroll calculators: paycheck, gross-up, bonus (aggregate method), bonus (percentage), and hourly paycheck
You also receive, at no additional cost, the Payroll Guide Newsletter (biweekly) providing everything the payroll professional needs to keep up-to-date -- legislative developments, state regulatory updates, recent court decisions, current trends, commentary and advice from nationally known payroll experts.
List of Content (Click any title to expand the list)
Explanation and Analysis
Federal and State Forms
Glossary
Consumer Price Index
Employers and Employees — Federal Rules
What Are Wages — Federal Rules
Federal Taxes — Withholding/Returns/Deposits
State and Local Withholding
State Unemployment/Disability
Wage Payments and Garnishments
Federal Wage-Hour Law
State Wage-Hour Law
Other LawsInternational Payroll Considerations
Special Industry Practices
Special Studies
Interstate Employment: STATE RECIPROCAL AGREEMENTS AND RELATED ISSUES
Employee Benefits: What Are Wages?
Worker Classification Employee or Independent Contractor
Sick Pay: Taxation and Reporting
Mergers and Acquisitions: Considerations for Payroll Professionals
Child Labor: An Overview of State and Federal Rules
Federal Withholding Tables
State Withholding Tables
Index
Payroll Guide Newsletter
---