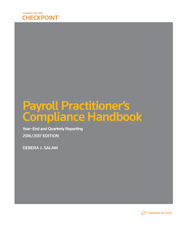 Payroll Practitioner's Compliance Handbook

Product Information
Frequency of Updates:

Annually

Author:

Debera Salam

Brand:

WGL
Payroll Practitioner's Compliance Handbook provides you with a detailed look at the extensive legislative and regulatory developments affecting employment tax reporting, including federal withholding and employment tax changes under this year's fiscal cliff tax deal and significant employer implications in the wake of the Supreme Court's decision in Windsor.  And that's just the beginning!  The Handbook, relied on by payroll practitioners for nearly 20  years, is a valuable quarterly and year-end resource that provides you with:
A review of late-breaking developments including the new rule that allows for the carry forward of up to $500 in health flexible spending accounts.
An in-depth analysis of how employers will need to respond retroactively and prospectively to the federal change in marriage definition affecting certain same-sex partners.
Essential information concerning how employers can be left holding the bag for tax refund scams and what they can do about it. 
A  state-by-state analysis of the states potentially subject to the FUTA credit reduction in 2013 and future years.
Step-by-step instructions on completing other federal employment tax forms, such as the W-2, W-2c, W-3, 940, and 945 including case studies and matching filled-in forms.
Quick-reference charts, completely updated for tax year 2013, including a state-by-state listing of: electronic and magnetic media reporting requirements for Forms W-2 and unemployment tax returns, contact information for withholding and unemployment tax questions, and a summary of the federal tax treatment and reporting of the most commonly provided fringe benefits.
A look ahead at developments unfolding for 2014 and future years.
Virtually every federal form you'll need for year-end and quarterly employment tax reporting.
Over 1,000 pages of clear and concise guidance including hundreds of real-life examples, sample forms, charts, and official references.
A free comprehensive update in the fall of 2014  that includes the latest developments.
If you have any questions about the Payroll Practitioner's Compliance Handbook, please call our toll-free customer service line, (800) 431-9025, for prompt and courteous service. We look forward to serving you for years to come.
You are also invited to follow Debera Salam's blog, Principles of Payroll Administration, at principlesofpayroll.wordpress.com.
Principles of Payroll Administration blog

View