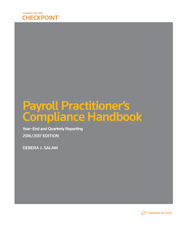 Payroll Practitioner's Compliance Handbook

Product Information
Frequency of Updates:




Annually

Author:

Debera Salam

Brand:

WGL
The Payroll Practitioner's Compliance Handbook provides you with a detailed look at the extensive legislative and regulatory developments affecting employment tax reporting, including changes to state payroll tax to incorporate revisions under the 2016 PATH Act. The PATH ACT revised the federal filing requirements for Forms W-2 and 1099, restored parity in transportation benefits, and extended the Work Opportunity Tax Credit. And that's just the beginning! The Handbook, relied on by payroll practitioners for over 20 years, is a valuable quarterly and year-end resource that provides you with:
A review of late-breaking developments, including IRS guidance on the tax treatment of wellness benefits.
Changes in state Form W-2 due dates to follow the new federal law.
Essential information on how employers need to work with their third-party payroll service providers.
Information on the states subject to FUTA credit reduction in 2016 and in future years.
Step-by-step instructions on completing federal employment tax forms, such as the W-2, W-2c, W-3, 940, and 945 — including case studies and matching filled-in forms.
Quick-reference charts, completely updated for tax year 2016, including a state-by-state listing of: electronic and magnetic media reporting requirements for Forms W-2 and unemployment tax returns, state Form W-2 filing due dates, and state agency directories for income tax, withholding, and unemployment insurance. Virtually every federal form you'll need for year-end and quarterly employment tax reporting is included.
Over 1,000 pages of clear and concise guidance — including hundreds of real-life examples, sample forms, charts, and official references.
List of Content (Click any title to expand the list)
Chapter 1: Keeping Aware of New Developments

Why Knowledge of Statutory Developments is Important
A Brief Overview of the Legislative Process
Compliance and Planning Strategies

Chapter 2: Payroll Developments 2011 – 2012

Legislative Developments for 2011
Administrative Developments for 2011
Court Decisions for 2011
Legislative Developments for 2012
Administrative Developments for 2012

Chapter 3: Payroll Developments 2013 – 2014

Legislative Developments for 2013
Administrative Developments for 2013
Court Decisions for 2013
Legislative Developments for 2014
Court Decisions for 2014

Chapter 4: Looking Ahead to 2015

What to Look For
Tracking Charts

Chapter 5: General Review of Tax and Reporting Requirements

Getting Started
Reconciliation
Reporting the Earned Income Tax Credit (Through 2010)
Federal Returns and Information Statements
Understanding FUTA Tax and the Form 940
Important Points to Remember About Employment Tax Returns
Mailing Returns and Information Statements
Year-End Reconciliations
Other Reporting Requirements
Multiple Worksite Reporting
Nonresident Alient Reporting Requirements
Correcting Returns and Information Statements
IRS/SSA Reporting Improvement Projects
IRS Issues Guidelines for Electronic Storage and Retrieval of Documents
Federal Rates and Limits for 2012 – 2015
Directories of State Agencies

Chapter 6: Reporting and Taxation of Benefits and Special Payments

Taxation and Reporting of Fringe Benefits

Chapter 7: Federal/State Magnetic and Electronic Reporting

Electronic Reporting of Wage and Tax Information
Forms W-2 and W-2C
Other Federal Electronic Filing Requirements
State Magnetic Media/Electronic Reporting Requirements

Chapter 8: The Form W-2/W-3

Introduction
General Information and Instructions for the Forms W-2 and W-3
Requirements for Paper Substitute Forms W-2
Other Items to Consider
Tips and Facts for Ordering Forms W-2
Tips and Ideas for Distributing Forms W-2 and Year-End Statements to Employees

Chapter 9: Month-by-Month Task List

Introduction
Month of October
Month of November
Month of December
Month of January
Month of February
Month of March
Month of April
Month of May

Chapter 10: Federal Employer Forms

Cross-Reference Directory of Federal Employer Forms
IRS Forms and Publications
SSA Forms and Publications

Chapter 11: Federal Employee Forms

Cross-Reference Directory of Federal Employee Forms
IRS Forms and Publications
SSA Forms and Publications

Chapter 12: Dictionary of Terms and Acronyms
Topical Index
Figures Index
Principles of Payroll Administration blog

View
---