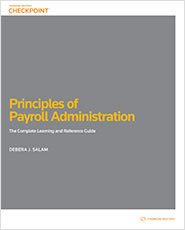 Principles of Payroll Administration

Product Information
Frequency of Updates:

Annually

Author:

Debera Salam

Brand:

WGL
Principles of Payroll Administration blends a historical perspective on public policies and laws affecting payroll with a full explanation of the subject matter, using a building-block approach to guide you from the basic principles through complex applications of the material. It's a valuable research tool for payroll professionals with any level of professional experience.
This key resource also includes chapter quizzes, practice tests, and tips for preparing for the Certified Payroll Professional (CPP) and Fundamental Payroll Certification (FPC) exams.
The 2013 edition includes:
A complete review of upcoming Affordable Care Act changes, including the additional Medicare tax effective in 2013, new limitations on health flexible spending accounts, and the 2014 health insurance pay or play rules governing employers
Changes to the tax law that were included in the American Taxpayer Relief Act of 2012
Updated state surveys and state contact directories for child support withholding orders, wage-hour, recordkeeping, workers' compensation, state unemployment insurance facts, state Form W-4 requirements
New and revised IRS forms with filled-in examples
Updated practice tests and study aids-must-have tools for anyone preparing for the CPP and FPC exams, or for those using the guide for payroll training
There is also a blog where payroll professionals can get information on the latest developments.
List of Content (Click any title to expand the list)
Principles of Payroll Administration
Chapter I: INTRODUCTION TO THE 28TH EDITION
Chapter U: 2013 Update
Chapter 1: THE PAYROLL PROFESSION
Chapter 2: WHO ARE EMPLOYEES?
Chapter 3: WAGES AND BENEFITS
Chapter 4: WAGE-HOUR LAW AND FAMILY AND MEDICAL LEAVE
Chapter 5: GARNISHMENTS, LEVIES, AND OTHER DEDUCTIONS
Chapter 6: DISABILITY PLANS
Chapter 7: WITHHOLDING AND DEPOSITING TRUST FUND TAXES
Chapter 8: UNEMPLOYMENT TAXES
Chapter 9: WAGE AND TAX REPORTING
Chapter 10: REPORTING OPTIONS AND TAX INCENTIVE PROGRAMS
Chapter 11: PAYROLL ACCOUNTING AND INTERNAL CONTROL
Chapter 12: MANAGING PAYROLL
Chapter 13: PAYROLL SYSTEMS AND OTHER PROCESSING OPTIONS
Chapter 14: DIRECT DEPOSIT AND ELECTRONIC FUNDS TRANSFER
Chapter 15: HEALTH, CAFETERIA, PENSION, STOCK AND NONQUALIFIEDDEFERRED COMPENSATIONPLANS
Chapter 16: INTERNATIONAL PAYROLL: U.S. EMPLOYEES WORKING ABROAD AND NON-AMERICANS WORKING IN THE UNITED STATES
Chapter 17: GOVERNMENT PAYROLL (PUBLIC SECTOR)
Chapter 18: RECORD RETENTION
Chapter 19: THE IMMIGRATION REFORM AND CONTROL ACT OF 1986
Chapter 20: DICTIONARY OF TERMS AND ACRONYMS
Chapter 21: PREPARING FOR THE CPP AND FPC EXAMINATIONS
Chapter 22: ANSWER KEY

Chapter 2
Chapter 3
Chapter 4
Chapter 5
Chapter 6
Chapter 7
Chapter 8
Chapter 9
Chapter 10
Chapter 11
Chapter 12
Chapter 13
Chapter 14
Chapter 15
Chapter 16
Chapter 17
Chapter 18
Chapter 19

Chapter 23: TEST YOUR SKILLS