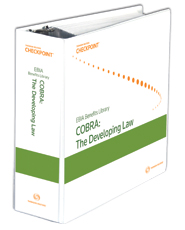 EBIA COBRA: The Developing Law
EBIA COBRA: The Developing Law explores the nuances of COBRA using real-life examples as a platform for discussing the complicated COBRA rules. Written and edited by experienced employee benefits attorneys, it answers your tough questions and provides comprehensive guidance on all aspects of COBRA administration. Topics include:
Employers and plans that must comply with COBRA
Qualifying events, including information about who is qualified as a beneficiary
Notices that are required
COBRA election procedures
Type of coverage that must be offered, and for how long
COBRA premiums and how they're determined, and when premiums must be paid
Why COBRA compliance is so important
And much more
In-depth discussions, along with numerous tables, checklists, and sample documents, will keep you informed of current legal developments and assist you in your COBRA compliance efforts.
In addition, subscribers to the online edition will get access to primary source material including:
ERISA
ERISA History
Advance Notices of Proposed, Interim & Final DOL Rules
DOL Final Regulations and Interim Rules
Preambles to DOL Final Regulations and Interim Rules
DOL Proposed Regulations & Preambles
Selected US Code Provisions
Selected US Code Provisions History
Selected Final Federal Regulations
Preambles to Selected Final Federal Regulations
Selected Proposed Federal Regulations & Preambles
Other Selected Tax Documents & Releases
ERISA Opinion Letters
DOL Rulings & Releases
Other Miscellaneous Nontax Releases
Internal Revenue Code (1990 - present)
Code History
Final and Temporary Regulations
Advanced Notices of Proposed Rulemaking & Treasury Decisions
Prior Final and Temporary Regulations (Treasury Decisions)
Preambles to Final and Temporary Regulations (Treasury Decisions)
Preambles to Proposed Treasury Regulations (Treasury Decisions)
Prior Proposed Regulations & Preambles
Proposed Regulations and Preambles
IRS Publications
EBIA Committee Report Excerpts
PLRs and TAMs (1977 - present)
Revenue Rulings (1954 - present)
Revenue Procedures (1955 - present)
Announcements (1959 - present)
Notices (1980 - present)
Internal Revenue Manual
---