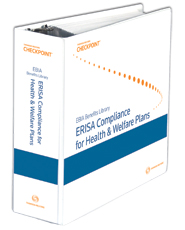 EBIA ERISA Compliance for Health & Welfare Plans
EBIA ERISA Compliance for Health and Welfare Plans on Checkpoint discusses what benefits are subject to ERISA, then explains ERISA's requirements in detail with examples, checklists, court case summaries, tables, Q&As, and compliance tips. It includes in-depth coverage of reporting & disclosure requirements (Form 5500, SPDs, etc.), fiduciary duties, benefits claims procedures, plan documents, handling of participant contributions, benefits disputes, and much more. Also included are sample documents and EBIA Weekly on Checkpoint (including archives).
Written and edited by experienced employee benefits attorneys, EBIA ERISA Compliance for Health and Welfare Plans on Checkpoint provides you with guidance on:
SPDs and Wrap Plans. Learn about what a wrap plan can (and cannot) do and the effect of using a wrap plan on Form 5500 reporting. Drafting of SPDs are discussed and coverage includes special issues for both insured and self-funded plans. Sample documents include wrap-around plan documents and wrap-around SPDs.
Group Health Claims. The timelines for deciding claims and appeals are covered. The various special processing rules, including administrative safeguards to ensure consistency; expedited processing for urgent care claims; procedures required for appeals; and rules for additional levels of appeal are explained.
Sample Claims Documents. Sample claims documents include detailed SPD language on claims procedures; benefit claim and appeal forms; benefit denial forms; an extension notice for incomplete claims; and special notices for pre-service and urgent care claims.
Voluntary Plans. A detailed review of the DOL's safe harbor for voluntary plans, including a table of court cases and DOL opinion letters, is provided.
Self Audits, DOL Audits, and Corrections. Find out how to conduct a voluntary compliance audit of your ERISA welfare plans using the self-audit checklist. Includes discussion of what to expect if the DOL audits your plans, and how to correct ERISA compliance problems.
TPAs and Outsourcing. Analysis of the issues involved in outsourcing plan administration, the nuts and bolts of third-party administrator (TPA) agreements, and the potential for TPA lawsuits is provided.
Annual Form 5500 Reporting. The manual includes up-to-date coverage of Form 5500 reporting (including ongoing changes regarding electronic reporting) and features a filled-in Form 5500 sample document.
Funding Methods and Why They Matter. How to determine whether your health and welfare plans are funded, unfunded, or insured, and whether your plans have "plan assets" are covered, as well as how funding methods affect ERISA's trust, Form 5500, and other requirements.
Electronic Disclosure of ERISA-Required Documents. The DOL's regulations on electronic delivery methods for SPDs and other ERISA-required documents are discussed in detail, and materials include a full set of sample notices.
Sample Documents. Many valuable sample documents are included.
In addition, subscribers to the online edition will get access to primary source material including:
ERISA
ERISA History
Advance Notices of Proposed, Interim & Final DOL Rules
DOL Final Regulations and Interim Rules
Preambles to DOL Final Regulations and Interim Rules
DOL Proposed Regulations & Preambles
Selected US Code Provisions
Selected US Code Provisions History
Selected Final Federal Regulations
Preambles to Selected Final Federal Regulations
Selected Proposed Federal Regulations & Preambles
Other Selected Tax Documents & Releases
ERISA Opinion Letters
DOL Rulings & Releases
Other Miscellaneous Nontax Releases
Internal Revenue Code (1990 - present)
Code History
Final and Temporary Regulations
Advanced Notices of Proposed Rulemaking & Treasury Decisions
Prior Final and Temporary Regulations (Treasury Decisions)
Preambles to Final and Temporary Regulations (Treasury Decisions)
Preambles to Proposed Treasury Regulations (Treasury Decisions)
Prior Proposed Regulations & Preambles
Proposed Regulations and Preambles
IRS Publications
EBIA Committee Report Excerpts
PLRs and TAMs (1977 - present)
Revenue Rulings (1954 - present)
Revenue Procedures (1955 - present)
Announcements (1959 - present)
Notices (1980 - present)
Internal Revenue Manual
---