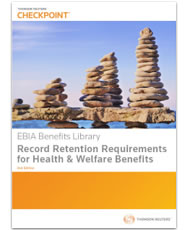 EBIA Record Retention Requirements for Health & Welfare Benefits

Product Information
Frequency of Updates:




No updating

Brand:

EBIA
Your solution for creating effective record retention policies for employer health and welfare benefits, newly updated for the impacts of health care reform and other significant developments! This newly updated second edition of EBIA's popular softcover book analyzes record retention requirements for employer-provided health and welfare benefits, including major medical, dental, health FSAs, and HRAs; severance, disability, and life insurance; cafeteria plans, DCAPs, qualified transportation plans, educational assistance programs, HSA programs, and more. (Coverage of pension and retirement benefits is not included.)
Anyone responsible for benefits compliance — employers, advisors and service providers — can use our practical and fully supported analysis to create and refine effective recordkeeping practices for health and welfare records. Here are a few highlights:
The legal rules. We analyze the record retention rules imposed by ERISA, the Internal Revenue Code, HIPAA and other laws, including new records and rules imposed by health care reform. These rules require that particular types of records be retained for specific periods of time.
Categories of records. Before you decide how long to keep benefits records, you need to know what records to keep. We've identified the major categories of records for health and welfare benefits, and we explain for each category what records should be kept and why.
Recommended record retention period. For each of the major categories of records, we provide a recommended record retention period.
Electronic record retention. What records must be retained in paper form? When can records be retained electronically? Can paper records be destroyed if electronic copies are retained?
Tables, finding lists and text boxes. We developed many tools to help you find your way through the myriad of rules and requirements, including a master table of record retention periods.
List of Content (Click any title to expand the list)
Part 1. Introduction

Section 1. Introduction to Record Retention

Part 2. Legal Rules on Record Retention

Section II. Legal Rules on Record Retention

Part 3. What Records to Keep and How Long

Section III. Plan Documents and Other Governing Instruments
Section IV. TPA, Stop-Loss, and Other Vendor Contracts
Section V. Enrollment, Election, and Other Eligibility Records
Section VI. SPDs and Other Generalized Communications to Participants and Beneficiaries: SARs, Notices, and More
Section VII. Individualized Communications With Participants and Beneficiaries: Notices, Statements, and More
Section VIII. Other Group Health Plan Records
Section IX. Benefit Claim Records
Section X. Financial Records Relating to Benefit Plans
Section XI. Records Regarding Form 5500 and Other Governmental Reports
Section XII. Records Relating to Nondiscrimination Testing
Section XIII. Litigation and Governmental Investigation Records
Section XIV. Special Treatment of Private and Confidential Records

Part 4. How to Keep Records (Including the Role of Technology)

Section XV. Electronic Record Retention and Disclosure
Section XVI. Outsourcing Recordkeeping

Part 5. Table of Retention Periods

Section XVII. Table of Retention Periods

Glossary of Terms
Index
---