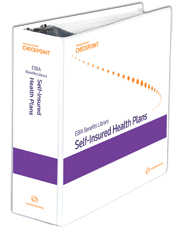 EBIA Self-Insured Health Plans
Written and edited by experienced employee benefits attorneys,EBIA Self-Insured Health Plans is the go-to resource for employers that sponsor self-insured health plans and their advisors. For employers considering self-insurance, it answers all of your questions about what self-insurance means, why employers choose to self-insure, and what challenges to expect when changing from an insured plan to a self-insured plan. From plan design through ongoing administration, our in-depth coverage, practical examples, tips, tables, checklists, and sample documents keep you informed, in compliance, and on top of new developments.
Topics include:
Potential advantages of self-insuring
Financial risks and the role of stop-loss insurance
Plan design decisions - including networks, covered benefits, eligibility, and cost-sharing
Governing law - including ERISA, the Internal Revenue Code, health care reform, COBRA, HIPAA, and other federal mandates - with analyses that highlight special issues for self-insured health plans
Nondiscrimination rules
Employer's fiduciary responsibilities
Contracting with TPAs and other service providers
Plan administration and compliance - including reporting and disclosure requirements, claims and appeals, and plan audits
This extensive resource offers the guidance you need to make smart financial and compliance decisions for your plan.
In addition, subscribers to the online edition will get access to primary source material including:
ERISA
ERISA History
Advance Notices of Proposed, Interim & Final DOL Rules
DOL Final Regulations and Interim Rules
Preambles to DOL Final Regulations and Interim Rules
DOL Proposed Regulations & Preambles
Selected US Code Provisions
Selected US Code Provisions History
Selected Final Federal Regulations
Preambles to Selected Final Federal Regulations
Selected Proposed Federal Regulations & Preambles
Other Selected Tax Documents & Releases
ERISA Opinion Letters
DOL Rulings & Releases
Other Miscellaneous Nontax Releases
Internal Revenue Code (1990 - present)
Code History
Final and Temporary Regulations
Advanced Notices of Proposed Rulemaking & Treasury Decisions
Prior Final and Temporary Regulations (Treasury Decisions)
Preambles to Final and Temporary Regulations (Treasury Decisions)
Preambles to Proposed Treasury Regulations (Treasury Decisions)
Prior Proposed Regulations & Preambles
Proposed Regulations and Preambles
IRS Publications
EBIA Committee Report Excerpts
PLRs and TAMs (1977 - present)
Revenue Rulings (1954 - present)
Revenue Procedures (1955 - present)
Announcements (1959 - present)
Notices (1980 - present)
Internal Revenue Manual
---