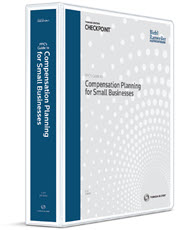 PPC's Guide to Choosing Retirement Plans for Small Businesses
Product Information
Frequency of Updates:

Annually

Brand:

Practitioners Publishing
PPC's Guide to Choosing Retirement Plans for Small Businesses gives you in-depth coverage on how to efficiently and effectively evaluate various retirement plan types and designs for small employers. The Guide provides examples and easy to use guidance for assisting your clients in choosing the retirement plan that works best for them.
This insightful guide provides clear explanation, analysis, and advice that can be used to quickly identify plan and design options and evaluate the best alternatives. You'll be able to address the essential issues encountered in choosing and employer plan and have critical information quickly at hand, including:
Explanation of plan types and design features that will maximize contributions for key employees and owners while minimizing costs for benefits to other employees
A case study approach with side-by-side comparisons of projected contributions and deduction limits
Worksheets and checklists to efficiently evaluate and choose plan types and calculate contributions
Marketing tools, sample proposal reports, client letters, and step-by-step guidance that can help you obtain employer plan engagements
Authored by respected internal and external industry experts with decades of practice experience, this Guide is an invaluable resource for ensuring you have the guidance and tools you need to advise clients on choosing the best employer retirement plan.