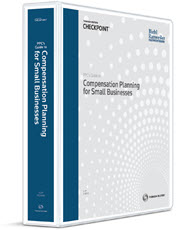 PPC's Guide to Compensation Planning for Small Businesses

Product Information
Frequency of Updates:




Annually

Brand:

Practitioners Publishing
PPC's Guide to Compensation Planning for Small Businesses gives you in-depth coverage on designing and implementing compensation systems for small businesses. This comprehensive guide provides examples and easy to use guidance for developing and administering compensation and fringe benefit plans tailored to small businesses. This guide provides practical guidance in a logical format that walks you through each step of the engagement. This unique approach of providing guidance in easy-to understand language and time-saving practice aids provides the following:
Analysis and advice to quickly evaluation compensation alternatives.
Tools to efficiently and effectively structure the optimal compensation and fringe benefit plans, including checklists, sample documents, examples, and planning tips.
Competitive edge by understanding the popular types of compensation packages currently offered and their tax implications.
Marketing tools to help promote new engagements.
Authored by respected internal and external industry experts with decades of practice experience, this Guide is an invaluable resource for ensuring you have the answers you need when handling compensation planning for small businesses.
Compensation Planning for Small Businesses

INTRODUCTORY MATERIAL

Chapter 1 A Model for Compensation Planning Engagements

Chapter 2 Developing a Compensation System for Family Businesses

Chapter 3 Deductibility Of Compensation To Shareholder-employees

Chapter 4 Fringe Benefits

Chapter 5 Qualified Retirement Plans

Chapter 6 Nonqualified Deferred Compensation Strategies

INDEX

--A--

--C--

--D--

--E--

--F--

--G--

--H--

--I--

--L--

--M--

--N--

--P--

--Q--

--R--

--S--

--T--

--U--

--V--
List of Substantive Changes & Additions (July 2016)

View
---