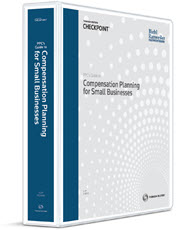 PPC's Guide to Compensation Planning for Small Businesses

Product Information
Frequency of Updates:

Annually

Brand:

Practitioners Publishing
From retaining key executives to designing and implementing a comprehensive compensation system, PPC's Guide to Compensation Planning for Small Businesses equips you with the knowledge and practical guidance to develop and administer optimal compensation and fringe benefit plans that help small businesses stay competitive by motivating key employees and preserving important tax benefits.
Compensation planning engagements take many forms and encompass a wide range of services from consulting to document drafting.  The goal of PPC's Guide to Compensation Planning for Small Businesses is to provide practical guidance in a logical format that takes the practitioner through each step of the planning engagement.
PPC's unique approach of providing you guidance in easy-to-understand language and time-saving practice aids gives you the tools needed to structure optimal compensation and fringe benefit plans. It will help you understand the popular types of compensation packages many companies are currently offering and their tax implications. It contains analysis and advice that can be used to quickly evaluate compensation alternatives, ensure compliance with IRS rules and regulations, and avoid costly mistakes.  In addition to marketing tools and step-by-step guidance, it also has numerous examples, checklists, planning tips, and sample documents.
Selected key update features for the latest edition include:
Post 2012 Medicare Tax Increases. Beginning in 2013, certain individuals must pay additional 0.9% Medicare tax on wages and a 3.8% Medicare contribution tax on net investment income.  A new section was added to this edition to explain these new Medicare taxes and provide planning tips on how a shareholder/employee can minimize them.
Employer Provided Cell Phones. Recent IRS guidance explains when employer-provided cell phones are treated as tax-free fringe benefits. This edition covers these taxpayer-friendly rules.
Possible Tax Rate Increase for Dividends. Beginning in 2013, the top tax rate on dividends received by individual taxpayers is scheduled to increase from 15% to 39.6%. This edition provides planning tips and suggestions for taking advantage of the lower rates before they increase.
Expired/Expiring Tax Provisions. Absent legislation, a number of compensation-related provisions have expired or will expire at the end of 2012, including the $5,250 exclusion for education assistance plans and the increased exclusion amount for dependent care assistance plans and transit passes. This edition covers these provisions.
Medical Reimbursement Plans. Generally, the tax benefits of a self-insured medical reimbursement plan are not available to self-employed individuals, but may be available to the individual's spouse who is an employee.  A discussion on how the medical reimbursement plan should be set up to receive the tax-free benefits was added.
Reasonable Compensation. With dividend tax rate possibly increasing from 15% to 39.6%, it's even more important to justify wages to ensure that they are not reclassified as dividends by the IRS. This edition provides detailed guidance on reasonable compensation issues.
SIMPLE IRA Plans. This edition covers recently issued IRS's guidance on calculating the employer matching contribution and the aggregate deferral limits for an individual who is both an employee and self-employed.