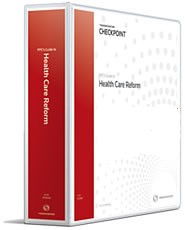 PPC's Guide to Health Care Reform

Product Information
Frequency of Updates:

Quarterly

Brand:

Practitioners Publishing
Health care reform legislation has significantly altered the landscape for obtaining and providing health care benefits. PPC's Guide to Health Care Reform provides practical, easy-to-understand guidance on the key provisions of the Patient Protection and Affordable Care Act and the Health Care and Education Reconciliation Act of 2010. You can use this Guide to familiarize yourself with the legislation's provisions and the thousands of pages of regulations and guidance that have been issued. This will enable you to help your clients capitalize on opportunities and avoid or minimize penalties and other costs brought on by health care reform.
Topics discussed include:  
The mandate requiring employers to provide affordable health insurance coverage to full-time employees and their dependents or pay a penalty
The mandate requiring individuals to have minimal essential health insurance coverage or pay a penalty, and the premium assistance and cost-sharing subsidies that will be available to help individuals pay for coverage
Numerous new notice and reporting requirements placed on employers, plans, plan sponsors, and insurers
Information on the additional 0.9% Medicare tax and the 3.8% tax on net investment income
Provisions affecting health care plans and the benefits they provide, including nondiscrimination requirements for fully insured plans, required coverage for employee's adult children to age 26, prohibition on annual and life-time limits and pre-existing condition exclusions, cost-sharing limits, expanded coverage of preventive services, maximum waiting periods, and specific rules for grandfathered plans
Coverage of the 2.3% excise tax that is imposed on the sale of taxable medical devices
You'll also get real-life examples, worksheets, filled-in forms, quick reference charts of implementation dates, client letters, and a newsletter that alerts you to new developments as they occur.