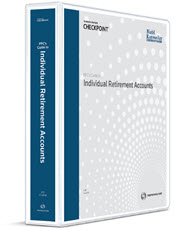 PPC's Guide to Individual Retirement Accounts

Product Information
Frequency of Updates:

Annually

Brand:

Practitioners Publishing
PPC's Guide to Individual Retirement Accounts provides complete IRA guidance on traditional IRAs, Roth IRAs, and employer-sponsored IRAs, such as SEPs, SIMPLEs, and payroll deduction IRAs. Plus, choosing beneficiaries, deciding between Roth and traditional IRAs, converting traditional IRAs to Roth IRAs, etc.
PPC's Guide to Individual Retirement Accounts includes practical step-by-step guidance needed to:
Advise individual clients in commonly encountered issues when dealing with IRAs, SIMPLE IRAs, and payroll deduction IRAs.
Recommend planning strategies for accumulating and transferring retirement assets using IRA's.
Understand the compliance issues - including contributions and deductions limits, rollovers, and distributions.
Know how to avoid penalties and utilize IRAs in the most tax efficient manner.
Help small business clients select a cost efficient retirement plan, funded with IRAs, for their business.
Avoid IRS audits by understanding compliance issues.
The latest update of this edition includes:
The IRS is cracking down on taxpayers who make excess contributions to their IRA. This edition covers recent court cases where the IRS took the position that the taxpayers made excess Roth IRA contributions.
The IRS listed in its dirty dozen tax schemes for 2011 the shifting of appreciated assets at less than fair market value into IRAs to circumvent annual contribution limits. Discussion of the IRS Notice as it relates to Roth IRAs has been added.
The Employee Plans Compliance Unit of the IRS has spent time examining SIMPLE IRA plans and conducting compliance checks on SEP plans and in response, has announced some of the most common errors being made. New sections have been added to alert practitioners of common mistakes that were found, steps to correct them, and how to avoid making them.
An employer's matching contribution to a SIMPLE IRA plan must be based on an employee's compensation for the entire year. Uncertainty can exist as to the correct amount when an employee has not contributed for the entire year. A discussion and an example have been included to provide clarity.
There is a specific order for taking Roth distributions. A flowchart has been added to illustrate the order and the tax treatment of Roth distributions.
Determining MRDs after death depends on who the beneficiary is. A table has been added that details the method to use, the life expectancy table that is used, and when distributions must start.