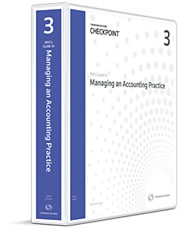 PPC's Guide to Managing an Accounting Practice
Product Information
Frequency of Updates:

Annually

Brand:

Practitioners Publishing
Accounting firms aren't successful by chance. The days of annual double-digit firm growth are gone, and CPA firms of all sizes are facing challenges with loss of clients, lower revenues, and increased risk. Many accounting firms are looking for ways to reevaluate operations and take steps to fortify its practice against whatever the future may hold. The comprehensive guidance and practice aids included in PPC's Guide to Managing an Accounting Practice can help your firm be well-positioned to plan and adapt its services and resources in a changing environment.  
The Guide includes over 200 forms and practice aids and practice-proven guidance on a wide range of practice management issues, including:
Recruiting and retaining qualified staff
Succession planning and partner compensation
Managing your tax practice
Dealing with complex personnel issues
Growing your practice
Reducing legal liability exposure
Improving billing and collection
Strategic planning
Keeping pace with technology changes
Improving the effectiveness of your administrative functions
Performance measurement and benchmarking
The Guide also includes the results of the 2012 Rosenberg National MAP Survey of CPA Firm Statistics, along with key statistics and financial information for profile firms of each size category and side-by-side worksheets you can use to compare your firm's performance against similar-sized firms or elite firms.
List of Content (Click any title to expand the list)
INTRODUCTORY MATERIAL

PREFACE
HOW TO USE THE GUIDE
ACKNOWLEDGMENTS

ACKNOWLEDGMENT OF COPYRIGHTS

ABOUT THE AUTHORS. . .
LIST OF SUBSTANTIVE CHANGES AND ADDITIONS
CHAPTER 1: OVERVIEW OF PPC'S GUIDE TO MANAGING AN ACCOUNTING PRACTICE

100 INTRODUCTION

What Makes This Guide Different from Other Management Books on the Market?

101 ORGANIZATION OF PPC'S GUIDE TO MANAGING AN ACCOUNTING PRACTICE

Chapter 2--Planning for a Successful Practice
Chapter 3--Firm Administration
Chapter 4--Billing, Collecting, and Managing Cash Flows
Chapter 5--Facilities Management
Chapter 6--Practice Development
Chapter 7--Personnel Management
Chapter 8--Scheduling Professional Staff
Chapter 9--Ownership Issues
Chapter 10--Avoiding Legal Liability
Chapter 11--Managing Technology
Chapter 12--Performance Measurement
Chapter 13--Firm Statistics
Chapter 14--Profile Firms
Chapter 15--Tax Practice Management

APPENDIX 1A: Quality Control Maintenance Calendar
CHAPTER 2: PLANNING FOR A SUCCESSFUL PRACTICE

200 INTRODUCTION

The Importance of the Business Planning Process
Strategic Planning and Budgeting
Performance Management and Individual Performance Goals
This Chapter Will Benefit Firms of All Sizes
Organization of the Chapter

201 ANALYZING THE CURRENT SITUATION
202 OVERVIEW OF THE PLANNING PROCESS

Timing of the Planning Activities
Who Should Coordinate the Planning Process?

Managing Partner.
Outside Facilitator.

Selecting a Location
Developing a Timetable
Deciding Who Should Participate in the Planning Process
Information Gathering
Planning Guidance
Evaluating the Planning Sessions
Firm-wide Meeting

203 DEVELOPING A STRATEGIC PLAN

How Important Is Strategic Planning?

When Should Strategic Planning Be Done?

Steps in Developing a Strategic Plan
The Vision Statement
The Mission Statement

The Importance of the Firm's Services and Its Clients.
The Importance of the Firm's Growth Prospects.
Developing a Mission Statement.

The SWOT Analysis

Pre-SWOT Procedures.
Strengths.
Weaknesses.
Opportunities.
Threats.

Objectives and Strategies
Action Plan
Completing the Strategic Plan

204 THE BUDGETING PROCESS

How Important Is the Budgeting Process?
The Budgeting Process
Assumptions

Use of an Assumption List.

Cash Versus Accrual Basis
Budgets Should Be Based on Current and Historical Operations
Budgeting Revenues

Revenues Should Be Budgeted by Department.
Budgeting Individual Income Tax Return Preparation Revenues.
Budgeting Corporate Income Tax Return Preparation Revenues.
Budgeting Revenues for Monthly Write-up Work.
Budgeting Revenues for Compilation, Review, and Audit Services--Governmental and Nonprofit.
Budgeting Revenues for Compilation, Review, and Audit Services--For-profit.
Budgeting Revenues for Tax Planning and Other Engagements.
Budgeting Revenues for Consulting and Other Nontraditional Services.
Marketing Plan.

Budgeting Expenses

Fixed Expenses.
Variable Expenses.
Other Expenses.
General Considerations for Budgeting Expenses.

Budgeting Balance Sheet Information

Advantages of Including a Budgeted Balance Sheet.
A Logical Approach to Budgeting Balance Sheet Information.
Budgeting Unbilled Work in Progress.
Budgeting Billed Accounts Receivable.
Budgeting Prepaid Expenses.
Budgeting Property and Equipment (and Related Depreciation).
Budgeting Accounts Payable and Accrued Expenses.
Budgeting Notes Payable and Other Debt (Excluding Lines of Credit).
Budgeting Cash and Operating Lines of Credit.

Budgeting Cash Flows

Budgeting Expected Cash Flows.

Preparing Budgeted Financial Statements

205 THE SUCCESSION PLANNING PROCESS

Benefits of Succession Planning
Steps in Developing a Succession Plan
Identify Key Areas and Key Positions
Identify Competencies for the Key Areas and Key Positions
Identify Interested Employees and Assess Them Against the Key Position Requirements
Identify a Temporary Back-up For Each Key Position
Develop and Implement Succession and Knowledge Transfer Plans
Implement a Leadership Development Program
Evaluate Effectiveness

206 PERFORMANCE MANAGEMENT AND INDIVIDUAL PERFORMANCE GOALS
207 MONITORING THE EFFECTIVENESS OF THE BUSINESS PLAN

Quarterly Reviews
Changing Objectives
Performance Measurement

APPENDIX 2A: Preliminary Snapshot--Business Planning
APPENDIX 2B: Employee Recommendations and Client Feedback

APPENDIX 2B-1: Employee Recommendations Survey
APPENDIX 2B-2: Client Feedback Survey
APPENDIX 2B-3: Employee Recommendations and Client Feedback Recap Form

APPENDIX 2C: SWOT Analysis Forms
APPENDIX 2D: Objectives and Strategies Form
APPENDIX 2E: Action Plan Form
APPENDIX 2F: Budget Worksheets

APPENDIX 2F-1: Budget Preparation Schedules
APPENDIX 2F-2: Budget Summary Schedules

APPENDIX 2F-2a: Summary Income Statement Budget
APPENDIX 2F-2b: Balance Sheet Budget
APPENDIX 2F-2c: Statement of Cash Flows Budget

APPENDIX 2F-3: Gross Revenue Analysis Worksheet
APPENDIX 2F-4: Expense Analysis Worksheet

APPENDIX 2F-4a: Salary and Personnel Expense Worksheet
APPENDIX 2F-4b: Facilities and General Expense Worksheet

APPENDIX 2F-5: Other Income and Expense Worksheet
APPENDIX 2F-6: Unbilled Work in Progress

APPENDIX 2F-6a: Unbilled Work in Progress Worksheet
APPENDIX 2F-6b: Billings and Billing Adjustments Worksheet

APPENDIX 2F-7: Billed Accounts Receivable

APPENDIX 2F-7a: Billed Accounts Receivable Worksheet
APPENDIX 2F-7b: Collections Pattern Analysis Worksheet

APPENDIX 2F-8: Prepaid Expense Worksheet
APPENDIX 2F-9: Property, Equipment, and Depreciation Schedules

APPENDIX 2F-9a: Property and Equipment Worksheet
APPENDIX 2F-9b: Accumulated Depreciation Worksheet
APPENDIX 2F-9c: Gain or Loss on Asset Disposals

APPENDIX 2F-10: Accounts Payable and Accrued Expenses Worksheet
APPENDIX 2F-11: Debt Budget

APPENDIX 2F-11a: Debt Budget Worksheet (Excluding Lines of Credit)
APPENDIX 2F-11b: Interest Income and Expense Recap

APPENDIX 2F-12: Cash and Line of Credit Worksheet
APPENDIX 2F-13: Budget Assumptions List

APPENDIX 2G: Succession Planning Checklist
APPENDIX 2H: Participant's Evaluation--Strategic Planning Sessions
APPENDIX 2I: Performance Expectations and Evaluation Form
CHAPTER 3: FIRM ADMINISTRATION

300 INTRODUCTION
301 ANALYZING THE FIRM'S CURRENT SITUATION

Using a Diagnostic Approach

302 ACCOUNTING ADMINISTRATION

Who Provides the Firm's Internal Accounting?
Selecting a Basis of Accounting

Cash Basis.
Tax Basis.
Accrual (or GAAP) Basis.

Developing a Chart of Accounts
Processing the Firm's Payroll

Using a Separate Payroll Bank Account.
Maintaining Payroll Records.
Using Service Bureaus.

Accumulating Time and Expense Information

Importance of Capturing Time and Expense Information.
Reporting Policies.
Reporting Procedures.

Choosing an Accounting System

Keep the System Simple.
Web-based ("Cloud Computing" or SaaS) versus In-house Processing.

Reporting Information to Management

Determining Information Needs.
Designing Effective Reports.

303 MANAGING THE OFFICE

General Office Appearance
Reception Area
Telephone Etiquette
Office Mail
Office Supplies
Supervising the Administrative Staff

Is a Firm Administrator Necessary?
Using a Firm Administrator.

304 PROCESSING REPORTS, TAX RETURNS, AND CORRESPONDENCE

Producing Reports, Tax Returns, and Correspondence

Developing the Firm's Style.
Producing the Documents.

Delivering the Finished Product
Establishing Correspondence Guidelines

Formal Correspondence.
Informal Correspondence.

Establishing an Email Policy

305 FILES AND RECORD RETENTION

Developing a Filing System

File Indexing.
Non-electronic File Checkout and Return Procedures.

How Long Should Files Be Kept?
Document Imaging
Record Retention Challenges for Information in Electronic Form

Understanding Electronic Document Retention Risks.
Archiving Electronic Information.
Retention of Electronic Workpapers.
Storing and Disposing of Electronic Files.
Email.

306 INSURANCE

Managing Risks

Risk Avoidance.
Risk Control.
Risk Retention.
Risk Transfer.

Types of Insurance

General Liability.
Workers' Compensation.
Property.
Valuable Papers.
Crime.
Business Interruption Insurance.
Umbrella Policies.
Professional Liability Insurance.
Key Person Insurance.
Group Health Insurance.

Purchasing Insurance

Selecting an Agent.
Obtaining Quotes.
Making the Final Decision.

Reducing Insurance Costs

Periodically Obtain New Bids.
Set Higher Deductibles or Self-insure for Limited Risks.
Select Appropriate Property Insurance Amounts.
Exclude Land Value from Building Property Coverage.
Coordinate Umbrella Policies with Underlying Coverage.

307 DISASTER RECOVERY PLANNING

Developing a Disaster Recovery Plan

Define Objectives and Scope.
Identify the Disaster Recovery Team.
Establish Priorities.
Analyze Risks and Alternatives.
Document the Plan.
Review and Test the Plan.
Assistance with Developing the Plan.

Protecting Employees
Protecting Files and Records
Protecting the Computer System

Physical Access.
User Access.
Software Access and Data Security.
Telecommunications.

Other Considerations
Using Consultants for Disaster Recovery Planning

308 THE PROFESSIONAL LIBRARY

Determine the Firm's Needs

Type of Clients.
Outside Resources.
Usage Level.

Building a Tax Research Library

Tax Services.
Tax Handbooks.
Quickfinderr Handbooks.
IRS Forms and Publications.
Superintendent of Documents.
Court Cases and Citators.
State Tax Guides and Handbooks.
Tax Magazines.
Tax Newsletters.
Other Reference Publications.

Building an Audit and Accounting Library

Authoritative Pronouncements.
Other Resources.

Electronic Resources

Online Research Libraries.
CD/DVD-ROM Libraries.

Maintaining the Firm's Library

File or Install Updates Currently.
Cataloging Books.
Circulating Periodicals and Newsletters.
Conducting a Periodic Review of Library Resources.

309 KNOWLEDGE MANAGEMENT
APPENDIX 3A: Preliminary Snapshot--Firm Administration
APPENDIX 3B: Suggested Firm Library
APPENDIX 3C: Employee Payroll Information Sheet
APPENDIX 3D: Payroll Service Bureau Checklist
APPENDIX 3E: Time and Expense Form
APPENDIX 3F: Report Processing Routing Slip
APPENDIX 3G: Production Control Log
APPENDIX 3H: File Checkout/Return Card
APPENDIX 3I: Prospective Insurance Agent Evaluation Form
APPENDIX 3J: Existing Agent or Broker Evaluation Form
APPENDIX 3K: Firm Asset Listing
APPENDIX 3L: Disaster Recovery Plan Questionnaire
CHAPTER 4: BILLING, COLLECTING, AND MANAGING CASH FLOWS

400 INTRODUCTION
401 ANALYZING THE CURRENT PRACTICE

Using a Diagnostic Approach

402 BILLING AND COLLECTING

Billing Methods

Fixed Fees.
Form-based Fees.
Time-based Method.
Value Billing.

Commissions, Referral Fees, and Contingent Fees

Additional Rules for Referral Fees.

Determining Fees

Establishing Billing Rates.
Setting Minimum Fees.
Considering Competitors' Fees.
Recovering Direct Expenses.
Administrative Overhead.
Recouping Technology Costs.
Special Rates.
Considering Prior Year Fees.
Quoting Fees.
Discounting Fees.

Preparing Bills

Billing Language.
Timing of Bills.

Billing Adjustments
Collecting Billed Amounts

Good Collection Begins with Knowing the Client.
Using the Engagement Letter as a Collection Tool.
Collecting Bills before They Become Delinquent.
Collecting Past Due Bills.

Processing Credit Card Payments
Evaluating Credit Card Processors

Cards Handled.
Required Banking Relationships.
Fees and Charges.
Equipment Requirements.
For Users of QuickBooks.

PayPal

403 CONTROLLING DISBURSEMENTS

Reducing Expenses

Personnel Costs.
Insurance.
Firm Library and Other Professional Resources.
Furniture and Equipment.
Stationery, Forms, and Supplies.
Travel.
Office Rent.
Telecommunications.
Long Distance Telephone.
VoIP.
Mail and Express Delivery.

Deferring Payments
The Effect of the Firm's Form of Organization on Cash Disbursements

Sole Proprietorships.
Partnerships, LLPs, and LLCs.
Professional Corporations.

404 MANAGING A CASH SURPLUS OR SHORTAGE

Optimizing Idle Cash

Repaying Debt.
Selecting an Investment.

Depository Accounts

Operating Accounts.
Zero-balance Accounts.
Controlled Disbursement Accounts.
Money Market Accounts.
Brokerage House Money Market Accounts.
Automatic Sweep Accounts.
Direct Overnight Investment Arrangement.

Financing Cash Shortages

Lines of Credit.
Financial Statement Presentation and Cash Flow Requirements.
Personal Guarantees.
Alternative Financing.

APPENDIX 4A: Preliminary Snapshot--Billing, Collecting, and Managing Cash Flows
APPENDIX 4B: Billing Draft Forms

APPENDIX 4B-1: Invoice for Write-up Services
APPENDIX 4B-2: Invoice for Progress Billing
APPENDIX 4B-3: Invoice for Single Billing

APPENDIX 4C: Billing Worksheet
APPENDIX 4D: Stop Work Letters

APPENDIX 4D-1: Letter Documenting Intent to Stop Work in Ten Days
APPENDIX 4D-2: Letter Documenting Stop Work

APPENDIX 4E: Collection Letters

APPENDIX 4E-1: Collection Letter--30 Days Past Due
APPENDIX 4E-2: Collection Letter--60 Days Past Due
APPENDIX 4E-3: Collection Letter--90 Days Past Due

APPENDIX 4F: Client Collection Call Sheet
APPENDIX 4G: Draft Note Agreement
APPENDIX 4H: Illustrative Travel and Expense Policy
CHAPTER 5: FACILITIES MANAGEMENT

500 INTRODUCTION
501 ANALYZING THE CURRENT SITUATION

Using a Diagnostic Approach

502 PLANNING FACILITY NEEDS

Estimating Future Growth

Start with the Business Plan.
Summarize Projected Office Growth.

Comparing Existing Capacity with Projected Headcount
Anticipating Technology Issues
Assessing Office Equipment Needs

503 OBTAINING OFFICE SPACE

Location of the Office Space

Downtown Locations.
Suburban Areas.

Leasing Space from a Client
Newer versus Older Buildings
How Much Space Is Required?

Planning the Interior Design of Office Space.

Leasing, Buying, and Building Office Space

Leasing Office Space.
Buying or Building Office Space.
Should the Building Be Owned by the Firm or Its Partners?
Leasing Office Space to a Client.

Leasing Office Space

Determining the Initial Lease Rate and Terms.
Comparing Net and Gross Lease Amounts.
Responsibility for Building-related Costs.
Identifying Required Finish-out Costs.
Negotiating Key Aspects of the Lease.
Lease Term and Renewal Options.
Right of First Refusal to Expansion Space.
Compliance with Government Regulations.
Selection of Contractors.
Future Alterations.
Sublease Ability.
Comparing Proposed Leases.
Leasing Alternatives.

Buying or Building Office Space

Due Diligence Procedures That Should Be Performed.

Relocating the Office

504 SELECTING OFFICE EQUIPMENT

Selecting Office Copiers

Types of Copiers.
Key Buying Considerations.

Selecting Fax Machines

Types of Fax Machines.
Key Buying Considerations.

Selecting Multifunctional Machines

Types of Multifunctional Machines.
Pros and Cons.
Key Buying Considerations.

Selecting Document Scanners

Types of Document Scanners.

Selecting Telecommunications Systems

Planning Considerations.
Key Buying Considerations.
Should a Telecommunications Consultant Be Used?
Selecting and Installing a Telephone System.
Gain an Understanding of the Types of Systems Available.
Identifying System Shortcomings.
Defining the Existing System and Its Capabilities.
Assessing Telephone System Needs.
Consider Upgrading the Current System.
Preparing RFPs.
Identifying Potential Vendors and Distributing the RFPs.
Choosing a System.
Negotiating the Contract.

Deciding among Long-distance Providers
Selecting Cell Phone Equipment and Service

Personal Digital Assistants (PDAs).
Smartphones.

505 BUYING COMPUTER EQUIPMENT AND SOFTWARE

Computer Equipment

The Processor.
Memory.
Removable Data Drives.
The Hard Drive and Solid State Drive (SSD).
The Monitor.
Printers and Duplicators.
Other Computer Peripherals.
Desktop versus Notebook Computers.
Suggested Computer Configurations.

Purchasing a Computer System

Choosing a Brand.
Price versus Value.
Planning for Obsolescence.
Types of Vendors.
Assessing Vendors.
Buying from Local Vendors Rather Than through Mail Order.
Warranty Provisions and Technical Support.

Should a Firm Network Its Computers Together?

LAN Configuration.
Transmission Medium.

Operating System Software
Practice Management Software

Features of Practice Management Software.
Selecting the Right Software.
Relationship to Performance Management.

Purchasing Other Computer Application Software

Word Processing Software.
Spreadsheet Software.
Database Management Software.
Buying Bundled Software.
Tax Return Preparation Software.
Trial Balance and Write-up Software.
Electronic Engagement Software.
Data Extraction Software.
Other Software.

506 LEASE VERSUS BUY CONSIDERATIONS

Performing a Financial Comparison

Make Sure That the Lease/Buy Alternatives Are Comparable.
Using Electronic Spreadsheets.

Example of a Lease/Buy Analysis

Data and Assumptions.
Conclusion.
Additional Factors That Should Be Considered.

APPENDIX 5A: Preliminary Snapshot--Facilities Management
APPENDIX 5B: Phone System Vendor Resources
APPENDIX 5C: Facilities Planning Form
APPENDIX 5D: Facility Lease Comparison Worksheet
APPENDIX 5E: Office Relocation Checklist
APPENDIX 5F: Existing Telecommunications System Form
APPENDIX 5G: Telecommunications Users' Needs Questionnaire
APPENDIX 5H: Computer Vendor Evaluation Form
APPENDIX 5I: Lease/Buy Cost Comparison Worksheet
APPENDIX 5J: Present Value Tables
CHAPTER 6: PRACTICE DEVELOPMENT

600 INTRODUCTION

Analyzing the Current Situation
Retaining Existing Clients
Expanding Services to Existing Clients
Marketing a Firm's Services to New Clients
Developing a Formal Marketing Plan
Preparing and Presenting Effective Proposals

601 ANALYZING THE CURRENT SITUATION

Using a Diagnostic Approach

602 RETAINING EXISTING CLIENTS

The CPA/Client Relationship
Developing a Client Service Strategy

Not All Clients Are Created Equal.
Identify Important Clients.
Client Service Planning.
Client Service Strategies for All Clients, Regardless of Size.

Monitoring Client Satisfaction

Ask Important Clients If They Are Satisfied with the Firm's Work.
Conduct Client Satisfaction Surveys.

Performing Lost Client Analyses

603 EXPANDING SERVICES TO EXISTING CLIENTS

What Types of Services Should Be Offered?

Advantages of Expanding a Firm's Services.
Preventive versus "As Needed" Services.

How to Expand a Firm's Practice to Include Consulting and Other Nontraditional Services

Litigation Support.
Divorce Services.
Forensic Accounting.
Personal Financial Planning and Estate Planning Services.
Opportunities Resulting from the Sarbanes-Oxley Act.
Internal Control Services.

Selling Additional Services to Existing Clients

Marketing "As Needed" Services.
Marketing Preventive Services.

604 MARKETING A FIRM'S SERVICES TO NEW CLIENTS

Ethical Considerations
Successful Marketing Techniques
Public Relations

Speaking at Civic and Professional Events.
Sponsoring Professional Conferences, Seminars, and Webinars.
Cosponsoring a Seminar or Webinar with Another Organization.
Writing Articles for Professional and Other Publications.
Press Releases.
Being Quoted in Newspaper, Magazine, and Other Articles.
Sending Firm Announcements.
Developing a Mailing List.
Sending Newsletters.
Purchasing Ready-made Newsletters.
Preparing In-house Newsletters.
Alternatives to Newsletters.
Conducting Surveys and Publishing the Results.
Branding.
Engaging a Public Relations Firm.

Networking

Referral Network.
Obtaining Referrals from Existing Clients.
Obtaining Referrals from Bankers and Attorneys.
Developing Alumni as Referral Sources.
Community Involvement.
Membership in Professional Organizations.
Hosting Social Events.
Social Media.
Tracking Referrals.

Using Other Practitioners as Resources

Study Groups.
Practice Management Groups.
Associations of CPA Firms.
Marketing and Niche Associations.

Advertising and Other Marketing Tools and Techniques

AICPA Rules.
IRS Rules.
Securities and Exchange Commission Regulations.
State Regulations.
Direct Marketing Techniques.
Firm Brochures.
Video.
Websites.
Trade Journals and Other Media.
The Yellow Page Directory.
Direct Mail Solicitation.

Coordinating a Firm's Marketing Efforts

Getting Everyone Involved in the Marketing Effort.
Assessing the Need for a Marketing Professional.
The Role of a Marketing Professional.

605 DEVELOPING A FORMAL MARKETING PLAN

Evaluate the Firm's Capabilities

Professional Staff.
Existing Client Base.
Firm Commitment.

Assess the Firm's Market Position
Analyze the Competition
Define Services
Identify the Market
Develop a Marketing Strategy
Select Specific Marketing Methods
Establish a Budget
Monitor the Plan's Effectiveness
Checklist for Developing a Marketing Plan
Sample Marketing Plan

606 PREPARING AND PRESENTING EFFECTIVE PROPOSALS

Evaluating Whether to Propose
Researching the Request

Preparing Winning Proposals.
The Initial Meeting with the Prospective Client.
Documenting the Results of the Initial Meeting.

Types of Proposals

Comprehensive Proposals.
Proposal Letter.

Drafting a Proposal
Oral Presentations
Following up on Unsuccessful Proposals

APPENDIX 6A: Preliminary Snapshot--Practice Development
APPENDIX 6B: Partial List of Associations of CPA Firms
APPENDIX 6C: Checklist for Developing a Marketing Plan
APPENDIX 6D: Simplified Model Marketing Plan
APPENDIX 6E: Example of a Request to Be Put on Bidder's List
APPENDIX 6F: Example of a Comprehensive Proposal
APPENDIX 6G: Example of a Proposal Letter
APPENDIX 6H: Diagnostic Review of a Client's Operations
APPENDIX 6I: Seminar Planning Checklist
APPENDIX 6J: Webinar Planning Checklist
APPENDIX 6K: Market Perception Questionnaire
APPENDIX 6L: Firm Competition Worksheet
APPENDIX 6M: Marketing Budget Worksheet
APPENDIX 6N: New Client Lead Information Sheet
APPENDIX 6O: Referral Thank You Letter Drafting Form
APPENDIX 6P: Additional Information That Can Be Useful in Preparing a Proposal
CHAPTER 7: PERSONNEL MANAGEMENT

700 INTRODUCTION
701 ANALYZING THE FIRM'S CURRENT SITUATION

Using a Diagnostic Approach
Preparing a Financial Analysis

702 GENERAL PERSONNEL POLICIES

Introduction
Developing an Employee Handbook

Benefits of an Employee Handbook.
Risks Associated with an Employee Handbook.
How Does an Employee Handbook Differ from a Policy Manual?
Procedures for Developing an Employee Handbook.

What Topics Should an Employee Handbook Cover?

Introduction.
Explanation of the Employment Relationship.
Expected Employee Conduct.
Compensation and Benefits.
Leaves of Absence.
Separation.

Confronting Harassment and Discrimination Issues

Harassment.
Discrimination.
For More Information.

Understanding the Implications of the Family and Medical Leave Act

Covered Events.
Eligible Employees.
Which Employers Are Covered by the Act?
Penalties and State Laws.
What Actions Should the Firm Take to Conform to the Act?
For More Information.

Complying with the Americans with Disabilities Act

Reasonable Public Accommodations.
Employment Discrimination.
For More Information.

Complying with the Immigration Reform and Control Act of 1986

Notifying Applicants.
Penalties.
For More Information.

The Health Insurance Portability and Accountability Act

HIPAA Privacy Rule.
Covered Entities.
Business Associates.
2013 Omnibus Amendments to HIPAA Rules.
For More Information.

The Fair Credit Reporting Act--The "Red Flags Rule"

703 RECRUITING

The Supply of New and Experienced Accounting Staff

Fewer Experienced Professionals.
Increased Competition from National and Regional Firms.
Improved National and Regional Firm Cultures.
Defection of Staff to Industry.
Increasing Number of New Graduates Hired Directly into Industry.
Young Professionals Starting Their Own Businesses.
Professionals Temporarily Leaving the Workforce.
Changing Attitudes of Professionals.
Traditional Work Environments.

What Can Be Done?

What Are Job Candidates Seeking?
Determining the Types of Candidates to Target.

Delivering the Recruiting Message

Soliciting Candidates through Advertisements.
On-campus Recruiting.
Using Employment Agencies and Search Firms.
Websites.
Direct Contact Methods.
Video.
Referrals.
Newspaper and Periodical Advertising.
Social Media.
Other Methods.
Rehiring.

704 HIRING EMPLOYEES

Quality Control Considerations
Avoiding Discrimination
Identifying Staffing Needs

Developing a Staffing Plan.
Quality Control Requirements.
Planning for the Firm's Personnel Needs.
Determining Attributes of New Employees.
Documenting the Recruitment and Hiring Plan.
Professional Staffing Alternatives.
Administrative Staffing Alternatives.
Importance of Continuity in Part-time and Temporary Employees.
Importance of Retaining Staff.
Employee versus Independent Contractor.
Benefits for Part-time and Temporary Employees.
Determining the Responsibilities of the Position.

Screening Candidates

Using Resumes.
Employment Applications.

Interviewing Candidates

Preparing for the Interview.
Conducting the Initial Interview.
Conducting the Follow-up Interview.
Documenting the Interviews.

Performing Reference Checks and Pre-employment Testing

Background Checks.
Pre-employment Testing.
Pre-employment Drug and Alcohol Testing.

Evaluating the Candidates
Pre-employment Personality Assessment
Making Employment Offers and Rejections

Avoid Implied Contracts.
Written Employment Offers.
Written Employment Contracts.
Rejections.

Documenting the Hiring Process
Welcoming the New Employee

705 COMPENSATION AND BENEFITS

Observing Wage and Hour Laws

The Fair Labor Standards Act.
Exemption from FLSA Requirements.
For More Information.
Recordkeeping Requirements.
The Equal Pay Act.

Developing a Competitive Salary Structure

Establishing Salary Levels.
Bonuses.
Overtime Policies.
Salary Adjustments.

Paid Vacation
Paid Holidays
Sick Leave
Retirement Plans
Life Insurance

Term Insurance.
Whole Life or Universal Life.
Split-dollar Life Insurance Plans.

Disability Insurance
Group Health Insurance

Types of Plans.
Choosing a Plan.
Reducing Health Care Costs.
Health Insurance Requirements.

Reimbursement of Professional and Business Expenses
Other Fringe Benefits

706 TRAINING AND PROFESSIONAL DEVELOPMENT

Quality Control Requirements
CPE Requirements

State Boards of Accountancy and State CPA Societies.
Are Nonprofessional Staff Members Subject to CPE Requirements?
GAO CPE Requirements.
Governmental Audit Quality Center CPE Requirements.
Employee Benefit Audit Quality Center CPE Requirements.

Planning the Firm's Professional Development Activities

Create a Professional Development Plan for Each Professional in the Firm.
Document the Professional Development Plan.
Assess Professional Capabilities and Competencies.
Consider Different Types of CPE Programs.
Provide On-the-job Training.
Provide Information on Changing Professional Standards in a Timely Manner.

Maintaining CPE Records
Training Nonprofessional Staff

707 EVALUATING PERFORMANCE

Communicate Expectations before the Evaluation Process Begins
Frequency of Evaluations
Evaluating Partner Performance
Incorporating the Opinions of Others
Documenting Performance Evaluations
Conducting the Evaluation Meeting
Making Compensation and Advancement Decisions
Documenting Compensation and Advancement Decisions

708 RETAINING STAFF

Positive Work Environment

Flexible Work Arrangements.
Flextime and Telecommuting.
Other Flexible Work Options.
Permanent Part-time Staff Positions.
Seasonal Positions.
Part-time Partners.

Emphasis on Personal Development
Recognition of Performance
Emphasis on the Individual as Part of a Team
Delegation and Empowerment
Open Communication
Information about the Firm

709 SEPARATION

Resignations

Determine Why Employees Are Leaving.
Advance Notice.
Forced Resignations.
Forced Retirement.

Layoffs
Discharges

The Model Discharge.
Legal Risks.
Defending a Discharge.

Exit Considerations

Conducting the Exit Interview.
HIPAA Certificates of Coverage.
Continuing Group Health Insurance Benefits.
Final Pay.
Responding to Reference Checks on Former Employees.

Unemployment Claims

Who Is Eligible for Unemployment Benefits?
Challenging Unemployment Claims.
Preventing Meritless Unemployment Claims.
Shortening the Duration of Benefits.

APPENDIX 7A: Preliminary Snapshot--Personnel Management
APPENDIX 7B: Recruiting Websites
APPENDIX 7C: Financial Analysis Worksheet
APPENDIX 7D: Employee Handbook Checklist and Drafting Forms

APPENDIX 7D-1: Employee Handbook Checklist
APPENDIX 7D-2: Acknowledgement of Receipt Form

APPENDIX 7E: Assessing the Firm's Staffing Situation
APPENDIX 7F: Analyzing Alternative Work Arrangements
APPENDIX 7G: Sample Job Descriptions

APPENDIX 7G-1: Sample Job Description--Receptionist
APPENDIX 7G-2: Sample Job Description--Administrative Assistant
APPENDIX 7G-3: Sample Job Description--Paraprofessional
APPENDIX 7G-4: Sample Job Description--Staff Accountant
APPENDIX 7G-5: Sample Job Description--Senior Accountant
APPENDIX 7G-6: Sample Job Description--Manager/Senior Manager

APPENDIX 7H: Candidate Screening Form
APPENDIX 7I: Employment Application
APPENDIX 7J: Letter Inviting Recruit to Visit Office--Drafting Form
APPENDIX 7K: Interview and Evaluation Checklist
APPENDIX 7L: Letter Offering Employment Drafting Form
APPENDIX 7M: Employment Contract Drafting Form
APPENDIX 7N: Rejection Letter Drafting Form
APPENDIX 7O: Independence, Integrity, and Objectivity Questionnaire
APPENDIX 7P: Independence, Integrity, and Objectivity Representation
APPENDIX 7Q: Independence, Integrity, and Objectivity Representation Control Log
APPENDIX 7R: Independence, Integrity, and Objectivity Resolution Form
APPENDIX 7S: What Does the Firm Culture Say to Employees?
APPENDIX 7T: New Employee Orientation Checklist
APPENDIX 7U: CPE Planning Kit

APPENDIX 7U-1: CPE Planning Kit--Survey
APPENDIX 7U-2: CPE Planning Kit--Individual CPE Plan
APPENDIX 7U-3: CPE Planning Kit--Firm Worksheet

APPENDIX 7V: In-house CPE Documentation Kit

APPENDIX 7V-1: Notification Form--In-house CPE Program
APPENDIX 7V-2: Qualifications--In-house CPE Program
APPENDIX 7V-3: Attendance Record and Course Outline--In-house CPE Program
APPENDIX 7V-4: Evaluation--In-house CPE Program
APPENDIX 7V-5: Evaluation Summary--In-house CPE Program
APPENDIX 7V-6: Instructor's Evaluation--In-house CPE Program
APPENDIX 7V-7: Individual CPE Record

APPENDIX 7W: Performance Evaluation Forms

APPENDIX 7W-1: Professional Staff Evaluation Form--Long Form
APPENDIX 7W-2: Professional Staff Evaluation Form--Short Form
APPENDIX 7W-3: Partner Evaluation Form
APPENDIX 7W-4: Administrative Staff Evaluation Form
APPENDIX 7W-5: Annual Advancement and Compensation Summary

APPENDIX 7X: Pre-discharge Checklist
APPENDIX 7Y: Exit Interview Form
CHAPTER 8: SCHEDULING PROFESSIONAL STAFF

800 IMPORTANCE OF PROPER SCHEDULING

Introduction
Literature Related to Scheduling

Audit and Attestation Requirements.
Government Auditing Standards.
Ethical Requirements.
Quality Control Requirements.

Scheduling Partners and Managers
Meeting Client Deadlines and Increasing Client Satisfaction
Reducing Risk
Improving Productivity by Minimizing Unassigned Time and Overtime
Improving Morale
Proposing on and Scheduling New Work
Practical Considerations for Assigning Personnel

801 ANALYZING THE FIRM'S CURRENT SITUATION

Using a Diagnostic Approach

802 ADVANTAGES OF A DUE DATE MONITORING SYSTEM

Monitoring Due Dates
Adequate Lead Time
Maintaining the Integrity of the Monitoring System

Adding New Clients or Engagements.
Clearing Completed Jobs.
Purging Former Clients and Engagements.

Engagements with No Due Date
Automated Systems

803 SCHEDULING AUDIT, TAX, AND OTHER ENGAGEMENTS

Introduction
Formulating an Annual Staffing Plan

Developing the Annual Staffing Plan.
Include All Engagements in the Annual Staffing Plan.
Documenting the Annual Staffing Plan.
Evaluating the Results of the Annual Staffing Plan.

Designating a Scheduler
Preparing the Annual Schedule

Engagement Type, Size, Significance, Complexity, and Risk Profile.
Timing and Length of the Engagement.
Special Expertise and Experience Necessary for the Engagement.
Continuity and Periodic Rotation of Staff.
Personnel Availability and Involvement of Supervisory Personnel.
Other Factors to Consider.
Documenting the Annual Schedule.
Methods to Ensure That All Engagements Are Scheduled.

Conducting Scheduling Meetings

Initial Scheduling Meeting.
Periodic Scheduling Meetings.
Approving the Annual Schedule.

Monitoring and Changing the Schedule

Monitoring Work in Progress.
Monitoring Overtime.
Making Schedule Changes.
Schedule Request Forms.
Communicating Scheduling Assignments.

804 MANAGING UNASSIGNED TIME

Introduction
Selling Work to Existing or New Clients
Selling "Loaner" Work at Reduced Rates
Accelerating Recurring Work into Slack Periods

Offer Incentives to Clients.

Exploring Professional Staffing Alternatives

Part-time or Temporary Professionals.
Student Interns.
Paraprofessionals.

Scheduling Other Nonchargeable Activities

805 AUTOMATING THE SCHEDULING PROCESS
APPENDIX 8A: Preliminary Snapshot--Scheduling Professional Staff
APPENDIX 8B: Due Date Monitoring System Input Form
APPENDIX 8C: Annual Staffing Plan
APPENDIX 8D: Considerations in Assigning Personnel
APPENDIX 8E: Tax Work in Progress Inventory
APPENDIX 8F: Schedule Request Form
CHAPTER 9: OWNERSHIP ISSUES

900 INTRODUCTION
901 ANALYZING THE FIRM'S CURRENT SITUATION
902 FORM OF OWNERSHIP

Proprietorship
Partnership

Partnership Agreements.
Advantages and Disadvantages of Operating as a Partnership.

Professional Corporation
Limited Liability Company

Limits on Limited Liability.

Limited Liability Partnership

903 ADMITTING NEW OWNERS

Characteristics of a Prospective Owner
Income Owners
Equity Owners

Determining Initial Buy-in Amounts.
Paying the Capital Contribution.

Non-CPA Owners

Statutory, Regulatory, and Legal Issues.
AICPA Ethics Rules.
Alternative Practice Structures.
Nonattest Services.

904 OWNER COMPENSATION AND BENEFITS

Owner Compensation

Owners' Salaries.
Profit Allocation Methods.
Allocation Factors.
Establishing the Owner Compensation System.
Owner Draws.
Bonuses.
Owners' Equity and Interest on Capital.
Allocation of Taxable Income.
Partner Compensation Committees.

Owner Benefits

905 ACQUIRING LEADERSHIP SKILLS
906 EVALUATING OWNER PERFORMANCE

Setting Performance Measurement Goals for Owners
Linking Owner Compensation to Performance Goals

907 FIRM MERGERS

What's the Best Strategy?

Immediate Sale versus Selling in Stages.
Outright Sale.
Partial Sale.
Affiliation Prior to Retirement from Full-time Work.
Upstream Mergers.
Merging with a Smaller Firm.
Lateral Mergers.
Niche Mergers.
Using a Merger to Accomplish Succession.
Importance of Firm Culture.

Steps in the Merger Process
Setting Merger Objectives
Formulating a Merger Policy
Developing a Merger Candidate Questionnaire
Searching for the Right Merger Candidate
The Initial Merger Candidate Meeting
Performing Due Diligence

Evaluating Prospect Firm Clients.
Evaluating Prospect Firm Personnel.
Reviewing the Quality Control Procedures of a Prospective Merger Candidate.
Reviewing Prospect Workpapers.
Reviewing Prospect Claims History.
Conflicts of Interest and Independence Check.
Valuation of the Prospect Practice.

Drafting the Merger Agreement

Capital Contributions.
Compensation.
Firm Governance.
De-merger Provisions.
Assumption of Assets and Liabilities.
Indemnity Provisions.
Nonsolicitation Provisions.
Other Issues.

Negotiating, Revising, and Signing the Merger Agreement
Post-merger and Transition Considerations

Client Notification.
Staff Notification.
Public Notification.
Liability Insurance Considerations.
Office Relocation.
Other Firm Transition Considerations.

Other Merger Issues to Consider

Understanding the Role that Clients Play.
Developing a Retirement/Succession Plan before the Merger.
Naming the Firm.
Equity Ownership.
The Importance of Continuity.

Pre-merger Accounts Receivable and Work-in-process

Accounts Receivable.
Work-in-process.

Getting Professional Help

Lawyers.
Other Intermediaries.
How to Select an Intermediary.

908 SUCCESSION PLANNING FOR THE TRANSFER OF OWNERSHIP

The Succession Planning Process

Making the Firm Attractive.
Choosing a Successor.
Creating a Personal Technical Development Plan.
Implementing a Leadership Development Program.
Planning Succession within the Firm.
Transitioning Leadership Roles.

Establishing an Owner Retirement Policy

When Retirement Should Occur.
How Retirement Benefits Are Determined.
Dealing with Owner Withdrawals Other than at Retirement.
Client Transition and Retention Matters.
Retirement Payment Guarantees.
Retirement Payment Caps.
Retirement Payment Funding.
Retirement Asset Protection.
Owner Retirement Retreat.

Practice Continuation Agreements

Multiowner Firms.
Sole Proprietorships.

Restrictive Agreements

Noncompete Agreements.
Nonsolicitation Agreements.
Nonraiding Agreements.
Nondisclosure Agreements.

APPENDIX 9A: Preliminary Snapshot--Ownership Issues
APPENDIX 9B: Comparison of Various Business Entities
APPENDIX 9C: Owner Evaluation Form
APPENDIX 9D: Nonsolicitation Agreement Drafting Form
APPENDIX 9E: Sample Noncompete Provisions
APPENDIX 9F: Merger/Acquisition Form
APPENDIX 9G: Confidentiality Agreement Drafting Form
APPENDIX 9H: Illustrative Client Announcement Letter
CHAPTER 10: AVOIDING LEGAL LIABILITY

1000 INTRODUCTION

The Frightening Facts
Historical Defensive Measures

Quality Control.
Professional Liability Insurance.

Other Protective Measures

Risk Avoidance.
Firm Structure.
Damage Control.

Understanding the Litigation Process

1001 ANALYZING THE CURRENT RISK MANAGEMENT PROGRAM

Using a Diagnostic Approach

1002 WHY IS LIABILITY A CONCERN?

Out-of-pocket Costs
Intangible Costs
Changes in the Law

1003 QUALITY CONTROL--THE FIRST LINE OF DEFENSE

Quality Control Standards

Elements of a Quality Control System.

Use of Checklists, Programs, and Other Practice Aids
Legal Liability Considerations for Documentation

Engagement Documentation.
Retention.
Correspondence Files.
Email Communications.
Time Sheets.

Importance of Reviews
Peer Reviews

Applicability of Peer Review Requirements.
Peer Review Standards.
Types of Peer Reviews.
PCAOB Inspections.

Firms with Adequate Quality Control Systems Still Get Sued

1004 LIABILITY INSURANCE--THE SECOND LINE OF DEFENSE

Reasons for Buying Liability Insurance

No Practice Is Immune from Claims.
Protecting the Firm's Economic Viability.
Protecting Partner Assets.
Attorney Fees.
Firm Insurability Issues.

Alternatives to Insurance

Creating a Liability Defense Fund.
Establishing Asset Protection Plans.
Undertaking Loss Prevention Efforts.
Forming a Risk Retention Group.

Determining the Amount of Liability Insurance
Selecting the Right Insurer
Limits of Liability
Scope of Coverage

Definition of Professional Services.
Geographic Scope of Coverage.
Prior Acts Coverage.
Extended Reporting Coverage.
Definition of Insured.
Predecessor Firm Coverage.
Independent Contractor Coverage.
Definition of Damages.
Exclusions.

Costs of Liability Insurance
Claims Handling

Attitude Regarding Coverage.
Claims Processing.
Selection of Defense Counsel.

Financial Viability of the Insurer
Loss Prevention and Similar Value Added Services
Commitment to the Market
Authorized Status
Endorsements by CPA Societies
Professional Liability Insurance Programs for CPA Firms
Negotiating Liability Coverage

Choosing an Insurance Broker.
An Independent Insurance Broker Should Be Used.
The Broker Should Be Experienced in the CPA Liability Insurance Market.
Obtaining Multiple Quotes.
What Is Negotiable?
Price.
Limits of Liability and Deductibles.
Scope of Coverage.
Selection of Defense Counsel.
Repurchase of Policy Limits.

Completing the Insurance Application
Firm Changes
Coverage Disputes

Reservation of Rights.
Disclaimer of Responsibility.

Responses to Requests for Information
Declaratory Judgment Actions

1005 LOSS PREVENTION--THE LAST LINE OF DEFENSE

Loss Prevention Measures
Limiting the Scope of the Firm's Practice

Audits of Public Companies.
Audit Engagements in General.
Prospective Financial Statement Engagements.
Business Valuation Engagements.
Family Office Services Engagements.
Tax Advisory Engagements.
Reducing Risk Exposure.

Client Selection and Pruning

Joint and Several Liability.
New Client Acceptance.
Client Retention.

Staff Evaluations

Documenting Staff Evaluations.

Engagement and Disengagement Letters

Nature and Scope of the Firm's Engagement.
Limitations of the Firm's Services.
Responsibilities of the Client.
Fee Arrangements.
Restricting the Firm's Legal Liability.
Consulting Engagements.
Investment Advisory Services Engagements.
Tax Engagements.
Engagements under Attestation Standards.
Litigation Support Engagements.
Engagement Letters for Personal Tax Return Preparation Services.
Timely Issuance of Engagement Letters.
What If the Client Will Not Sign an Engagement Letter?
Is a New Engagement Letter Needed Each Year?
Rejection Letters.
Resignation Letters.

Client Communications and Management Representation Letters

Internal Control Related Communications.
Other Client Communications.
Communicating with Those Charged with Governance.
Management Representation Letters.

Document Retention Policies

Personnel Records.
Employee Training Records.
Billing Records.
Audit and Practice Manuals and Practice Aids.
Promotional Literature.
Engagement Documentation.
Audit Documentation--Public Companies.
SQCS No. 8.
Documentation--NASBA UAA Rules.
Regular Workpapers.
Permanent File Workpapers.
Workpaper Filing Procedures.
Importance of a Formal Document Retention Policy.

Oral Tax Advice
Guarding against Fraud Claims

Performing Extended Procedures Designed to Detect Fraud.
Advising Non-audit Clients about Internal Control Weaknesses.
Complying with SSARS.
Getting Sucked In.
Commissions and Referral Fees.
Avoiding Conflicts of Interest.

The Firm's Legal Defenses

The Privity Defense and Related Defenses.
States That Follow the Privity Doctrine.
States That Follow the Restatement Standard.
States That Follow the Foreseeability Standard.
Privity and Related Defenses May Protect a Firm against a Negligence Claim, but Not Fraud.
Protecting the Privity Defense or Related Defenses.
The No Reasonable Reliance Defense.
Protecting the No Reasonable Reliance Defense.
The Statute of Limitations Defense.
Protecting a Statute of Limitations Defense.
The Effect of Mistakes on the Statute of Limitations.

Fee Disputes

Can the Client Afford to Pay?
Has the Firm Committed Any Errors?
Has the Client Suffered Any Business Reversals?
Are the Unpaid Fees Significant Enough to Warrant a Suit?
A CPA Firm Should Rarely Sue for Fees.
Suits against Bankrupt Entities.
Alternative Dispute Resolution Procedures (ADR).

Other Loss Prevention Considerations

Low-balling.
Client Relationships.

1006 PERSONAL ASSET PROTECTION

Protective Actions at the Firm Level

Form of Ownership.
Compartmentalization of a CPA Firm.

Protective Actions at the Individual Level

Assets That Are Already Protected.
Federally Protected Pension Plans.
Homesteads.
Joint Tenancy with Rights of Survivorship.
Asset Transfer Strategies.

1007 DAMAGE CONTROL

Subsequent Discovery of a Mistake

Subsequent Discovery of a Financial Statement Misstatement.

The Client Threatens a Claim
When a Client Declares Bankruptcy

Reviewing the Firm's Workpapers.
Rule 2004 Examinations.
Adversary Proceedings in a Bankruptcy Proceeding.
Protecting against Prepetition Claims.

When a Client Is Sued Based upon Financial Statement Misstatements
When a Client Is Assessed by Taxing Authorities
When a Client Is Victimized by an Employee Embezzlement
When a Client Is the Subject of a Criminal or Regulatory Investigation
When a Client Sustains a Large Investment Loss
Other Situations That Might Lead to Claims

When a Firm's Workpapers Are Subpoenaed.
When Two Clients Have a Dispute Involving Financial Matters.
Termination of a Client.

How Should the Firm Respond to a Potential Claim?

Seek Professional Help.
The Role of the Firm's Attorney.
Form a Damage Control Team.
The Role of the Damage Control Team.
Do Not Admit Responsibility.

Communications with a Claimant
When a Summons Arrives

Involvement of the Malpractice Insurer.

Evaluating a Claim

How Is a Claim Evaluated?
Identify Causes of Action and Legal Theories and Group Causes by Legal Theory.
Determine the Probabilities.
Analyze the Damage Components.
Calculate the Estimated Recovery Amount.
Updating the Evaluation.

1008 LITIGATION OF CLAIMS

Reporting a Claim to the Insurer

What Is a Claim?
Notifying the Insurance Company.
Communications with Others.
The Firm's Answer.

Counterclaims

Countersuits for Unpaid Fees.
Countersuits for Malicious Prosecution.
Counterclaims for Libel and/or Slander.
Counterclaims for Legal Fees.
Offers of Judgment.
Third-party Claims.

Motions

Motions to Dismiss.
Special Rules for Fraud Claims.
Dismissing a Case "With Prejudice."
Filing a Motion to Dismiss.
Summary Judgment Motions.

The Discovery Phase

Document Requests.
Interrogatories.
Depositions.

Pretrial Phase
Trial

Jury Selection.
Opening Statements.
Plaintiff's Case.
Motion to Dismiss.
Defense Case.
Closing Arguments.
Judge's Charge to the Jury.
Jury Deliberations.

Problems Posed by Jury Trials
Appeals
Settlements

Settlements Where There Is More Than One Defendant.
Global Settlements.

1009 ALTERNATIVE DISPUTE RESOLUTION

Types of ADR Procedures

Arbitration.
The Arbitration Process.
Mediation.
The Mediation Process.

The ADR Agreement

Pre-dispute Agreements.
Post-dispute Agreements.

1010 CONCLUSION
APPENDIX 10A: Preliminary Snapshot--Avoiding Legal Liability
APPENDIX 10B: Malpractice Liability Insurance Companies
APPENDIX 10C: Statutes of Limitations
APPENDIX 10D: Additional Engagement Letter Paragraphs Designed to Reduce a Firm's Liability Exposure
APPENDIX 10E: Rejection Letter--Drafting Form
APPENDIX 10F: Resignation Letter--Drafting Form
APPENDIX 10G: Example Third-party Privity Letter--Audit Engagement
APPENDIX 10H: Predecessor Firm Letter Granting Successor Auditor Access to Audit Documentation--Drafting Form
APPENDIX 10I: Mediation and Arbitration Organizations
APPENDIX 10J: Evaluation of a Claim--Example Case Study
CHAPTER 11: MANAGING TECHNOLOGY

1100 INTRODUCTION
1101 THE IMPORTANCE OF TECHNOLOGY
1102 ANALYZING THE FIRM'S CURRENT SITUATION

Using a Diagnostic Approach

1103 KEY ELEMENTS OF TECHNOLOGY MANAGEMENT

IT Governance

IT Governance Institute.
Policies and Procedures.

Hardware

Computers.
Printers.
Network Equipment.

Software
Communications
The Internet

Bandwidth.
Internet Service Contract.
Internet Connections.
Router/Firewall.
Browser.
Internet Uses.
Internet Security.
Internet Terminology.
Social Media.

Technology Training
Personnel with Technology Expertise

Large Firms.
Medium-sized Firms.
Small Firms.
Outsourced Services.

Disaster Recovery Planning

1104 THE DIGITAL ENVIRONMENT

Digital Environment Advantages

Access.
Organization.
Security.
Storage.

Digital Environment Disadvantages
Digital Transition Process

Selecting Which Production Processes to Digitize.
Paper Conversion.
Digital Document Archival.

Knowledge Management
Document Management Systems

1105 IMPLEMENTING A TECHNOLOGY PLAN

Create the Technology Committee

Owner.
Departmental End Users.
Integrator.
Technician.
Facilitator.

Analyze Current System and Needs

Owner Perception Survey.
Equipment Inventory.
Software Licenses and Users.
Wiring Scheme and Procedural Map.
Overview of Specific System Needs.
Employee Input and Buy-in.

Develop the Plan Document

Technology Plan.
Technology Budget.
Recouping Technology Costs.

Implement the Plan

Start with the Plan and Budget.
Sell the Complete Concept.
Pick the Right Vendor Partner.
Keep Communication Open.
Implement in Phases.
Provide Training.

Follow Through and Review the Plan

1106 TOP TECHNOLOGY ISSUES

AICPA Top 10 Technology Initiatives for Public Accounting

Data Retention Policies and Structure.
Remote Access.
Control and Use of Mobile Devices.
Information Security.
Staff Management and Training.
Tax Workpaper Automation.
Saving and Making Money with Technology.
Technology Cost Controls.
Portals (Vendor and Client).
Privacy Policies and Compliance.

APPENDIX 11A: Preliminary Snapshot--Managing Technology
APPENDIX 11B: Self-evaluation of Computer Skills and Needs Assessment
APPENDIX 11C: Suggested Minimum Technology Training Requirements by Job Function
APPENDIX 11D: Example Technology Job Descriptions

APPENDIX 11D-1: Example Job Description--Director of Information Systems
APPENDIX 11D-2: Example Job Description--Network Administrator
APPENDIX 11D-3: Example Job Description--Training Coordinator
APPENDIX 11D-4: Example Job Description--Help Desk Support

APPENDIX 11E: Owner Perception Questionnaire

APPENDIX 11E-1: Owner Perception Survey
APPENDIX 11E-2: Owner Assessment Summary

APPENDIX 11F: CPA Firm Information Technology Infrastructure Questionnaire
APPENDIX 11G: Example Technology Plan
APPENDIX 11H: Example Technology Budget
APPENDIX 11I: Technology Budget Worksheet
CHAPTER 12: PERFORMANCE MEASUREMENT

1200 INTRODUCTION

The Importance of Performance Measurement
Obstacles to Implementing Performance Measurement

Not Enough Time.
Lack of Technical Skills.
Concerns about Cost.

Organization of the Chapter

1201 ANALYZING THE CURRENT SITUATION
1202 OVERVIEW OF THE PERFORMANCE MEASUREMENT PROCESS

Defining the Strategy

Developing a Mission Statement.
Analyzing the Market.
Identifying Other Key External Factors.
Analyzing the Firm.
Identifying Critical Success Factors.
Determining the Firm's Objectives and Strategies.
Communicating the Strategies throughout the Firm.

Developing Performance Measures

Determining Action Plans.
Considering the Need for Process Improvement.
Determining the Framework for Measures.
Selecting the Right Measures.
Considering Commonly Used Performance Measures.
Establishing Targets.
Performing Sanity Checks.
Communicating Measures throughout the Firm.

Implementing a Performance Measurement System

Considering Data Collection Methods.
Determining the Frequency of Measurement.
Assigning Responsibilities for Performance Data.
Reporting Performance Measurement Results.

Monitoring the Results of the Performance Measurement System

Considering How to Analyze Performance Data.
Obtaining Feedback from Report Users.
Deciding What Actions to Take If Anticipated Results Are Not Being Achieved.

Overview of Benchmarking

Planning.
Measuring the Firm's Own Performance.
Gathering External Data.
Analyzing the Data.
Implementing Improvements.
Maintaining the Ongoing Process.

1203 DEFINING THE STRATEGY

Overview
Developing a Mission Statement

What Is a Mission Statement?
Considering Core Values.
Characteristics of Effective Mission Statements.
Who Are We?
Where Are We Going?
How Will We Know When We Get There?

Analyzing the Market

Market Size and Share.
Competition.
Overall Market Trends.

Identifying Other Key External Factors

Professional and Governmental Regulatory Environment.
Social Trends.
Other External Factors.

Analyzing the Firm

Competitive Advantage.
Core Competencies.
Current Operating Conditions--Performing a SWOT Analysis.
Client and Employee Surveys.

Identifying Critical Success Factors
Determining the Firm's Objectives and Strategies

Determining Objectives.
Developing Strategies.

Communicating the Strategies throughout the Firm

Linkage to Firm Success.
Overcoming Resistance to Change.
Communication Methods.

1204 DEVELOPING PERFORMANCE MEASURES

Determining Action Plans

Designating Responsibility.
Documenting the Action Plan.

Considering the Need for Process Improvement
Determining the Framework for Measures

PPC's Framework for Measures.
Considerations for Smaller Firms.

Selecting the Right Measures

Considering the Characteristics of Good Measures.
Linkage to Actual Performance.
Linkage to Firm Strategy.
Relevance and Reliability of Measurement Data.
Quantification of Measurement Data.

Considering Commonly Used Performance Measures

Financial Measures.
Client Measures.
Business Development Measures.
Employee Measures.
Internal Systems and Process Measures.
Vendor Measures.

Establishing Targets

Considering Factors Affecting Targets.
Revising Strategies and Targets.

Performing Sanity Checks
Communicating Measures throughout the Firm

Cascading Measures to Individual Departments.
Cascading Measures to Individual Employees.
Linking Employee Compensation to Performance Measures.

1205 IMPLEMENTING A PERFORMANCE MEASUREMENT SYSTEM

Introduction
Considering Data Collection Methods

Developing a Data Collection Plan.
Determining Measurement System Needs.
Considering the Reliability of Measurement Data.
Additional Considerations for Smaller Firms.

Determining the Frequency of Measurement
Assigning Responsibilities for Performance Data
Reporting Performance Measurement Results

Determining the Content of the Report.
Considering the Format of the Report.
Determining the Frequency of the Report.
Deciding on the Recipients of the Report.

1206 MONITORING THE RESULTS OF THE PERFORMANCE MEASUREMENT SYSTEM

Introduction
Considering How to Analyze Performance Data

Level of Performance.
Performance Trends.
Variability in Level of Performance or Trends.

Obtaining Feedback from Report Users
Deciding What Actions to Take if Anticipated Results Are Not Being Achieved

Selecting Different Measures.
Revising Targets.
Making Operational Improvements.
Revising Firm Strategies.
Additional Considerations for Smaller Firms.

1207 BENCHMARKING

Introduction

Benefits of Benchmarking.

Planning

Identifying What to Benchmark.
Identifying Who or What to Benchmark against.
Establishing a Benchmarking Team.
Determining How Frequently to Benchmark.
Determining the Data Gathering Methods.

Measuring the Firm's Own Performance
Gathering External Data
Analyzing the Data

Determining the Current Performance Gap.
Estimating Future Attainable Performance.
Identifying Reasons for Current and Future Gaps.
Identifying Actions Necessary to Close Gaps.

Implementing Improvements

Reporting the Findings and Action Plans to Firm Owners.
Implementing the Action Plans.

Maintaining the Ongoing Process

Measuring Progress toward Goals.
Revising Goals.
Updating Benchmarks.

APPENDIX 12A: Preliminary Snapshot--Performance Measurement
APPENDIX 12B: Defining the Strategy Procedures Checklist
APPENDIX 12C: Risk Assessment Questionnaire
APPENDIX 12D: Questionnaire to Identify Firm Owners' Concerns about the Business
APPENDIX 12E: Client Satisfaction Survey

APPENDIX 12E-1: Client Satisfaction Survey Form
APPENDIX 12E-2: Client Satisfaction Survey Recap Form

APPENDIX 12F: Employee Satisfaction Survey

APPENDIX 12F-1: Employee Satisfaction Survey Form
APPENDIX 12F-2: Employee Satisfaction Survey Recap Form

APPENDIX 12G: SWOT Analysis

APPENDIX 12G-1: SWOT Analysis Overview
APPENDIX 12G-2: Internal Strengths and Weaknesses Form
APPENDIX 12G-3: External Opportunities and Threats Form
APPENDIX 12G-4: SWOT Recap Form

APPENDIX 12H: Objectives Identification Worksheet
APPENDIX 12I: Strategies by Objective Form
APPENDIX 12J: Developing Performance Measures Procedures Checklist
APPENDIX 12K: Performance Measurement Action Plan
APPENDIX 12L: Measurement Definition Form
APPENDIX 12M: Performance Measurement Reports

APPENDIX 12M-1: Scorecard Template
APPENDIX 12M-2: Daily Performance Measurement Report
APPENDIX 12M-3: Weekly Performance Measurement Report
APPENDIX 12M-4: Monthly Performance Measurement Report

APPENDIX 12N: Commonly Used Performance Measures
APPENDIX 12O: Implementing a Performance Measurement System Procedures Checklist
APPENDIX 12P: Data Collection Worksheets

APPENDIX 12P-1: Data Collection Plan
APPENDIX 12P-2: Source of Data and Frequency of Reporting Worksheet

APPENDIX 12Q: Monitoring the Results of the Performance Measurement System Procedures Checklist
APPENDIX 12R: Benchmarking Procedures Checklist
CHAPTER 13: FIRM STATISTICS

1300 2012 ROSENBERG SURVEY

Introduction
How the Survey Data Is Sorted

Results at a Glance.
Key Statistics and Ratios by Size of Firm.
Key Statistics and Ratios by Population Size of Market.
Selected Statistics by Geographic Region.

Percentile Analysis for Multi-partner Firms Only
Elite Firm Analysis
Definition of Terms
Rosenberg Survey

APPENDIX 13A: 2012 Rosenberg Survey
CHAPTER 14: PROFILE FIRMS

1400 2012 ROSENBERG SURVEY

Information from the Rosenberg Survey

APPENDIX 14A: Financial Information for Profile Firms--2012 Rosenberg Survey
CHAPTER 15: TAX PRACTICE MANAGEMENT

1500 INTRODUCTION
1501 COMPLYING WITH PROFESSIONAL STANDARDS

Circular 230

Incompetent or Disreputable Conduct.
Solicitation and Advertising.
Return Preparation Standards.
Contingent Fees.
Conflicts of Interest.
Other Obligations.
Best Practices.
Written Tax Advice.

AICPA Statements on Standards for Tax Services
Other Professional Standards

1502 EXERCISING DUE DILIGENCE

Circular 230
The Internal Revenue Code

1503 TAX PRACTICE LOSS PREVENTION

Negligence and the Standard of Due Care
Use Engagement Letters
Track Due Dates
Evaluate Client Acceptance and Retention

1504 SYSTEMATIC APPROACH TO TAX PRACTICE ADMINISTRATION

Taking a Systematic Approach
Pre-engagement Administration
Engagement Initiation and Planning

Set the Engagement Scope [Step 1].
Confirm the Understanding with the Client [Step 2].
Assign Personnel [Step 3].

Engagement Conduct and Control

Prepare Work Program [Step 4].
Gather Relevant Data [Step 5].
Perform the Engagement [Step 6].

Engagement Review, Reporting, and Follow-up

Review and Approve the Work [Step 7].
Deliver the Work Product [Step 8].
Bill the Client [Step 9].

Post-engagement Administration

1505 TAX RESEARCH

Introduction
Control The Research Process

Planning the Research Project.
Developing and Using Budgets.
Estimating Fees.
Divide Compliance and Planning Projects into Separately Billable Engagements.
Supervising the Research.
Reviewing the Research.

Develop A Standard Research Strategy

Five Steps in Effective Tax Research.

Step One--Determine The Facts

Tax Compliance Research.
Tax Planning Research.
Ask Additional Questions.

Step Two--Formulate The Question
Step Three--Locate And Evaluate Applicable Authorities

Read the Applicable Editorial Materials.
Review Applicable Code Sections.
Review Applicable Regulations.
Review Other Applicable Sources.
Check a Citator.
Leaving a Trail.

Step Four--Answer The Question

Legal Questions.
Factual Questions.
Reaching a Conclusion.

Step Five--Document The Answer

What to Include in the Documentation.
Communicate Research Results to the Client.

Penalties Related to Tax Preparers

Section 6694 Preparer Penalties for Understatements of Tax.

Privileged Communications with Clients

1506 DISCLOSURE AND USE RULES
1507 MANDATORY PREPARER TAX IDENTIFICATION NUMBER (PTIN) REQUIREMENTS

Who is a Paid Tax Return Preparer?
PTIN Application System
Competency Testing and CPE Requirements

1508 MANDATORY ELECTRONIC FILING REQUIREMENTS

When Is a Paid Tax Return Preparer a Specified Tax Return Preparer?
Clients Can Opt out of E-filing

APPENDIX 15A: Sample Engagement Memorandum
APPENDIX 15B: Tax Return Engagement Letter for Business Entities
APPENDIX 15C: Tax Return Engagement Letter for Individual Clients
APPENDIX 15D: Sample Letter to Inform a Client about a Return Going Delinquent
APPENDIX 15E: Checklist of the Circular 230 Advertising and Solicitation Requirements
APPENDIX 15F: Checklist for Due Diligence Review
APPENDIX 15G: New Tax Client Acceptance Form
APPENDIX 15H: Tax Client Evaluation (Continuance) Form
APPENDIX 15I: Tax Return Fee Estimate Worksheet
APPENDIX 15J: Client Tax Data Sheet
APPENDIX 15K: Sample Short-form Tax Engagement Review Checklist
APPENDIX 15L: Interim Tax File Review Form--Individual
APPENDIX 15M: Interim Tax File Review Form--Business Clients
APPENDIX 15N: Tax Research Request Form
APPENDIX 15O: Tax Research Documentation Form
APPENDIX 15P: Checklist for Determining Whether Written Tax Advice Is a Covered Opinion
APPENDIX 15Q: Request to File a Paper Return
APPENDIX 15R: Sample Consent to Disclosure of Form 1040 Tax Return Information
APPENDIX 15S: Sample Consent for Use of Form 1040 Tax Return Information to Provide Firm Information
Guide to Managing an Accounting Practice Sample

View