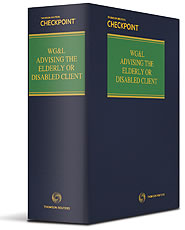 Advising the Elderly or Disabled Client

Advising the Elderly or Disabled Client, Second Edition expedites research, providing specific answers and solutions to legal and practical questions and problems that arise in daily practice when representing elderly or disabled clients.
This resource offers coverage of an extremely sensitive area, giving you step-by-step guidance to remain on solid ground in a complex legal or financial scenario.
Authors Lawrence A. Frolik, of the University of Pittsburgh School of Law, and Melissa C. Brown, an attorney with the Sacramento law firm of Farrell, Fraulob & Brown, provide expert coverage across the full range of elderly or disabled client concerns, including: planning for Medicare, Medicaid, and private insurance; medical decision-making and right-to-die issues; retirement and disability income planning; acute, chronic or changing medical conditions such as AIDS, Alzheimer's, strokes and mental illness. There is even a chapter on evaluated residences and special accommodations for the disabled or elderly client.
Includes scores of practice aids such as official forms, model documents, detailed real-world examples, checklists for interviewing and planning, and a quick-reference glossary of technical terms, concepts, and acronyms.
Advising the Elderly or Disabled Client - Frolik & Brown

Chapter 1: Clients With Special Needs—The Planner's Role

Chapter 2: The Initial Client Interview

Chapter 3: Overview of Common Mental and Physical Impairments

Chapter 4: Social Security Benefits

Chapter 5: Supplemental Security Income

Chapter 6: Proving Disability for Social Security and SSI Claims

Chapter 7: Social Security and SSI Applications & Appeals Issues

Chapter 8: Americans With Disabilities Act

Chapter 9: Other Federal and State Benefits

Chapter 10: Age Discrimination in Employment

Chapter 11: Private Pension Plans

Chapter 12: Health Care Maintenance

Chapter 13: Medicare

Chapter 14: Medicaid

Chapter 15: Nursing Homes and Long-Term Care Insurance [Revised Title]

Chapter 16: Assisted Living and Other Housing Choices [Revised Title]

Chapter 17: Special Planning for the Disabled Individual and Special Needs Trusts

Chapter 18: Special Planning Concerns for a Client With AIDS

Chapter 19: Medical Treatment Decision Making for Disabled Minors and Adults

Chapter 20: Situational Mental Incapacity—When Substitute Decision Making Is Needed [Revised Title]

Chapter 21: Powers of Attorney and Other Forms of Substitute Decision Making

Chapter 22: Adult Guardianship and Conservatorship

Chapter 23: Right to Die Issues

Chapter 24: Federal Income Taxation

Chapter 25: Federal Estate and Gift Taxation

Chapter 26: Estate Planning

Chapter 27: Use of Trusts

Chapter 28: Elder Abuse, Exploitation, and Neglect

Chapter 0: AppendixTable of Contents

Appendix 2-1. Interview Guide

Appendix 2-2. Records Location Checklist

Appendix 4-1. Worker's Compensation/Public Disability Benefit Questionnaire

Appendix 5-1. SSI Income Computation Worksheet

Appendix 5-2. [Reserved]

Appendix 5-3. Parent to Child Deeming

Appendix 5-4. Sponsor to Documented Immigrant Deeming Worksheet

Appendix 5-5. SSA Transfer-of-Resources Fact Sheet

Appendix 5-6. POM Sections: Transfer of Resources for Less Than Fair Market ValuePOM Sections 01150.005–01150.010, Transmittal No. 13, SSA Pub. No.69-0501150 (Sept. 2000).

Appendix 5-8. SSA POMs: Special Needs TrustsEmergency Message EM-00067 (May 26, 2000).

Appendix 5-9. States That Supplement SSI

Appendix 6-1. Application for Disability Insurance Benefits

Appendix 6-2. Disability Report—Adult

Appendix 6-3. Work History Report

Appendix 6-4. Claimant's Recent Medical Treatment

Appendix 6-5. Claimant's Medications

Appendix 6-6. Claimant's Work Background

Appendix 6-7. Function Report

Appendix 6-8. Mental Disability Assessments

Appendix 6-9. [Reserved]

Appendix 6-10. [Reserved]

Appendix 6-11. [Reserved]

Appendix 6-12. Medical Assessment of Ability to Do Work-Related Activities (Physical)

Appendix 6-13. Medical Assessment of Ability to Do Work-Related Activities (Mental)

Appendix 6-14. [Reserved]

Appendix 6-15. [Reserved]

Appendix 6-16. Plan for Achieving Self-Support

Appendix 7-4. Appointment of Representative

Appendix 7-5. Request for Reconsideration

Appendix 7-6. Request for Waiver of Overpayment Recovery or Change in Repayment Rate

Appendix 7-7. Request For Reconsideration—Disability Cessation—Right to Appear

Appendix 7-8. Disability Report—Appeal

Appendix 7-9. Request for Hearing by Administrative Law Judge

Appendix 7-10. Request For Review of Hearing Decision/Order

Appendix 7-12. Sample Argument to Appeals Council

Appendix 7-13. Model Complaint to Appeal Denial of Social Security Disability

Appendix 7-14. Model Complaint to Appeal Denial of Supplemental Security Income

Appendix 7-15. Social Security Model Fee AgreementSource: Social Security Administration.

Appendix 7-16. Second Status Request Addresses: Fee Agreement Only

Appendix 7-17. Petition For Attorney Fees Before the SSA

Appendix 8-1. Americans With Disabilities Act: Sample Complaint

Appendix 8-2. Executive Order: Community-Based Alternatives for Individuals With Disabilities

Appendix 9-1. Application for Special Benefits for World War II Veterans

Appendix 13-2. [Reserved]

Appendix 13-3. Advance Beneficiary Notice

Appendix 13-4. Appointment of Representative

Appendix 13-5. Medicare Redetermination Request Form

Appendix 13-6. Medicare Reconsideration Request Form

Appendix 13-7. Request for Part A Medicare Hearing by an Administrative Law Judge

Appendix 13-8. Request for Review of Part B Medicare Claim

Appendix 13-9. Request for Hearing—Part B Medicare Claim

Appendix 13-10. Request for Part B Medicare Hearing by an Administrative Law Judge

Appendix 13-11. Application for Help with Medicare Prescription Drug Plan Costs

Appendix 14-2. Selected Sections of State Medicaid Manual, HCFA—Transmittal No. 64—November 1994

Appendix 14-3. Deed With Retained Life Estate and Power to Sell and Retain Proceeds

Appendix 16-1. Employment Agreement

Appendix 16-2. Model Agreement for Nonresidential Caregiving

Appendix 16-3. Occupancy Agreement

Appendix 16-4. Model Contract for House Exchange for Life-Time Care

Appendix 17-2. Model Special Needs Trust

Appendix 21-1. Model Durable Power of Attorney

Appendix 21-2. Model for Appointment of Surrogate Health Care Decision Maker

Appendix 21-3. Revocation of Power of Attorney Form

Appendix 21-5. Model Letter to Accompany Standby Power of Attorney

Appendix 23-1. State Health Care Power of Attorney and Living Will Statutes

Appendix 23-2. State Surrogate Decisionmaking Statutes

Appendix 23-4. State Emergency Health Care Treatment Statutes

Appendix 23-5. Living Will Declaration

Appendix 23-6. Patient Information Concerning Advance Directives for Health Care

Appendix 23-7. State Default Appointment of Surrogate Health Care Decision Makers

Appendix 24-1. Model Multiple Support Agreement

Appendix 24-2. Certification of Chronically Ill Individual Under Internal Revenue Code § 7702B

Appendix 25-1. Model Completed Gift Tax Return—Form 709

Appendix 25-2. Model Completed Estate Tax Return—Form 706

Appendix 26-1. Model Estate Planning Questionnaire

Appendix 26-2. Model Will of Husband With Trust for Disabled Beneficiary

Appendix 27-1. Model Revocable Trust

Appendix 27-2. Model Irrevocable Insurance Trust

Appendix 27-3. Model Amendment to Revocable Trust

Appendix 27-4. Trust Protector

Appendix 0. Glossary
---