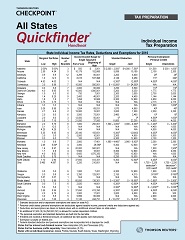 All States Quickfinder Handbook
Product Information
The 2017 tax year editions will be available in February 2018. Pre-order your editions today.

Brand:

Quickfinder
Get a complete, concise, and consistent summary of instructions for filing out-of-state individual income tax returns with the All States Quickfinder Handbook. The handbook covers returns for all 50 states and the District of Columbia, presenting topics in a consistent form - making it faster and easier for you to find information for any state.
The Handbook uses clear language and an easy-to-use, tabbed format, allowing you to quickly find the state tax filing information you need; answering your critical questions for each state, including:
What are the new tax developments for this filing year?
Who is required to file in this state?
Plus, the Handbook includes:
A summary of state forms for resident, part-year and nonresident taxpayers
Information about income, additions, subtractions, deductions, exemptions and credits
Tax tables and tax rate schedules, saving you time in finding the correct tax amounts
Hard-to-find city, county and school district information is summarized and quickly accessible
Worksheets to assist you in correctly calculating amounts to report on the form
Information on when returns are due, where and how to file them, and how to obtain an extension
How to make estimated tax payments, along with information on making electronic payments
You'll also get easy-to-read charts for state tax rates, deductions, and exemptions, Social Security and pension tax treatment, extension information, and electronic filing information.
See information above for new edition availability. To order the current or prior tax year editions, please call us at 800 510-8997
800 510-8997 FREE.
All States Quickfinder Handbook 2014

Quick Finder All States 2014 Tex Year

States With No Individual Income Tax

Alabama

Resident and Part-Year Resident Summary

Arizona

Part-Year Resident Summary

Arkansas

Part-Year and Nonresident Summary

California

Part-Year and Nonresident Summary

Colorado

Resident, Part-Year and Nonresident Summary

Part-Year and Nonresident Summary

Property Tax/Rent/Heat Rebate

Connecticut

Part-Year an d Nonresident Summary

Electronic Payments

2014 Connecticut Income Tax Tables all Exemptions and Credits are Included

Delaware

District of Columbia

Resident and Part-Year Resident Summary

Georgia

Resident, Part-Year and Nonresident Summary

Hawaii

Part-Year and Nonresident Summary

Idaho

Part-Year and Nonresident Summary

Illinois

Part-Year and Nonresident Summary

Indiana

Part-Year and Nonresident Summary

Iowa

Part-Year and Nonresident Summary

Kansas

Resident, Part-Year and Nonresident Summary

Part-Year and Nonresident Summary

Kansas Homestead Claim &Property Tax Relief Claim

Local Intangibles Tax Return

Kentucky

Part-Year and Nonresident Summary

Louisiana

Part-Year and Nonresident Summary

Maine

Resident, Part-Year and Nonresident Summary

Part-Year, Nonresident and Safe Harbor Resident Summary

Property Tax Fairness Credit

Maryland

Resident and Part-Year Resident Summary

County/City/Town Information

Massachusetts

Part-Year and Nonresident Summary

Michigan

Resident, Part-Year and Nonresident Summary

Homestead Property Tax Credit

Minnesota

Property Tax Refund/Rent Credit Form

Mississippi

Part-Year and Nonresident Summary

Missouri

Resident, Part-Year and Nonresident Summary

City of St. Louis Earnings Tax

Montana

Resident, Part-Year and Nonresident Summary

Part-Year and Nonresident Summary

Nebraska

Resident, Part-Year and Nonresident Summary

Part-Year and Nonresident Summary

New Hampshire

Resident and Part-Year Resident Summary

Proprietorship Business Tax Returns

New Jersey

Resident and Part-Year Resident Summary

New Mexico

Resident, Part-Year and Nonresident Summary

New York

Part-Year and Nonresident Summary

North Carolina

Resident, Part-Year and Nonresident Summary

North Dakota

Part-Year and Nonresident Summary

Ohio

Resident, Part-Year and Nonresident Summary

Ohio Municipal Income Tax

Oklahoma

Part-Year and Nonresident Summary

Oregon

Part-Year and Nonresident Summary

Self-Employed Individuals

Pennsylvania

Resident, Part-Year and Nonresident Summary

Property Tax or Rent Rebate

Rhode Island

Part-Year Resident Summary

South Carolina

Tennessee

Resident, Part-Year and Nonresident Summary

Utah

Part-Year and Nonresident Summary

Vermont

Resident, Part-Year and Nonresident Summary

Part-Year and Nonresident Summary

Virginia

Part-Year Resident Summary

West Virginia

Part-Year and Nonresident Summary

Wisconsin

Wisconsin Homestead Credit

Part-Year and Nonresident Summary

Electronic Payments

2014 Homestead Credit Computation Table B

Back Cover
---