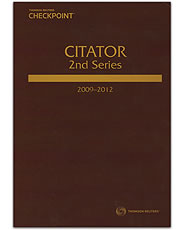 Citator 2nd

Product Information
Frequency of Updates:

Daily

Brand:

Research Institute of America
Whether advising clients on a particular course of action or representing them in court or before the IRS, you need to know that all the federal tax cases and IRS rulings you rely upon are still valid precedent. Citator 2nd allows you to quickly check those cases and rulings. Through a variety of plain language phrases, Citator 2nd shows you how earlier cases and rulings are being treated by courts today.
In addition, Citator notes specific relationships between cases and rulings, such as when one case has affirmed or reversed another. It's completely integrated and provides a quick and thorough citation check of all AFTR 2d, Tax Court Memo and Tax Court regular cases plus IRS rulings. Key case issues can be tracked across the entire breadth of Citator's case inventory.
Citator allows you to make the strongest argument possible for your clients by providing you with the following:
Complete history of direct action taken on federal tax cases, rulings and Treasury decisions by later cases and rulings
Accurate, up-to-date evaluations of how each case or ruling has stood up in the courts
Evaluations, written in plain language, clearly identified by the key legal issue
Imbedded links from citations to the pertinent case or ruling in Checkpoint, speeding your research
Parallel citations to West and CCH from most AFTR 2d and Tax Court cases
Available online and in print, Citator has the features and ease of use that makes legal research quick and easy.
List of Content (Click any title to expand the list)
Citator 2nd
A

A & A DISTRIBUTORS, INC. v U.S.--A. R. JONES OIL AND OPERATING CO.
A & R TYREE, INC.--AARONSON, LEWIS & ROBERTA
AAZAMI, MOHAMMAD M. & MONIREH--ABBOTT, JOHN
ABBOTT, JOSEPH W., JR., IN RE--ABDALLA, ADEL
ABDALLA, JACOB v. COMM.--ABELL, ROBERT CHARLES v. SOTHEN, WILLIAM R.
ABELL, ROBERT CHARLES v. SOTHEN, WILLIAM R.--ABFA TRUST
ABINGDON POTTERIES INC.--ABRAHAM, IDA, EST OF.
ABRAHAM, IDA, EST OF. v. COM.--ABRAM, MARIO ANGEL
ABRAM, WILEY KEITH, ET AL v. HANDLEY, DOUGLAS V., ET AL--ABRAMSON, JACOB C., EXEC.
ABRAMSON, JACOB C., EXEC. v COMM.--ACAMPO WINERY & DISTILLERIES, INC.
ACAR, KAZIM Z. v. COM.--ACHELIS, HELEN B., EXEC. (EST. OF ACHELIS, FREDERIC G.)
ACHELIS; HELVERING v--ACKERMAN, THOMAS & SARAH G.
ACKERMAN, THOMAS T.; U.S., ET AL v.--ACME STEEL COMPANY
ACOCK, SCHLEGEL ARCHITECTS, INC.--AD VISOR, INC.
ADA ORTHOPEDIC, INC--ADAMS, ALAYNE BARRY; U.S. v.
ADAMS, ALTO & CARRA--ADAMS, FANEUIL, JR. v U.S.
ADAMS, FLOYD W.--ADAMS, MARVIN R., JR. & JEANNE H.
ADAMS, MELVIN, H. v COMM.--ADAMS, SAMUEL CLAY v. GRIFFIN, DAVID
ADAMS, THEODORE J.--ADCO SERVICE, INC., ASSIGNEE v GRAPHIC COLOR PLATE, INC.
ADCOCK, HOMER & DOROTHY--ADELVISION, L.P. v. GROFF, HORACE E.
ADEN, ROBERT F.; U.S. v--ADLER, AXEL O., EST
ADLER, BERNYCE v. U.S.--ADNEE, CHRISTINE LOU, TRUST (HARRY M. ADNEE, TRUSTEE)
ADNEE, HARRY M. & MARGARET P.--AD-YU ELECTRONICS, INC., IN RE
AD-YU ELECTRONICS LAB., INC.--A.F. CO. OF ILL.; U.S. v
AFFELDER, ESTELLE MAY--AGENCY AUTOMATION PARTNERS, LTD
AGENCY OF CANADIAN CAR & FOUNDRY CO., LTD.--AGRON v U.S.
AGUILA, RAUL; U.S. v.--AHLSTRAND, ROY A. & HELEN M.
AHLSTRAND v STUDEMAN--AIKEN DRIVE-IN THEATRE CORP. v U.S.
AIKEN DRIVE-IN THEATRE CORP. v U.S.--AIRLIE FOUNDATION, INC. v. U.S.
AIRLIE FOUNDATION, INC. v U.S.--AJP MANAGEMENT v. U.S.
AJULUCHUKU, AMANDA U. v. IRS--AKINS, MARK MARION
AKINS, MARK MARION v. COM.--ALABAMA POLYTECHNIC INSTITUTE, THE v DISTRICT OF COLUMBIA
ALA. POWER CO. v U.S.--ALBA, MANUEL SILVANO v U.S.
ALBACHTEN v CORBETT--ALBERT, WALTER & WALTRAUT
ALBERT-HARRIS, INC., TRANSFEREE--ALBUQUERQUE METALS CO., IN RE
ALBUQUERQUE NAT. BANK, EXEC., TRUSTEE v U.S.--ALDRICH, GRACE MARIE, EXECX.
ALDRICH , HARRIET--ALESSI v RAYBESTOS-MANHATTAN, INC. EMPLOYEE RETIREMENT PLAN
ALESSI, VIRGIL; U.S. v--ALEXANDER, FRANKLIN LEON
ALEXANDER, FREDERICK LEE v I.R.S.--ALEXANDER, MORRIS, TRANSFEREE
ALEXANDER, NELLA BETH--ALFARO, DANIEL V. v. COM.
ALFARO, DANIEL V. & IRMA L.--ALINCO LIFE INS. CO. v U.S.
ALINCO LIFE INSURANCE CO. v. U.S.--ALKIRE INVEST. CO. v NICHOLAS
ALKIRE, JOHN C.; U.S. v--ALLEMAN CO-OP CO.
ALLEMAN CO-OP CO. v COMM.--ALLEN, DONALD, W. & RUTH S.
ALLEN, DOROTHY A. D.--ALLEN, JENNIE
ALLEN, JENNIE--ALLEN, LEWIS G. v U.S.
ALLEN, LEWIS G. v U.S.--ALLEN, ROBERT M. & FRANCES D.
ALLEN, RONALD E.--ALLENSWORTH, WILLIAM R., EST. OF
ALLENTOWN NAT. BK., EXEC. (EST. OF KIFT, ROBERT L.)--ALLIED MILLS, INC. & SUBSIDIARIES
ALLIED PAINT MFG. CO.--ALLISON, HOWARD M.; U.S. v
ALLISON, IAN T.--ALLOWAY, DAVID E. v MASSINGA, RUTH
ALLOWAY, DAVID E. v TREAS. OF STATE OF MD.--ALMA PISTON CO.
ALMA PISTON CO.--ALPER, LOUIS EST. OF
ALPER, MAX & FLORENCE--ALPHA STUDY AIDS, INC., TRANSFEROR
ALPHA TANK & SHEET METAL MFG. CO. v U.S.--ALT, NAN BETH v. U.S.
ALT, ROSALINDA v. COM.--ALTMAN, LEON S. & OLGA H.
ALTMAN, MAX v ALEXANDER, DONALD C.--ALVARADO, JUAN ALBERTO
ALVARADO, MARIO; U.S. v.--AMALGAMATED DENTAL CO., LTD.
AMALGAMATED HOUSING CORP., v COM.--AMBROSE, CLAY v U.S.
AMBROSE; COM. v--AMEREX HOLDING CORP. v COMM.
AMERGEN ENERGY CO., LLC v. U.S.--AMER. BANKERS LIFE ASSUR. CO. OF FLA. v U.S.
AMER. BANKERS LIFE ASSUR. CO. OF FLA. v U.S.--AMERICAN CASUALTY CO. OF READING, PA.; U.S. v
AMER. CEMENT CORP. v U.S.--AMERICAN ELECTRIC POWER CO INC, ET AL v. U.S.
AMERICAN ELECTRIC POWER CO, INC v. U.S.--AMER. FOOD PRODUCTS CORP.
AMER. FORK & HOE CO., THE--AMER. INSTITUTE OF MARKETING SYSTEMS, INC.; U.S. v
AMER. INSULATION CORP.--AMERICAN MUTUAL LIFE INSURANCE CO & SUBSIDIARIES v. U.S.
AMERICAN MUTUAL LIFE INSURANCE CO & SUBSIDIARIES v. U.S.--AMER. PACIFIC INVEST. CORP. v FIDELITY AMER. FINANCIAL CORP.
AMER. PACIFIC INVEST. CORP. v NASH, JR.--AMER. SVGS. & LOAN ASSN.; U.S. v
AMER. SVGS. & LOAN ASSN. OF FLA.; SHERLOCK, JAMES L. v--AMERICAN STORES COMPANY & SUBSIDARIES
AMER. SUGAR REFINING CO., THE v U.S.--AMERICAN VAULT CO., INC.; U.S. v
AMERICAN VAULT CO.; U.S. v--AMERSON, THOMAS A.;' U.S. v
AMES, ALDRICH H.--AMHERST TEXTILE CO., INC.
AMHOWITZ, HARRIS J. v U.S.--AMOCO CORP v. COM.
AMOCO OIL COMPANY v. U.S.--AMSINGER, THOMAS I. v. IRS
AMSINGER, THOMAS I. v. IRS--ANASTASIO, JOSEPH v COMM.
ANASTASOFF, FAYE v. U.S.--ANDERSEN, JEANETTE, TRUST v U.S.
ANDERSEN, JEANETTE, TRUST v U.S.--ANDERSON, CAROL A.; U.S. v.
ANDERSON, CHARLES E. & MARGELEE S.--ANDERSON, DON P. & DORIS
ANDERSON, DONALD C. v U.S.--ANDERSON, G. GLEN & NAOMI D. v COMM.
ANDERSON, GARY B., ET AL; U.S. v.--ANDERSON, JAMES E. v. COM.
ANDERSON, JAMES E. v COMM.--ANDERSON, LARRY F.; U.S. v.
ANDERSON, LARRY G.--ANDERSON, P. J., & SONS
ANDERSON, PATRICIA v. U.S.--ANDERSON, SAMUEL v. COM.
ANDERSON SHRIMP BOATS, INC. v U.S.--ANDERSON, WALTER C. v. COM.
ANDERSON, WALTER; U.S. v.--ANDREW, STEVEN, IN RE
ANDREWS, BENJAMIN J., JR. v U.S.--ANDREWS' TAX LIABILITY, IN RE
ANDREWS, TERRY W. & BONNIE J.--ANGELO, WILL OF, IN RE
ANGELOS, LEO H. & CAREY A.--ANN ARBOR BREWING CO., IN RE
ANN ARBOR CO-OP CREDIT UNION; DOWLING, JAMES F. v--ANSPACH, PAUL L. & HELEN
ANTELMAN, MARVIN S. v DECATALDO, MICHAEL--ANTONELLI, DOMINIC F., JR., IN RE
ANTONELLI, LINDA ET AL.; U.S. v.--APG 3 INC v. U.S.
APG 3 INC v. U.S.--APPLEBAUM, JOSEPH R., EST. OF v COMM.
APPLEBY v COMM.--APRILL , LOUISE K.
APSCHNIKAT v U.S.--ARAMVICA, FRANK, ET AL. v MARQUESA, M. V., ETC., PACIFIC ISLAND NAVIGATION CO., A CORP. U.S., COUNTY OF LOS ANGELES, AND CITY OF LONG BEACH
ARAMVICA v MARQUESA--ARCADE RESTAURANT, INC.
ARCADIA AMUSEMENT CO.--ARCHER, MARY E.
ARCHER, ROBERT L. v. U.S.--ARDITI EXPORT CORP.; U.S. v
ARDITI, ISAAC; BORAKOVE, FRED v--ARGO v COMM.
ARGO, FRANK H. & BEVERLY J.--ARKANSAS LEASING SERVICE, INC.
ARKANSAS LOUISIANA GAS CO.--ARMANCO PRODUCTIONS, INC.
ARMANTROUT, H. M. & BETTY L.--ARMOUR, LOLITA S.
ARMOUR, NORMAN E.; MORRISSEY, DANIEL J., JR. v--ARMSTRONG, JAMES B.
ARMSTRONG, JOHN & KATHRYN--ARNDT, CHARLES J. v. U.S.
ARNDT, JOHN W. v U.S.--ARNOLD, LOWELL G. v U.S.
ARNOLD, MAXWELL A., JR. v COMM.--ARNS, CHRISTOPHER L., v. U.S.
ARNSON v MURPHY--ARRIAGA, JOHN LUISE; U.S. v.
ARRIGONI, JAMES M. & DELORES E.--ARTHUR ANDERSEN & CO. v I.R.S.
ARTHUR ANDERSEN & CO. v I.R.S.--ARUTUNOFF, ARMAIS & CLAUDIA
ARVIN, LEONARD v U.S.--ASENAP v U.S.
ASH, CHARLOTTE A.--ASHER, DONALD L. v U.S.
ASHER, GEORGE; U.S. v--ASHWORTH v U.S.
ASIAN-AMER. RECREATION CLUB, INC.; KELLEY, BRIAN M. v--ASPHALT PRODUCTS CO., INC.
ASPHALT PRODUCTS CO., INC. v COMM.--ASSOCIATED GROCERS OF ALA., INC. v WILLINGHAM
ASSOCIATED HOSPITAL SERVICE CORP. v. HASSETT--ASTLEFORD, MELVIN G. v U.S.
ASTON, ERYCK C.--ATHOL MFG. CO. v COMM.
ATIGHI, ANDY v. COM.--ATKINSON, MELVINE B., EST OF.
ATKINSON, MELVINE B., EST OF--ATLANTIC COAST LINE RAILROAD CO.
ATLANTIC COAST LINE R.R. CO. v COM.--ATLANTIC-PACIFIC MFG. CORP.
ATLAS, EDWARD A.--ATTEBURY, GROSVENOR
ATTEBURY v U.S.--AUBURN ENGINEERING INC. v U.S.
AUBURN MOTORS, INC. v FERRARI NORTH AMERICA, INC.--AUGUST, MICHAEL & REBA M.
AUGUST, RAYMOND S.--AUSMUS, JAMES C., JR.; U.S. v
AUSTIN, A PLUMER, EST. OF--AUSTIN, THOMAS EDWARD, IN RE
AUSTIN TRANSIT, INC.--AUTOMATIC SPRINKLER CO. OF AMERICA
AUTOMOBILE CLUB OF MICH v COMM.--AUTO-ORDNANCE CORP. v U.S.
AUTORAMA TOOL & DIE CO., IN RE--AVERILL, GLENN M.
AVERS, RONALD H & DOROTHY A.--AVILA; U.S. v
AVILDSEN, EDWARD B. v U.S.--AWTRY, NELLIE, EXECX. v COMM.
AXE, BAKER L. & HELEN D.--AYRES & CO. v U.S.
AYRES & CO. v U.S.--AZTEC MOTEL, THE, IN RE

B

B & A DISTRIBUTING CO.--BAAN; COM. v
BAAN v COMM.--BABICH, CALVIN & KAREN, IN RE
BABILONIA, CONSTANCIO & CLEO--BACHE HALSEY STUART, INC.; I.R.S. v
BACHE HALSEY STUART, INC.; SCHWARTZ, MARVIN v--BACKER, JULIA, EXEC. v COMM.
BACKER, PAUL, EST. OF--BADER EXEC. v U.S.
BADER, FRANZ ELMAR v U.S.--BAERTSCHI, E. F. & ALMA M.
BAESEL, ROBERT C. & JEANNE T.--BAGNOL, VENANCIO A. & JUANA T.
BAGUR, AIMEE D.--BAIL BONDS BY MARVIN NELSON, INC. v COMM.
BAIL FUND OF THE CIVIL RIGHTS CONGRESS OF N.Y.--BAILEY, GARNET E. & KATHERINE P.
BAILEY, GARNET E. v U.S.--BAILEY v U.S.
BAILEY; U.S. v--BAIRD v COMM.
BAIRD, DAVID G. & MILDRED B.--BAISDEN, LOWELL; U.S. v.
BAISDEN, LOWELL; U.S. v.--BAKER, ELLIS, EST. OF
BAKER, EMERIT E., INC.--BAKER, JR. v DIST. DIR.
BAKER, KENDRICK; U.S. v.--BAKER, R. BARNEY, IN RE
BAKER, R. BARNEY v I.R.S.--BAKER; U.S. v
BAKER v U.S.--BALANCIO, L. WILLIAM v. U.S.
BALANOVSKI, I. & CIA (CADIC); U.S. v--BALDWIN CTY. SVGS. & LOAN ASSN. v TAYLOR, DANIEL W.
BALDWIN COUNTY SVGS. & LOAN ASSN. v U.S.--BALDWIN, WILLIAM W.; U.S. v
BALDWIN, WILLIAM W.; U.S. v--BALKEN, EUGENE & CHERI
BALKEN, EUGENE & CHERI--BALL; U.S. v
BALL; U.S. v--BALLARD, HERBERT T., JR., CO-EXEC. v U.S.
BALLARD, JACK--BALLOU v U.S.
BALMER, CHARLES R. v U.S.--BALTIMORE STEAM PACKET CO.; WALLING v
BALTIMORE STEAM PACKET CO. v U.S.--BANCENTRAL TR., TRUSTEE
BANCITALY CORP.; COMM. v--BANK IV WICHITA, NA., EXEC.
BANK IV WICHITA, N.A., EXEC. v. COM.--BANK OF AMERICA NAT. TRUST & SAVINGS ASSN. v MAMAKOS, SOCRATES
BANK OF AMERICA NATIONAL TRUST & SAVINGS ASSN. v ROGAN--BANK OF CALIF.; U.S. v
BANK OF CALIF.; VAN DEN BERG, JOAN M. v--BK. OF LYONS v DVORAK, JAMES E., TRUSTEE
BK. OF LYONS v HARRIS BK. HINSDALE--BK. OF N.Y., THE, EXEC. v U.S.
BK. OF N.Y., THE, EXEC. v U.S.--BK. OF WINNFIELD & TR. CO. v U.S.
BANK OF WRANGELL v ALASKA ASIATIC LUMBER MILLS, INC.--BANKERS TRUST CO., EXEC. v U.S.
BANKERS TRUST CO., EXEC. (WILL OF FELLNER, IRVING S.)--BANKS, JAMES H., ET AL.; U.S. v.
BANKS, JOHN W., II--BAPTIST HOSPITALS, INC. v U.S.
BAPTIST HOSPITALS, INC. v U.S.--BARBER, A. S., INC. v U.S.
BARBER, A. S. v U.S.--BARBER-GREENE OVERSEAS, INC.; COMM. v
BARBER-GREENE OVERSEAS, INC.--BARCUS, LEONARD F. & MARIE P.
BARCZAK, MAX A.; U.S. v--BARELL, MARTIN C., CO-EXEC. v PEARSON, EDWARD L.
BARENFELD, CHARLES v U.S.--BARKER, JAMES M. v U.S.
BARKER, KATHLEEN C. v. U.S.--BARLOW, MYRON v. COM.
BARLOW, NORMAN L. & MARGARET C.--BARNES, CHARLES B., EXEC. & TRUSTEE v U.S.
BARNES, CHARLES B. TRUSTEE v U.S.--BARNES, LELA G. v. DEPT. OF TREAS.
BARNES, LELA G. v. DEPT. OF TREAS.--BARNES; U.S. v
BARNES; U.S. v--BARNETTE, JANET L.
BARNETTE, JANET L.--BARNSLEY, HARRY LELAND
BARNSTONE, HOWARD v JACKSON, AMOS--BAROODY, MARK E.; U.S. v.
BAROODY, MARK E.; U.S. v.--BARRET, RICHARD & JEANE
BARRET; U.S. v--BARRETT, PAT M., JR. v. U.S.
BARRETT v PHINNEY--BARRITT, JR., EXEC. v TOMLINSON
BARRON, BENJAMIN--BARRY, JACK, PRODUCTIONS, INC. v U.S.
BARRY, JEAN D., IN RE--BARTELL, LAWSON W. & LAVELLA J.
BARTELL v PARKVIEW HOSPITAL--BARTH & RICHHEIMER, P.C.; U.S. v
BARTH & RICHHEIMER, P.C.; U.S. v--BARTLEY, DOUGLASS H. & SUZANNE M.
BARTLEY, JASON v. U.S.--BARTON, MICHAEL W.
BARTON MINES CORP.--BARUCH, HARTWIG N.
BARUDIN, JAMES, EST OF--BASIC BIBLE CHURCH OF AMERICA; DEZELAR, JOHN v
BASIC BIBLE CHURCH OF AMERICA, INC. v REGAN, DONALD T.--BASS, CLIFFORD W. v. U.S.
BASS v COMM.--BASSETT, PHILIP PAUL
BASSETT, PHILIP PAUL v. COM.--BATEMAN , LADY MARIAN
BATEMAN, RAY D. v U.S.--BATES, WARREN CLYDE, IN RE
BATES, WILLIAM L., IN RE--BATTEN v U.S.
BATTERMAN v COMM.--BATZELL, ELMER E. & EDNA MAE
BAUCOM, MARTIN LOUIS; U.S. v.--BAUGHCOME, JAMES G.; U.S. v.
BAUGHER, JAMES A. & PATRICIA A.--BAUMANN RUBBER CO.
BAUMANN, STANLEY K. & TOMI L.--BAUSCHARD v COMM.
BAUSCHARD, RAYMOND--BAXTER, SAMUEL D. & NANCY
BAXTER, STEPHEN C., PERSONAL REPRESENTATIVE--BAYLEY, JOHN F. & RUTH
BAYLEY; U.S. v--B&D VENDING INC. ET AL.; U.S. v.
B&D VENDING, INC. ET AL.; U.S. v.--BEACONCREST, INC. v COMM.
BEAD CO., THE, IN RE--BEAM, FLOYD W. v. IRS
BEAM, FLOYD W. v. U.S. GOVT., ET AL.--BEAR MILL MFG. CO., INC. v U.S.
BEAR VALLEY MUTUAL WATER CO. v RIDDELL--BEAR'S DEN, INC.; WILLIAMS v
BEARY, KARL F.; U.S. v--BEATTY, GEORGIA M.
BEATTY, GEORGIA M. v COMM., Court Order--BEAUGARD, EILEEN M.
BEAUGARD, PETER A.--BEAVERS, VIRGILL L. & MILDRED, (HUSBAND & WIFE)
BEAVERTON TRANSFER CO., INC.--BECK, JOHN C. v COMM.
BECK, JOHN C. & KATHLEEN--BECKER, EDWARD M. v COMM.
BECKER, ELDON v U.S.--BECKLENBERG, FRED, JR., EXEC.
BECKLENBERG, MARIA, EST. OF--BEDELL v COMM.
BEDELL & COMPANY; U.S. v.--BEECH, THOMAS RICHARD v. COM.
BEECH TREE FARM, FALLS CHURCH, VA. v U.S.--BEERBOWER, GORDON N. v DOES, JOHN/JANE
BEERBOWER, GORDON N. v GEN. MOTORS CORP. HYDRA-MATIC DIV.--BEGNER, ALAN I. v. U.S.
BEGNER, ALAN I. v. U.S.--BEIMFOHR, RIK W. & BARBARA A.
BEIN, WILLIAM S.--BELCHER; PATTERSON v
BELCHER; PATTERSON v--BELKNAP, EXEC. v U.S.
BELKNAP, EXEC. v U.S.--BELL , F. S., EST. OF
BELL FED. SVGS. & LOAN ASSN v. COM.--BELL INTERCONTINENTAL CORP. v U.S.
BELL , IRENE L.--BELL, ROBERT, IN RE
BELL, ROBERT; U.S. v.--BELLER & KELLER v. KINDOR, TYRONE
BELLEVUE MFG. CO.--BELMONT, CHRISTINA L.
BELMONT LUMBER CO., INC.--BELZ INVEST. CO., INC. v COMM.
BELZ, JACK A. & MARILYN--BENDER, EDWARD P., EST. OF v COMM.
BENDER , EUGENE L., EST . OF--BENEFICIAL FOUNDATION, INC. v U.S.
BENEFICIAL INDUSTRIAL LOAN CORP. v HANDY--BENITEZ, RENE; U.S. v
BENITEZ, RENE; U.S. v--BENNER, EDWARD R.
BENNET v. HELVERING--BENNETT, JAMES N. & SIMONE
BENNETT, JAMES R. & MARYELLEN--BENNETT, R. SHAD & ANNA ATKINS
BENNETT, R. SHAD v GRAY, CHESTER & U.S.--BENNETT-BEY, TANYA v. SHULMAN, DOUGLAS
BENNETT-IRELAND, INC. v AMER. ALUMINUM PRODUCTS CO., INC.--BENSON, BURTON O. v. COM.
BENSON; COM. v--BENSON, ROBERT T & LINDA C.
BENSON, ROY L.--BENTLEY, WILTON
BENTON, ALBERT PATRICK JUNIOR v. COOPER, CLARENCE--BERCH v U.S.
BERCKMANS, BRUCE & HILDEGARDE--BERG, LORAINE M.; MELARAGNO, OLIN P. v
BERG, LORAINE M.; U.S. v--BERGER, ROY M. & BETTY LOU
BERGER, RUTH, TRANSFEREE--BERGSTROM, DOUGLAS W., IN RE
BERGSTROM, KARL A. v. U.S.--BERKOVITZ, GABRIEL H., IN RE
BERKOVITZ v U.S.--BERLIN, HARRY I, & SADYE J.
BERLIN , IRVING--BERMONT OIL CO. v HELVERING
BERNABE, GRETTA M. v. U.S.--BERNEY, PETER E.; I.R.S. v
BERNEY, PETER E.; U.S. v--BERNSTEIN, LILLIAN, EXECX. (EST. OF BERNSTEIN, KALMAN)
BERNSTEIN, LYNN C.--BERRY v COMM.
BERRY v COMM.--BERRY, MICHAEL K.
BERRY, NANCY R.; U.S. v.--BERT, VERNON J., TRUSTEE FOR D. M. NELSON
BERTELLI, ROSS J. v U.S.--BESS; U.S. v
BESS; U.S. v--BEST, ROBERT W., EST. OF v U.S.
BEST, ROBERT W., EST. OF v U.S.--BETTENDORF BANK & TRUST CO.; DEAN, PAULA J. v
BETTENDORF BANK & TRUST CO.; HOARD, GUY H. v--BEUCHERT, JR., CO-EXEC. v COMM.
BEUCHERT, JR., GEORGE H., CO-EXEC.--BEZANSON, DENNIS G. v. U.S.
BEZDJIAN, GARBIS S. v COMM.--BIBBS, VINCENT D. v. U.S.
BIBBY, C.O. & MARIE--BIDDLE SAWYER CORP. v I.R.S.
BIDDLE v U.S.--BIERBRAUER, CECIL; U.S. v
BIERER, DAVID L. & LAURIE--BIGELOW, FRANKLIN T. JR. (EXECUTOR )
BIGELOW, OREN G., ET AL v. COM.--BIJOU-PENSACOLA CORP. v U.S.
BILAN, FRANK v. U.S.--BILLINGS, MAY, EXECX. (WILL OF BILLINGS, RICHARD)
BILLINGS v U.S.--BILZERIAN, PAUL A. v. U.S.
BILZERIAN, PAUL A. v. U.S.--BINKLEY, EST. OF v U.S.
BINKLEY, FLOYD, IN RE--BIRCH & SONS CONSTRUCTION CO., S. v CAPEHART
BIRCHENOUGH, HERBERT & EDITH v U.S.--BIRKENSTOCK, U.S. EX. REL.; BLAIR v
BIRKENSTOCK, U.S. EX REL; BLAIR v--BISCAYNE BAY ISLANDS CO.
BISCEGLIA; BRUTSCHER v--BISHOP, EXECX. v U.S.
BISHOP, EXECX. v U.S.--BISHOP'S BREEDING FARMS, INC. v U.S.
BISKAR, ARNOLD; U.S. v--BIVINS, PAUL R.; U.S. v.
BIVOLCIC, ROBERT J.--BLACHY, JOBST W.F., ET AL. v. BUTCHER, ROBERT, ET AL.
BLACK, ADM. v LOCKHART--BLACK, GENNIE v BRENNAN, CHARLES
BLACK, GENNIE v SIMON, WILLIAM E.--BLACK, MARSHA v BRENNAN, CHARLES
BLACK, MARSHA v SIMON, WILLIAM E.--BLACKBIRD, MARY
BLACKBURN, A. B., JR.; I.R.S. v--BLACKMER, SIDNEY
BLACKMON & ASSOC., INC. v U.S.--BLAINE, KERRY; U.S. v.
BLAINE, KERRY; U.S. v.--BLAIR, WILLIAM G. & PEGGY J.
BLAIR, WILLIAM N. & GLYNN v U.S.--BLAKE, WILLIAM L. v TUCCI, PATRICK A.
BLAKE, WILLIAM L. v U.S.--BLANCHARD, ELMER F. v U.S.
BLANCHARD, EXEC. v U.S.--BLANKSTYN, WILLIAM C. v. U.S.
BLANKSTYN, WILLIAM C. v. U.S.--BLATZ, DONALD L. v COMM.
BLAUNER, IRVING & FRANCES--BLENSKI, EDWARD E. & JANET
BLESER DANIEL C., EST . OF--BLISS v U.S.
BLISS VALLEY GROWERS--BLOCK & KOHNER MERCANTILE CO.
BLOCK & KOHNER MERCANTILE CO. v U.S.--BLOM, JAMES & MARILYN O.
BLOMBERG, RAYMOND E.; U.S. v--BLOOMINGTON LIMESTONE CORPORATION v U.S.
BLOOMINGTON NAT. BANK OF BLOOMINGTON, IND., THE v AMER. INDUSTRIAL DISPOSAL, INC.--BLUE EQUIP. CO. INC.
BLUE FLAME GAS CO.--BLUM, JACQUES, EST. OF v GRANGER
BLUM, JOSEPH G. EXEC.--BLUM'S INC.
BLUM'S INC.--BD. OF EDUC. v ROSE BEDDING CO., INC.
BD. OF EDUC. v SCHIFFER, SAMUEL G.--BOATWRIGHT, FAYE C. v. U.S.
BOATWRIGHT, FAYE C. v. U.S.--BOCA INVESTERINGS PARTNERSHIP, ET AL. v. U.S.
BOCA INVESTERINGS PARTNERSHIP, ET AL. v. U.S.--BODEGA BAR, THE, DEADWOOD, S.D., IN RE
BODELL v COM.--BOEHM v COM.
BOEHM v COMM.--BOGARD, BRIDGET
BOGARD, FRANK; U.S. v.--BOGUE, SCOTT v. U.S.
BOGUE, STEVEN S. & LISA J.--BOISE CASCADE CORP. & SUBS. v U.S.
BOISE CASCADE CORP. & SUBSIDIARY COS. v U.S.--BOLDING, ROBERT R. v. U.S.
BOLDING, SR.; U.S. v--BOLLINGER, JESSE C.; COMM. v
BOLLINGER, JESSE C., JR.--BOMASH, EST. OF v COMM.
BOMASH, FANNIE, EST. OF--BOND CROWN & CORK CO., SUCCESSOR
BOND, DEWAYNE & KAREN R.--BONE, ALAN G. & KATHLEEN A.
BONE, ALAN G. & KATHLEEN A. v. COM.--BONNER, WILLIAM F., JR.
BONNER, WILLIAM F., JR. v COMM.--BOOK, KEITH E. v I.R.S.
BOOK PRODUCTION INDUSTRIES, INC.--BOONE v U.S.
BOONTON MOLDING CO.--BOOTHE, JESSE & ELSIE C.
BOOTHE, PHILLIP DOYLE; U.S. v--BORDENAVE v U.S.
BORDERS, RANDALL H.--BORIN, AARON, EST. OF v U.S.
BORIN, CLAIRE--BORNSTEIN, SAMUEL & LENA
BORNSTEIN v U.S.--BOSAMIA, RAMESH J. v. COM.
BOSAMIA, RAMESH J. & PRAGATI--BOSSE, HOMER, TRUSTEE v U.S.
BOSSE, HOMER, TRUSTEE v U.S.--BOSTON SAFE DEPOSIT & TR. CO., CO-EXEC.
BOSTON SAFE DEPOSIT & TR. CO., CO-EXEC. v COMM.--BOTAI CORP., N.V.
BOTANY WORSTED MILLS v U.S.--BOUBEL, PETER v. U.S.
BOUCHARD, ARTHUR J. & IRENE S.--BOUIE, ELIJAH & SARAH
BOUL, BERNARD H. & ANTOINETTE--BOUREY, ARTHUR v U.S.
BOURFF, PHILLIP E., ET AL; U.S. v--BOVEY, FORD v. U.S.
BOVINGTON, JOHN R. v U.S.--BOWEN, MACK J. v. U.S.I.R.S.
BOWEN, MARTIN, RAYMOND--BOWERS, JOHN N. & ALMA S.
BOWERS, JOHN N. & ALMA S.--BOWLES, J. D.
BOWLES, JOHN D.--BOWMAN, JAMES D. & MERLE C.
BOWMAN, JOSEPH S. & GERTRUDE--BOWSER, CARLTON E., SR. v PORTNEY, GERALD G.
BOWSER, CARLTON E., SR. v PORTNEY, GERALD G.--BOYD, CHARLES A. & HARVEY, DARBY A.
BOYD, CHARLES G. & MARY A. A., JR.--BOYD, KEVIN E.; U.S. v.
BOYD, LEA--BOYER, LUCIEN & RIKA
BOYER, MARKLEY H., EXEC. v U.S.--BOYLE, JOHN F., JR., EST. OF v U.S.
BOYLE, MYRA W., EST. OF v U.S.--BOYNTON, WARREN K., IN RE
BOYNTON, WARREN K. & SUSI M.--BRADBURY, I. C.
BRADBURY INDEPENDENT MINING CO.; U.S. v--BRADFORD, PEGGY FAIRCHILD v U.S.
BRADFORD, ROBERT E. & NANCY R.--BRADLEY, JOHN EDD, EST. OF v U.S.
BRADLEY, JOHN S., SUCCESSOR EXR, C.T.A.--BRADY, ELIZABETH M.
BRADY, ELIZABETH M. v COMM., Court Order--BRAINARD, LIQUID TRUSTEES v SCOFIELD
BRAINARD, MILLAR--BRANCATO, JASPER M., GRAND JURY PROCEEDINGS v U.S., IN RE
BRANCH BANKING & TR. CO., EXEC.--BRANDOM, WILLIAM S. v U.S.
BRANDON, ALFRED C., JR.--BRANFORD STATE BK.; U.S. v
BRANGAN, GLEN L. v U.S.--BRANTINGHAM, BEATRICE F., EST. OF v U.S.
BRANTINGHAM, JOHN C., EXEC. v U.S.--BRATTIN, RICHARD E.
BRATTON v COMM.--BRAUNSTEIN, HENRY & MAE
BRAUNSTEIN, JOSEPH; U.S. v.--BRAZIER FOREST PRODUCTS, INC., IN RE
BRAZIER FOREST PRODUCTS OF ORE., INC., IN RE--BRECKENRIDGE, MARYE M., EST. OF
BRECKER, LOUIS J.--BREIER, HAROLD, CHIEF; U.S. v
BREIHAN; U.S. v--BRENNAN, EST. OF v O'DONNELL
BRENNAN, EST. OF v O'DONNELL--BRENT, TRUSTEE v WILLIAMS
BRENTON FIRST NAT. BK.; HELFER, MARK J. v--BREWER, CHERYL DENESE v. COM.
BREWER, DARRELL D. v DIST. DIR.--BREWSTER, FRANK W.
BREWSTER, FREDERICK F., WILL OF v U.S.--BRICKELL INVESTMENT CORP., ET AL; I.R.S. v.
BRICKELL INVESTMENT CORP., ET AL; I.R.S. v.--BRIDGEFORTH v U.S.
BRIDGEFORTH; U.S. v--BRIFMAN, MARTIN B.
BRIGGS, ARTHUR M., EST. OF--BRIGHAM YOUNG UNIVERSITY; U.S. v
BRIGHT, CHERIE J.; U.S. v.--BRILL, MORRIS
BRILL; U.S. v--BRINSON, ROBERT v. U.S.
BRINSON v TOMLINSON--BRITT, BENJAMIN R.
BRITT, BILLY T. & BARBARA J.--BRNILOVICH, DAVID & DIANE A.
BRNUELLE, M. E. S.--BROADWAY DRIVE-IN THEATRE, INC. v U.S.
BROADWAY DRUG, INC., (DISSOLVED)--BROCK, ANNA, EXEC. (EST. OF BROCK, HENRY, JR.)
BROCK, CLAY H.--BRODERICK, CHARLOTTE v. U.S.
BRODERICK, GLENN--BRODY, ALBERT C. & SALLY v COMM.
BRODY, ALBERT & SALLY--BROMLEY v MCCAUGHN
BROMLEY v MCCAUGHN--BROOKE, RONALD M.
BROOKE, RONALD M., v. COM.--BROOKS, DONNA L.; U.S. v.
BROOKS, DOYLE FRANKLIN, IN RE--BROOKS, PHILLIP R. & SHARON O.
BROOKS, RANDY--BROOKS, WILLIAM F. v U.S.
BROOKS, WILLIAM v. I.R.S.--BROSNAN; U.S. v
BROSNAN, WALTER J.--BROWN, ALBERT v. IRS
BROWN, ALEX, INC.--BROWN, CHARLES JAY & JUDITH ANN
BROWN, CHARLES L.--BROWN, DARRYL CRAIG
BROWN, DAVID E. & CHRISTABEL H.--BROWN, EDGAR & DORIS
BROWN, EDGAR & DORIS--BROWN v GENERAL LAUNDRY SERVICE, INC.
BROWN, GENEVA; U.S. v--BROWN v HOLLAND
BROWN, HORACE E. & ELAINE V.--BROWN, JEFFERSON B., IN RE
BROWN, JEFFERSON B. v I.R.S.--BROWN, L. SHYRL; U.S. v
BROWN, LANCE--BROWN, NELLIE I.
BROWN, NELSON C. & ALICE BAKER, EXECS. (EST. OF MARTIN, SERGEANT PRICE)--BROWN, ROBERT F. & DARLENE S.
BROWN, ROBERT F. & GLORIA J.--BROWN, SAMUEL J. & MARTHA L.
BROWN, SANDRA--BROWN v U.S.
BROWN v U.S.--BROWN WOOD PRESERVING CO. v U.S.
BROWNBURG, DAVID--BROWNING, PERRY W.
BROWNING, PERRY W. v. U.S.--BRUCE, DAVID H. v U.S.
BRUCE, DOUGLAS E.--BRUHNS, RUDOLPH
BRUINOOGE, JON P. v U.S.--BRUNETTI, DIONIGI, EST. OF
BRUNETTI, GUY JOE; U.S. v--BRUNTON, HOWARD F. & PHYLLIS L.
BRUNTON, ROBERT, STUDIOS--BRUUN, CHARLES A.
BRUUN; HELVERING v--BRYAN ROCK PRODUCTS, INC & SUBSIDIARY
BRYAN ROCK & SAND CO., INC. v U.S.--BRYANT, KERMIT; U.S. v
BRYANT, KERMIT; U.S. v--BTR DUNLOP HOLDINGS INC & SUBSIDIARIES
BUA, HUGO; U.S. v--BUCHHOLZ, CLETUS F., EST. OF
BUCHHOLZ, DONALD & SHARON--BUCKARDT, ELMER JON
BUCKARDT, ELMER JON v. COM.--BUCKNER, DAVID E.; U.S. v.
BUCKNER, DAVID E.; U.S. v.--BUDER, EUGENIA H. v U.S.
BUDER, EXEC. v U.S.--BUESING, GERALD J. v. U.S.
BUESS, DAVID LEE v. U.S.--BUGG, FRED S. & PAULINE C.
BUGGE, STEPHEN EDWARD v. U.S.--BUKOVE, VERDAN W. & ROLENE
BUKOWSKI v U.S.--BULLOCK, GILES E. & KATHARINE D.
BULLOCK, JAMES SHERMAN v. COM.--BUNDY, C., JR., INC. v U.S.
BUNDY, WILLIAM E. v. U.S.--BURAS, JOHN E.; U.S. v
BURAS, RODNEY A. & DOROTHY M.--BURDAN v COM.
BURDAN, JOHN W., EXEC. (BURDAN, C. C., EST OF)--BURFORD OIL CO. v COM.
BURFORD, S. FRANKLIN--BURGESS WHOLESALE MFG. OPTICIANS, INC., IN RE
BURGHARDT, CHARLOTTE H., EST. OF--BURKE, GARY v. U.S.
BURKE GOLF EQUIPMENT CORP. v U.S.--BURKHARD INVEST. CO. v U.S.
BURKHARDT, WALTER H.--BURLINGTON NORTHERN, INC. v U.S.
BURLINGTON NORTHERN, INC. v U.S.--BURNETT, WILTON W., EST. OF v U.S.
BURNETTA, EDWARD L.--BURNS v GRAY
BURNS v GRAY--BURNS TRUCKING CO.; U.S. v
BURNS v U.S.--BURRELL v FAHS
BURRELL GROVES , INC.--BURRUS MILLS, INC.
BURRUS MILLS, INC. v COMM.--BURTON, HAYWARD V. & SANDRA G.
BURTON, HOWARD--BUSBY, JAMES H. v U.S.
BUSBY, JOSEPH v. I.R.S.--BUSH HOG-SEABOARD, INC.
BUSH , IRVING T.--BUSHONG, RAYMOND H. & GWENDOLYN J.
BUSH'S INC. v U.S.--BUSSE, EDVIGE M. v U.S.
BUSSE, MARCELLA v U.S.--BUTLER, EARL J.; SIMPSON, RICHARD A. & GLOTZBACH, C. W. v
BUTLER, EDWARD B., JR. & JUNE E.--BUTLER, ROBERT M.; U.S. v.
BUTLER, ROBERT M.; U.S. v.--BUTTS, DEBORAH v. I.R.S.
BUTTS, DORIS E.; U.S. v.--BYERLYTE CORP. v WILLIAMS
BYERLYTE CORP. v WILLIAMS--BYRAM, JOHN D. v COMM.
BYRAM, JOHN D. & SALLY A.--BYRON, EST. OF v U.S.
BYRON WESTON CO. v U.S.--BYWATER SALES & SERVICE CO., INC.

C

C & A LAND CO.--CABIRAC, MICHAEL v. COM.
CABLE ATLANTA, INC. v PROJECT, INC.--CADET, JOSEPH; U.S. v.
CADET, JOSEPH; U.S. v.--CAFARO, GRACE, EXEC.
CAFFERY, JEFFERSON D.--CAIN v U.S.
CAINE, GEORGE ECCLES v. I.R.S.--CALDERONE, GEOFFREY K. SR.
CALDERONE, GEOFFREY K., SR.--CALESHU, GEORGE v SECRETARY OF THE TREASURY
CALESHU, GEORGE v STARKEY, J. R.--CALIF. BANKERS ASSN., THE v CONNALLY, JR.
CALIF. BANKERS ASSN., THE v SCHULTZ, GEORGE P.--CALIF. STATE OF, DEPT. OF EMPLOYMENT; U.S. v
CALIF. THOROUGHBRED BREEDERS ASSN.--CALLAHAN MINING CORP. & SUBSIDIARY v COMM.
CALLAHAN, NELLIE, EST. OF--CALLERY, BRIAN J., IN RE
CALLERY, EDWARD J.; U.S. v--CALVERT FIRE INS. CO.; U.S. v
CALVERT FIRE INSURANCE CO. v BELLE ALGIERS CORP.--CAMARA, CHAUNCEY R. v. U.S.
CAMARA, PRUDENCIO B., EST. OF--CAMERON, GEORGE C. & SUSAN L.
CAMERON, GEORGE v COM.--CAMP, ANNE FORTUGNO v COMM.
CAMP, CAROL, ADMX. v COMM.--CAMPBELL, ALLEN E. v U.S.
CAMPBELL, ALLEN F.; U.S. v--CAMPBELL, EST. OF v KAVANAGH
CAMPBELL, F. RUSSELL, EST. OF--CAMPBELL, MARTHA K., EST. OF
CAMPBELL, MARTIN ALONZO--CAMPBELL, THOMAS O. v COMM.
CAMPBELL, THOMAS O. & MARY F.--CANADA, LARRY E. JR.
CANADAY COOLER CO., INC. v U.S.--CANDLER, JR. v U.S.
CANDLER, WALTER T.--CANNING, JOHN F.
CANNING, JOHN F., EST. OF v U.S.--CANTERMAN, SAMUEL & RAE
CANTERNA, ANTHONY v. U.S.--CAPALBO, MARK, IN RE
CAPALBO, PAUL J. & CYNTHIA C.--CAPITAL CREATION CO., INC. v. U.S.
CAPITAL DISCOUNT CO. v COYLE, JR.--CAPITOL INDEMNITY CORP.; U.S. v
CAPITOL INDEMNITY CORP v. U.S.--CAPOEMAN, HORTON & EMMA; SQUIRE v
CAPOEMAN; SQUIRE v--CAPPUCCILLI, ROCCO M. & DOROTHY
CAPRI, DANIEL v GATES ENGINEERING CO.--CARBERRY, ELLA J.
CARBERRY, ELLA J., EXEC. v U.S.--CARDONA, FERNANDO v. COM.
CARDONA, JHON F.; U.S. v.--CAREY, MICHAEL, ET AL; U.S. v
CAREY, MICHAEL, ET AL.; U.S. v.--CARIONE, JOSEPH v. U.S.
CARIONE, JOSEPH v. U.S.--CARLIN, MAURICE P. & VICTORIA
CARLIN, NEILSON M.; U.S. v.--CARLSON, FRANCES, ET AL.; U.S. v.
CARLSON, FRANCES, ET AL.; U.S. v.--CARLSTEDT ASSOCIATES, INC.
CARLSTEDT, WILLIAM N. & MOIRA M.--CARMEL, RICHARD J. v U.S.
CARMEN, ANTHONY v. U.S.--CARNEY, JAMES RONALD & ANNE CAMERON
CARNEY, JOHN H., v. I.R.S.--CARPENTER, BRUCE L. & CAROLYN L.
CARPENTER, BRUCE LEE v. COM.--CARPENTER; U.S. v
CARPENTER; U.S. v--CARR, JAMES P. & YVONNE C.
CARR, JOHN A., JR. v. FRESENIUS MEDICAL CARE, ET AL.--CARRILLO, CREVENNE C. & BARBARA A.
CARRILLO, GEORGE v. IRS--CARROLL, JOHN RAYMOND v. U.S.
CARROLL, JOHN, UNIVERSITY v U.S.--CARROLL-MCCREARY COMPANY, INC.
CARROLLO v U.S.--CARSTAIRS v U.S.
CARSTENS, CAROLE A. v. U.S. & I.R.S.--CARTER FAMILY TR.; U.S. v
CARTER FOUNDATION PRODUCTION CO.; CAMPBELL, JR., v--CARTER, KENT v. U.S.
CARTER, KENT v. U.S.--CARTER, W. W., CO.
CARTER, WALTER JOHN; U.S. v--CARVER, LAWRENCE D. v U.S., Court Order
CARVER, LUCILLE v TANNER, ROBERT E.--CASCADE DESIGNS INC
CASCADE LUMBER CO. v FRANK--CASETY, HAROLD EDWIN, JR.
CASEY, A. J., (WILL OF)--CASEY, WENDELL J. ; U.S. v.
CASEY, WILLIAM M. v COMM.--CASPERS, R. W., WILL OF v U.S.
CASPERS TIN PLATE CO. v U.S.--CASSIDY, THOMAS V., IN RE
CASSIDY, THOMAS VINCENT v. U.S., ET AL--CASTLE, DAVID v. U.S.
CASTLE, DAVID v. WILSON, BARRY--CATALANO, JOHN & RUTH, ET AL
CATALANO, MICHAEL; U.S. v--CATES, CHARLES O., JR., ADM. v COMM.
CATES, CHARLES O., JR., TRANSFEREE--CATO v U.S.
CATO v U.S.--CAUSEY, KENNETH C. v. U.S.
CAUSEY, KENNETH C. v. U.S.--CAVITT, WILLIAM M.
CAVOTO, ROBERT F. v. HAYES, MARY LOU--CECIL, CORNELIA V.
CECO CORP., THE v U.S.--CELTIC AMER. LEGION POST NO. 372, INC. v CAMPBELL
CEM SECURITIES CORP., THE v U.S.--CENTER HARDWARE CO.
CENTER HEIGHTS LUMBER CO INC v. U.S.--CENTRAL CAROLINA BK.; U.S. v
CENTRAL CITRUS CO.--CENTRAL NAT. BANK OF CLEVELAND, EXEC.
CENTRAL NAT. BANK OF CLEVELAND, EXEC. v COMM.--CENTRAL STATIONS SIGNALS, INC. v COMM.
CENTRAL SURETY & INS. CORP. v MARTIN INFANTE CO., INC.--CENTURY ASSN. v ANDERSON
CENTURY BANK v. CHEYENNE FOODS, INC--CERNIGLIA, CHARLES J. v. U.S.
CERNY, JIRI G.--CF&I FABRICATORS OF UTAH, INC., IN RE
CF&I FABRICATORS OF UTAH, INC, IN RE--CHAKEJIAN v GIRARD TRUST BANK
CHAKEJIAN v TROUT--CHAMBERLIN, C. P.
CHAMBERLIN v COM.--CHAMPION v COMM.
CHAMPION, DAVID, U.S. v.--CHANDLER, DEAVRAH M.
CHANDLER, DOUGLAS A. & ALISE--CHANDLER, WILLIAM E., JR.
CHANDLER, WILLIAM R.--CHAPIN, FRANK L., ET AL v. HUTTON, WALTER A.
CHAPIN, FRANK L., ET AL v. HUTTON, WALTER A., ET AL--CHAPMAN, GEORGE L. & GENELEA
CHAPMAN v GOODMAN, SPECIAL AGENT--CHAPPELLE INS. SERVICE, INC. v U.S.
CHAPPIE, EUGENE A. & PAULINE--CHARLES, INC.
CHARLES, INC. v COMM.--CHARLTON, ANNA E.
CHARLTON, EARL A.; U.S. I.R.S. v--CHASE; HELVERING v
CHASE, JEANNETTE S.--CHASE NAT. BANK OF THE CITY OF N.Y., TRUSTEE & TRANSFEREE, THE (OF REINECKE, BRUNO)
CHASE NAT. BANK, THE, EXEC. v U.S.--CHATTAHOOCHEE BRICK CO.; COBB v
CHATTAHOOCHEE BRICK CO. v COBB--CHEEK, JOHN L. v LUDWIG, TOM
CHEEK, JOHN L. v STARKEY, JAMES R.--CHEMICAL BK.; BIENENSTOCK, SHAMMAI v
CHEMICAL BK., STATUTORY EXEC.; U.S. v--CHERNEY, GEORGE R., EST. OF v U.S.
CHERNIK, GREGG--CHERYL MAYFIELD THERAPY CENTER
CHES, BERNARD J. & ROSE--CHESTERTON, A. DEVEREAU, EST. v U.S.
CHESTNUT FARMS DAIRY, INC.--CHIARELLI; U.S. v
CHIARELLO, DIEGO, GUS B., JAMES, JOSEPH A., RICHARD C.; U.S. v--CHICAGO MINES CO. v COM.
CHICAGO NATIONAL LEAGUE BALL CLUB--CHICK, ELEANOR B., EST. OF
CHICK, ELEANOR, EST. OF v COMM.--CHILDERS v U.S.
CHILDERS v U.S.--CHIMCHIRIAN , VAHRAM
CHIMENTO, CARMEN & SUSAN--CHISUM, JIMMY C. (TRUSTEE)
CHISUM, JIMMY C. v U.S.--CHODOS, BERNARD & GERTRUDE
CHOFFIN, EST. OF v U.S.--CHREIN, CHARLES; U.S. v.
CHRISMAN, JOHN LEE--CHRISTENSEN, ORVILLE E. & HELEN V.
CHRISTENSEN, RAYMOND O. & CICILY M.--CHRISTIAN, GREGORY T. v. U.S.
CHRISTIAN, GREGORY T. v. U.S.--CHRISTIANSEN, RONDA LEE; U.S. v.
CHRISTIANSEN, RONDA LEE; U.S. v.--CHRISTOPH, DIETER v. U.S.
CHRISTOPH, DIETER v. U.S.--CHRYSLER CORPORATION
CHRYSLER CORP. v. COM.--CHUNG, HARRISON P.; U.S. v.
CHUNG, HARRISON P.; U.S. v.--CHURCH OF SCIENTOLOGY INTERNAT. v I.R.S.
CHURCH OF SCIENTOLOGY INTERNAT. v U.S.I.R.S.--CHURCH OF WORLD PEACE, INC. v KURTZ, JEROME
CHURCH OF WORLD PEACE, INC. v MIHLBACHLER, G. L.--CICCIARELLA, ANTHONY & MICHELLE
CICCIARI, DAMON C.--CINDRICH, ANTHONY J. & STELLA
CINDRICH, JR.; U.S. v--CIRCLE J. INC.; U.S. v
CIRCLE J., INC.; U.S. v--CITIES SERVICE OIL CO. v MCMAHON
CITIES SERVICE OIL CO. v U.S.--CITIZENS FIDELITY BK. & TR. CO., EXEC.
CITIZENS FIDELITY BANK & TRUST CO., EXEC.--CITIZENS & SOUTHERN NAT. BK. OF S.C., THE, EXEC. v COMM.
CITIZENS & SOUTHERN NAT. BK. OF S.C., THE v U.S.--CITY BANK FARMERS TRUST CO., EXEC. (EST. OF WALKER, GEORGE H.)
CITY BANK FARMERS TRUST CO., EXEC. v U.S.--CITY NAT. BANK v COMM.
CITY NAT. BK. OF BATON ROUGE, EXEC. v COMM.--CIVILETTI v COM.
CIVILETTI, HARRY--CLAPP, STUART R. & VIRGINIA M.
CLAPP, STUART R. & VIRGINIA M. v COMM.--CLARK, CHARLES H., TRUSTEE v U.S.
CLARK, CHARLES THOMAS--CLARK , EDWARD W. III, EST . OF
CLARK, EDWARD W. & MARIENNE CLEMENTS--CLARK, JAMES R., JR.
CLARK, JAMES R. & LILA V.--CLARK, MCNUTT & TROY
CLARK, MELVIN & JESSIE--CLARK, S. L.
CLARK, S. L.--CLARKE, CHARLES J., JR., EXEC.
CLARKE v COM.--CLARKS, ARTHUR L., EST OF v. U.S.
CLARKS FORK CO.--CLAUSE, ROBERT L.
CLAUSE, THOMAS Y. (PERSONAL REPRESENTATIVE)--CLAY v U.S.
CLAY v U.S.--CLAYTON, W. MALCOLM, CHILDREN'S TRUST AGREEMENT v U.S.
CLAYTON, W. MALCOLM v COMM.--CLEM, ELIZABETH SULLIVAN, EST. OF v U.S.
CLEM, ROSS A. & GENEVIEVE R.--CLEMENTS, S. M. & MRS. S. M.
CLEMENTS, S. M. & MRS. S. M. v COMM.--CLEVELAND, EXEC. v U.S.
CLEVELAND, FRANK S., WILL OF v U.S.--CLEVELAND TRUST CO., EXEC., THE (EST. OF, BROWN, HARVEY H., JR.)
CLEVELAND TRUST CO., EXEC., THE (EST. OF, CHISHOLM, LAURA BROWN)--CLIFTON MFG. CO. v COM
CLIFTON MFG. CO. v. U.S.--CLINICA SANTA MARIA, INC. v. COM.
CLINKENBEARD v U.S.--CLOTHES BARN, INC, IN RE
CLOUD, DAVID B., EST OF v. U.S.--CLUB IROQUOIS v U.S.
CLUB MARTINIQUE, INC. v U.S.--COADY, JAN v. U.S.
COALINGA MOHAWK OIL CO. v COMM.--COATES, CHARLES N. v COMM.
COATES v. COMM.--COBB, JOHN G. v. RUCKER, D. W.
COBB, JOHN v. RUCKER, D.W.--COBURN, CHARLES D.
COBURN v COMM.--COCHRAN, DOROTHY (A/K/A DOROTHY KATHLEEN; A/K/A KATHLEEN COCHRAN); U.S. v
COCHRAN, DRAYTON--COCKRILL, WILLIAM C., EST. OF v O'HARA
COCKS-CLARK ENGRAVING CO.--COFFEE POT HOLDING CORP.
COFFEE POT HOLDING CORP. v COMM.--COGGAN; COMM. v
COGGIN AUTOMOTIVE CORPORATION--COHEN, DAVID & MARILYN
COHEN, EDWARD L.--COHEN, JEFFREY M. v U.S.
COHEN, JEFFREY M. v U.S.--COHEN, NATHAN L.
COHEN, NEILAND v. U.S.--COHEN, TRUSTEE v U.S.
COHEN v U.S.--COHN, M. & SONS CO.
COHN, MARION A. v COMM.--COLABELLA, PASQUALE & MAY A.
COLACURCIO, FRANK F.; U.S. v--COLE, ABIGAIL S., IN RE
COLE, ADMX, v GRANQUIST--COLE, IN RE
COLE, IN RE--COLE, TEDEN H., PAUL B., NORMA F. & RUTH v ERICKSON
COLE; U.S. v--COLEMAN, MOLLY JANE, IN RE
COLEMAN, MOLLY JANE, IN RE--COLGATE-PALMOLIVE-PEET CO. v U.S.
COLGATE-PALMOLIVE-PEET CO. v U.S.--COLLIER; U.S. v
COLLIER v U.S.--COLLINS, GEORGE H & JOSEPHINE
COLLINS, GRAYDON G., ET AL.; U.S. v.--COLLINS PRINTING CO.; U.S. v
COLLINS PRINTING CO.; U.S. v--COLLORAFI, PETER S. v U.S.
COLLORAFI, PETER; U.S. v--COLONIAL CHEVROLET CORP.; U.S. v
COLONIAL CHEVROLET CORP; U.S. v--COLORADO DOWN & FEATHER, INC.; U.S. v.
COLORADO GAS COMPRESSION INC--COLSEN, GARY WAYNE, IN RE
COLSEN, GARY WAYNE v. U.S.--COLUMBIA GAS OF PA., INC. v U.S.
COLUMBIA GAS OF PA., INC. v U.S.--COLUMBUS BRICK & TILE CO.
COLUMBUS, CHRIS E.--COMBINED INDUSTRIES, INC. v U.S.
COMBINED METALS REDUCTION CO. v U.S.--COMER, WILLIAM L. FAMILY EQUITY PURE TR. v I.R.S., Court Order
COMER, WILLIAM L. FAMILY EQUITY TR. v U.S.--COMMERCIAL BANK; BRUTSCHER v
COMMERCIAL BANK, MIDDLESBORO, KY. v BRUTSCHER, B. L.--COMMERCIAL SALES, INC., ASSIGNEE OF NORMAN E. HALPRIN; U.S. CLAIMANT-APPELLEE
COMMERCIAL SAVINGS & LOAN ASSOCIATION--COMMONWEAL INC v. U.S.
COMMONWEAL INC. v. I.R.S.--COMMONWEALTH TR. CO. OF PITTSBURGH, EXEC. v MCGINNES
COMMONWEALTH TRUST OF PITTSBURGH, TRUSTEE v U.S.--COMMUNITY SCH. DIST. OF ELDORA v TRANE CO., THE
COMMUNITY SCH. DIST. OF ELDORA v U.S.--COMPLETE FINANCE CORP. v COMM.
COMPREHENSIVE DESIGNERS INTERNAT. LTD.--COMYNS, JAMES v. U.S.
CONAHAY, GLORIA KIRBY, GUARDIAN, v U.S.--CONDAL DISTRIBUTORS, INC.; SANCHEZ, JUAN v
CONDE INVEST. CORP.--CONFORTE, JOSEPH
CONFORTE, JOSEPH v COMM.--CONLAN, LAWRENCE SEAN; U.S. v.
CONLEE CONSTRUCTION CO.--CONN. BK. & TR. CO.; U.S. v
CONNECTICUT GENERAL LIFE INSURANCE CO--CONNELL, THOMAS E. v. U.S.
CONNELL, THOMAS, JR. v U.S.--CONNOLLY, CHRIS v. COM.
CONNOLLY, CHRISTINA--CONOVER, EMORY KEITH & JUDY ANN
CONOVER, JOSEPH S., JR. & CAROL T.--CONSIDINE, THALIA KELLY v U.S.
CONSIDINE, THALIA KELLY v U.S.--CONSOLIDATED FILM INDUSTRIES v U.S.
CONSOLIDATED FLOORING SERVICES v. U.S.--CONSTANCE, DONALD F.
CONSTANTIN E., JR. & RUTH F.--CONSUMERS POWER CO. & SUBSIDIARIES
CONSUMERS POWER CO. v U.S.--CONTINENTAL DISTILLING CORP. v HUMPHREY
CONTINENTAL DISTRIBUTING CO., INC. v U.S.--CONTINENTAL INS. CO., THE v U.S.
CONTINENTAL INS. CO.--CONTRACT BATTERY MFG. CO. v TOMLINSON
CONTRACT REPRODUCTION CO., INC.--CONWAY, KEVIN v. U.S.
CONWAY, KEVIN v. U.S.--COOK, CARMON L., ET AL; U.S. v.
COOK, CARMON L.; U.S. v.--COOK, JR. v U.S.
COOK, LORING TERRILL--COOKE, BRIAN A. v U.S.
COOKE, BRIAN A. v U.S.--COOLEY, ROBERT C.
COOLIDGE v LONG--COOPER AGENCY
COOPER AGENCY v COMM.--COOPER, DAVID R.; U.S. v
COOPER, DAVID S.--COOPER, JIMMY, IN RE
COOPER, JOHN ADRIAN & IDA WRAY--COOPER, ROBERT v. U.S.
COOPER, RUTH W.--COOPERATIVE PUBLISHING CO. v COMM.
COOPERBERG, MARTIN & DORIS--COPELAND v RATTERREE
COPELAND , RAYE E.--COPPLE, S. E. & TEKLA R.
COPPLE, S. E. & TEKLA R.--CORBETT, JAMES L.
CORBETT, JOHN M. & NANCY S.--CORDNER, WARREN C. v U.S.
CORDNER, WARREN C. v U.S.--CORN PRODUCTS CO.
CORN PRODUCTS REFINING CO.--CORNISH, HELENE M., TRUSTEE v U.S.
CORNISH, HELENE M. v U.S.--CORRAL CREEK CATTLE CO.
CORRAO, WILLIAM A., ELECTRIC CO.--CORTESE, AMERICO V.; DOLLARD, JOSEPH A. v
CORTESE, AMERICO V.; DOLLARD, JOSEPH A. v--CORY, DANIEL M. & MARGOT (WIFE) v COMM.
CORY, ROBERT H.--COSTANTINO, MARGARET v U.S.
COSTANTINO, MARGARET v U.S.--COTE; U.S. v.
COTHRAN, JOSEPHINE D.--COTTON, JOHN L.; U.S. v
COTTON, JOHN; U.S. v--COUNCIL, INDIV. v U.S.
COUNCIL, KAY M. EXEC. v BURKE, JOHN E.--COUNTS, W. B. & MILDRED P.
COUNTWAY v COMM.--COURTNEY, JAMES G., EST. OF v U.S.
COURTNEY, QUINTARD P., JR., CO-INDEP. EXEC.--COVERED WAGON, INC., THE
COVERED WAGON, INC., THE--COWDEN, BARBARA FAYE
COWDEN v COMM.--COX, CHARLES E. & SARAH B.
COX , CHRISTOPHER K. & BRENDA M.--COX, JR., EXEC. v COMM.
COX, JR., EXEC. v U.S.--COX, WILLIAM E.; U.S. v
COX, WILLIAM O. v. U.S.--CRABB, DOLORES
CRABB, DOLORES--CRAFT, DALE ET AL v. U.S.
CRAFT, JAMES E., EST. OF--CRAIG, RONALD C.; U.S. v.
CRAIG v THOMPSON--CRAMER, TRUSTEE v HICKEY
CRAMER, TRUSTEE v LAPP, TRUSTEE--CRANE, WINTHROP M., JR. & EST. OF ETHEL E. CRANE, FIRST AGRICULTURAL NAT. BK. OF BERKSHIRE CTY., EXEC. v COMM.
CRANE, WINTHROP M., JR. & EST. OF ETHEL E. CRANE, FIRST AGRICULTURAL NAT. BK. OF BERKSHIRE CTY., EXEC.--CRASTO, TITUS LLOYD, JR.
CRATER LAKE MACHINERY CO.--CRAWFORD, RANDALL G.; U.S. v.
CRAWFORD, RICHARD W. & MARILYN--CREDIT UNION INSURANCE CORP v. U.S.
CREDIT UNION INS. CORP v. U.S.--CRESCENT BED CO., INC. v COMM.
CRESCENT COTTON CO.--CRICHTON, KATE J.
CRIDER, KELLEY W.; CONLON, WILLIAM F. v--CRISSEY, EDGAR R.
CRISSEY, NATHALIE L., EXECX v U.S.--CROCCO'S, IN RE
CROCI, GENE & MARY--CROCKETT, DAVY O., ET AL.; U.S. v.
CROCKETT, DAVY O., ET AL.; U.S. v.--CRONHEIM, JULIUS B., EST. OF
CRONHEIM, RICHARD B., EXEC.--CROSBY, LEWIS G., EST. OF v U.S.
CROSBY, LEWIS G., EST. OF v U.S.--CROSS, MELISSA v. COM.
CROSS OIL COMPANY INC--CROUCH, HOLMES F. v COMM.
CROUCH, HOLMES F. & IRMA J.--CROW-BURLINGAME CO. OF CONWAY
CROW-BURLINGAME CO. OF DUMAS--CROWLEY CO., PETER J. v TWIN EXCAVATING CO. INC.
CROWLEY CO., PETER J.; U.S. v--CROWSON, D.L.
CROWSON, GENEVIEVE MURAN v. ZUBROD, TRACY L.--CRUMP, ALLAN R. v. U.S.
CRUMP, DALE/DEBORAH v. U.S.--CSX CORP., ET AL. v. U.S.
CSX CORP v. U.S.--CUDLIP, WILLIAM B. & LYNWOOD B.
CUDLIP, WILLIAM B. & LYNWOOD B. v COMM.--CULLER, SADIE M.; U.S. v.
CULLERS, C. H.--CULP, JOEL & WILMA
CULP, JOHN L., JR.; U.S. v--CUMMINGS, NATHAN v COMM.
CUMMINGS, NATHAN & JOANNE T.--CUNNINGHAM, DAVID J. & MARY J.
CUNNINGHAM, DAVID J. & MARY J.--CUPP, EDWARD A., DR. v SECRETARY OF TREASURY
CUPP, EDWARD A., DR. v SECRETARY OF TREASURY--CURRAN, DANIEL B. & RUTH
CURRAN, EDWARD E.--CURRY, CHESTER M.
CURRY v COMM.--CURTIS GALLERY & LIBRARY v U.S.
CURTIS, H. T., JR. v U.S.--CURY, RUTH, ALLEGED TRANSFEREE
CURY, SOL, ALLEGED TRANSFEREE--CUTBIRTH, SEALE T., INDEPENDENT EXEC. v U.S.
CUTBIRTH, TRELDON, INDEP., EXEC. v U.S.--CYBERMATICS, INC. v U.S.
CYBULSKI, ALFRED E. v U.S.--CZVIZLER, JOSEPH

D

D & B SPORTSWEAR, INC., IN RE--DADCO DIVERSIFIED INC, IN RE
DADCO DIVERSIFIED INC. v. DONNELLY, MARK--DAHLEM CONSTRUCTION CO., THE v U.S.
DAHLEM CONSTR. CO.--DAILEY, ELMA MIDDLETON, EST
DAILEY, ELMA MIDDLETON, EST OF--DAKIL, MAXINE v U.S.
DAKMAK, GEORGE P., TRUSTEE v. U.S.--DALEY, MORRIS K., EST. OF
DALEY, MORRIS K., EST. OF--DALLMAN v U.S.
DALLMEYER, W. A.--DALY, DON F., EST. OF v U.S.
DALY, DONALD STANTON, EXEC. v U.S.--DAMATO'S GAS STATION & GARAGE v LEONE CONSTRUCTION CO., INC. & U.S.
D'AMBROSI, BERNARD v U.S.--DANA, MYER
DANA PERFUMES, INC.--DANG, TAN & KE T. CHAW
DANG, TAN & KE T. CHAW--DANIEL, RICHARD T., JR. & AENA M.
DANIEL, RONALD WESLEY; U.S. v--DANIELS, PAUL W. & JUANITA S.
DANIELS, ROBERT M.--DANOL, TERRY R. v. U.S.
DANSBY, ROBERT E. & JUDITH C.--D'ARCY, JOHN JR. & MARIAN S.
D'ARCY, MERRITT LEE--DARNELL v TOMLINSON
DARO CORP.--DAUBE v U.S.
DAUBE v U.S.--DAVANT, JOHN E. & PHIL E., EXECS.; SCOFIELD v
DAVANT, W. E., EST. OF; SCOFIELD v--DAVENPORT, GUSSIE L., INDIV. & INDEP. EXECX.; CAMPBELL, JR. v
DAVENPORT, H. L. & NEYSA C.--DAVEY, WILLIAM M.
DAVICH, ANTHONY M.--DAVIDSON v COM.
DAVIDSON v COMM.--DAVIES, DAVID L., EXEC. v GRANQUIST
DAVIES, GEOFFREY C.--DAVIS, BENJAMIN I. & MOLLIE M.
DAVIS, BEVERLY ANN v BUTLER CTY. TAX CLAIM BUREAU--DAVIS, DAN O. v U.S.
DAVIS, DAN T. v U.S.--DAVIS, FRANCES J. v. U.S.
DAVIS, FRANCES J. v. U.S.--DAVIS, JAMES A., II
DAVIS, JAMES v. BAYER CORP.--DAVIS, KENNETH W., EST. OF
DAVIS, KENNETH W., EST. OF v U.S.--DAVIS, NEIL A.
DAVIS; NICHOLAS v--DAVIS, ROBERT T.; U.S. v.
DAVIS, RODNEY E., ET AL. v. I.R.S., ET AL.--DAVIS; U.S. v
DAVIS v U.S.--DAVIS & WARSHOW, INC. v NEW AMSTERDAM CASUALTY CO.
DAVIS & WARSHOW, INC. v NEW YORK, CITY OF--DAVISON-PAXON CO. v U.S.
DAVISON-PAXON CO. v U.S.--DAWSON, STAFFORD, IN RE
DAWSON, STEVEN F. & KATHRYN A.,--DAY & ZIMMERMAN, INC.
DAYA, GABRIEL M., ET AL--DE BUSK, SAMUEL P. & BERNICE A.
DE CANIZARES, JANE J.--DE LA GARZA v COMM.
DE LA GARZA, ESTELA--DE SIMONE, RICHARD B. v. U.S.
DE SOTO SECURITIES CO.--DEAN, DEBORAH KAY
DEAN, ELIZABETH; U.S. v--DEAN; U.S. v
DEAN; U.S. v--DEATON, KATHYRN P.; U.S. v
DEATON TRUCK LINE, INC. v PATTERSON--DECISION, INC.
DECISIONE HOLDING CORP. v. U.S.--DECLUE, PEGGY A. BROWN
DECLUE, THOMAS & EULENE--DEES, W. W.
DEES, W. W. & ELSIE L.--DEGROFF, HAROLD M., JR. & SARAH M.
DEGROFF, MARK E. & LOVETA S.--DEJA VU ENTERTAINMENT ENTERPRISES OF MINN. INC v. U.S.
DEJA VU, INC--DEL SANDRO, ALFRED v SANTA MARIA, CARMEN
DEL SANDRO, ALFRED v TAKEUCHI, STEPHEN R.--DELATOUR BEVERAGE CORP.
DELAUNE, SAMMIE BARMAN, EST OF v. U.S.--DELGOZZO, FRANK M. & SANDRA
DELGUIDICE, JOHN--DELLERT v STALLMAN
DELLI, PAOLI, ORLANDO--DELPIT, LARRY D. & DOROTHY D., TRANSFEREES
DELPIT, LARRY, IN RE--DELVECCHIO, JOSEPH v. SMITH, JOHN
DELVECCHIO, JOSEPH v. SMITH, JOHN--DEMER, JACQUELINE ANN; U.S. v.
DEMERER, GERTRUDE M.--DEMORE, MATTHEW, EST. OF v U.S.
DEMOREY, DON, CO-EXEC.--DENICHOLAS, JOANNE F., ADMX. v COMM.
DENICHOLAS, JOANNE F., ADMX. v COMM.--DENISON, JOHN P.
DENISON POULTRY & EGG CO. v. U.S.--DENNIS, JOHN G. v U.S.
DENNIS, JOHNNY L., JR. & JENNIE--DENVER METALS CO., IN RE
DENVER & RIO GRANDE WESTERN R.R. CO.; NICHOLAS v--DEPOLI, JOHN A.; U.S. v
DEPOLI, JOHN A.; U.S. v--DERISO, ILONA, IN RE
DERIVIUM CAPITAL, LLC v. U.S.--DESERT HEALTHCARE LTD. v. U.S.
DESERT INN OPERATING CO.; U.S. v--DESSAUER v COMM.
DESSAUER, RALPH & REBECCA--DETROIT EDISON CO. v COM.
DETROIT EGG BISCUIT & SPECIALTY CO.--DEUTSCHMANN, TOBE C. & JULIE
DEVAN v U.S.--DEVLIN, SEAN T. v. U.S.
DEVOE, CLAYTON E.--DEWITT, HELEN WARD, EST. OF
DEWITT, HELEN WARD, EST. OF--DI BORGO, VALERIE NORRIE POZZO
DI CESARE v CHERNENKO--DIA-LOG CO., THE v U.S.
DIAMOND A CATTLE CO., THE--DIAMONDHEAD CORP. v FORT HOPE DEVELOPMENT, INC.
DIAMONDHEAD CORP. v KENWOOD CORP.--DICHIARINTE; U.S. v
DICHTEL, GEORGE W., EST. OF--DICKEY, GEORGE BERRY v I.R.S.
DICKEY, GEORGE BERRY v U.S.--DICKSON, ROBERT W. & JEANNE K.
DICKSTEIN, FRANK--DIEDWARDO, RICHARD A. v U.S.
DIEDWARDO, RICHARD A. v WHITEHOUSE, GEORGE--DIESCHER v COMM.
DIESCHER, SAMUEL E.--DIEZ, JOE RAYMOND; U.S. v.
DIEZ NUEVE, INC.--DILL, EDWARD: U.S. v
DILL, LEWIS--DILLON, FAYE A.
DILLON, FREDERICK N.--DIMAURO, ROSS J. v U.S.
DIMAURO, ROSS J. v U.S.--DINGMANN, ROBERT C.
DINGMANN, ROBERTA OCHS, EXECX.--DIPARDO, DANIELE R.; U.S. v
DIPASQUALE, PAUL, ET AL.; IRS v.--DISABLED AMER. VETERANS v COMM.
DISABLED AMER. VETERANS v U.S.--DISSTON v COM.
DISSTON, INC.--DIVERSIFIED SERVICES v. WELLS FARGO BK.
DIVERSIFIED T.E.S.T. TECHNOLOGIES, INC.; U.S. v.--DIXIE SHOPS, INC. (MICH CORP.)
DIXIELINE FINANCIAL, INC.; U.S. v--DIXON, JOHN L.; U.S. v
DIXON, JOHN P.; U.S. v--DOAK, EVERETT & MARY C.
DOAK, EVERETT & MARY C.; COMM v--DOBRICH, DAVID v. COM.
DOBRICH, DAVID & NAOMI--DODD, JOHN F., EXEC. v U.S.
DODD, LOUIS & VIVIAN K.; U.S. v--DODSON, JACK R. & KATHRYN D. v COMM.
DODSON, JOHN T.--DOELKER; U.S. v
DOELKER; U.S. v--DOES, JOHN, IN RE TAX LIABILITIES OF
DOES, JOHN, IN RE TAX LIABILITIES OF--DOLAN, RUSSELL PORTER
DOLAN T. FRANK, JR. v U.S.--DOLLAR, ROBERT E., JR. & LINDA
DOLLAR SAVINGS BANK v U.S.--DOMINION TR. CO. OF TENN. v U.S.
DOMINO SUGAR CORP.; U.S. v.--DONALD, PAUL v EMPORIA STATE BANK
DONALD, PAUL v FIRST NAT. BANK OF MADISON, KAN.--DONEY, PAUL; U.S. v
DONEY, WILLIAM LEONARD, EXEC. v U.S.--DONNELLY, FRANCIS M., SR., EST. OF
DONNELLY, JAMES--DONOVAN, DANIEL F.
DONOVAN, DONALD F. & GRACE--DOOLEY, TOM S. v U.S.
DOOLEY, WILLIE JO, EXEC.--DOREMUS, LOIS S., EXECX. (EST. OF DOREMUS, HOWARD I.)
DORFF, NORMAN & DOROTHY J.--DORNBROCK, WILLIAM L., ET AL.; U.S. v.
DORNBROCK, WILLIAM L., ET AL.; U.S. v.--DORSEY, TROY; U.S. v.
DORSEY v U.S.--DOUBLE D. DONUTS CO. v COMM.
DOUBLE D FARM CORP. v. U.S.--DOUGLAS, CHARLES R. & SHANDA G.
DOUGLAS, CHARLOTTE M.--DOUGLAS, ROBERT W. v. HERRIN, THOMAS, ET AL.
DOUGLAS, ROBERT W.; U.S. v.--DOVEY, EMMA R., EXECX. v U.S.
DOVEY, FRANCIS S., EST. OF v U.S.--DOWELL, H. B., EST. OF v U.S.
DOWELL, H. B., EST. OF v U.S.--DOWNS, AZALEA SMITH, EST. OF v U.S.
DOWNS v COM.--DOYLE, LE ROY; U.S. v
DOYLE, LEO FRANCIS, ADM. v U.S.--DRAGON CEMENT CO., INC. v U.S.
DRAGOUN, THOMAS M.--DRAKE-MULLEN
DRAKES, JAMES F. & TAYLOR, BARBARA E.--DRECHSLER v U.S.
DREDGE CHEROKEE, INC.--DREW, E.F. & CO., INC.; U.S. v
DREW, H. & W. B., CO., THE--DRIGGERS, RONALD G. v COLOSIMO, VINCENT T.
DRIGGERS, RONALD G. v CONNELL, JIMMY--DRISCOLL; U.S. v
DRISCOLL v U.S.--DRUCKER, MITCHELL v U.S.
DRUG & CHEMICAL CLUB OF N.Y., THE v U.S.--DRYDEN, SAM ALTA; U.S. v
DRYE FAMILY 1995 TRUST v. U.S.--DUAINE, LAURENCE A. & JANET C.
DUARTE, CARLOS, IN RE--DUBOIS, JAMES C. SR.
DUBOIS, JOHN v AFFLECK, JOHN A.--DUDLEY v COMM.
DUDLEY v COMM.--DUFFIE, JOHN C. v. U.S.
DUFFIE, JOHN C. v. U.S.--DUINICK, AMOS E. & JUNE E.
DUKE, A. JESSE & MARTHA M., v U.S.--DUMAN, MOREY S. & SHIRLEY M.
DUMAN, SAM & IDA--DUNCAN, EXEC. v WISEMAN
DUNCAN, FELTON D. v FIRST NAT. BK. OF CARTERSVILLE, GA.--DUNCAN, WILLIAM B., IN RE
DUNCAN, WILLIS; I.R.S. v--DUNKIRK TRUST CO. v DUNKIRK LAUNDRY CO., INC.
DUNKLE, WARREN, G., EXEC.--DUNN, HARLEY E. & DONNA J.
DUNN, HAROLD H. v. IRS--DUNNE, JOSEPH D. & ELIZABETH M.
DUNNE TRUCKING CO. v ELLISON, L. E.--DUPONT, JR. v U.S.
DUPONT, LAMMOT--DURBIN PAPER STOCK CO., INC.
DURDEN, DAVID P. & VERONDA L.--DURLIAT, JACK M. & PATRICIA A.
DURNFORD, THOMAS DRAKE v U.S.--DUTSON, MICAELA RENEE v. U.S.
DUTSON, MICAELA RENEE; U.S. v.--DWIGHT, JAMES J. & GERALDINE R.
DWIGHT, LILA E. HOUSE, EXECX. v U.S.--DYE, ALLEN KENT
DYE ASSET MANAGEMENT TRUST v. U.S.--DYKE, RICHARD ; U.S. v.
DYKEMA v COMM.--DZINGLSKI, LEWIS v. U.S.
DZIOBA, EDWARD J. & LEONA--DZURIS, IRENE H. v. U.S.

E

E & B RECORDS, INC.; U.S. v--EALY, LYNN N.; U.S. v.
EALY, LYNN N.; U.S. v.--EASON, ALVA WINSTON, IN RE
EASON LOGGING, IN RE--EAST WIND INDUSTRIES, INC. v. U.S.
EAST WIND INDUSTRIES, INC. v. U.S.--EASTERN TAR PRODUCTS CORP., BY ITS DIRECTORS, GRANT THORN, GENEVIEVE U. THORN, AND SAMUEL UHLFELDER, IN TRUST FOR ITS CREDITORS, STOCKHOLDERS AND MEMBERS v U.S.
EASTERN TAR PRODUCTS CORP., BY ITS DIRECTORS, GRANT THORN, GENEVIEVE U. THORN, AND SAMUEL UHLFELDER, IN TRUST FOR ITS CREDITORS, STOCKHOLDERS & MEMBERS v U.S.--EATON, CYRUS S.; COMM. v
EATON, DENNIS v HECKLER, MARGARET M.--EBERLY, EARL WAYNE v U.S.
EBERLY, ISAAC C.--ECD SYSTEMS, INC. v U.S.
ECHERD, ROBERT J. & BETTY J.--ECKWORTZEL, JIMMIE v. CROSSMAN, SANDRA L.
ECKWORTZEL, JIMMIE R. v. CROSSMAN, SANDY--EDELMAN, REBECCA, EST. OF
EDELMAN, SAMUEL & SYLVIA--EDGE, WALTER E., JR.
EDGERTON, DAVID EDWIN v FARRELL, RICHARD W.--EDLUND CO., INC. v U.S.
EDLUND CO. INC.--EDOMWANDE, CHRISTOPHER v. IRS
EDP MEDICAL COMPUTER SYSTEMS, INC. v. U.S.--EDWARDS, DAVID B.
EDWARDS, DAVID J.--EDWARDS, JOHN D. & JANICE L.
EDWARDS, JOHN JOSEPH, IN RE--EDWARDS & SON v U.S.
EDWARDS & SONS v U.S.--EGER, SOFIE
EGER, SOFIE--EHLERS, FREDERICK W. v. U.S.
EHLERS, MARGARET C., EST. OF v VINAL--EICHER, THEODORE S.
EICHHEIM, JEAN, EST. OF v U.S.--EIMER & AMEND
EINHORN, DAVID v DEWITT, CHARLES O.--EISENMENGER , MARIE ANNA
EISENROD, HARRY E. & EDITH--EL DORADO OIL WORKS
EL, KELLEY C. GAINES--ELCAN, PAUL D.; U.S. v
ELCAN, PAUL, DR. v COMMERCE UNION BANK--ELECTRIC REDUCTION CO.; LEWELLYN v
ELECTRIC REDUCTION CO. v LEWELLYN--ELGART, ELLIS L. v COMM.
ELGART, ELLIS L. & SIVIA V.--ELIZONDO, PETER G. & ELIDA
ELJER CO. v COMM.--ELLETSON, RICHARD A., ET AL; U.S. v.
ELLETSON, RICHARD A.; U.S. v.--ELLIOTT, HERBERT C.
ELLIOTT, HERBERT C. v. COM.--ELLIOTT-LEWIS CO.; COM. v
ELLIOTT-LEWIS CO., INC.--ELLIS, LAMAR v. COM.
ELLIS, LARRY E. & BILLIE S.--ELLISON, ROGER M. & ROSEMARY J.
ELLISON, SAMUEL R. & PATRICIA K.--ELMER, LUCIUS H.
ELMER, LUCIUS H., EST. OF--ELMS, JOYCE v U.S.
ELMS SECURITIES CORP.--ELTON, RANGHILD
ELTON, ROGER DAVID; U.S. v.--EMBRY, WILLIAM C., H. FOSTER, HARRY W., JR., EXECS. v GRAY
EMBRY, WILLIAM C. & LOIS KING; GRAY v--EMERY, FRANK B., WILL OF v U.S.
EMERY, JAMES LEE, IN RE--EMORY, EMERSON
EMORY, EMERSON--EMSHWILLER, JOHN P. v U.S.
ENAMELED METALS CO. v BURNET--ENERSEN, BURNHAM
ENFINGER, GAIL B. v. ENFINGER, WILLIAM T.--ENGH, HERBERT O.; U.S. v.
ENGH, HERBERT O.; U.S. v.--ENGLAND, WILLIAM B., JR.; U.S. v
ENGLAND, WILLIAM BENJAMIN; U.S. v--ENGLISH, WILLIAM J.
ENGLUND, GAGE BUSH, CO-EXEC. v U.S.--ENSLEY, JOHN R. v U.S.
ENSLIN, MARSHALL W. & LOIS T.--EPP, SUSAN H.
EPPERSON, DEAN P., S.C. v U.S.--EPSTEIN, JERALD & CAREN
EPSTEIN v JOHNSON--EQUITABLE LIFE ASSURANCE SOCIETY OF THE U.S. v. U.S.
EQUITABLE LIFE ASSUR. SOCIETY OF THE U.S., THE--EQUITY MORTGAGE CORP.; U.S. v
EQUITY MORTGAGE CORP. v LOFTUS, HAROLD J.--ERHARD, WERNER H. v. COM.
ERHARD, WERNER H. & ELLEN v.--ERICKSON, WILLIAM J.; U.S. v
ERICSSON SCREW MACHINE PRODUCTS CO., INC.--ERNST & WHINNEY; U.S. v
ERNST & WHINNEY; U.S. v--ERWIN, DUANE B. & LINDA L.
ERWIN, EDWARD R., III & SYLVIA--ESCOFIL, NOEL TANCRED v COMM., Court Order
ESCOFIL NOEL TANCRED v COMM.--ESPOSITO, DARLENE R. v. COM.
ESPOSITO, DARLENE R. v. COM.--ESTACIO, RESTITUTO v COMM.
ESTATE PLANNING CORP. v COMM.--ESTRIN, JACK LEWIS & JEAN
ESTROFF, MAXWELL J., EST. OF--EUBANK, GERALD A.
EUBANK; HELVERING v--EVANGELIST, DIANE-MARIA v. IRS
EVANGELISTA, ELLEN MCNICHOL, EXEC.--EVANS, JAMES L. & BONNIE D.
EVANS, JAMES L. v U.S.--EVANS, MYRTLE COOPER; U.S. v
EVANS, NADA RAE--EVANS, WILLIAM DAVIS & JOANN WALKER
EVANS, WILLIAM H.--EVERGREEN CEMETERY ASSN.
EVERGREEN CEMETERY ASSN. OF CHICAGO--EVSEROFF, JACOB ET AL.; U.S. v.
EVSEROFF, JACOB ET AL; U.S. v.--EWING, GWENDOLYN A.
EWING, GWENDOLYN A. v. COM.--EXCHANGE PARTS CO. OF FORT WORTH v U.S.
EXCHANGE & SVGS. BK. OF BERLIN, THE v U.S.--EXXON CORP & SUBSIDIARIES v. U.S.
EXXON CORP v. U.S.--EZO PRODUCTS CO.

F

F. A. DELLASTATIOUS, INC., IN RE--FABIAN, ALAN B. v. COM.
FABIAN, ALAN BRIAN; U.S. v.--FACTORIES INVEST. CORP., THE v COMM.
FACTORS & FINANCE CO., INC. v U.S.--FAHNESTOCK, HARRIS, EST. OF
FAHNESTOCK, HARRIS, EST. OF--FAIR, R. W.
FAIR, ROGER B. & GAIL K.--FAIRFIELD, JEFFREY v. U.S.
FAIRFIELD PLAZA, INC.--FAJARDO SUGAR GROWERS ASSN., THE v U.S.
FAJARDO SUGAR GROWERS ASSN. v U.S.--FALK v U.S.
FALKOFF, MILTON v COMM.--FAMILY FINANCE, INC.
FAMILY GROUP, INC.--FANSLER, DAVID P. v. U.S.
FANTOZZI, GLORIA M.--FARESE, THOMAS v. COM.
FARGASON, J. T.--FARKAS, STEPHEN v. U.S.
FARLAND, EXECX. v CAMPBELL, JR.--FARM SERVICE COOPERATIVE
FARM SERVICE COOPERATIVE v COMM.--FARMERS' COOPERATIVE ASSN.
FARMERS COOPERATIVE CO.--FARMERS & MERCHANTS BK. v COMM.
FARMERS & MERCHANTS BK. OF CATLETTSBURG, KY.--FARMVILLE OIL & FERTILIZER CO.
FARMVILLE OIL & FERTILIZER CO. v COMM.--FARR, M. E.
FARR, MERTON E.--FARRELL, MARGARET V., EST. OF v FARRELL, MARIAN E., INCOMPETENT, EST. OF
FARRELL, MAUD HADDEN--FARRY , NELSON A.
FARTHING v U.S.--FAUCI v HANNON, JR.
FAUCI v HANNON, JR.--FAVELL, DOUGLAS R.,JR. v. U.S.
FAVERO, JOHN NORMAN & PATRICIA CAROLYN--FAYETTEVILLE WHOLESALE BUILDING SUPPLY CO., INC. v FASHION FORMS, INC.
FAYETTEVILLE WHOLESALE BUILDING SUPPLY CO., INC. v HERITAGE CONSTRUCTION CO., INC.--FEASTER, JAMES; I.R.S. v
FEASTER, JAMES; U.S. v--FEDERAL DEPOSIT INS. CORP. v FIDELITY EQUIPMENT LEASING
FED. DEPOSIT INS. CORP. v FIDELITY EQUIPMENT LEASING CORP.--FED. NAT. MORTGAGE ASSN.; U.S. v
FED. NAT. MORTGAGE ASSN.; U.S. v--FEDERIKA v COMM.
FEDERIKA, JOHN--FEHRS, EDWARD J. v U.S.
FEHRS, EDWARD J. v U.S.--FEINBERG, WILLIAM B. v U.S.
FEINBLATT, EUGENE M.; I.R.S. v--FELCYN, GLORIA v. U.S.
FELDEWERTH, TERRENCE D.; U.S. v--FELDMAR, MILTON, EST. OF
FELDSTEIN, DALTON--FELMANN, JERRY M. & MARJORIE L.
FELMLEY, JOHN; U.S. v--FENDRICH H., INC.
FENDRICH, INC. v COMM.--FERGUSON v COMM.
FERGUSON v COMM.--FERGUSON, ROBERT L., RICHARD D., ROBERTA, WILLIAM L. & ROBERT J., D/B/A KING'S BALLROOM v U.S.
FERGUSON, ROBERT L. v. U.S.--FERNANDEZ, SHANNON L.
FERNANDEZ v U.S.--FERRELL, WILLIAM L.
FERRER; COMM. v--FERRUCCIO, PAT
FERRUCCIO, PAT, ADM.--F.H.E. OIL CO.; COM. v
F.H.E. OIL CO.--FIDELITY & DEPOSIT CO. OF MD. v A TO Z EQUIP. CORP.
FIDELITY & DEPOSIT CO. OF MD. v CARUSO-STURCEY CORP., ARNOLD LEWIS, ASSIGNEE, PEOPLE OF THE STATE OF N.Y. & U.S.--FIDELITY TRUST CO.
FIDELITY TRUST CO.--FIDUCIARY SERVICES, INC., BEGENY BARRY v
FIDUCIARY SERVICES, INC.; I.R.S. v--FIELD & START, INC. v COMM.
FIELD, STEVEN v COMM.--FIFER, CHARLES C. & IRMA F.
FIFIELD, ROBERT S., TRUSTEE--FIGUEROA, CECILIA; U.S. v
FIGUR, LAWRENCE J. v U.S.--FILLER, F. EARL, JR. & MAEDEAN
FILLER, GEORGE--FINANCIAL SERVICES BUREAU LIMITED v. U.S.
FINANCIAL VENTURE FUND, INC. v U.S.--FINE FASHIONS, INC. v PENN GARMENT CO.
FINE FASHIONS, INC. v U.S.--FINK, H. BERNERD v U.S.
FINK, KENNETH G., JR. & CAROL--FINLEY, EDWARD J. v. U.S.
FINLEY, GEORGE M. & ELIZABETH E.--FINO, ANTHONY F.; U.S. v
FINOCCHIARO, FREDERICK FRANCIS v U.S.--FIRESTIEN, ROGER; U.S. v.
FIRESTONE, ESTHER--FIRST BANCREDIT CORP. v FLEXLUM CORP.
FIRST BK. (NAT. ASSN.)-DULUTH, CO-PERSONAL REPRESENTATIVE & CO-TRUSTEE--FIRST COMMERCIAL BK. EXEC.
FIRST COMMERCIAL BK., THE--FIRST FED. SAVINGS & LOAN ASSN. OF JACKSONVILLE, FLA.; U.S. v
FIRST FED. SAVINGS & LOAN ASSN. OF JACKSONVILLE, FLA.; U.S. v--FIRST INTERSTATE BK. OF ARIZ., N.A., PERSONAL REPRESENTATIVE v U.S.
FIRST INTERSTATE BANK OF CALIFORNIA v. PUREWELL INVESTMENT INC--FIRST NATIONAL BANK IN DALLAS v COMM.
FIRST NAT. BANK IN DALLAS, EXEC.--FIRST NATIONAL BANK OF ALBANY v. DEERE, JOHN, LIFE INSURANCE CO, INC
FIRST NATIONAL BANK OF ALBANY v. SCHUMACK, MAX R.--FIRST NAT. BANK OF BIRMINGHAM; U.S. v
FIRST NAT. BANK OF BOSTON, ADM. (EST. OF LONGYEAR, MARY B.)--FIRST NAT. BANK OF CHICAGO, TRUSTEE, THE (BARROW, MARVA TROTTER, TRUST, DATED 7-7-49) v COMM.
FIRST NAT. BANK OF CHICAGO, TRUSTEE, THE; U.S. v--FIRST NAT. BK. OF FAYETTEVILLE, ARK., EXEC. v U.S.
FIRST NAT. BK. OF FAYETTEVILLE, ARK., EXEC. v U.S.--FIRST NAT. BK. OF LONG ISLAND, EXEC.
FIRST NAT. BK. OF LONG ISLAND, EXEC. v COMM.--FIRST NAT. BANK OF NEV., EXEC. v U.S.
FIRST NAT. BANK OF NORFOLK v NORFOLK & WESTERN RY. CO.--FIRST NAT. BK. OF SAN DIEGO, THE, TRUSTEE v U.S.
FIRST NAT. BANK OF SANTA ANA, EXEC. v U.S.--FIRST NAT. BK. OF TOPEKA, THE, SUCCESSOR TO CENTRAL NAT. BK. & TR. CO. OF TOPEKA, EXEC.
FIRST NATIONAL BK. OF VALDOSTA v ELGIN, J. TOM--FIRST NATIONAL BANK v U.S.
FIRST NAT. BK., DEWITT, ARK., EXEC.--FIRST NAT. EXCH. BK. OF ROANOKE, THE, EXEC. & TRUSTEE v U.S.
FIRST NATIONAL EXCHANGE BANK OF ROANOKE, EXEC. & TRUSTEE v U.S.--FIRST PA. BANKING & TR. CO., THE, EXEC.
FIRST PA. BKG. & TR. CO., THE; U.S. v--FIRST STATE BANK OF CLUTE; U.S. v
FIRST STATE BANK OF MEDFORD v U.S.--FIRST TR. CO. OF LINCOLN, NEB., EXEC., THE
FIRST TR. CO. OF LINCOLN, NEB., EXEC., THE v COMM.--FIRST WESTERN BK. & TR. CO. v COMM.
FIRST WESTERN GOVERNMENT SECURITIES, INC.; MERLO, ROBERT v--FISCHER, HOWARD M. & JANE
FISCHER v HOYER--FISHBEIN, GARY, IN RE
FISHBURN, MARJORIE v. BROWN, EDWARD E.--FISHER, EDWARD; U.S. v.
FISHER, EDWARD W.; U.S. v.--FISHER, JOHNNY J., IN RE
FISHER, JOSEPH R. & Z. BARBARA--FISHER; U.S. v
FISHER, WILLIAM J.--FITHIAN, WILLIAM TAYLOR, III, TRUST FOR v COMM.
FITOUSSI, RICHARD & JULIE K.--FITZJOHN COACH CO.
FITZMARTIN v BINGLER--512 WEST FIFTY-SIXTH STREET CORP. v COM.
525 COMPANY; U.S. v--FLAIG, JOSEPH LAWRENCE
FLAIR MFG. CORP.; CAINE, MICHAEL J. v--FLANIGAN, ROBERT; U.S. v.
FLANIGAN v WOOD--FLEET HIGHWAY FREIGHT LINES, INC. v COMM.
FLEET NATIONAL BANK v. BOSTON L & M CO., INC--FLEMING, DONALD CHARLES v. U.S.
FLEMING, DONALD K., EXEC.--FLEMING-KIMBELL CORP.
FLEMISTER v U.S.--FLETCHER, ROBERT J. & JACKLYN W.
FLETCHER, STEPHEN L. & CINDY C.--FLOBERG, RALPH D. v COMM.
FLOBERG, RALPH D. & JUDY S.--FLORA; U.S. v
FLORA, WALTER WILSON--FLA. FARM BUREAU FEDERATION
FLORIDA HOSPITAL TRUST FUND--FLORIDA; U.S. v
FLORIDA; U.S. v--FLOYD, HOLLAN L.; COMM. v
FLOYD, HORACE DONALD v U.S.--FM TRANSMIX CORP, IN RE
FM TRANSMIX CORPORATION, IN RE--FOGG, J. NORMAN, EST OF v. U.S.
FOGG, JOHN R. & PATRICIA L.--FOLGER, J.A. & CO
FOLKER v JOHNSON--FONG, ART B.
FONG, ART B.--FONZONE, JO ANNE v. DEPT. OF THE TREASURY
FOOD BARN STORES INC v. KMS SECURITY SERVICES INC, ET AL--FORBES, LORAN J.; U.S. v.
FORBES, R. D. & MARY L.--FORD, HERMAN C. & NELLIE v COMM.
FORD, JACK F., PERSONAL REP.--FORD, SHANNON E.; U.S. v.
FORD, TEDROE J., JR. v U.S.--FOREST HILLS FOUNDATION, INC. v THROWER
FOREST HILLS FOUNDATION, INC. v WEISS--FORMAN v U.S.
FORMAN v U.S.--FORS FARMS, INC. v U.S.
FORS FEED MILLS, INC. v U.S.--FORT HOWARD PAPER CO.
FORT HOWARD PAPER CO.--FORTIS INC. v. U.S.
FORTIS, INC. v. U.S.--FORYS; U.S. v
FORZANO, ANTHONY, JR.--FOSTER, G. B.
FOSTER, GARY v. U.S.--FOSTER, PAGE NELSON
FOSTER, PEARL, EST. OF v U.S.--FOSTER, WILLIE; U.S. v.
FOSTMEIER CONSTR. CO. v U.S.--FOUNTAIN, JOHN v. U.S.
FOUNTAIN, MARSHALL L.--FOUTS, ANN P. v. U.S.
FOUTS, JOHN T. & MAXINE--FOX, ALICE C., EST. OF v U.S.
FOX, ALICE C., EST. OF v U.S.--FOX, JACK M. & MARLISS S., ET AL
FOX, JAMES A.--FOX, RUBY M. v WISEMAN
FOX, RUDOLPH JOSEPH, JR. v. U.S.--FPL GROUP INC & SUBSIDIARIES
FPL GROUP, INC. v. IRS--FRANCIS, HAROLD LEE & BIRTHA MAE
FRANCIS, JEAN D. v U.S.--FRANK, DONALD JAMES; U.S. v.
FRANK DONATELLI & CO., INC. v U.S.--FRANK, SAM, JR. & ESTHER
FRANK SAWYER TRUST OF MAY 1992 v. COM.--FRANKFORT, FRED, JR. & RENEE
FRANKLAND, JAMES--FRANKLIN LIFE INS. CO.; U.S. v
FRANKLIN LIFE INSURANCE CO v. U.S.--FRANTZ, LEROY, JR. v COMM.
FRANTZ, LEROY, JR. & SHEILA--FRATINI, ALBERT EST OF
FRAUENKRON, DUANE ELDRIDGE; U.S. v.--FRAZIER, JOHN L. D. v. COM.
FRAZIER, JOHN L. D. v. COM.--FREDERICK, RICHARD A.; U.S. v.
FREDERICK, RICHARD A.; U.S. v.--FREE STATE HOME BUILDERS, INC. v GRAY, D.
FREE STATE HOME BUILDERS, INC. v PARKS, JOHN W.--FREEDOM CHURCH, THE; U.S. v
FREEDOM FROM RELIGION FOUNDATION, INC. v. GEITHNER, TIMOTHY--FREEMAN, FLAVIUS B. & FRANCES L. v COMM.
FREEMAN, FRANK E., EXEC.--FREEPORT SULPHUR CO. v U.S.
FREEPORT TRANSPORT, INC.--FREMONT BK. & TR. CO.; U.S. v
FREMONT BLDG. CO.--FRENCH, WARD & MARION
FRENCH, WARD WILLIAM--FREUNDLICH, CECILE, DRESNER
FREW , WALTER E., EST . OF--FRIDRICH, DANIEL J., IN RE
FRIDRICH, DANIEL J. v I.R.S.--FRIEDENBERG, N. NATHAN,TRUSTEE v. BRADY, NICHOLAS F., ET AL
FRIEDER, ALEX--FRIEDMAN v COM.
FRIEDMAN v COMM.--FRIEDMAN, RUTH E. & RALPH, FOUNDATION
FRIEDMAN, S. M. & ESTHER G.--FRIERDICH, MICHAEL V. v U.S.
FRIERSON, THOMAS R., II; U.S. v--FRITO-LAY v U.S.
FRITSCH, MICHAEL D. v. U.S.--FROHNAPLE, DAVID G. v. U.S.
FROHNAPLE, DAVID G. v. U.S.--FROST NATIONAL BANK, THE v. U.S.
FROST NATIONAL BANK, THE v. U.S.--FRY, JR.; COMM. v
FRY, LAWRENCE R. v U.S.--FUCHS, BERT L., EST. OF
FUCHS, EDITH, EXECX.--FUJIOKA, JANINE MIDORI & DAVID MIURA
FUJISHIMA, DWIGHT T. EST.--FULLER, DAVID W. v. I.R.S.
FULLER, DAVID W. v. I.R.S.--FULTON CONTAINER CO., INC. v U.S.
FULTON CONTAINER CO. v U.S.--FUNK, JUDITH M. v U.S.
FUNK v RIDDLE, ROBERT--FURER, LEWIS & MARTHA IRENE
FUREY, BERNARD A. & ROMANA J.--FURST, JOHN S., INDEPENDENT EXEC. v U.S.
FURST, MYRA--FYNKE, ABRAHAM M. & JOYCE; U.S. v

G

G. B. DATA SYSTEMS INC--GABLE, HOWARD S.
GABLE, MARGARET B.--GAFFNEY, ESSIE IRENE, EXECX. (WILL OF GAFFNEY, JAMES E.)
GAFFNEY, JOHN S., TRUSTEE--GAINES, JAMES M., TRUSTEE, BANKRUPT EST. OF LANE, JAMES A. v U.S.
GAINES, JAMES M., TRUSTEE v U.S.--GALANTI, LIBRO J. v EDWARD J. FITZGERALD
GALANTI v U.S.--GALLAGHER, ANTHONY F. & BARBARA B.
GALLAGHER, C. W.--GALLERY, THOMAS W. & JENNIFER A.
GALLETTI, ABEL COSMO, IN RE--GALLOWAY, THOMAS O. & PEGGY J.
GALLOWAY v U.S.--GALVAN, RONALD HENRY, IN RE
GALVESTON, CITY OF v. U.S.--GAMBLING, JOHN A. v COMM.
GAMBLING, JOHN A. & SALLY--GANDY NURSERY INC. v. U.S.
GANDY NURSERY, INC. v. U.S.--GANTNER, DAVID E. & SANDRA L.
GANTNER, DAVID E. & SANDRA L.--GARBER, S., INC.
GARBER, WILLIAM, INC.; U.S. v--GARCIA, PHILLIP M. & DEBORAH H.
GARCIA, RALPH G. & KAREN J.--GARDENHIRE, CHARLES C. v. U.S.
GARDENS OF FAITH, INC.--GARDNER v HELVERING
GARDNER, HERMAN, WILL OF, v U.S.--GARDNER, WILLIAM J.
GARDNER-DENVER CO.--GARLOCK, FLOYD
GARLOCK, FLOYD, ADM.--GARPEG, LIMITED v U.S.
GARPEG, LIMITED v U.S.--GARRETT, ROBERT ALLEN v. I.R.S.
GARRETT, RODNEY; U.S. v--GARSAUD, MARCEL
GARSHA, RONALD; U.S. v--GARWOOD IRRIGATION COMPANY
GARWOOD IRRIGATION COMPANY--GASS, LARRY DONALD v. U.S.
GASS, LARRY DONALD v. U.S.--GATES, JR.; U.S. v
GATES, JUNE S.; U.S. v--GAUDERN, RONALD L.
GAUDET, JAMES K.--GAUTIER ASPHALT CO., INC. v U.S.
GAUTZ, JOHN C. v U.S.--GAYER, RICHARD v. IRS
GAYLOR, JANE v. TAN, MARGARET A.--GEARY, JOHN RICHARD, EST. OF v U.S.
GEARY, JOYCE, IN RE--GEHRI, BEVERLY v. U.S.
GEHRING PUBLISHING CO., INC.--GEISLER, CURT J. v. NERI, ANTHONY, ET AL.
GEISLER, WILLIAM H.--GEM RADIO & TV CORP., IN RE
GEMCO MFG. CO. v U.S.--GENERAL BANCSHARES CORP.; U.S. v
GEN. BANCSHARES CORP.--GEN. GUARANTY MORTGAGE CO., INC. v TOMLINSON
GEN. HARDWARE CO.--GENERAL MOTORS CORP. v U.S.
GEN. MOTORS CORP. v U.S.--GEN. TELEPHONE CO. OF ILL. v AMER. CASUALTY CO. OF READING PA.
GEN. TELEPHONE CO. OF ILL. v U.S.--GENS, RICHARD H. v U.S.
GENS, RICHARD H. v U.S.--GEORDAY ENTERPRISES, LTD.
GEORDAY ENTERPRISES, LTD. v. COM.--GEORGE, R. B., EST. OF, TRANSFEROR v COMM.
GEORGE, R. B. MACHINERY CO.--GEORGIA PROPERTIES CO. v HENSLEE
GEORGIA PROPERTIES CO. v MCCANN, EARLY M.--GERARD; COMM. v
GERARD, COSTER, EXEC. v COMM.--GERLACH, CHARLES J. & BEATRICE C.
GERLACH, CHARLES J., FAMILY EST.--GERSHWIN, EXEC. v U.S.
GERSHWIN, ROSE, LAST WILL OF v U.S.--GESSERT, ROBERT J. v. U.S.
GESSERT, ROBERT J. v. U.S.--GHADIRI, KHOSROW & TURAN MIRHADY
GHALARDI INCOME TAX EDUCATION FOUNDATION--GIARDINO, ALFRED, EXEC. v COMM.
GIARDINO, ALFRED, EXEC. v COMM.--GIBBS, LINDA
GIBBS, LINDA G.; U.S. v--GIBSON, L. DARRYLE & PATSY LOYCE
GIBSON, LANDER--GIDWITZ, VICTOR E., FAMILY TRUST
GIEG, PATRICIA ANN v U.S.--GIKAS, JOHN S., EXEC.
GIKAS, JOHN V., EST. OF--GILBERT v U.S.
GILBERT v U.S.--GILES, JULIA, EXEC. v U.S.
GILES, MARY EDITH, EST. OF; U.S. v--GILL, SARAH LOUISE, EST. OF
GILL, SARAH LOUISE, EST. OF v U.S.--GILLESPIE & SONS CO. v COM.
GILLESPIE, T. H.--GILLILAND, JOHN M. v U.S.
GILLIN, ROBERT A. v I.R.S.--GILMAN, HOWARD
GILMAN, HOWARD v COMM.--GILMORE, U.S. v
GILMORE v U.S.--GINGER, JOHN L., MASONRY INC
GINGERICH, EUNICE ET AL. v. U.S.--GINSBURG, RICHARD A. & ANDREA L.
GINSBURG, SAM B.--GIRARD, EXEC. v GILL
GIRARD, EXEC. v GILL--GIRT, CHARLES H.
GIRVIN, RONALD v. U.S.--GIZZI, JOE F. & ANN
GIZZI, JOE F. & ANN--GLANTZ, FRANK M. & MARY K.
GLANVILLE, LIVIA AUDRY, IN RE--GLASS, GARY, TRANSFEREE
GLASS, GARY, TRANSFEREE--GLAZE, GEORGE E., ADM. v U.S.
GLAZE, GEORGE E., ADM. v U.S.--GLEN CONSTRUCTION CO. v I.R.S.
GLEN EDEN HOSPITAL INC, IN RE--GLENNY, BRYANT, EST. OF; U.S. v
GLENS FALLS INS. CO.; U.S. v--GLIEM, JOHN WILLIAM JR., IN RE
GLIENKE v U.S.--GLONINGER v COMM.
GLONINGER, DIANA D. & IRVING L. W.--G.M. LEASING CORP. v APPLEGATE, BURT C.
G.M. LEASING CORP. v CLAYTON, PHILIP J.--GODBOUT, DAVID v. PARIZEK, DENNIS
GODBOUT, DAVID v. PARIZEK, DENNIS--GODWIN, CHARLES W. & DEBORAH J.
GODWIN, HAROLD F. v U.S.--GOERTLER, JAMES L. & SHERRI R.
GOERTZ, ARTHUR J.; U.S. v.--GOHN v U.S.
GOHR FARMS, INC.--GOLD, MARVIN v. U.S.
GOLD, MELVIN L. & SHERRY--GOLDBERG, HARVEY S. v. COM.
GOLDBERG v HOFFMAN--GOLDBERG v U.S.
GOLDBERG; U.S. v--GOLDEN NUGGET, INC. & SUBSIDIARY
GOLDEN PINE RANCHES, INC.--GOLDFARB, JACOB A. & BERTHA L. v COMM.
GOLDFARB, JACOB A. & BERTHA L. v COMM.--GOLDMAN, LEO v. COM.
GOLDMAN, LEO & PAULINE--GOLDSMITH, ALBERT J.
GOLDSMITH, ALVIN B. & FRANCES--GOLDSTEIN, BARON & LEWIS CHARTERED v U.S.
GOLDSTEIN, BEN & MINNIE--GOLDSTEIN, ROBERT L.; U.S. v.
GOLDSTEIN, ROBERT L.; U.S. v.--GOLDSTONE, SIDNEY, EXEC.
GOLDSWORTHY v COM.--GOLUB, J. DAVID
GOLWYNNE, HENRY A., EST. OF--GONZALES, ELMER E. v. U.S.
GONZALES, ELMER M. v. MONTOYA, JOHN P.--GOOD, BRIAN E. & SANDRA SHERMER
GOOD CHEVROLET--GOODELL, BOYD ELLIS II, IN RE
GOODELL, DUANE v. U.S.--GOODMAN, CHARLES
GOODMAN v COM.--GOODMAN, RICHARD C.
GOODMAN, ROBERT A. & BARBARA J.--GOODRIDGE, JOHN, ADM. v U.S.
GOODRUM, ROBERT GENE--GOODWIN, WILLIAM A. v U.S.
GOODWIN, WILLIAM C., III v DIR., I.R.S.--GORD, THEODORE K. & ELIZABETH V.
GORD, THEODORE K. v U.S.--GORDON, HARRY v COMM.
GORDON, HARRY & GERALDINE--GORDON, RUTH
GORDON, RUTH v. COM.--GOREE, ROBERT W., ADM.
GOREE, ROBERT W., JR., EST. OF--GORSKI v U.S.
GORSUCH, LORETA--GOTTESMAN, MORRIS v U.S.
GOTTESMAN v U.S.--GOULD v GRANQUIST
GOULD, HERBERT M., III v U.S.--GOURDIN, GALO & SHERRY A.
GOURIELLI, A., EST. OF--GOWER, HAROLD T/A GOWER'S SERVICE STATION; U.S. v
GOWER, HAROLD W. T/A GOWER'S SERVICE STATION; U.S. v--GRABLE, PHILLIP B.; U.S. v
GRABLE & SONS METAL PRODUCTS INC v. DARUE ENGINEERING--GRACE, WILLIAM E. v I.R.S.
GRACE, WILLIAM E.; U.S. v--GRAF, RICHARD; U.S. v.
GRAF, RICHARD; U.S. v.--GRAHAM, FRANCES
GRAHAM, FRANK A. & MILDRED J.--GRAHAM, ROBERT B., JR. v I.R.S.
GRAHAM, ROBERT B., SR. v U.S.--GRAHAM, WILSON M., ET AL.; U.S. v.
GRAHAM-PAIGE CORP.--GRAN, WILLIAM E., IN RE
GRAN, WILLIAM E., IN RE--GRAND RIVER GRAVEL CO.
GRAND TERRACE CAFE v U.S.--GRANNAN, DENNIS A., IN RE
GRANNAN, DENNIS A., IN RE--GRANT, GEORGE H. & MARGARET F.
GRANT, GEORGE O. & DONNA J.--GRANT v U.S.
GRANT v U.S.--GRASSMEE, FREDA H.
GRASSO, CHARLES--GRAVES, JAMES T. & KAREN M.
GRAVES, JOHN A. v. COM.--GRAY, CAROL DIANE
GRAY, CAROL DIANE v. U.S.--GRAY, JOHN D. & ELIZABETH N.
GRAY, JOHN D. & ELIZABETH N.--GRAY, STEVEN A., v. U.S.
GRAY, THOMAS S., EST. OF--GREAT FALLS NAT. BANK, THE CO-EXEC. v U.S.
GREAT ISLAND HOLDING CORP ., THE--GREATER PITTSBURGH CHRYSLER DEALERS ASSN. OF WESTERN PA. v U.S.
GREATER PROVIDENCE DEPOSIT CORP.; U.S. v--GREEN, BYRNECE S. v COMM.
GREEN; CANNON v--GREEN, HARRY F., ADM.; U.S. v
GREEN, HARVEY J. & LINDA--GREEN, JOHN OLIVER, IN RE
GREEN, JOHN PRYOR--GREEN, ROBERT S. & LILLIE MAE (HUSBAND & WIFE)
GREEN, ROBERT v WALTERS, JOHNNIE--GREENABAUM BROS., INC.
GREENACRE FOUNDATION v U.S.--GREENBERG v U.S.
GREENBERG v U.S.--GREENE, IRA S. & ROBIN C.
GREENE, J. L.--GREENE, WILLIAM M. v. IRS
GREENE, WILLIAM; U.S. v--GREENLEE, GALE W., INC. v U.S.
GREENLEE, GAYLORD W.--GREENSPUN, MILTON v SCHLINDWEIN, ANNE
GREENSPUN, MILTON v SZYMANSKI, RONALD--GREENWOOD, MARLIN L. v FIRST INTERSTATE BK. OF WASH.
GREENWOOD, MARLIN L. v U.S.--GREER-MCPHAUL FUNERAL HOME, INC.; U.S. v
GREER-ROBBINS CO.--GREGORY, PERCY A., JR. v. U.S.
GREGORY, PERCY A., JR. v. U.S.--GRENELL, HORACE W. & JUDITH
GRENELL, HORACE W. & JUDITH v COMM.--GRIBAUSKAS, PAUL C. EST OF
GRIBAUSKAS, PAUL C., EST OF v. COM.--GRIFFIN, DONNA, IN RE
GRIFFIN, DOUGLAS R., TRANSFEREE--GRIFFIN , WILLIAM V.
GRIFFIN, Z. WAYNE & ELINOR W.--GRIFFITH REALTY CO. v CAMPBELL, JR.
GRIFFITH, ROBERT H., JR.; U.S. v--GRIGORACI, VICTOR & JUDITH A., ET AL.
GRIGSBY, BERTRAM J.--GRIMM, MAXINE T. v COMM.
GRIMM, RONALD L.; U.S. v--GRISWOLD, FRANK, v U.S.
GRISWOLD, FRANK v. U.S.--GROHSE, EDWARD W. & THERESA
GROJEAN, THOMAS F. v. COM.--GROSS, CLYDENA M., EST. OF v U.S.
GROSS; COM. v--GROSSBERG, SOLOMON v COMM.
GROSSBERG, SOLOMON, EXEC.--GROSSMAN, ROBERT D., JR.
GROSSMAN, ROBERT D. JR. v. COM.--GROVE, PHILIP & HARRIET F.
GROVE, TRUSTEE v U.S.--GRUBBS, JOSEPH THOMAS, IN RE
GRUBBS, PAUL A. & BRENDA S.--GRUNSTED, SCOTT
GRUNWALD, ARNOLD P. & GRETE M.--GUANTANAMO & WEST. R. CO.
GUARANTEE ABSTRACT & TITLE CO., INC. v U.S.--GUARDIAN LIFE INS. CO. OF AMERICA; U.S. v
GUARDIAN TRUST COMPANY, LTD.; U.S. v.--GUERRERO, EDILBERTO TOMAS & SALVIE VILLAFLOR
GUERRERO, GUSTAVO & MARIA--GUGGENHEIM v RASQUIN
GUGGENHEIM , SIMON , EST. OF--GUILZON, EDWARD J., EST. OF v COMM.
GUINAN, JAMES M. v. U.S.--GULF, MOBILE & OHIO R.R. CO. v. U.S.
GULF, MOBILE & OHIO R.R. CO. v U.S.--GULLION, ROBERT L.; U.S. v.
GULLION, STANLEY, O. & EDITH--GUNDOTRA, PAUL K. v. U.S.
GUNDOTRA, PAUL K., v. U.S.--GUNTHER, ARTHUR N., EST. OF v U.S.
GUNTHER, ARTHUR N., EST. OF v U.S.--GURTMAN, WILLIAM N. v U.S.
GURTNER; U.S. v--GUTBRO HOLDING CO. v COM.
GUTBRO HOLDING CO. (FORMERLY HUTNER HOLDING CO.)--GUTHRIE v U.S.
GUTHRIE; U.S. v--GUTTRIDGE, RONALD W.; U.S. v
GUTWIRTH, ALBERT--GWINN, JAMES A., ADM. (EST. OF, GWINN, D. BYRD)
GWINNER; HEINER v--GYRO ENGRG. CORP. v U.S.

H

H. A. ALLEN, MRS.--HAAG, WILLIAM M.
HAAK, WILLARD v U.S.--HAASE, WILLIAM X. v. U.S. ET AL
HAASS, ERWIN H. & VIRGINIA A.--HABY, HAYDEN, SR., CO-EXEC.
HACHETTE PUBLICATIONS INC--HACKNEY, WILLIAM G. & HELEN V.
HACKNEY, WILLIAM M.--HADLEY, PAUL M., EST. OF v U.S.
HADRI, ZACHARIA & RAWA--HAFT, ROBIN, TRUST
HAFT, ROBIN, TRUST v COMM.--HAGEN, RICHARD, SUSAN & MICHAEL v U.S.
HAGEN, THEODORE E. v ALEXANDER, DONALD C.--HAGGERT, JONATHAN S.; U.S. v.
HAGGERT, MICHAEL, IN RE--HAHN, RUTH
HAHN, STANLEY L., SPECIAL ADM. & EXEC.--HAINES, YOSHIKO SAITO v. U.S.
HAIR v COMM.--HALBIN, DOLORES JEAN
HALBURG, RICHARD LAWRENCE, IN RE--HALEY BROTHERS CONSTRUCTION CORP.
HALEY, CHARLOTTE G. v U.S.--HALL, BLONDE GRAYSON & NEAL E.
HALL, BRADFORD W. v I.R.S. DIST. DIR.--HALL, FRANK, EST. OF
HALL, FRANKLIN O. & SYBLE L.--HALL, JERRY LYNN
HALL, JERRY; U.S. v.--HALL PAVING CO., INC., TRANSFEREE
HALL PAVING CO. v U.S.--HALL v U.S.
HALL, WILBURN C., JR.--HALLER, MARY
HALLER, MARY--HALPERIN, MAX v U.S.
HALPERIN, MAX; U.S. v--HAMAN, RICHARD v COMM., Court Order
HAMAN, RICHARD v COMM.--HAMEL, JACK
HAMEL, JACK & JANE--HAMILTON, GEORGE M. & JOAN E.
HAMILTON. GREEN S., IN RE--HAMILTON, S. B., JR.
HAMILTON & SON, INC, IN RE--HAMMEKEN, WALTER H. , IN RE
HAMMEL; COM. v--HAMMOND, HARRY W., TRUST
HAMMOND, INC. v COMM.--HAMPTON, JEFFERSON D., II & LOUISE
HAMPTON, LINDA J.; U.S. v.--HANAN, HERBERT G., EXEC. (EST. OF HANAN, HERBERT W.)
HANANEL, ABRAHAM S. & RUTH--HANDEL, O. D., TRUST
HANDEL, O. D., TRUST v COMM.--HANEY, LEE F., SR., & JEAN C.
HANEY, MARGARET L., EXECX. v U.S.--HANKINS, WILLIAM EDWIN, EST. OF.
HANKINS, WILLIAM K. ; U.S. v.--HANNA, NICHOLAS G., EST. OF
HANNA, RUSTY J. v U.S.--HANOVER INS. CO.
HANOVER INS. CO. v U.S.--HANSEN, CHRISTOPHER M.; U.S. v.
HANSEN, CHRISTOPHER M.; U.S. v.--HANSEN, ROBERTA v. U.S.
HANSEN & ROWLAND, INC. v U.S.--HANSON v U.S.
HANSON v U.S.--HARBOR PLYWOOD CORP. v COM.
HARBOR PLYWOOD CORP. v COM.--HARDEN MORTGAGE LOAN CO. v COMM.
HARDEN; U.S. v--HARDIN'S BAKERIES CORP. v U.S.
HARDIN'S BAKERIES, INC. v MARTIN, JR.--HARDY, PIERCE LAMAR v. U.S.
HARDY, PIERCE LAMAR v U.S.--HARKAVY, ABRAHAM I., T/A HARKAVY & LIEB, TRANSFEREE
HARKAVY & LIEB, TRANSFEREE--HARLEY J. ROBINSON TRUST v. ARDMORE ACRES INC.
HARLEY, JOHN T., JR. & BILLIE C.--HARMON, HENRY F.
HARMON, HENRY F. v COMM.--HARP, ALAN B. & SUE S.
HARP, ALAN B. & SUE S.--HARPER v U.S.
HARPER, W. L., EST. OF--HARRELL v TOMLINSON
HARRELL v U.S.--HARRIS, ALBERT F. & PHYLLIS K.
HARRIS AMUSEMENT CO. OF MICH.--HARRIS, FLOYD; U.S. v
HARRIS, FRANK E. & CELESTA G.--HARRIS, JEROME J.; U.S. v.
HARRIS, JEROME J. v. U.S.--HARRIS, NANNIE CARR (INCOMPETENT) v COMM.
HARRIS, NATHAN D., JR., IN RE--HARRIS TRUST & SAVINGS BANK v U.S.
HARRIS TRUST & SAVINGS BANK v U.S.--HARRISON, ARTHUR RAY; U.S. v.
HARRISON, BENJAMIN J.--HARRISON, KAREN v. U.S.
HARRISON KIELY INS. AGENCY v COX, HAROLD, CONCRETE CONSTRUCTION CO.--HARRISON, WILLIAM H. v U.S.
HARRISON, WILLIAM O. JR. & CATHY L.--HART FOUNDATION
HART, FRANCIS R.--HART, WILLIAM B. & SUSAN M.
HART, WILLIAM H.--HARTFORD-CONN. TRUST CO., EXEC., THE v U.S.
HARTFORD-CONN. TRUST CO., TRUSTEE & TRANSFEREE, (EST. OF HOPPER, CHARLOTTE A.)--HARTMAN MATERIAL HANDLING SYSTEMS INC v. GOLDBERG, FRED T., JR.
HARTMAN, MERVIN J., CO-EXEC.--HARTMAN v U.S.
HARTMAN; U.S. v--HARTWICK, JOHN & JO ANN MARGARET
HARTWICK, PATRICIA J., EST OF v U.S.--HARVEY, JERRY LEE, TRANSFEREE v HENLEY, ROBERT
HARVEY, JERRY LEE, TRANSFEREE v U.S.--HARWOOD, BELVA Y.
HARWOOD, BELVA Y.--HASKEL, W. H.
HASKELL, AMORY LAWRENCE, EST. OF--HASSELL, MELVIN R.; U.S. v.
HASSELL, MELVIN R.; U.S. v.--HATCH, D.K. & EUNICE
HATCH, EST v COM.--HATHAWAY COFFEE HOUSE, INC., IN RE
HATHAWAY, PAUL E. & BRENDA J.--HAUBRICH, GREGORY H.
HAUBRICH, GREGORY H.--HAUPTLI, AUGUST J., JR. & BARBARA
HAUPTLI, AUGUST J., JR. v COM.--HAVESON, SHIRLEYANN, CO-EXECX.
HAVEY , EDWARD A.--HAWK, ARDLESS v U.S.
HAWK, BILLY F., JR. & NANCY SUE--HAWKINS, LONNIE, JR. & FANNIE B.
HAWKINS, MARGUERITE L.--HAWORTH, NEIL D.; U.S. v
HAWORTH, RICHARD M. v. U.S.--HAYDEN, JACK P. & GENE M.
HAYDEN, JAMES BRIAN--HAYES, MARTIN A. & CO., INC.
HAYES, MARTIN A. & CO., INC. v COMM.--HAYNES, FREDERICK J.
HAYNES, GORDON P. & ESSIE M.; U.S. v.--HAYS, WELDON, v. U.S.
HAYS, WILLIAM O. & MARGERY J.--HAZELTON, MARY, ADMX.
HAZELTON, TERRY L.--HEALTH PLUS CHIROPRACTIC, INC v. U.S.
HEALTH PLUS CHIROPRACTIC, INC. v. U.S.--HEARST, JR., EXEC. v U.S.
HEARST PUBLICATIONS, INC v. U.S.--HEATH, OPAL
HEATH, SUSAN--HECHT v MALLEY
HECHT, MARTIN E. v BARSCHI, HOWARD--HEDDERICK, JR. v U.S.
HEDGEBETH, DONALD M.--HEENAN, CAROLYN M., EXECX.
HEER-ANDRES INVESTMENT CO.--HEGER, JANET M., EST.OF
HEGER, JOHN H.--HEIDT, MARVIN A. & BEATRICE
HEIFERMAN v CHURCH--HEINBOCKEL, EDMOND AUDREY & LYDIA ROSE
HEINDEL v U.S.--HEISLER v U.S.
HEISSON, GARY & CHARLOTTE, IN RE--HELFENBEIN; U.S. v
HELFENBEIN; U.S. v--HELLER HEALTHCARE FINANCE INC.; U.S. v.
HELLER, HIRSCH & CO., IN RE--HELM & SMITH SYNDICATE v COMM.
HELME CO. v U.S.--HEMAN, SHELBY L., TRUST
HEMAN, SHELBY L., TRUST U/W--HEMPHILL, JOHN; U.S. v
HEMPHILL, OLIVER; U.S. V--HENDERSON, DAVID A. & PAULA J.
HENDERSON, DEREK, TRUSTEE; U.S. v.--HENDERSON, ROBERT v. COM.
HENDERSON, ROBERT R. & DIANE--HENDRICKS, WALTER E. & DEMA P.
HENDRICKS, WALTER E. & DEMA P.--HENDRY, WICKLIFFE B. & DOROTHY E.
HENDRY, WILLIAM M., III, CO-EXEC.--HENNEPIN HOLDING CO.
HENNESSEY, CHARLES M.--HENRIKSEN, ELINAR v COMM.
HENRITZE, T. W.--HENRY KRAFT MERCANTILE CO.
HENRY, LACY M. v U.S.--HENRY WATTERSON HOTEL CO.
HENRY, WILLIAM F.--HENSON, KENNETH M. v COMM.
HENSON, KENNETH M. v COMM.--HERBERT v COM.
HERBERT v COM.--HERCULES SPORTSWEAR, INC.; U.S. v
HERCULES SPORTSWEAR, INC.; U.S. v--HERITAGE AUXILIARY CO., INC. v WILLIAMS, WILLIAM
HERITAGE AUXILIARY CO., INC. v WILLIAMS, WILLIAM--HERNANDEZ, ALBERTO
HERNANDEZ, ALFREDO L. & ANITA V.--HEROLD v COMM.
HEROLD, GRADY F., SR.; U.S. v.--HERRING MAGIC v U.S.
HERRING, MELANIE VELENCIA v. U.S.--HERSHEY CHOCOLATE CO. v. MCCAUGHN
HERSHEY CHOCOLATE CO. v. MCCAUGHN--HERVEY, JAMES W.; U.S. v
HERWIG v U.S.--HESS, ERROL J.
HESS, GEORGE R. & EVALINE--HESTER, FLOYD R. & CAROL B.
HESTER, GLENN B. & JOYCE F.--HEWITT, A. DIGGS
HEWITT, A. DIGGS & JULIETTE L.--HEYMAN, GEORGE, JR. v BOROWSKI, JAMES R.
HEYMAN, GEORGE, JR. v U.S.--HIBBEN, KENNETH A. v. U.S.
HIBBEN, KENNETH A. v. U.S.--HICKOK, DONALD E. & HELEN A.
HICKOK, EVELYN--HICKS, LARNCE D.; MCGEE, EDWARD E. v
HICKS, LARNCE D.; U.S. v--HIER v U.S.
HIERS, DAN LOUIS, IN RE--HIGGINS, MICHAEL L. v. COLEMAN, AARON ET AL.
HIGGINS, MICHAEL L. v. IRS--HIGHLANDS, EVANSTON-LINCOLN-WOOD SUBDIVISION, FIRST ADDITION TRUST NO. 1546
HIGHLANDS FARMS CORP.--HILBY, FRANCIS M. & LAURA E. v COMM.
HILCO PROPERTY SERVICES INC v. U.S.--HILL, BRYCE v. GUGIN, PHYLIS J.
HILL, BRYCE v. GUGIN, PHYLIS J., ET AL--HILL, GEORGE & FREDRICKA
HILL, GERALD, EST OF v. GLOVER, BRENT--HILL, LORENZO
HILL, LOUIS W.--HILL, SUZANNE L.
HILL, T. GARDNER & ALICE S.--HILLECKE, MICHAEL A. v. U.S.
HILLECKE, MICHAEL A. v. U.S.--HILLMAN, JAMES R., TRUSTEE
HILLMAN, JOEL--HILT, ALLYSON L. v U.S.
HILT, JESSE T. v U.S.--HIMMEL, ISIDORE, EXEC.
HIMMEL, ISIDORE, EXEC. v COMM.--HINDS, EST. OF; COM. v
HINDS, SUZANNE--HINKEL v MOTTER
HINKER, ARTIS E. & DONNA L.--HINZ & LANDT, INC., OF LOS ANGELES
HINZE v U.S.--HIRSCH, LEAH A., EXECX.
HIRSCH, LEWIS J. & SUZANNE L.--HIRSHON, DOROTHY R., EST. OF
HIRSHON, EST. OF v COMM.--HITCHINS, F. HOWARD & ESTHER E.
HITCHON, HERBERT M.--HOAGLAND, JOSEPH W. & MABEL B.
HOAGLAND v KAVANAGH--HOBSON, HAROLD A., JR.
HOBSON, HAROLD A., JR. & ASSOCIATES, INC.--HODGE, LEROY & ELIZABETH
HODGE, MARILYN; U.S. v.--HODGES, STUART B.; U.S. v.
HODGES, STUART B.; U.S. v.--HOENIG, EDWARD E., EST. OF
HOENIGER, BERTHOLD H. v U.S.--HOFFMAN, CHARLES F. & GLORIA L.
HOFFMAN, CHARLES F.; U.S. v--HOFFMAN, MOLLIE, DISTRIBUTEE
HOFFMAN, MOLLIE, TRANSFEREE--HOFSTEAD, JAMES W. & ELLEN B.
HOFSTETTER, KARL--HOGLANDER, HARRY R. & JOAN E.
HOGLE v COM.--HOLBROOK v TAITANO
HOLBROOK, TRUSTEE, v U.S.--HOLDEN, EARLL v. U.S.
HOLDEN, EARLL v. U.S.--HOLECEK, CARL; U.S. v
HOLEPROOF HOSIERY CO.--HOLLAND, EDWARD J., JR.
HOLLAND, EDWARD J., JR.--HOLLANDER, HANS S. & CLEMENCE BLUM
HOLLANDER, HANS S. & CLEMENCE BLUM v COMM.--HOLLIDAY, TIM W.
HOLLIE, JAMES R. & CARRIE L.--HOLLON, REESE & MARY E.
HOLLOW, NOAH K. v. U.S.--HOLMAN, AARON v U.S.
HOLMAN, ANDREW E. & MARY I.--HOLMES, JAMES F.; U.S. v.
HOLMES, JAMES F.; U.S. v.--HOLMSTROM, DELMORE D. v. U.S.
HOLMSTROM, DELMORE D. v. U.S.--HOLT v COMM.
HOLT v COMM.--HOLTZIN, LEONARD, EXEC.
HOLTZIN, LEONARD, EXEC.--HOMANN, ANNA v COMM.
HOMANN v COMM.--HOME JUICE CO., INC.
HOME LIFE INS. CO.; U.S. v--HOMEOWNER'S ASSN. OF PLUMMER'S COVE, INC.; U.S. v
HOMER LAUGHLIN CHINA CO., THE--HONG, KAY & DOROTHY S.
HONG KONG ELECTRONICS--HOOK, R. WALLACE, EST. OF v KAVANAGH
HOOK, R. WALLACE EST. OF v KAVANAGH--HOOPES, THOMAS W. v HUNSAKER, JAY
HOOPES, THOMAS W. v I.R.S.--HOOVER v U.S.
HOOVER WELL--HOPKINS v MAGRUDER
HOPKINS, MARIANNE--HORCHEM, REX D.
HORD v COM.--HORN, ROBERT D. & PEGGY P.
HORN, S. F. & BERYL--HORNER, MARTIN, EXEC. v U.S.
HORNER, STEPHEN, EXEC. v U.S.--HOROWITZ, SAMUEL & CAROL P.
HOROWITZ, STEVEN D., IN RE--HORTON HOMES, INC. v. U.S.
HORTON, JACK; MAYHEW, LAWNIE v--HOSACK, CHARLES RICHARD v. IRS
HOSBEIN, DAVID J. & FLORENCE T.--HOT SHOPPES RESTAURANTS, IN RE
HOTARD, ARTHUR J.; U.S. V,--HOUGH, KAREN V.
HOUGH, MYRTLE R. (GOINS)--HOUSE, GLORIA ANN
HOUSE, H. B.--HOUSMAN v COMM.
HOUSMAN, STELLA S.--HOUSTON NATURAL GAS CORP.
HOUSTON NATURAL GAS CORP. v COMM.--HOWARD, ABB, INDEPENDENT EXEC. v U.S.
HOWARD, ALANSON L., TRUSTEE--HOWARD INDUSTRIES, INC., IN RE
HOWARD INDUSTRIES INC.--HOWARD, RANDAL W.; U.S. v.
HOWARD, RANDAL W.; U.S. v.--HOWE, CLARENCE K. & MARGARET C.
HOWE, CLARENCE K. & MARGARET C.--HOWELL, MICHAEL R. v. HURST, DEBRA K.
HOWELL, MYRNA S.--HOYE, ROBERT C. & SHIRLEY
HOYE v U.S.--HRUBETZ, FRANK, & CO., INC. v U.S.
HRUBETZ, FRANK, & CO., INC. v U.S.--HUBBARD, SHARON; U.S. v.
HUBBARD, STEVEN S. v. U.S.--HUBER, JOHN; U.S. v.
HUBER, KARL v. I.R.S.--HUCKINS TOOL & DIE, INC.
HUCKINS TOOL & DIE, INC. v COMM.--HUDSON CITY SVGS. INSTITUTION v DROSSOS, ANDREW, EST. OF
HUDSON CITY SVGS. INSTITUTION v DROSSOS, PATRICIA ANN--HUDSON, PAUL S.; U.S. v.
HUDSON, PAUL S.; U.S. v.--HUDSPETH v U.S.
HUEBL, WILLIAM H. & J. CHARLENE--HUFF, GEORGE C.
HUFF, GEORGE C. v. COM.--HUGGINS, C. B., IV, EXEC. v U.S.
HUGGINS, C. B., IV, EXEC. v U.S.--HUGHES, GLENN SCOTT & GINGER STOKES
HUGHES, GREGG B.--HUGHES v U.S.
HUGHES, VERNON J.; U.S. v--HULL, BILLY
HULL v COMM.--HULSMAN, NORBERT A. & VIRGINIA P.
HULT, STUART--HUMINSKI, CHRISTOPHER E.
HUMISTON, NORMAN L.--HUMPHRIES, C. C.
HUMPHRIES, GANER v. IRS--HUNT, DEWEY A., JR. & MARIAN C.
HUNT, DONALD E.; U.S. v.--HUNT v O'CONNOR
HUNT, P. S., EST. OF v U.S.--HUNTER, EILEEN M.
HUNTER, ELLAN R., CO-EXECX.--HUNTER v U.S.
HUNTER, VIOLA E., EST. OF v MANHAN, DOROTHY HUNTER--HUNWARDSEN EARL E. & JOANN
HUNYDEE v U.S.--HURON VALLEY NAT. BK.; DOWLING, JAMES F. v
HURON VALLEY NAT. BK.; U.S. v--HUSS v SMITH
HUSS, WESLEY v SMITH--HUTCHINSON, ANN v. U.S.
HUTCHINSON, BARBARA v ALEXANDER, DONALD--HUTTON, E.F., GROUP, INC. v U.S.
HUTTON, FAY S.--HYDE, JOHN A.
HYDE, KATHARINE T.--HYMAN, HELEN E.
HYMAN v HELVERING--HYUN, HENRY CHUN HO v. U.S.

I

I. A. DRESS CO., INC. v COMM.--IBRAHAM, KHALED v. U.S.
IBRAHIM, AKRAM & KISWANI, RAEDA--IDEAL TOOL & DIE CO., INC.
IDEN, CHARLES R. & A. JEAN--IKEDA, KIMI VIRGINIA v. COM.
IKENBERRY, WESLEY DAVID v. U.S.--ILLINOIS LIFE INSURANCE CO.
ILL. MASONIC HOME--IMLER , JOSEPH W.
IMMANUEL, HENRY MESEKE v. SECRETARY OF TREASURY--INCOME REALTY & MORTGAGE, INC.; U.S. v
INCOME REALTY & MORTGAGE, INC.; U.S. v--INDIAN HEAD NAT. BANK OF NASHUA, THE; U.S. v
INDIAN HEAD NAT. BK. OF NASHUA; U.S. v--IND. TIRE & RUBBER CO., INC.
INDIANA UNIVERSITY RETIREMENT COMMUNITY, INC.--INDUSTRIAL BANK OF COMMERCE; U.S. v
INDUSTRIAL BANKERS SECURITIES CORP. v HIGGINS--INDUSTRIAL TRUST CO., EXEC.
INDUSTRIAL TRUST CO., EXEC. v COM.--INGHAM, HELEN ANN HUBBELL v RICHARDS, RILEY H., TRUSTEE
INGHAM, HELEN ANN HUBBELL v TURNER, RICHARD--INLAND FINANCE CO.; COMM. v
INLAND GAS CORP., IN RE--INSOLERA, ROBERTO & ANGELA
INSOLERA, ROBERTO v COMM.--INTERCONTINENTAL METAL, INC.; U.S. v
INTERCONTINENTAL SHIPPING CORP.--INTERNATIONAL AIR LEASES, INC., IN RE
INTERNAT. ARMAMENT CORP. v U.S.--INTERNATIONAL FREIGHTING CORP., INC. v COMM.
INTERNAT. HARVESTER CREDIT UNION; GROSS, FREDERICK E. v--INTERNATIONAL TELEVISION FILM PRODUCTION, INC.
INTERNATIONAL TEXTBOOK CO. v U.S.--INTERVEST & ASSOCIATES, INC.
INTERVEST & ASSOCIATES, INC.--IOANE, MICHAEL v. COM.
IOANE, MICHAEL v. COM.--IPO II, A PARTNERSHIP
IPPOLITO v COMM.--IROQUOIS GARDENS INC. v U.S.
IRRGANG v FAHS--IRVING; U.S. v
IRVING-KOLMAR CORP.--ISBELL, DONALD C. v. DEPT OF TREASURY
ISBELL, KERMIT F.--ISLAND PETROLEUM CO.
ISLAND PETROLEUM CO. v COMM.--ISRAELITE HOUSE OF DAVID v U.S.
ISRAELSON, MAX R. v U.S.--IVES DAIRY, INC. v COMM.
IVES, DERMOD, CO-EXEC.--IVY SCHOOL OF PROFESSIONAL ART, INC.; BEERMAN, WILLIAM L. v
IVY SCHOOL OF PROFESSIONAL ART, INC.; U.S. v--IZZO, TIMOTHY W. v. U.S.

J

J. A. PETERSON-TOMHAWK HILLS, INC. v U.S.--J & W INDUSTRIES, INC. v FRANK ENTERPRISES, INC.
J & W MOTORS v FRANK ENTERPRISES, INC.--JACKSON, ANTHONY DENNIS; U.S. v.
JACKSON, ANTHONY DENNIS; U.S. v.--JACKSON, EUGENE
JACKSON, EXEC. v GRANQUIST--JACKSON, LEONARD
JACKSON, LEROY K. & RITA B.--JACKSON, ROXIE LEE
JACKSON, ROY DAN; U.S. v--JACKSON-RAYMOND CO., INC.
JACKSON'S ALLAPATTAH PROPERTIES, INC. v U.S.--JACOBS, DANIEL T.
JACOBS, DAVID v N.Y. CREDIT MEN'S ADJUSTMENT BUREAU, INC.--JACOBS, NORA S.
JACOBS, PETER H.--JACOBSON v HAHN
JACOBSON v HAHN--JACOBY, OSWALD & MARY ZITA
JACOBY, PETER H.; U.S. v--JAFAR, HAMID D. v U.S.
JAFAR, HAMID v U.S.--JAHNCKE SERVICE INC. v COMM.
JAHNER, HENRY & SANDRA--JAMES, HARRY, J.; U.S. v
JAMES, HELEN L.--JAMES, RONALD v. U.S.
JAMES, RONALD v. U.S.--JAMISON v U.S.
JAMISON , WILLIAM H.--JANNEY, WALTER C.
JANNSEN, JAY, IN RE--JAQUES, LEONARD C. & SYBIL J.
JAQUIN, JR. v U.S.--JARVIS, BILLY W. v. U.S.
JARVIS, BILLY W. v. U.S.--JAY, STEVEN O. v U.S.
JAYBEE MFG. CORP. v U.S.--JEFFERSON BLOCK & SUPPLY CO. v COMM.
JEFFERSON, CHARLES E. v. U.S.--JEFFERSON, THEODORE B.
JEFFERSON TITLE INS. CO.; FORMAN v--JENISON, JOEL W.; U.S. v
JENKENS & GILCHRIST, P.C.; U.S. v.--JENKINS, LEROY J. v KING, JACK
JENKINS, LEROY J. v KURTZ, JEROME--JENNINGS, ERIC
JENNINGS, EXEC. v SMITH--JENSEN, JAMES L. v. I.R.S.
JENSEN, JAMES L. v. I.R.S.--JEREMIAH, VELMA; I.R.S. v
JEREMIAH, VELMA; MORAN, RALPH J. v--JERRY'S VIDEO v. U.S.
JERSEY LAND & DEVELOP CORP. v U.S.--JETT, GEORGE H., DRILLING CO. v TIBBITS
JETT, GEORGE H., DRILLING CO. v TIBBITS DRILLING CO.; LAMB RENTAL TOOLS, INC.--JFWIRS, LTD. v U.S.
J.G. BOSWELL CO. v COM.--J.N. MICHAELS LTD.; U.S. v.
JNO. MCCALL COAL CO., INC.--JOFFE, FREDA, EXECX. v U.S.
JOFFE, JOHN H., EST. OF v U.S.--JOHN J. GRIER CO. v U.S.
JOHN, JR. v U.S.--JOHNSON, ABBOTT L. & ELIZABETH G.
JOHNSON, ABEN E. v. U.S.--JOHNSON, ANDREW B. v U.S.
JOHNSON, ANDREW, v. U.S.--JOHNSON BRONZE CO.
JOHNSON, BRUCE F. & JUDY E.--JOHNSON, CURTIS H., EST. OF
JOHNSON, CYNTHIA A. v. U.S.--JOHNSON, ELMER R. & JANICE A.
JOHNSON, ELSIE SYVERSON, EXECX.; U.S. v--JOHNSON, FORD T., JR. v. U.S.
JOHNSON, FORD T., JR. v. U.S.--JOHNSON, GORDON W. v. U.S.
JOHNSON v GRANQUIST--JOHNSON, J. F., LUMBER CO., THE
JOHNSON, J. F. WILMAR--JOHNSON, JOHN T.
JOHNSON, JOHN WELLINGTON v U.S.--JOHNSON, LOUIS, EST. OF
JOHNSON, MALLORY L.; U.S. v--JOHNSON, PETER A.
JOHNSON, PETER R. v I.R.S.--JOHNSON, ROBERT K. v COMM.
JOHNSON, ROBERT M. & JANNA D. BEGOLE--JOHNSON, STANLEY T. v. COM.
JOHNSON STAR ROUTE, IN RE--JOHNSON; U.S. v
JOHNSON; U.S. v--JOHNSON, WALTER ROLAND, IN RE
JOHNSON, WALTER T., JR. ET AL.; U.S. v.--JOHNSTON, CANDACE; U.S. v.
JOHNSTON, CANDACE; U.S. v.--JOHNSTON v MCLAUGHLIN
JOHNSTON, NELLIE S., EST. OF v U.S.--JOHNSTOWN BLDG. & LOAN ASSN.
JOINER, ROBERT E.--JON H. BERKEY, P.C. v. I.R.S.
JONAN TEXTILE CO., INC.--JONES, CHARLES C.
JONES, CHARLES D., U.S. v.--JONES, DAVID B.; IRS v.
JONES, DAVID E. v. U.S.--JONES, EXECX.; U.S. v
JONES, EZRA H.--JONES, IONE DAVIS, EXECX.
JONES, IRENE E--JONES, LESTER EARL, EST. OF
JONES, LESTER V.; U.S. v--JONES, OCIE M., EST. OF
JONES, OCTAVIA C. v. COM.--JONES, ROBERT R. v U.S.
JONES, ROBERT v TREAS. OF STATE OF MD.--JONES, TERRY L., ET AL v. U.S., ET AL
JONES, TERRY L., ET AL v. U.S., ET AL--JONES UNIVERSITY v CONNALLY
JONES UNIVERSITY v CONNALLY--JONES v WOOD
JONES, ZEPHA H., EXEC. v COMM.--JORDAN, GERALD W. & GAY
JORDAN, GLEN A. v COMM.--JORDANO; MORIYAMA v
JORDANO; MORIYAMA v--JOSE, LADDIE F., TRUSTEE; U.S. v.
JOSE, LADDIE F.; U.S. v.--JOSEPHBERG, RICHARD; U.S. v.
JOSEPHBERG, RICHARD; U.S. v.--JOURNAL OF ACCOUNTANCY, INC.
JOURNAL OF LIVING PUBLISHING CORP ., THE--JP MORGAN CHASE BANK, N.A. v. ZWOSTA, BETTYE RAMONA
JP MORGAN CHASE BANK,N.A., U.S. v.--JUDICIAL WATCH, INC.; U.S. v.
JUDICIAL WATCH INC.; U.S. v.--JULICHER, HENRY A. v. ROYAL BANK OF PA.
JULIEN, JAY I. & ANN W.--JUNIOR AMUSEMENT CO.
JUNIOR MISS CO.--JUSTIN, RODNEY v. U.S.
JUSTIS, STANLEY N., JR; U.S. v--JZ BUCKINGHAM INVESTMENTS, LLC v. U.S.

K

K & B CAPITAL, LLC v. U.S.--KADEL, DALE D.; U.S. v.
KADERLY, MAY E.--KAGI, RALPH; U.S. v
KAGLE; U.S. v--KAHN, EDDIE RAY ET AL.; U.S. v.
KAHN, EDDIE RAY; U.S. v.--KAHUKU PLANTATION CO.
KAHUKU PLANTATION CO. v COMM.--KAISER, WILLIAM H, EST OF
KAISSY, ADNAN AL--KALIL, STEPHANIE v ENOCHS
KALINSKI, BOLESLAW, D. v COMM.--KAMANSKI, CHARLES W. P. v COMM.
KAMANSKI, CHARLES W. P. & ROBIN--KAMMAN, ROBERT v. I.R.S.
KAMMAN, ROBERT v I.R.S.--KANE JOHN MILLER
KANE, JOSEPH--KANSAS CITY, CO. v I.R.S.
KANSAS CITY HAY DEALERS' ASSN.; CROOKS v--KANTER, H. LEE v U.S.
KANTER, JEROME B. v U.S.--KAPLAN, PHILIP & PEARL
KAPLAN, RICK; U.S. v--KAPPAS, PETER J.
KAPPEL, EST. OF v U.S.--KARELAS, RICHARD LEE
KAREM, ROBERT L. & HAZEL W.--KARP, ALINA & ORRIN E.
KARP, DAVID S., EST. OF v. U.S.--KARTSEN, THEODORE R., EXEC. (EST. OF KARTSEN, M. K.)
KASACKOFF, DOV B.--KASSOUF, JAMES J.; U.S. v.
KASSOUF, JAMES J.; U.S. v.--KATZ, AUSTIN M. & BETTY K.
KATZ v CAMPBELL, JR.--KATZ v U.S.
KATZ v U.S.--KAUFMAN, GORDON & LORNA
KAUFMAN, GORDON v. SHULMAN, DOUGLAS--KAUN, DENNIS J. v U.S.
KAUN, DENNIS; U.S. v--KAY, ROBERT J. & MARJORIE B.
KAY, VERNA--KEANE, GERALD P. & ABBE L.
KEANE, JOHN E. v COMM.--KEATING, EXEC. v MAYER
KEATING, EXEC. v MAYER--KEEL, WILTON EARL & DOROTHY M.
KEELAN, FRANK B.--KEENER, KENNETH C. v. U.S.
KEENER, KENNETH C. v. U.S.--KEHRES, ROBERT v. I.R.S.
KEHRET, CARL E.--KELBY, RICHARD & MABEL
KELBY, RICHARD & MABEL--KELLER, HOWARD H. & MARIANNE
KELLER, HUBERT, EST. OF--KELLEY, CLAIRE v U.S.
KELLEY, CLAIRE v U.S.--KELLEY, RICHARD L. v I.R.S.
KELLEY, RICHARD L. v JOSCELYN, ROBERT T.--KELLOGG COMMISSION CO.
KELLOGG; COMM. v--KELLY; DRUTZ
KELLY, EDWARD & RUTH--KELLY, TIMOTHY F. v. U.S.
KELLY, TOM & BRENDA--KEMP REAL ESTATE CO. v COM.
KEMP, ROBERT B. JR.--KENCO RESTAURANTS INC v. COM.
KEN-CRETE PRODUCTS CO.; U.S. v--KENNEBEC BOX CO., INC. v O. S. RICHARDS CORP.
KENNEBEC BOX & LUMBER CO., INC.--KENNEDY NAME PLATE CO.
KENNEDY NAME PLATE CO. v COM.--KENNER, WILLIAM H. & ELEANOR V.
KENNER, WILLIAM H. & ELEANOR V.--KENOSHA LUMBER CO., INC.; U.S. v
KEN-RAD TUBE & LAMP CORP.--KENT, WILLIAM R. v U.S.
KENT, WILLIAM R. v U.S.--KEOGH, J. VINCENT & ROSEMARY B.
KEOGH v NEELY--KERMAN, MARK & LUCY
KERMIT FISCHER FOUNDATION--KERR, CO-EXEC. v U.S.
KERR v COM.--KERSHAW MFG. CO., INC.
KERSHAW MFG. CO., INC. v COMM.--KESSLER, STEPHEN F. & ANNA MERLE
KESSLER, T.C. v. U.S.--KEY CONSTRUCTORS, INC. v MATHEWS, MARTIN, INC.
KEY CONSTRUCTORS, INC. v RELIANCE INS. CO.--KEYSTONE MERCANTILE CORP. v GRAHAM
KEYSTONE METAL CO.--KIDD, DEVVY v. IRS
KIDD, DEVVY v. IRS--KIESLING, ROY A. & NININ v U.S.
KIESLING v U.S.--KILGORE, MEREDYTH E.
KILGORE, MEREDYTH E. v. COM.--KILLOUGH, LARRY R. & MARY S.
KILMAN, P. T. v U.S.--KIM, TAE M. v. IRS
KIM, TAE M. & YOUNG J.--KIMBLE v STUART
KIMBLE; U.S. v--KINCHELOW, ELIZABETH
KIND, WILLIAM C. & HELENE--KING, DON v THOMAS, PINKLON, JR.
KING, DOYLE A.--KING, HUGH G. & NORMA J.
KING, INDIV. & INDEP. EXECX. v PHINNEY--KING, NANCY v BERGHERM, DONALD
KING, NANCY v I.R.S.--KING v U.S.
KING v U.S.--KINGSBURY, BERNERD C., JR. v U.S.
KINGSBURY, HOWARD G. & ANNA Z.--KINNEY, HARRY A. & BETTY W.
KINNEY, JOSEPH N., JR. & HELEN C.--KIOSSE, CHRIS & MARGUERITE
KIOURTSIS, GEORGE--KIRCHLER, BESSIE
KIRCHLER, BESSIE, EXECX.--KIRKHAM, SHERMAN B. v MANSFIELD, CHARLES F.
KIRKHAM, SHERMAN B. v MCGOVERN, WALTER T.--KIRSCHENMANN, ADOLF, EXEC.
KIRSCHENMANN, ADOLF, SURVIVING HUSBAND, INDIV.--KIRSHNER, ALFRED v SHANNON, JOSEPH, TRUSTEE
KIRSHNER, ALFRED v TEACHERS' RETIREMENT SYSTEM, CITY OF N.Y.--KISTLER v BURNET
KISTLER, JAMES A. & ANN D.--KIVA DUNES CONSERVATION, LLC, ET AL
KIVEL, JOSEPH v U.S.--KLARKOWSKI, STANLEY H. & EST. OF SUSAN KLARKOWSKI
KLARKOWSKI, STANLEY H. & EST. OF SUSAN KLARKOWSKI v COMM.--KLEEDEN, MARK
KLEEDEN, MARK--KLEIN, FLORENCE L.
KLEIN, FREDERICK S.--KLEIN, SHIRLEY
KLEIN, SHIRLEY, PERSONAL REPRESENTATIVE--KLEMENTOWSKI, KENNETH V.
KLEMM, HAROLD L. & LORRAINE G. v U.S.--KLINE, EXEC., v U.S.
KLINE, EXEC. v U.S.--KLINGSTEIN v U.S.
KLINK, NASSIME, EXEC.--KLOSTERMAN, WALTER F., EST. OF v. COM.
KLOSTERMEIER, ROBERT J., IN RE--KNAPP BROS. SHOE MFG. CORP. v U.S.
KNAPP BROS. SHOE MFG. CORP. v U.S.--KNETSCH v U.S.
KNETSCH v U.S.--KNIGHT, THERON H. & JOANNE L.
KNIGHT, THOMAS M. v. U.S.--KNOBLAUCH, GEORGE T. v COM.
KNOBLAUCH, GEORGE T. v COM.--KNOTT, PAUL V. v U.S.
KNOTTNERUS, CORNELIUS v COMM.--KNOX, LENA B., EST. OF
KNOX, PEGGY, (OTHER THAN TMP)--KOBOS, JEROME
KOBS, JERRY JOHN--KOCHANSKY, MONICA L.
KOCHANSKY, RICHARD W.--KOEHRING CO. v U.S.
KOELLING, ELINOR RAE v U.S.--KOGUT, STANLEY S. & KATHLEEN
KOH, EUN HO & MIK YOUNG--KOHN, MICHAEL E. v. COM.
KOHN, ROGER W.; U.S. v--KOLDEN, DUANE; U.S. v
KOLDEN, DUANE; U.S. v--KOLTUN, PHILIP & FLORENCE
KOLVE, DUANE JOSEPH & ANGELA SUSAN, IN RE--KONING, MICHAEL; U.S. v.
KONINKLIJKE, N.V., HOLLANDISCHE LLOYD (ROYAL HOLLAND LLOYD)--KOPPELMAN v COMM.
KOPPELMAN v COMM.--KORBY, EDNA, EST v. COM.
KORCHAK, ERNEST I.--KORN v U.S.
KORN, WILLIAM, EXEC. (WILL OF KORN, RALPH H.)--KOSHLAND, CORINNE S.
KOSHLAND, CORINNE S., WILL OF v COMM.--KOTHARI, NAYAN & GRACE
KOTHARI, NAYAN, M.D., P.A.--KOUNTZE, MARY MALLORY, CO-EXECX. v U.S.
KOUROUKLIS, GREGORY--KOVTUN, JULIUS
KOVTUN, LAEL--KOZMA, MICHAEL A.
KOZUCK, SAUL--KRAIG, JERRY B.; U.S. v.
KRAIL, RONALD, IN RE--KRAMPF, JOSEPH & ROSALIE L.
KRAMPF, SAUL, EST. OF--KRAUS, DONNA L.
KRAUS, EDWARD L., JR., TRUST--KRAUSS, RICHARD; U.S. v
KRAUSS, SCOTT, NEWS AGENCY INC--KREIDLE, JAMES, IN RE
KREIDLE, JAMES, IN RE--KRESS, EXEC. v U.S.
KRESS, S. H. & CO.--KRIK, BERNARD H. v. U.S.
KRIKAC, STANLEY D. & MARY F.--KROLL, MARK v FRANKLIN NATIONAL BK.
KROLL, RICHARD L., EXEC.; U.S. v.--KRUEGER BROS., INC.
KRUEGER BROUGHTON LUMBER CO.--KRUSE, ALFRED & DOROTHY G.
KRUSE GRAIN & MILLING v COMM.--KUBER, MARY E. v LEVI, EDWARD H.
KUBER, MARY E. v NAT. BANK & TRUST CO.--KUEHN, ALFRED L., TRUSTEE; U.S. v
KUEHN, PHILIP G. v U.S.--KUHN, WILLIAM J., JR.
KUHN, WILMA E.--KUNKEL, JOHN C., EST. OF v U.S.
KUNKEL, JOHN C., EST. OF v U.S.--KUPISZEWSKI v COMM.
KUPISZEWSKI v COMM.--KURTZ, MAX
KURTZ, MIKE--KUYKENDALL, GENE; U.S. v
KUYPER, DUANE L.; U.S. v.--KYLE; JONES v
KYLE, ORVILLE B.--KYSER, JAMES F., DR. v U.S.

L

L & B CORP.--LA JOLLA CASA DE MANANA v RIDDELL
LA JOLLA CASA DE MANANA v RIDDELL--LABATO, PATRICIA; U.S. v.
LABATO, PATRICIA; U.S. v.--LABRY, JAMES M. v. I.R.S.
LABUS, RALPH E. v. U.S.--LACY, MARY ANN K., EXRX
LACY, MARY ANN KOKERNOT, EXRX--LAFARGE, RENEE ZELDA; U.S. v
LAFARGE; U.S. v--LAFORTUNE, SUZANNE M., RENEE ELIZABETH, AND COLETTE M.
LAFORTUNE, SUZANNE M., RENEE ELIZABETH & COLETTE M. v COMM.--LAIDLAW, WILLIAM J.
LAIDLEY INC.--LAKE CITY MALLEABLE, INC.
LAKE COUNTY NAT. BANK; U.S. v--LAKESIDE GARDEN DEVELOPERS, INC.
LAKESIDE GARDEN DEVELOPERS, INC. v COMM.--LAMAIR-MULOCK-CONDON CO.
LAMANA-PANNO-FALLO INDUSTRIAL INS. CO., INC. v COMM.--LAMBERT, CHRISTOPHER T., IN RE
LAMBERT, CHRISTOPHER T., IN RE--LAMKIN v BROWN & ROOT, INC.
LAMKIN, RICHARD C. v PACIFIC BRIDGE CO., INC., MAXON CONSTRUCTION CO., INC., UTAH CONSTRUCTION (O., INC., & SWINNERTON & WALLBERG CO-PARTNERSHIP), D/B/A BROWN-PACIFIC-MAXON--LAMPHERE, CLAIRE E. & LULA L.
LAMPKIN, RICHARD L. v. I.R.S.--LAND, BESSIE
LAND, BESSIE v COMM.--LANDAU, PHILIP, EST. OF
LANDAU v RIDDELL--LANDMAN v U.S.
LANDMARK BK.; RUNGE, WILLIAM D. v--LANDSBERGER, MARK W.
LANDVOGT, WILLIAM & PENNY--LANE, JOHN E. v REGAN, DONALD
LANE, JOHN E., REPRESENTATIVE v U.S.--LANG, GRACE E., EST. OF, THE
LANG, HAROLD, C. & VINNIE G.--LANGE, FREDERICK, III
LANGE, HAROLD A.--LANGILLE, DEANNA v. COM.
LANGILLE, DEANNA v. HOFER, JAY, ET AL--LANIER, EUGENE D., INC
LANIER v I.R.S.--LANSBURGH, MORRIS, JR., CO-PERSONAL REPRESENTATIVE
LANSDALE, L. D., JR. & LENNIE v--LAPIANA, VINCENT v LEE, MILLARD G.
LAPIANA, VINCENT v MAYFIELD, RICHARD--LARDY, ANDRE R. & JOAN P.
LARE, MARCELLUS R., JR. & LILLIAN D.--LAROUCHE, LYNDON JR. v. U.S.
LAROUCHE, LYNDON, JR. v U.S. DEPT. OF JUSTICE--LARSON, CLARENCE E. & VIVA MAE G.
LARSON; COM. v--LARUE, CLYDE W. v. U.S.
LARUE, CLYDE W. v. U.S.--LASATER, ED C.
LASATER, JESSIE C. v. U.S.--LASSMAN, DONALD R. v. U.S.
LASSOFF, BENJAMIN; U.S. v--LATIMER, JAMES E.
LATIMER v U.S.--LAUBLY, BERNADETTE; U.S., ET AL.; v.
LAUBLY, BERNADETTE; U.S., ET AL.; v.--LAUGHLIN, EST. OF v COMM.
LAUGHLIN, GARY S. v. COM.--LAURIN, VILDA S., EST. OF
LAURIN, VILDA S., EST. OF v COMM.--LAVOIE, JOHN, IN RE
LAVOIE, JOHN J.; U.S. v.--LAWLER, JOHN P. v COMM.
LAWLER, OLIVER S. & EVA V.--LAWRENCE, RICHARD R. & DOROTHY (WIFE) v U.S.
LAWRENCE, ROBERT ALLEN, IN RE--LAWSON, WILLIAM SPENCER v HUGHES, BOB G.
LAWTON v COM.--LAYTON III v U.S.
LAYTON, JAMES L. & AMY S.--LCL ADMINISTRATORS, INC.; U.S. v.
LCL ADMINISTRATORS, INC.; U.S. v.--LEACH, DALE, TRUSTEE
LEACH, DAVID M. v. U.S.--LEAMAN , THOMAS P., EST . OF
LEAMY, FRANK A. & CHARLOTTE T.--LEAVELL, C. H. & CO.
LEAVELL, DANIEL R. & EVA LOVENE--LEBLANC, ELWOOD J., JR. v. U.S.
LEBLANC, GLEN E. v SHIREY, PATRICK--LEDBETTER, J.N. v U.S.
LEDDY, CHARLES W. v. SULLIVAN, PHILIP--LEE, ANNETTE L. v U.S.
LEE, BETTE--LEE, GODDARD & DUFFY, LLP; U.S. v.
LEE, H. CLIFFORD, CO-EXEC. v U.S.--LEE, MILLARD G. v PIERCE, J. D., BUILDERS, INC.
LEE, MILLARD G. v U.S.--LEE, TERRYL DUANE
LEE, THELMIAH JR.; U.S. v.--LEEDY-GLOVER REALTY & INSURANCE CO., INC. v COM.
LEEDY-GLOVER REALTY & INS. CO., INC. v U.S.--LEFKOWITZ, HARRY v. U.S.
LEFKOWITZ, LEROY M.--LEGRAND, EST. OF v U.S.
LEGRO, BERNITA; U.S. v.--LEHMAN; U.S. v
LEHMAN v U.S.--LEIGH, ALAN, IN RE
LEIGH, CHARLES, MRS. (FORMERLY STEMBLER, ELEANOR K.)--LEITNER, MARK D. v. U.S.
LEITNER, MARK DANIEL v. U.S.--LEMLE, BERTHA v U.S.
LEMLE, BERTHA v U.S.--LENCKE, JAMES J. & JANENE B.
LENCYK, JOHN A. v. IRS--LENON SERVICE, INC.; I.R.S. v
LENON SERVICE, INC.; I.R.S. v--LEONARD, JOHN ROBERT SR. v. U.S.
LEONARD, JOSEPH B. & DOROTHY A. COLE--LEPOLD, LEO
LEPORE, A. ANTHONY, LAST WILL AND TESTAMENT--LEROY JEWELRY CO., INC.
LEROY, KIRK v. MATTHEWS, THOMAS B.--LESSER, ALVIN & CAROL
LESSER, ALVIN, PARTNER v RIDDELL--LESTER, FRANK CLAYTON & BARBARA LANE
LESTER, GEORGE B.--LEUCI, FRANK (PROPERTY CLERK OF THE POLICE DEPT. OF N.Y.); U.S. v
LEUCI; U.S. v--LEVERETTE v U.S.
LEVERONI, JOSEPH v. U.S.--LEVIN, JACK S., RECEIVER
LEVIN, JEROME v. CHASE MANHATTAN BANK CORP.--LEVINE, HERMAN, EXEC. v U.S.
LEVINE, HOWARD & LINDA--LEVINSON, SEYMOUR H.
LEVINSON, WILLIAM, ASSIGNEE v U.S.--LEVY, ELAINE C. (OTHER THAN TMP)
LEVY, EXEC. v U.S.--LEVY, SAMUEL M. & ISABEL C.
LEVY, SHARON D. v. DEPT. OF TREASURY--LEWIS, ANNA, EST. OF
LEWIS, ARNOLD L.--LEWIS, FRANK R. v. U.S.
LEWIS, FRANK R. v. U.S.--LEWIS, JOHN T. v CAMERON, MICHAEL W.
LEWIS, JOHN T. v ELDER, KEN--LEWIS v O'MALLEY
LEWIS v O'MALLEY--LEWIS, THOMAS P. v. U.S.
LEWIS, THOMAS P. v. U.S.--LEXINGTON BUILDERS & HOME IMPROVEMENT CO., INC.; U.S. v
LEXINGTON GROUP, THE--LIBBY, LINCOLN L. & FRANCES N.
LIBBY, LOUIS B. & VIRGINIA--LIBERTY NAT. BANK & TRUST CO. OF LOUISVILLE, KY., EXEC. v U.S.
LIBERTY NAT. BANK & TRUST CO. OF SAVANNAH, THE, EXEC. v U.S.--LICAVOLI v NIXON
LICAVOLI v NIXON--LIDDANE, STEVEN J. v. COM.
LIDDANE, STEVEN J. & JEAN L.--LIEBERT, PETER P., III: U.S. v
LIEBES v COMM.--LIFE & CASUALTY INSURANCE CO OF TENNESSEE v. U.S.
LIFE & CASUALTY INS. CO. OF TENN. v U.S.--LIGGETT, EST. OF v COMM.
LIGGETT GROUP, INC., SUCCESSOR IN INTEREST--LILE, THOMAS ALLAN, IN RE
LILE, THOMAS ALLAN, IN RE--LILLY, ROSCOE & ELEANOR
LILLY, THOMAS B.--LINCOLN ELECTRIC CO.
LINCOLN ELECTRIC CO. v COM.--LINDAUER, LOUIS & CAROLYN (WIFE)
LINDBACK, C. R., FOUNDATION--LINDLEY, WILLIAM H. & JO ANNE
LINDNER, DON v. COM.--LINDSEY, SHIRLEY J.
LINDSEY, STEPHANIE ET AL. v. U.S.--LINGHAM, PRINCESS E. L.
LINGHAM, PRINCESS E. L.--LINNTON PLYWOOD ASSN. v U.S.
LINOFF, EDITH EDELMAN v U.S.--LIONS ASSOCIATED DRAG STRIP v U.S.
LIOU, MING; U.S. v.--LIPSHY, BRUCE A.; U.S. v
LIPSIG v SCANLON--LISLE, JOEL R. & HELEN
LISLE, ROBERT W. EST v. COM.--LITTELL, WILLIAM PAUL
LITTERIO, LUIGI v. COM.--LITTLE, JOHN RUSSELL, EST. OF
LITTLE, JR. v COMM.--LITTRIELLO, FRANK A. v. U.S.
LITTRIELLO, FRANK A. v. U.S.--LIVINGSTON, GEORGE P., JR. v. U.S.
LIVINGSTON, JEFFERSON--LLLEWELLYN, MORGAN & MATTIE
LLEWELLYN v U.S.--LMC PRECIOUS METALS CORP.
LMS HOLDING CO., IN RE--LOCAL 866, INTERNAT. BROTHERHOOD OF TEAMSTERS, CHAUFFEURS, WAREHOUSEMEN & HELPERS OF AMERICA v EXXON CORP.
LOCAL AMERICA BANK OF TULSA, ET AL v. U.S.--LOCKETT, CURTIS G. & EDNA L.
LOCKETT, EDNA PEARCE, EST OF--LOCKWOOD, JAMES R. & JOYCE M.
LOCKWOOD, JOHN O. & ELEANOR B.--LOEB, HERBERT A.
LOEB, JOHN L., FRANCES L., HENRY A. & LOUISE S. v U.S.--LOEWI, MORTIMER W. & LILLIAN B. v RYAN
LOEWI, MORTIMER W. & LILLIAN B. v RYAN & PEDRICK, ADMX.--LOGAN, DONNA IRENE, EXEC.
LOGAN, EDITH ANDREWS--LOHR, ROBERT & PATRICIA
LOHRKE, JAMES L. & JUNE M.--LOMB v SUGDEN
LOMBARD, ANNA J., EST. OF--LONDON SHOE CO. v COMM.
LONDON-BUTTE GOLD MINES CO. v COMM.--LONG, FRANCES M.; COMM. v
LONG, GARY G.--LONG POULTRY FARMS INC. v COMM.
LONG v RASMUSSEN--LONG TERM CAPITAL HOLDINGS, ET AL. v. U.S.
LONG, THOMAS--LONG-TERM CAPITAL HOLDINGS, ET AL v. U.S.
LONG-TERM CAPITAL HOLDINGS v. U.S.--LOOS, THEODORE & BEATRICE
LOOSE, ELLA C., EXECX. (EST. OF LOOSE, JACOB L.)--LORAIN JOURNAL CO., THE v U.S.
LORAIN JOURNAL CO. v U.S.--LORENZ, KENNETH L. & FLORENCE H.
LORENZ, KEVIN J. EST OF--LOS ANGELES SHIPBUILDING & DRYDOCK CORP. v U.S.
LOS ANGELES SHIPBUILDING & DRYDOCK CORP. v U.S.--LOUIS, MAURICE
LOUIS PIZITZ DRY GOODS CO. v U.S.--LOUISVILLE PROVISION CO. v GLENN
LOUISVILLE PUBLIC WAREHOUSE CO.--LOVE v U.S.
LOVE v U.S.--LOVETT, THOMAS & CLARA E.
LOVETT, W. R., EST. OF v U.S.--LOWE, LLOYD J.
LOWE, MARGOT H., CO-EXECX.--LOWNDES v U.S.
LOWRANCE, ROBERT D. ET AL.; U.S. v.--LOYD, EXECX. v U.S.
LOYD, EXECX. v U.S.--LUBELL, JOHN DAVID, TRUST v U.S.
LUBELL, JOHN DAVID, TRUST v U.S.--LUCAS, HOWARD C., CO-PERSONAL REP. v. U.S.
LUCAS, JOANN v. I.R.S.--LUCIC, CONNIE
LUCID, MORGAN L. & MARY J.--LUDWIG, HARVEY A. & BEVERLY
LUDWIG, HERBERT R.--LUKASIK, DENNIS L.; U.S. v.
LUKASIK, DENNIS L. v. U.S.--LUMAN, DORIS B.
LUMAN, JONATHAN D.; U.S. v.--LUNDBERG, JOE & DON v MASON
LUNDBERG MFG. CO., INC.--LUPTON, DAVID W. & RUBYE L.
LUPTON, J. T.--LUSTIG v U.S.
LUSTMAN v COMM.--LUTZ, MAX
LUTZ, MAX & RUTH--LYDLE, MARILYN K., TRUST v U.S.
LYDLE, RICHARD C., TRUST v U.S.--LYMAN, EXEC.; U.S. v
LYMAN, G. ROBERT & SHARI LEE WRIGHT--LYNCHBURG TRUST & SAVINGS BANK, TRUSTEE (TRUST FOR YOUNGER, W. G. & E. T.)
LYNCH-DAVIDSON MOTORS INC.; TOMLINSON v--LYONS, ROBERT C. & SUSAN C.
LYONS , ROBERT HARVEY , EST . OF--LYYTINEN, LARRY L.

M

M & E CORP., (DISSOLVED)--MABEL, HARRY, SURVIVING HUSBAND & EXEC. v U.S.
MABEL, HARRY V U.S.--MACCHIONE, JOHN P. v. U.S
MACCI, ANGELO v. U.S.--MACDONALD, JOHN W.
MACDONALD, JOHN W. v COMM.--MACFADDEN v COMM.
MACFADDEN, DONALD S., TRANSFEREE--MACK, BELVERA M. v KURTZ, JEROME
MACK, CHARLES C. & GYTHA T.--MACKEY, DONALD T. & DINA
MACKEY, FRED T.; U.S. v--MACLEAN, DONALD M. & ELEANOR Y.
MACLEAN, IAN W.--MACON OIL & GAS CO.
MACON PRESTRESSED CONCRETE CO. v U.S.--MACZKA, RANDALL C.; U.S. v.
MACZKA, RANDALL C.; U.S. v.--MADE RITE SALES CO.
MADE RITE SAUSAGE CO.--MADONIA, ANTHONY S. v U.S.
MADORIN, BERNARD & JOYCE--MAEROFF, GENE I., TRUSTEE
MAES, NANCY GALLAGHER v. U.S.--MAGGOS, MARY v. COM.
MAGGOS, MARY D., EST OF--MAGNESS, HAROLD BRANNON
MAGNESS, LAURANCE F., JR. & DOLORES M.--MAGUIRE v COMM.
MAGUIRE v DETROIT, CITY OF--MAHFOOD, JOSEPH v. POST, LINDA
MAHIGEL, MICHAEL S.--MAI IRREVOCABLE TR.; U.S. v
MAIATICO v COM.--MAINLINE FIRE SPRINKLER CORP. v. U.S.
MAINS, DONALD L. v U.S.--MAJOR, MICHAEL JOSEPH
MAJOR, MICHAEL JOSEPH v. COM.--MALACHINSKI, LEON S. v. COM.
MALAG TUBE SPECIALTIES, INC.--MALBIN; U.S. v
MALBON, A. SIDNEY v. U.S.--MALINOWSKI, KENNETH J., ET AL; U.S. v.
MALINOWSKI, KENNETH J., ET AL; U.S. v.--MALLAS, JAMES G., ET AL v. U.S.
MALLAS, JAMES G,; U.S. v--MALONE, BILL J., JR. & SARAH J.
MALONE, DANIEL M. v U.S.--MALONEY, HUGH T.; U.S. v.
MALONEY, JAMES CARLYLE, JR.--MAMAUX & SONS; U.S. v
MAMAY, ROGER M. & BEVERLY A.--MANDEL, JOSEPH J. v COPANS, EXEC.
MANDEL, JOSEPH; U.S. v--MANGELS, RUBEN W., ADM. v U.S.
MANGER HOTEL CORP.--MANISCALCO, SAMUEL F., JR.; U.S. v
MANISCHEWITZ, B., CO., THE--MANN, JOSEPH C.
MANN, JOSEPH C. & SHIRLEY V.--MANNING, JEREMIAH F.; U.S. v
MANNING, JEREMIAH F.; WELCOME, RICHARD R.--MANSFIELD TIRE & RUBBER CO.; U.S. v
MANSFIELD TRANSMISSION CENTER INC. v. I.R.S.--MANUFACTURERS HANOVER TR. CO., EXEC.; U.S. v
MANUFACTURERS HANOVER TR. CO., EXEC.--MANUFACTURERS & TRADERS TRUST CO. v. RUFF, KENNETH, ET AL
MANUFACTURERS & TRADERS TRUST CO. v U.S.--MAPP, BURNHAM; U.S. v
MAPP, BURNHAM; U.S. v--MARBLE & SHATTUCK CHAIR CO. v COMM.
MARBOY CONSTR. CO.--MARCELLO, KENNETH v MORIARTY, GEORGE A.
MARCELLO, KENNETH v REGAN, DONALD--MARCO; COMM. v
MARCO, ELSIE v. U.S.--MARCUS v U.S.
MARCUS, WILLIAM M. ET AL , PERSONAL REPRESENTATIVES--MARGOLIS, HARRY, TRUSTEE
MARGOLIS, HARRY v U.S.--MARINE MIDLAND BK. OF N.Y.; HASLINGER, WILLIAM J. v
MARINE MIDLAND BK. OF N.Y.; HASLINGER, WILLIAM J. v--MARION AUTO PARTS CO., INC., IN RE
MARION AUTO PARTS CO., INC. v I.R.S.--MARKER, MARTIN C., SR. v U.S.
MARKER, MARTIN C., & SONS, INC. v U.S.--MARKS, BOB v U.S.
MARKS , CARL , & CO., INC.--MARKUS, RICHARD L. v COMM.
MARKUS, RICHARD L. & ROSEMARIE--MARQUETTE UNIVERSITY v U.S.
MARQUETTE UNIVERSITY v U.S.--MARS EQUIP. CORP. v U.S.
MARS EQUIP. CORP. v U.S.--MARSHALL, CHARLES D., EST. OF
MARSHALL, CHARLES D., EXEC.--MARSHALL, LEE H., HEIRS, ET AL
MARSHALL, LEE, IN RE--MARSOUN, MICHAEL R. v. U.S.
MARSOUN, MICHAEL ROBERT v. U.S.--MARTIN, ALVINA L., EXEC.
MARTIN, ANDREW; U.S. v.--MARTIN, DANIEL M. & ANN Y.
MARTIN, DANIEL; U.S. v.--MARTIN, HARRY; U.S. v
MARTIN, HARRY; U.S. v--MARTIN, JOHN W., JR. & MARY ANN
MARTIN, JOHN W., SR.--MARTIN, MARVIN; U.S. v
MARTIN, MARY JEAN--MARTIN, SUSAN TAYLOR v. U.S.
MARTIN, SUSAN Y.; U.S. v.--MARTIN, WILLIAM A. & CAROL C.
MARTIN, WILLIAM F.; U.S. v--MARTINEZ, PETER; U.S. v.
MARTINEZ, PETER; U.S. v.--MARTINSON, EXECX. v WRIGHT
MARTINSON, HERBERT J., EST. OF v WRIGHT--MARX , EMILY
MARX, EMILY--MD. NATIONAL BK.; PIZZILLO, ANTHONY v
MD. NAT. BK., TRUSTEE v IRVING MACHIZ, DIST. DIR., INT. REV. & CELEBRITY LOUNGE, INC.--MASEK, JOHN A.
MASELLI, KELLY J.--MASON, HARVE D. v KELLY, JIM
MASON, HARVE D. v KELLY, JIM--MASON v U.S.
MASON v U.S.--MASS. MUTUAL LIFE INS. CO.; U.S. v
MASS. MUTUAL LIFE INS. CO.; U.S. v--MASSEY MOTORS, INC. v U.S.
MASSEY MOTORS, INC. v U.S.--MASTER EAGLE ASSOCIATES, INC. v U.S.
MASTER MIXER; U.S. v--MATCHINSKE, DOLPH F. & MARILYN R.
MATCHWOOD FOUNDATION v. U.S.--MATHESON, WILLIAM L., EXEC.; U.S. v
MATHEW MATHEW, VADAKEPARAMBIL v. SOCIAL SECURITY ADMINISTRATION & I.R.S.--MATHIA, JEAN v. COM.
MATHIA, JEAN & DOYLE V., EST--MATHIS, WILLIAM H. & MARY BURNS
MATHISEN, ELSIE KEIL--MATTEWAN MFG. CO.
MATTFELD, KENNETH F.--MATTHEWS-MCCRACKEN-RUTLAND CORP.
MATTHIES, CARLA M.; U.S. v.--MATUT, ALBERT, AS POSSESSOR OF CERTAIN CASH
MATUT, ALBERT, AS POSSESSOR OF CERTAIN CASH--MAURER, J. A. INC.
MAURER v U.S.--MAXFIELD, RENEA AQUANETTE, IN RE
MAXFIELD v U.S.--MAXWELL, MARVIN THOMAS
MAXWELL, PETER E. & HELEN E.--MAY HOSIERY MILLS , INC.
MAY HOSIERY MILLS, INC. v COMM.--MAY, STERN & CO. v COM.
MAY, STERN & CO. v. HEINER--MAYER, GREGORY T.; U.S. v.
MAYER, GREGORY T.; U.S. v.--MAYFAIR TWO; I.R.S. v
MAYFAIR TWO; U.S. v--MAYO, ROBERT N.
MAYO, RONALD ANDREW & LESLIE ARCHER--MAZIK, STEVE; U.S. v
MAZLOOM, ALI ASGAR & BIBI K.--MAZZUCA, GENARO L.
MAZZUCA, TAMMY S.--MCALISTER v COHEN
MCALISTER v COHEN--MCANLIS, THEODORE M.; U.S. v
MCANULTY, VIRGINIA B. v. AMERICAN NATIONAL BANK & TRUST CO OF CHICAGO, TRUSTEE--MCBRIDE, MILDRED MORROW, EXEC. (EST. OF MORROW, JOHN C.)
MCBRIDE, RAY P. & EDNA K.--MCCALL, JAMES A. & HOLLY H.
MCCALL, JAMES L.--MCCANN, HARRISON K.
MCCANN, HELEN V. v KENNETH O. HOOK--MCCARTHY, JOHN J.
MCCARTHY, JOHN R. & LOIS J.--MCCASLIN, DANIEL G. & KATHLEEN A.
MCCAUGHAN, CAROLYN M. v U.S.--MCCLELLAN, PAUL D. v. U.S.
MCCLELLAN, R. E.; ELDER, KEN v--MCCLURE, SAM F.; U.S. v
MCCLURE v U.S.--MCCONNELL, J. MICHAEL v. U.S.
MCCONNELL, J. MICHAEL v. U.S.--MCCORMICK v BURNET
MCCORMICK, CARL; U.S. v--MCCOY, HARRY B., JR., EST. OF v U.S.
MCCOY, JOHN DAVID, EST--MCCREVAN, WILLIAM J.
MCCRIMMON, D. F.--MCCULLOUGH, DON G. v. IRS
MCCULLOUGH, EDNA--MCCUTCHAN, MARY CULTON, EST. OF
MCCUTCHEN, C. E.--MCDERMOTT, KAREN LYNN; U.S. v.
MCDERMOTT, MALCOLM--MCDONALD, ELLIS L. v. U.S.
MCDONALD, FRANK--MCDONALD, RONALD J. v U.S.
MCDONALD, RONALD J. v U.S.--MCDONOUGH, GARY W. v. COM.
MCDONOUGH, GERARD A., EXEC. v U.S.--MCDOWELL v RIBICOFF
MCDOWELL, RICHARD A.--MCEWAN v COMM.
MCEWAN, LILLIAN G.--MCFEE v U.S.
MCFEE v U.S.--MCGAUGHEY, GUY E., JR.; U.S. v
MCGAUGHEY, GUY E. JR.; U.S. v.--MCGHEE, ROBERT B,
MCGILL, JOHN K.; REEDY, MAXIE G. v--MCGLOTHIN, ROY; U.S. v
MCGLOTHLIN, EST. OF v COMM.--MCGOWIN-FOSHEE LUMBER CO.
MCGOWIN-FOSHEE LUMBER CO.--MCGUGAN, LUCY O., EST. OF
MCGUGIN, WILLIAM A., TRUSTEE v DIST. DIR.--MCGUIRL, JAMES F. v. U.S. ET AL.
MCGUIRL, JAMES F. v. U.S. ET AL.--MCILVAINE; COM. v
MCILVAINE, EDWARD L. v U.S.--MCINTOSH, TERRY W. v SECY. OF TREAS.
MCINTOSH, TERRY W. v U.S.--MCKAY, CARSTON SIMON
MCKAY, CATHRYN--MCKEE, ROBERT C. & VALERY W.
MCKEE, ROBERT & LORIEL--MCKENZIE, JERROLD L. & SALLY A.
MCKENZIE, JOSEPH H. v U.S.--MCKINNEY, EDITH G.
MCKINNEY, EDITH G. v COMM.--MCKNIGHT, MARTHA DURRENBERGER v I.R.S(U.S.)
MCKNIGHT, ROY A. & LEOLA--MCLAUGHLIN, FRANCIS H. & DELORES
MCLAUGHLIN GORMLEY KING CO.--MCLEAN, ROBERT E.; U.S. v.
MCLEAN, WILLIAM S., EST. OF v U.S.--MCMAHAN, DAVID BRUCE
MCMAHAN, DAVID BRUCE v. COM.--MCMANUS JACK v U.S.
MCMANUS, JACK v U.S.--MCMILLAN, ROBERT DEWEY, JR. v U.S.
MCMILLAN, ROBERT DEWEY, JR. v U.S.--MCMULLIN, CLINT v I.R.S.
MCMULLIN, CLINT v U.S.--MCNAMARA, MICHAEL, ET AL, v. COM.
MCNAMARA, MICHAEL & NANCY--MCNEIL, MINOR LEE v. COM.
MCNEIL, WILLIAM M.--MCPHILLIPS v U.S.
MCPIKE, DAVID K.--MCSHAIN, JOHN & MARY H.
MCSHANE, DONALD B.--MCWILLIAMS v COMM.
MCWILLIAMS; COMM. v--MEADE, WILLIAM MICHAEL v U.S.
MEADE, WILLIAM, WILL OF v U.S.--MEANS, DONALD R. v. U.S.
MEANS, JAMES H., JOHN J. & WILLIAM B.; U.S. v--MEDDERS, J. DOYLE v U.S.
MEDDERS, J. DOYLE v U.S.--MEDINA, LIDIO & PATRICIA
MEDINA, MANUEL; U.S. v.--MEEKS, PAUL H. v. U.S.
MEENAN v TOMLINSON--MEIER, JENNIE E. & JOHN H.
MEIER, JOHN H. v BORK, ROBERT--MEISNER, JENNIFER L. v. U.S.
MEISNER, JENNIFER L. v. U.S.--MELCHER, MARTIN & DORIS DAY v RIDDELL
MELCHER, MARTIN, M., EST. OF--MELLER, ADOLF, CO. v U.S.
MELLINA, GEORGE J. JR., ET AL v. U.S.--MELMAN, GENE J., GUARDIAN; U.S. v
MELMAN, GENE J., GUARDIAN; U.S. v--MELTON v U.S.
MELTON, BARBARA J. v U.S.--MENARDI, PETER J. & MARY L.
MENAS, JOHN J.--MENKUS, MORRIS, EST. OF
MENNELLA, OPAL--MERCANTILE NAT. BANK AT DALLAS
MERCANTILE NAT. BANK AT DALLAS; COMM v--MERCHANTS BONDING CO. v. UTICA COMMUNITY SCHOOLS
MERCHANTS CLUB, THE v U.S.--MERCHANTS REFRIGERATING CO. OF CALIF. v U.S.
MERCHANTS REFRIGERATING CO. OF CALIF. v U.S.--MEREDITH, TRAVIS C.
MEREDITH, TRAVIS C., ADM.--MERISEL OF AMERICAS INC v. U.S.
MERIT LIFE INS. CO.--MERRICK CONSULTANTS, LTD. v U.S.
MERRICK CONSULTANTS, LTD. v U.S.--MERRILL v U.S.
MERRILL v U.S.--MERRITT v U.S.
MERRITT-PARKER, EVETTE; U.S. v.--MESA OIL, INC. v. U.S.
MESA PETROLEUM CO.--MESSINA, DOMINIC H. v I.R.S.
MESSINA, JOHN DOUGLAS v U.S.--METCALF, EDWARD KENNETH
METCALF, EDWARD KENNETH v. COM.--METRO-GOLDWYN-MAYER, INC. & CONSOLIDATED SUBSIDIARIES v U.S.
METRO-GOLDWYN-MAYER STUDIOS, INC., IN RE--METROPOLITAN PROPERTIES CORP.
METROPOLITAN ROOFING & MODERNIZING CO., INC. v U.S.--MEURER, CHARLES S. v U.S.
MEURER v COM.--MEYER, FREDERICK P. & PATRICIA L.
MEYER, GAIL v. EVERSON, MARK W.--MEYER v U.S.
MEYER v U.S.--MEYERS, NORMAN W
MEYERS, PRESLEY J.--MIAMI STATION, INC., IN RE
MIAMI STATION, INC.; U.S. v--MICHAEL, RICHARD C.; U.S. v.
MICHAEL, RICHARD C.; U.S. v.--MICHEL, A. J., JR. & RAYMONDE A.
MICHEL, CLIFFORD W. & BARBARA R. v U.S.--MICH. NAT. BK. OF OAKLAND; SZYMANSKI, KEN v
MICH. NAT. BK. OF OAKLAND; U.S. v--MICKLE, GERALD S., JR. v. U.S.
MICKLE, GERALD S., JR. v. U.S.--MIDDLESEX INDUSTRIAL PARK, INC.
MIDDLESEX INDUSTRIAL PARK, INC. v COMM.--MIDLAND INS. CO. v FRIEDGOOD, CHARLES DR.
MIDLAND INS. CO. v FRIEDGOOD, EVA--MID-SOUTH MUSIC CORP. v WISSAND, SID
MID-SOUTH MUSIC CORP. v WORKMAN, CHRIS--MID-WEST TAR PRODUCTS CORP., IN RE
MIDWEST TERMINALS, INC. v U.S.--MIKESELL, LAVERNE v KURTZ, JEROME
MIKESELL, LAVERNE v PHILLIPS, LAWRENCE M.--MILDRED COTLER TRUST v. U..S.
MILE HI RESTAURANTS, INC., IN RE--MILFORD TRUST CO. v U.S.
MILGRAM, HENRY & CAROL--MILLARD, D. RALPH, JR. & BARBARA S.
MILLARD, DOROTHY N. v U.S.--MILLER, ANN T. v CONNETT, WILLIAM H.
MILLER, ANN T. v DOES ONE THROUGH ONE HUNDRED--MILLER, CLARENCE W. & EMMA L.
MILLER, CLARENCE W. & EMMA L. v COMM.--MILLER, DANIEL T. v U.S.
MILLER, DANIEL THOMAS v. U.S.--MILLER, ELDOR v COMM.
MILLER, ELEANOR A., EST. OF--MILLER, GEORGE A. v KIESER, RICHARD L.
MILLER, GEORGE A. v LEVI, EDWARD H.--MILLER; HELVERING v
MILLER, HENRY B.--MILLER, JAMES OLIVER, EST. OF v U.S.
MILLER, JAY A. v ALEXANDER, DONALD C.--MILLER, LARRY A.
MILLER, LARRY CHARLES--MILLER, MARVIN D. v. U.S.
MILLER, MARVIN D.; U.S. v.--MILLER, MITCHELL; U.S. v
MILLER, MONICA L.--MILLER, RICHARD S., & SONS, INC. v U.S.
MILLER, RICHARD S. v U.S.--MILLER, SR. v USRY
MILLER, SEYMOUR H. & SHIRLEY S.--MILLER v U.S.
MILLER v U.S.--MILLER, W.L., P.S.C.
MILLER, W.L., P.S.C.--MILLIKIN v COMM.
MILLIKIN, DOROTHY P.--MILLS, DONALD v U.S.
MILLS, DUANE ALAN v. U.S.--MILLS R. D.
MILLS, R. D. & NONA T.--MILNER, JAMES J, & MARILYN R.
MILNER, MARY CLARE, EST. OF--MIMICK, THOMAS O. v. U.S.
MIMICK, THOMAS O. v. U.S.--MINERAL MINING CO. v U.S.
MINERAL MINING CO. v U.S.--MINN., STATE OF v SCHULTZ, GEORGE P.
MINN., STATE OF v SCHULTZ, GEORGE P.--MINNESOTA TEA CO.
MINNESOTA TEA CO.--MINTON, GOLDIE v I.R.S.
MINTON, GOLDIE v KIESER, RICHARD L.--MIRAVALLE, DONALD J. & LILLIAN JOY
MIRAVALLE, DONALD J. & LILLIAN JOY--MISICKA, ARTHUR, EST. OF; U.S. v
MISKA, CHARLOTTE A.--MISS. SHIPPING CO., INC. v U.S.
MISSISSIPPI STATE UNIVERSITY ALUMNI, INC--MR. HAMBURG BRONX CORP., U.S. v
MISTER MARVINS, INC., IN RE--MITCHELL v COMM.
MITCHELL v COMM.--MITCHELL, J.H., JR. & BLANCHE S.
MITCHELL, JOHN C., EST. OF--MITCHELL, RAMONA L.
MITCHELL, RAY & BETTY--MITCHELL, WILLIAM A.
MITCHELL, WILLIAM C.--MIZELL, AGGIE L., INDIVIDUALLY
MIZELL, AGGIE L., PERSONAL REPRESENTATIVE--MOBERG v COMM.
MOBERG v COMM.--MOCCASSIN MANUFACTURING & IMPORT CO., INC.
MOCERI, LEO--MODLIN, GEORGE M., EXEC.
MODZELEWSKI, THOMAS v DUGAN, LARRY--MOGG, GEORGE & MYRTLE
MOGOLLON TR. ORGANIZATION v COMM.--MOITOZO, ALFRED G. & LILLIAN L.
M.O.J. CORP.; U.S. v--MOLINA, NIMFA C.
MOLINA, NIMFA C. v. COM.--MOLNER, EXEC. v U.S.
MOLNER, HERMAN, EST. OF v U.S.--MONARCH INDUSTRIES, INC., IN RE
MONARCH INDUSTRIES, INC., IN RE--MONETARY II LTD. PARTNERSHIP
MONETARY II LIMITED PARTNERSHIP v. COM.--MONK, THOMAS L. v. I.R.S.
MONK, THOMAS L. v. U.S.--MONSEY, INDIV. & PRESIDENT; BOYLL v
MONSEY, INDIV. & PRESIDENT; BOYLL v--MONTANA RAIL LINK INC v. U.S.
MONTANA RAIL LINK INC v. U.S.--MONTGOMERY, ARTHUR L., EXEC.
MONTGOMERY BROS. & CO.--MONTGOMERY, JAMES C.; U.S. v.
MONTGOMERY, JAMES K., JR. v I.R.S.--MONTGOMERY, WILLIE CECIL, TRANSFEREE
MONTI, JOSEPH & TITA--MOODY, EVA L. v. U.S.
MOODY, FRANK M. & GLORIA N.--MOON, SUN MYUNG; U.S. v
MOON; U.S. v--MOORE, CHESTER H., EST OF
MOORE, CHESTER H., EST OF v. COM.--MOORE FINANCIAL GROUP, INC. & SUBSIDIARIES
MOORE FINANCIAL GROUP, INC. & SUBSIDIARIES--MOORE, JOHN M. & JEAN Y.
MOORE, JOHN R. & VIOLA K.--MOORE, RALPH K. & MILLIE P.
MOORE, RANDY L.--MOORE v U.S.
MOORE v U.S.--MOORHOUS, DUDLEY & DOROTHY
MOORMAN v HARLESS--MORAN, EILEEN J.
MORAN, EUGENE J.; U.S. v--MORELAND, HARRY D. & ADA. K.
MORELL, MOLLIE; U.S. v--MORGAN, BRUCE v U.S.
MORGAN, CALVIN B. & RITA H.--MORGAN GUARANTY TR. CO.; VANSHUFFLIN, WILLIAM C. v
MORGAN GUARANTY TR. CO.--MORGAN v NORTHERN CALIF. REGIONAL OFFICE OF THE AMER. FRIENDS SERVICE COMMITTEE, THE
MORGAN, OLEN E.; HOWELL, BENJAMIN F., JR. v--MORGAN v U.S.
MORGAN, W. RICHARD v. COM.--MORIARTY MFG. CO., INC.; U.S. v
MORIARTY MFG. CO.; MOREY v--MORONEY, MICHAEL J. v. U.S.
MOROSKI, LEON F. v U.S.--MORRIS & ESSEX R.R. CO.; U.S. v
MORRIS, EST. OF v COMM.--MORRIS, LEONARD LLOYD v. BROWN, BILLY J.
MORRIS, LILLIA L.--MORRIS v U.S.
MORRIS v U.S.--MORRISON, JACK E. & GRACE M.
MORRISON, JACK F. & MARGARET V.--MORROF, MAXIMILIAN
MORROW, BECKER & EWING CO.--MORSE, JO ANN v MCCLANAHAN, GUS
MORSE, JO ANN v MCCLANAHAN, GUS--MORTELL; U.S. v
MORTEN, MARLENE; U.S. v.--MORTON, LAWRENCE & IRMA
MORTON , MABEL E., EST . OF--MOSELEY v U.S.
MOSELEY v U.S.--MOSHER, LOLITA M.
MOSHER, ROBERT L.; U.S. v.--MOSS, EMANUEL & SYLVIA
MOSS, EMANUEL & SYLVIA; COMM. v--MOSTOVOY, LEONID & POLINA
MOSTOWY, MICHAEL J. v U.S.--MOTOR & EQUIPMENT MFGRS. ASSN. v JARECKI
MOTOR FINANCE CORP. v U.S.--MOTZ, CALEB ARMISTEAD
MOTZ, CALEB ARMISTEAD & JUNE JAQUITH--MT. MANSFIELD TELEVISION, INC. v U.S.
MOUNT MERCY ASSOCIATES--MOURSUND, TRAVIS M., SUCCESSOR v COMM.
MOUSAVI, SEYED MAHMOOD; U.S. v.--MOYER, RODNEY H.; U.S. v
MOYER; U.S. v--MUDEKUNYE, JOSEPH; U.S. v.
MUDEKUNYE, JOSEPH; U.S. v.--MUELLER, ROBERT D., v. COM.
MUELLER, ROBERT D. v. COM.--MUI, MON-LEANG; U.S. v.
MUIR, EXEC. v COM.--MULE CREEK TR. ORGANIZATION v COMM.
MULE, VINCENT J. & VIRGINIA--MULLETT, FRANK J. v KORTH
MULLETT, FRANK J. v KORTH--MULVANEY RICHARD F. & SHIRLEY
MULVANIA, RICHARD L.--MUNGIOLE; U.S. v
MUNGLE, THOMAS RAY v. U.S.--MUNSON v MCGINNES
MUNSON v MCGINNES--MURDOCK v U.S.
MURDOCK, VICTORIA LYNN, TRUSTEE v. U.S.--MURPHY, CRAIG v. U.S.
MURPHY, DAISY, EST OF v. U.S.--MURPHY, JOHN A., CO-PERSONAL REPRESENTATIVE v U.S.
MURPHY, JOHN D., ADM.--MURPHY, RAYMOND T. & PATRICIA
MURPHY, RICHARD E., JR. & NANCY D.--MURRAY v COMM.
MURRAY v COMM.--MURRAY, LEROY J. v. U.S.
MURRAY, LEROY J. v. U.S.--MUSCARELLE, CHARLES W. & ANTOINETTE
MUSCI, FRANK; BENNINGER, DONALD L. v--MUSKOGEE RADIOLOGICAL GROUP, INC.
MUSOLINO, FRANK v. SINNREICH, SIMON--MUTUAL ASSURANCE SOC. OF VA. CORP. v COM.
MUTUAL BENEFIT LIFE INS. CO.; DUFFY v--M/V NONSUCO, INC.
M/V NONSUCO, INC. v COMM.--MYERS, GEORGE HEWITT
MYERS , GEORGE R.--MYERS, ROBERT R., IN RE
MYERS, ROBERT R. v I.R.S.--MYRON, MYRNA v U.S.
MYRON'S BALLROOM v U.S.--MYSTIC EQUESTRIAN, LLC; U.S. v.

N

N. HESS' SONS, INC.--NADLER, JUDITH ELLEN BLACK, TRUST v U.S.
NADLER, JUDITH ELLEN BLACK, TRUSTEE v U.S.--NAIL, R. E., EXEC. (EST. OF COOK, M. M.)(MRS. W. I.)
NAITOVE & CO., INC. v COMM.--NANSON, JAMES DUANE v U.S.
NANTUCKET VILLAGE DEVELOPMENT CO. v. U.S.--NARRAGANSETT WIRE CO. v COMM.
NARRAMORE, GENE E. & MARILYN--NASHVILLE CORP., TRANSFEROR, THE
NASHVILLE TRUST CO., EXEC. v COMM.--NATHAN, HANS A. v MACCLURE, ROBERT S.
NATHAN, HANS A. v MACCLURE, ROBERT S.--NATIONAL AUSTRALIA BANK v. U.S.
NATIONAL AUSTRALIA BANK v. U.S.--NATIONAL BANK OF COMMERCE; U.S. v
NATIONAL BANK OF COMMERCE; U.S. v.--NAT. BK. OF WESTCHESTER; I.R.S. v
NAT. BK. OF WESTCHESTER; U.S. v--NAT. CASKET CO.
NATIONAL CASKET CO. v U.S.--NATIONAL COTTONSEED PRODUCTS CORP
NATIONAL COTTONSEED PRODUCTS CORP. v COMM.--NAT. GRANGE MUTUAL LIABILITY CO.; COMM. v
NAT. GRANGE MUTUAL LIABILITY CO.--NATIONAL LIFE INSURANCE CO & SUBSIDIARIES
NATIONAL LIFE INSURANCE CO & SUBSIDIARIES v. COM.--NATIONAL RAILROAD PASSENGER CORP. v. U.S.
NATIONAL RAILROAD PASSENGER CORP. v. U.S.--NAT. SURETY CORP. v U.S.
NATIONAL TANK & EXPORT CO.; U.S. v--NATIONWIDE MUTUAL FIRE INS. CO. v BURRELL CONSTRUCTION & SUPPLY CO.
NATIONWIDE MUTUAL FIRE INS. CO. v COMMONWEALTH OF PENNSYLVANIA--NAVARRO, FRANCISCA v U.S.
NAVARRO, LOUIS v. IRS--NEAL, EXECX. v U.S.
NEAL, FLORENCE RICHARDSON, EXECX.--NEBO OIL CO., TRUST; COMM. v
NEBRASKA BRIDGE SUPPLY & LUMBER CO.; HELVERING v--NEEL, JAMES M., WILL OF v U.S.
JOSEPH N. NEEL, CO.--NEGEN, GORDON D. v PACKARD, ROBERT L.
NEGEN, GORDON D. v TREASURY, DEPT. OF--NEIL v U.S.
NEIL, W. H.--NELSEN v COM.
NELSEN, D. & SONS, INC.; U.S. v--NELSON, DENNIS v U.S.
NELSON, DESSIE RUTH; U.S. v.--NELSON, JR. v COMM.
NELSON, KENNETH W. v BROWN, MICHAEL P.--NELSON v U.S.
NELSON v U.S.--NEON, CLAUDE, INC. v U.S.
NEON, INC. v U.S.--NESPOR, MAURICE J. & ANITA M.
NESPOR, MAURICE J. v COMM.--NEU, RICHARD F. v U.S.
NEUBAUER, IVAN MAXIMILLIAN, II & MARIJA-TEREZIJA--NEUSTADT, WALTER
NEUSTADT, WALTER, JR., TRUSTEE--NEV-ORE, INC. v U.S.
NEV-ORE, INC. v U.S.--NEW ENGLAND TELEPHONE CO.; U.S. v
NEW ENGLAND TELEPHONE CO.; U.S. v--NEW MCDERMOTT, INC.
NEW MEXICO BANCORPORATION & SUBSIDIARIES--NEW YORK, CITY OF; U.S. v
NEW YORK, CITY OF; U.S. v--NEW YORK LIFE INSURANCE CO. v. U.S.
N.Y. MILK SHED TRANSPORTATION, INC. v MEYERS, JR.--N.Y. TELEPHONE CO.; I.R.S. v
N.Y. TELEPHONE CO.; I.R.S. v--NEWBERRY, MAX G. TINA F.
NEWBERRY, MYRTLE H., EST. OF--NEWELL, JOHN T.
NEWELL, LEE E. & KATHY H.--NEWMAN; BITTMAN v
NEWMAN, BLEMA--NEWMAN , LILLIAN M.
NEWMAN, LOIS J.--NEWNHAM, PATRICIA R. v BARANOWSKI, BORIS J.
NEWNHAM, PATRICIA R. v CONWAY, BEULAH E.--NEWSPAPER GUILD OF N.Y., TIMES UNIT, THE
NEWSPAPER PRINTING CO. v COMM.--NEYER, LELAND v. U.S.
NEYLAN, MICHAEL & TANYA--NIBUR BLDG. CORP.
NIBUR BLDG. CORP. v COMM.--NICHOLS, DANIEL L.; U.S. v.
NICHOLS, DARWIN O. & EVELYN--NICHOLS, PERRY A. & INEZ
NICHOLS, PERRY A. & INEZ--NICHOLSON, WINFRED F. v. U.S. ET AL.
NICHOLSON, WINIFRED F. v. U.S. ET AL.--NICO, SEVERINO R., JR. v COMM.
NICO, SEVERINO R., JR. & TERESITA v--NIELSEN, CHRISTIAN S. v. U.S.
NIELSEN v COMM.--NIGHT HAWK LEASING CO. v U.S.
NIGHTENGALE, GLEN v. COM.--911 MANAGEMENT, LLC; U.S. v.
NINETY-NINE DIAMONDS; U.S. v--NITSCHKE, NORMAN C. & LOIS M.
NITSOS v U.S.--N.J., STATE OF v KAISER, SUSAN, EST. OF
N.J., STATE OF v MICHALSKI, STEPHEN--NOBLE, JULES W.; U.S. v.
NOBLE, JULES W.; U.S. v.--NOLAN, RAYMOND P. & MILDRED
NOLAN, RICHARD ALTON v. U.S.--NOONAN v FAHS
NOONAN, JAMES D. v U.S.--NORDBROCK, NEIL T. v. U.S.
NORDBROCK, NEIL T. v. U.S.--NORFOLK NAT. BANK OF COMMERCE & TRUSTS v COMM.
NORFOLK SHIPBUILDING & DRYDOCK CORP. v U.S.--NORONHA, NIRMALA v. IRS
NORONHA, NIRMALA v. IRS--NORRIS, ROBERT C., CO-EXEC.
NORRIS, ROCHELL A.--NORTH AMER. MORTGAGE CO.
NORTH AMERICAN OIL CONSOLIDATED--N.D. STATE TAX COMM.; U.S. v
NORTH DAKOTA STATE UNIVERSITY v. U.S.--NORTHEAST CHEMICAL, INC. v U.S.
NORTHEAST CLACKAMAS COUNTY ELECTRIC COOPERATIVE, INC. v CONTINENTAL CASUALTY CO.--NORTHERN NAT. BANK OF BEMIDJI, THE v U.S.
NORTHERN NATURAL GAS CO.; PETERSEN, JR. v--NORTHERN TR. CO., THE, EXEC. v U.S.
NORTHERN TR. CO., THE, TRANSFEREE, TRUSTEE--NORTHVILLE DOCK CORP.
NORTHVILLE DOCK CORP. v COMM.--NORTHWESTERN MUTUAL LIFE INS. CO., THE v U.S.
NORTHWESTERN MUTUAL LIFE INS. CO., TRUSTEE; U.S. v--NORTON, GARY D. v. I.R.S.
NORTON, HELEN LAMBERT--NORWOOD, CHARLES A. & JUDY A.
NORWOOD COOPERATIVE BANK v. GIBBS, RICHARD J--NOVA BENEFIT PLANS, LLC v. COM.
NOVA BENEFIT PLANS, LLC v. COM.--NOVO TRADING CORP. v COMM.
NOVOA, LUCILA--NUCLEAR INC v. COM.
NUCORP, INC. v U.S.--NUNNALLY INVESTMENT CO.; U.S. v
NUNNALLY, JAMES D.; U.S. & PUGH, LINDA C. v--NUTTELMAN, CECILIA, DOES, JOHN/JANE
NUTTELMAN, CECILIA v KAHALEKULA, SUSAN--NWACHUKWU, EMANUEL I.
N.W.D. INVEST. CO.--NYHUS, LEROY H. & MARTHA K.
NYLEN, ROBERT D. & JOYCE M.--NYSTROM, PEGGY, PERSONAL REPRESENTATIVE

O

O. BEE, INC.--OAKLAND TRUCK SALES, INC.; U.S. v
OAKLEY, ANNA C. PANDICK--OBERWINDER v COM.
OBERWINDER, J. FERD--O'BRIEN, EXEC. v U.S.
O'BRIEN FINANCE CO., INC. v THOMAS--O'BRIEN, SR. v U.S.
O'BRIEN, SR. v U.S.--OCCEAN, JOSEPH & JULIA
OCCHIPINTI, FRANK & LADY PATRICIA--OCHS, NORMAN & BETTY
OCHS, ROBERTA, EXECX. v U.S.--O'CONNOR, DENNIS v U.S. (I.R.S.)
O'CONNOR, DENNIS v U.S. (I.R.S.)--O'CONNOR, STAN
O'CONNOR, STANLEY--O'DELL, R. & SONS CO., INC.
O'DELL , R., & SONS CO. INC.--O'DONNELL, DECLAN J.; U.S. v
O'DONNELL, EDITH M.--OESTERREICH v COMM.
OESTERREICH, EST. OF v COMM.--OFFUTT, GEORGE W. III
OFFUTT, III; COMM. v--OGLE, ELIZABETH, A. v U.S.
OGLEBAY NORTON CO. v U.S.--OHIO BATTERY & IGNITION CO.
OHIO BELL TELEPHONE CO.; U.S. v--OHIO RIVER COLLIERIES, CO.
OHIO RIVER SAND CO. v U.S.--OJALA, LARRY v U.S.
OJALA, WILLIAM R.; U.S. v--OKLA. DENTAL ASSN. v U.S.
OKLAHOMA FARMERS' UNION--OLD BRIDGE RANCH v. U.S.
OLD COLONY INS. CO. v LAMPERT--OLD KENT BK. & TR. CO.; U.S. v
OLD KENT BK. & TR. CO.; WALKER, ROBERT L. v.--OLDS, HELEN E., ADMX. (EST. OF ENGSTROM, GUS)
OLDS, MARK C.; U.S. v.--OLINGER, ETHEL
OLINGER, L. C.--OLIVER, JANE B. & ROBERT P.
OLIVER, KATHLEEN--OLLIS BROTHERS, INC.
OLLIS, JAMES D., (TMP)--OLSEN, MICHAEL R. v. COM.
OLSEN, MICHAEL R. v. COM.--OLSON, BEN, EST. OF v REISIMER
OLSON, BEVERLY A.--OLSON, ROBERT O.; WANDLER, DONALD J. v.
OLSON, ROBERT R. v BRISCOE--OLYMPIA STADIUM CORP. v U.S.
OLYMPIA VENEER CO.--O'MALLEY, WILLIAM & BARBARA L.
OMAN, BENGT EDVARD--OMERZA, LEROY J. & BETTY J.
OMERZA, LEROY J. & BETTY J.--ONE COLT MACHINE GUN, MODEL MG-52-2; U.S. v.
ONE FIFTEEN FAIRVIEW AVE. CORP.--131 MAIN STREET ASSOCIATES ET AL. v. MANKO, BERNHARD F. ET AL.
131 MAIN STREET ASSOCIATES v. MANKO, BERNHARD F.--O'NEILL v U.S.
O'NEILL v U.S.--ONTARIO POWER GENERATION INC. v. U.S.
ONTIVEROS, HECTOR v. IRS--ORANGE CTY. AGRICULTURAL SOCIETY, INC.
ORANGE CTY. AGRICULTURAL SOC. INC. v COMM.--OREGON MUTUAL LIFE INS. CO.
OREGON PARTS CO. v GRANQUIST--ORIAN, MORDECHAI
ORIENT INVESTMENT & FINANCE CO., INC.--O'ROURKE, RAYMOND v. COM.
O'ROURKE, RAYMOND & MARY--ORSATTI , FRANK P., EST. OF
ORSER; BAUER v--OSA EXPLORATIONS, GENERAL PARTNER v U.S.
OSAGE, INDIAN AGENCY v U.S.--OSBURN CALIF. CORP. v WELCH
OSBURN, COLEMAN M., ET AL. v. I.R.S.--OSIJO, WALE O. v. U.S.
OSIJO, WALE O. v. WEINER, MARK A.--OSTERHUS, JAMES L. & CARYL A.
OSTERLOH, A. F.--OSWEGO FALLS CORP.
OSWEGO FALLS CORP.--OTT, TROY W. v. U. S.
OTT, TROY W. v. U.S.--OUWENGA, ANDREW; U.S. v.
OUWENGA, KAREN ANN; U.S. v.--OVERTON, BILL M. v CREPO, P.
OVERTON, BILL M. v U.S.--OWEN, FRANK & MARIANNE
OWEN, HENRY G.--OWENS, ELLEN P., ALLEGED TRANSFEREE (ASSETS OF LIME COLA CO.)
OWENS, EMMANUEL--OWENSBY & KRITIKOS, INC.
OWENSBY & KRITIKOS, INC. v COMM.--OYER, SHIRLEY J., ET AL.; U.S. v.
OYER, SHIRLEY J., ET AL.; U.S. v.--OZIER, JOHN R. & MILDRED C.

P

P & A CONSTR CO., INC. v U.S.--PABST, FRED, SR.
P.A.C. CONSTRUCTION CORP.--PACIFIC BELL; GARAMBONE, VINCE v
PACIFIC BELL; U.S. v--PACIFIC GAMBLE ROBINSON CO. v U.S.
PACIFIC GAS & ELECTRIC CO., ET AL v. U.S.--PACIFIC REFRIGERATING CO.
PACIFIC REFRIGERATING CO. v COMM.--PACKAGE MACHINERY CO.
PACKARD CLEVELAND MOTOR CO.--PADUCAH CO., INC.
PADUCAH & ILLINOIS R.R. CO.--PAGEL, INC. v COMM.
PAGE-RIVER-CURRAN--PAL INTERNAT. CORP
PAL INTERNATIONAL CORP v. COM.--PALISADES SVGS. & LOAN ASSN.; U.S. v
PALIVOS, PETER; U.S. v.--PALMER, DONA RUTH
PALMER, DONALD, CO, INC--PALMER, RICHARD, TRUSTEE; U.S. v
PALMER, ROBERT B. v U.S.--PALOMATE PACKING CO., INC.
PALOMBA, JOSEPH M.; U.S. v.--PANDOLFO, FREDERICK ARNOLD; U.S. v
PANEDA, MANUEL E. & AIDA--PANTS RACK, INC., THE v U.S.
PANTZER v U.S.--PAPINEAU, ASHLEY M.; U.S. v
PAPINEAU , GEORGE A.--PARAGON JEWEL COAL CO., INC.; COMM. v
PARAGON JEWEL COAL CO., INC.--PARGAMENT v FITZGERALD, JR.
PARGETT, MICHAEL J. v. U.S., ET AL--PARK FOREST DEVELOPMENT CORP., SUCCESSOR v U.S.
PARK FOREST WATER CO. v U.S.--PARKER , BERT D.
PARKER, BEVERLY M.; U.S. v.--PARKER HANNIFIN CORP. v. U.S.
PARKER, HARRISON & EDITH, TRUSTEES v U.S.--PARKER PROPERTIES JOINT VENTURE
PARKER, QIANA M., IN RE--PARKEY, JAMES R.
PARKFORD v COMM.--PARKS, RANDALL L.; U.S. v
PARKS, ROBERT v EDMISTON, ROBERT--PARR, JAMES JULIAN; U.S. v.
PARR v SCOFIELD--PARSHALL, CHRISTIAN ORDER
PARSHALL, ROBERT EUGENE; U.S. v--PARSONS v SMITH
PARSONS v SMITH--PASCAL, HELEN L.
PASCAL, VALERIE, ADMX.--PASTERNAK, FRANK C. v COMM.
PASTERNAK, FRANK C. & JUDITH--PATEJ, ANNA; U.S. v.
PATEJ-GOUDA, ANNA v. GOUDA, SALAH--PATMON, YOUNG & KIRK PROFESSIONAL CORP.
PATMON, YOUNG & KIRK, PROFESSIONAL CORP. v COMM.--PATSEY, RICHARD L. v U.S.
PATSEY, RICHARD L. v U.S.--PATTERSON, JEFFERSON v U.S.
PATTERSON, J.M. v U.S.--PATTON, DICK v U.S.
PATTON, EXECX. v O'DONNELL, JR.--PAUL v COMM.
PAUL, DICK W., EST OF--PAULEY v U.S.
PAULEY v U.S.--PAVIA, ORALIA
PAVICH, LOUIS M.--PAYNE, ANCIL N. JR. & MARY E.
PAYNE, CLIFFORD L. & JAN F.--PAYNE, SAMUEL L., EXEC. v U.S.
PAYNE, SR. v KOEHLER--PEABODY COAL CO. v U.S.
PEABODY CONSTRUCTION CO.; U.S. v.--PEARL ASSURANCE CO., LTD. v U.S.
PEARL ASSURANCE CO., LTD. v U.S.--PEARSON, GERTRUDE S., EST. OF; U.S. v
PEARSON, GERTRUDE S., EST. OF; U.S. v--PEASLEE-GAULBERT CO.
PEAT CORP., TRANSFEREE--PECK & CO., INC. v. LOWE
PECK v COMM.--PEDERSEN, CLIFFORD M. & THELMA
PEDERSEN v COMM.--PEELER HARDWARE CO.
PEELER HARDWARE CO. v COM.--PEGRAM, R. Q. & MRS. R. Q. (DENNY)
PEGRAM, R. Q. & MRS. R. Q. (DENNY) v COMM.--PELLINO, LOUIS; O'NEIL, THOMAS R. v
PELLINO, LOUIS; U.S. v--PENDLETON, LULA MARION MCELROY
PENDLETON, P. C., EXEC. (WILL OF PENDLETON, A. S.)--PENN NEEDLE ART CO.
PENN OHIO STEEL CORP.--PENNOCK PLANTATION, INC., THE
PENNONI, LAWRENCE D. v. U.S.--PA. TRANSFER CO. OF PHILADELPHIA, INC. v WHINSTON
PA. TRANSFER CO. OF PHILADELPHIA, INC. v WHINSTON, Court Order--PENTON v U.S.
PENTON v U.S.--PEOPLES GIN CO., INC. v COMM.
PEOPLES GIN CO.--PEPE; U.S. v
PEPE; U.S. v--PERCIVAL CONSTR. CO. v MILLER & MILLER AUCTIONEERS, INC.
PERDOMO, GODOFREDO M.; U.S. v.--PERFETTI, ANGELO v COMM.
PERFETTI, ANGELO & RAMONA E.--PERKINS, KATHERINE H., EST OF v. U.S.
PERKINS LAND & LUMBER CO.--PERLMUTTER, JACK & JOANNA
PERLMUTTER, JORDON & ESSIE--PERRETT, MICHAEL F. & MARI M.
PERRIN, COREY F.; U.S. v.--PERRY, FRANK MARTIN, SR., EST. OF
PERRY, FRANK MARTIN, SR., EST. OF v COMM.--PERRY, WAYNE A.; U.S. v.
PERRY, WHIT S., CO-EXEC.--PERUNA CO.
PERUSICH, JOSEPH E.--PETER PAN SEAFOODS, INC. v U.S.
PETER TR. 1A FOR JANE THOMAS--PETERS, LEWIS W. v U.S.
PETERS, LEWIS W. v U.S.--PETERSEN, RAY J.; U.S. v.
PETERSEN, RONALD I. & GLORIA M.--PETERSON , EMIL
PETERSON, EST. OF v COMM.--PETERSON, MARY E., EXECX. (EST. OF PETERSON, GUST MARION)
PETERSON, MERLE F. v U.S.--PETERSON, WILLIAM S. & BETTY M.
PETERSON, WILLIAM S. & MARCELLA L.--PETITE, GEORGE B.
PETITO, JOHN J.--PETROSKI, ALEXANDER ; U.S. v.
PETROSKI, ALEXANDER v. U.S., ET AL.--PETTIT, C. DAVID & BERNIECE S.
PETTIT v COM.--PEYTON, HAMILTON H., EST. OF
PEYTON, JAMES; U.S. v.--PFISTER, GAY M. v. COM.
PFISTER; U.S. v--PHAM, TAM V. v. U.S.
PHAM, THAI V.--PHILADELPHIA, CITY OF v COLLECTOR
PHILADELPHIA COKE CO.; COMM. v--PHILADELPHIA-BALTIMORE STOCK EXCHANGE
PHILANTHROPIC INSTITUTE OF AMERICA v WISE--PHILIPSBORN v U.S.
PHILIPSON v U.S.--PHILLIPS, ELBERT W. & ELIZABETH C.
PHILLIPS, ELIZABETH H. v BINGHAMTON TENNIS CENTER--PHILLIPS, MICHAEL & ALICE P.
PHILLIPS, MICHAEL & SOPHIA (HUSBAND & WIFE)--PHILLIPS, TREVOR M. v CHIN, HOWARD
PHILLIPS, TREVOR M. v CONNETT, WILLIAM H.--PHIPPS v COMM.
PHIPPS v COMM.--PIA, JOSIE, TRUSTEE v U.S.
PIACENTINI, JOHN, EST OF v. U.S.--PICKERING, JAMES E. v U.S.
PICKERING, JAMES L.--PIEKOS, DELORES F.
PIEKOS, JOSEPH S.--PIERCE, JAMES D. & SUSANNE E.
PIERCE, JAMES K. & MADELINE F.--PIERPONT, MERVIN G., EST. OF v COMM.
PIERRE, JOSEPH, M.D., v U.S.--PIGOTT, ADAM PATRICK, IN RE
PIKE CO. COUNTY BK. OF MURFREESBORO, ARK.; I.R.S. v--PILLA, DANIEL M. v MILLS, RONALD A.
PILLA, DANIEL M. v MILLS, RONALD A.--PIMBLEY, THOMAS, L.
PIMMIT DEVELOPMENT CORP.; COMM. v--PINK v U.S.
PINK v U.S.--PINTO, RICHARD v. U.S.
PINTO; U.S. v--PIPER v U.S.
PIPER v U.S.--PITCHER & CO., INC. v RALPH NAY CONSTR. CO.
PITCHER, KENNETH B., ET AL v. WALDMAN, LAWRENCE, ET AL--PITTS, ALBERT S. v U.S.
PITTS, ALBERT S. v U.S.--PITTSBURGH PLATE GLASS CO., TRANSFEREE
PITTSBURGH PRESS CLUB v U.S.--PIXTON, MARVIN FRANCIS, JR., CO-EXEC.; U.S. v
PIXTON, MARVIN FRANCIS, JR., CO-EXEC. v U.S.--PLAGINOS, WILLIAM; 21 WEST LANCASTER CORP. v
PLAINFIELD-UNION WATER CO.; COMM. v--PLANTEN, JOSE J., IN RE
PLANTERS BK. & TR. CO., EXEC. v COMM.--PLATT, JOHN W., SR. v A. A. MUSE, JR.
PLATT, JOHN W., SR. v CRANFORD, D. W.--PLEASANT SUMMIT LAND CORP. v COMM.
PLEASANT VALLEY WINE CO., THE--PLISCO; U.S. v
PLISCO; U.S. v--PLUMEY, JUAN v. HACIENDA DE PUERTO RICO
PLUMLEE, ARNOLD--POCATELLO COCA-COLA BOTTLING CO., INC. U.S.
POCHARSKI, MARVIN & ALICIA J.--POEN, CARL D. & NELLIE G.
POGGETTO, A. D. v U.S.--POISL, SHIRLEY, PERSONAL REPRESENTATIVE
POISON CREEK RANCHES #1, LTD--POLEY, EST. OF v COM.
POLEY, WARREN H.--POLLACK, ALVIN, TRANSFEREE (LORNEY TRADING CORP., TRANSFEROR)
POLLACK, ALVIN, TRANSFEREE (MANNING'S BRAKE & AUTO SERVICE CORP., TRANSFEROR)--POLLARD v U.S.
POLLEI, JON R. & CAROL J.--POLSON LOGGING CO.
POLSTER, EST. OF v COMM.--POMPONIO v COMM.
POMPONIO, JUDITH ELAINE BROCKSMITH, IN RE--PONTICOS, S. E., INC. v COMM.
PONTIUS, H. E. & LOVINA B.; TOMLINSON v--POPE v COMM.
POPE, DANIEL N. & FRANCES--POPOV, KATIA V. v. COM.
POPOV, KATIA V. & PETER--PORT WENTWORTH CORP. v U.S.
PORTABLE INDUSTRIES, INC.--PORTER, INEZ V.
PORTER , J. HOWARD , TRUSTEE (PORTER PROPERTY)--PORTH v TEMPLAR
PORTH; U.S. v--PORTO RICO COAL CO. v COM.
PORTOMENE v U.S.--POSTER, HERBERT & SUSAN
POSTLEWAIT, LEVI E. v DISTRICT DIRECTOR OF INTERNAL REVENUE--POTTER, HOWARD MAXWELL
POTTER, JOHN C.; U.S. v.--POUNDS v U.S.
POUTRE, WILLIAM F., U.S. v--POWELL, GEORGE H. v U.S.
POWELL, GEORGE H. v. U.S.--POWELL, ORVILLE & RUTH
POWELL, PAMELA v. COM.--POWER BRAKE EQUIPMENT CO. v U.S.
POWER & BROTHER v COMM.--POWERS, MELVIN L.
POWERS MEREL E. & GLORIA--PPG INDUSTRIES, INC. v CAR COLOR, INC.
PPG INDUSTRIES, INC. v CAR COLOR, INC.--PRAIRIE DU CHIEN-MARQUETTE BRIDGE CO. v COMM.
PRAIRIE OIL & GAS CO. v MOTTER--PRATHER, BECKHAM S. JR., ET AL.; U.S. v.
PRATHER, BECKHAM S. JR., ET AL.; U.S. v.--PREBLE, DAVID B. v U.S.
PREBLE, WALLACE & ELIZABETH--PREMJI, ZAHIRUDEEN v. COM.
PREMKE; U.S. v--PRESS PUBLISHING CO.
PRESSED STEEL CAR CO., INC.; COM. v--PREWETT, JR. v COMM.
PREWETT, WILLIAM BRUCE, IN RE--PRICE, GREGORY H. & ELIZABETH A.
PRICE, GUY G.--PRICE v ROTHENSIES
PRICE, SAMUEL B.--PRIDEMARK, INC. OF CONN. v COMM.
PRIDGEN v COMM.--PRINCE, DOUGLAS R. & JANE E.
PRINCE EDWARD SCHOOL FOUNDATION v COMM., Court Order--PRINGLE, JOSEPH v MASSINGA, RUTH
PRINGLE, JOSEPH v TREAS. OF STATE OF MD.--PROBINSKY, MARCI
PROBST, RICHARD E. & HELEN M.--PROCTOR SHOP, INC.
PROCTOR v WHITE--PROFESSIONAL EQUITIES, INC.
PROFESSIONAL & EXECUTIVE LEASING, INC.--PROPHIT v COMM.
PROPHIT, DAVID A.--JOHN PROVENCE NO. 1 WELL
JOHN PROVENCE NO. 1 WELL v COM.--PROVOST, SHERI I.; U.S. v.
PROVOST, TIMOTHY & DEBORAH--PRUDENTIAL-BACHE SECURITIES, INC. v PAXTON, DEBRA LEIGH
PRUDENTIAL-BACHE SECURITIES, INC. v PAXTON, ROBERT B.--PRUSSIN, GEORGE v COMM.
PRUSSIN, GEORGE & SHARON--PUBLIC ADMIN. AS ADMIN. OF THE GOODS, CHATTELS & CREDITS WHICH WERE OF ANNA LAFARGE, DECD.; U.S. v
PUBLIC ADM. OF N.Y. CTY.--PUCKETT, ARTHUR C., JR. & DOROTHY W.
PUCKETT, CHARLIE M.--PUGH v LADNER
PUGH, SARAH ELLIS, EXEC.; U.S. v--PULSIFER, ROBERT K. & DOROTHY
PULSIFER, ROBERT K. & DOROTHY v COMM.--PURE MILK CO.
PURE OIL CO.; U.S. v--PURSELLEY, LEE ROY & GEORGIA
PURSER, PAUL A. & KATHLEEN--PUTEK; U.S. v
PUTMAN, GLENN F. & LORI L.--PYLE, ROBERT M., EXEC.
PYLE, ROBERT M., EXEC. v COMM.--PYRON, STAN & RUTH S.

Q

QANTAS AIRWAYS LIMITED v. U.S.--QUALLEY, ALLAN S. & MAXINE C.
QUALLEY, OLIVE E.--QUEEN'S-WAY TO FASHION, INC. v U.S.
QUEEN'S-WAY TO FASHION, INC. v U.S.--QUILTY, CHARLES J. & JUDITH M.
QUILTY, CHARLES J.; U.S. v--QUINN, ROBERT L. v U.S.
QUINN, ROSIE M.; U.S. v.--QURESHI, MASHUQ AHMAD & RUTH, Court Order
QURESHI, NAILA M. v. U.S.--QUZOUIIAN, ALBERT R. v I.R.S.

R

R BALL FOR R BALL III BY APPT, ET AL.--RAABE, GAY; SMITH, CHARLES A. v
RAABE, GAY; U.S. v--RACH, INC. v COMM.
RACHAL, CHARLES; U.S. v.--RADER, MARTIN A., JR.; I.R.S. v
RADER, MARTIN A. JR.; U.S. v--RADTKE, JOSEPH, S.C. v U.S.
RADTKE, WILLIAM & CLARA, TRUSTEES v U.S.--RAGAN-MALONE CO. v U.S.
RAGANO, FRANK v U.S.--RAIHL, DAVID MARCH, IN RE
RAIHL, DAVID MARCH, IN RE--RAINS, SAM D. v I.R.S.
RAINS, SAM D. v MCKEEVER, ROBERT M.--RALSTON DEVELOPMENT CORP. v U.S.
RALSTON v HEINER--RAMIREZ, JUAN
RAMIREZ, JUAN & ESTHER--RAMSEY CTY.; U.S. v
RAMSEY, DONNELL GARY; U.S. v--RAND, BERT B. v PEAT, MARWICK, MITCHELL & CO.
RAND, BESSIE--RANDALL, RICHARD CLARKE v. COM.
RANDALL, RICHARD, JR.--RANEY INVEST. CO. v U.S.
RANEY INVEST. CO. v U.S.--RANNO, DARLENE JOANNE
RANNOU, LOUIS--RAPID ELECTRIC CO., INC.
RAPID HARVEST CO. v U.S.--RASH, DENNIS LAVERNE, IN RE
RASH, WILLIS LEE & MARY G.--RATCLIFF, J. W. & CLAIRETTE W.
RATCLIFF, JOHN H. & WILMA Y.--RATZESBERGER, ROLAND F. v. SEVERSON, KEN, ET AL
RATZESBERGER, ROLAND F. v. U.S.--RAVLIN CORP.
RAWCLIFFE, MERRILYN E. v I.R.S.--RAY, JULIA
RAY, LEONARD v. U.S.--RAYMOND, COLES W., M.D. v U.S.
RAYMOND v COM.--RCA AMERICAN COMMUNICATIONS, INC. v TIDEWATER PLUMBING & HEATING, INC.
RCA AMERICAN COMMUNICATIONS, INC. v U.S.--READY PAVING & CONSTR. CO.
READY, THOMAS GENE, IN RE--REARDON, HERBERT v U.S.
REARDON, JOHN E. v U.S.--RECORDS & TAPES ANTITRUST LITIGATION, IN RE
RECOVERY GROUP INC., ET AL--REDDING, DOUGLAS C. v U.S.
REDDING, GERALD R. v COMM.--REDLANDS SURGICAL SERVICES
REDLANDS SURGICAL SERVICES v. COM.--REED v COMM.
REED v COMM.--REED, MAE D., EXEC. v U.S.
REED, MARIA E.--REEDER, JAMES T. & HELEN J.
REEDER, PANSY LEE, EST. OF v U.S.--REESE, SCOTT-DARRYL v. BAYVIEW ELECTRIC CO, ET AL
REESE, THOMAS E. & BLANCHE S.--REEVES, TIMOTHY JOE v. U.S.
REEVES v U.S.--REGENSBURG, EDWARD BELLETTE, ADM.; U.S. v
REGENSBURG, EXEC. v COMM.--REIBEN, LOUIS P.
REIBEN, SYLVIA--REID, DAVID MICHAEL v SENATOBIA COMMUNITY HOSPITAL, INC.
REID, DAVID MICHAEL v SOUTHERN HEALTH SERVICES OF KENTUCKY, INC.--REILING, ROBERT C., JR. v U.S.
REILING, ROBERT C., JR. v U.S.--REINE, ALBERT ALMA SR. v. I.R.S.
REINECKE, MIGNON--REIS, C.A.
REIS v COM.--REISS, RICHARD E.; U.S. v.
REISS, RICHARD v U.S.--REMEDIOS, MARGARET; U.S. v.
REMEDIOS v. WELLS FARGO BANK, ET AL.--RENARD, HENRY H. & RUTH
RENDA, EUGENE & GENEVIEVE--RENNER, JOHN W. v. U.S.
RENNER, JOHN W. v. U.S.--RENTZ, MARION L. & HARRY
RENTZ, MIGNONNE v ALEXANDER, DONALD--REPUBLIC BANK & TRUST CO., Z. GOSSETT, BANKING COMM. OF TEXAS
REPUBLIC BK., SHREVEPORT, LA. v U.S.--RESER, DON C. & REBECCA JO
RESER, REBECCA JO v. COM.--RESTHAVEN MEMORIAL CEMETERY , INC.
RESTHAVEN MEMORIAL PARK & CEMETERY ASSN. v U.S.--REVELL, INC. v RIDDELL
REVELL, JR. v U.S.--REY; U.S. v
REY; U.S. v--REYNOLDS, JAMES C. & MARY C.
REYNOLDS, JAY D. & SHIRLEY M.--REYTBLATT, ZINOVY V. & NATALIA B. ROMALIS
REZAZADEH v COMM.--RHOADS CO., INC., THE: U.S. v
RHOADS CO., INC.; U.S. v--RHODES, JUANITA, EST. OF v U.S.
RHODES, LYNN E. & MARTHA E.--RHULEN, WALTER A. & JUDITH
RI UNLIMITED, INC.--RICE v COMM.
RICE, DAVID--RICE, THOMAS
RICE; U.S. v--RICHARDS, ANNA S.
RICHARDS ASSET MANAGEMENT TRUST, ET AL.--RICHARDS, JOHN RUSKIN
RICHARDS, JOHN v. U.S.--RICHARDSON, CATHER v N.Y. STATE HIGHER EDUCATION SERVICES CORP.
RICHARDSON, CECIL R. v COMM.--RICHARDSON, JEROME C., IN RE
RICHARDSON, JR., CO.-EXEC. v U.S.--RICHARDSON, WILLIAM R. v. U.S.
RICHBOW, JOE, IN RE--RICHMAN, R. R. v U.S.
RICHMAN, VICTOR W., EST. OF--RICHMOND, ROSE LYNN
RICHMOND TELEVISION CORP. v U.S.--RICKENBERG, EDWIN W., EST. OF
RICKENBERG, EXECX. v COM.--RIDENOUR, JAMES R., EXEC.
RIDENOUR, JAMES R., EXEC. v. COM.--RIDLEY; U.S. v
RIDLING, REBECCA v U.S.--RIFKIN, PAUL N. & IRENE S.
RIFKIN, STEPHEN H. & PAMELA T.--RIGGS, LEON C., EST. OF
RIGGS NATIONAL BANK; BURNET v--RILEY CO., THE; JARKA, ROBERT J. v
RILEY CO., THE; U.S. v--RILEY, WILLIAM; U.S. v
RIMA, ROBERT J.; U.S. v.--RING, JOHN H. v MCKEEVER, ROBERT M.
RING, JOHN H. v U.S.--RINGWALT III, CHARLES H.; U.S. v.
RINGWALT, JACK D. v U.S.--RIPLEY, R. BRUCE & DORIS J.
RIPLEY, R. BRUCE & DORIS J.--RISS & CO., INC. (COLO. CORP.)
RISS & CO., INC. (DEL CORP.)--RITHOLZ, SOPHIE
RITLAND, LLOYD M. & ELEANOR A.--RIVER CITY BK.; U.S. v
RIVER CITY BK.; VAN DEN BERG, JOAN M. v--RIVERA, VICTORIO C. v. COM., ET AL
RIVERA, VICTORIO C. v. COMM, ET AL--RIVOLI TRUCKING CORP. v ARGYROPOLOUS
RIVOLI TRUCKING CORP. v SCANLON--ROAD MATERIALS, INC.
ROAD MATERIALS, INC.--ROBBINS TIRE & RUBBER CO., INC. v U.S.
ROBBINS TIRE & RUBBER CO., INC. v U.S.--ROBERTS, C. DANIEL, TMP
ROBERTS, C. SAM.--ROBERTS, FRANK R. & EUNICE R.
ROBERTS, FREDDY v. U.S.--ROBERTS METAL FABRICATION, INC., IN RE
ROBERTS METAL FABRICATION, INC. v U.S.--ROBERTS, WILLIAM M. & GERRI L.
ROBERTS, WILLIAM M. & JEAN ALBRECHT--ROBERTSON, KATHLEEN P. v U.S.
ROBERTSON, KATHRYN M., IN RE--ROBESON OFFICE SUPPLIES, INC., IN RE
ROBIDA v COMM.--ROBINSON, BRENDA H.
ROBINSON, BRENDA H. v. COM.--ROBINSON, FRED L., EST. OF v U.S.
ROBINSON, G. R., EST. OF--ROBINSON, MARY LAUGHLIN
ROBINSON, MARY, PERSONAL REPRESENTATIVE v U.S.--ROBINSON, THOMAS B. & RUTH F.
ROBINSON, THOMAS & ELAINE--ROCANOVA, MARK v. U.S.
ROCCAFORTE, JOSEPH A., JR. v COMM.--ROCHOWICZ, JAMES v. U.S.
ROCIN LIQUIDATION ESTATE; U.S. v.--ROCKLIN, PAUL J., EXEC.
ROCKLIN, PAUL J., EXEC. v COMM.--RODANHISLER, JERRY v. U.S.
RODD v FAHS--RODGERS, JOHN v. U.S.
RODGERS, JUNE M.--RODNEY, HENRY M. & LUCILLE H.
RODNEY, INC.--RODRIGUEZ, ROBERT
RODRIGUEZ, ROBERT v. COM.--ROEDEL, GAYNELL WILKINS
ROEDER, RICHARD W., MOVANT v. I.R.S.--ROGERS, CAROLYN J., EST OF
ROGERS, CHARLES A.--ROGERS, HOWARD C., EST. OF v U.S.
ROGERS, IN RE--ROGERS, RODNEY; U.S. v.
ROGERS, RONALD, IN RE--ROHN, ROSS W. & MARIE H.
ROHNER, RALPH A. v. U.S.--ROLLAND, LUCIEN W. & XENIA M.
ROLLAND MOTOR CO., INC.--ROLLO, LOUIS C.
ROLLS, JAMES T.--ROMANUS, ANN C., CO-ADM. (EST. OF CURY, DAHAR)
ROMANUS, ANN CURY, ALLEGED TRANSFEREE--ROMPEL; U.S. v
ROMPEL v U.S.--RONNING v U.S.
RONRICO CORP.--ROOTS, THOMAS G.
ROOTS, THOMAS GERALD & LINDA VESTA--ROSE, ALAN V. v COMM.
ROSE, ALBERT E. & EDWINA--ROSE, MAE
ROSE, MARK--ROSELLE, ARTHUR & JOSEPHINE
ROSELLE, CRESCENT J. & DOROTHY--ROSEN v U.S.
ROSEN v U.S.--ROSENBERG, IN RE
ROSENBERG, ISADORE LOUIS--ROSENBERGER, GARY C.; U.S. v
ROSENBERGER, GARY C. v U.S.--ROSENCRANZ, GLORIA J.
ROSENFELD, GEORGE & ANNE--ROSENTHAL, DANIEL & MARY
ROSENTHAL, EDWIN M., JR.; U.S. v--ROSINGANA, RAPHAEL, ET AL. v. U.S.
ROSINOFF, SAM J.--ROSS, EDWARD F.; U.S. v
ROSS, EFFIE H.--ROSS, ROBERT WAYNE v. U.S.
ROSS, RODGER STEWART, IN RE--ROSSETTI, ANGELO v U.S.
ROSSFORD TERMINAL WAREHOUSE, INC.--ROTH, EARL A. & ANNE G.
ROTH, EST. OF v COMM.--ROTHENBERG, GEORGE & BEATRICE
ROTHENBERG, MARVIN & SAMUEL; U.S. v--ROTT, EST. OF v U.S.
ROTTE, HAROLD B. v. COM.--ROUNTREE, BROOKS W.
ROUNTREE, BROOKS W.--ROVIN, GERTRUDE S.
ROVIN, MATHILDE A.--ROWE, PHILLIP v DEPT. OF TREAS.
ROWE, PHILLIP v I.R.S.--ROY, IRVING & ESTHER
ROY, LEO J. & CONCETTA C.--ROYAL MINERAL ASSN.
ROYAL MOTORS, INC.--ROYLE CO., THE
ROYO, FRANCISCO JAVIER v. COMMONWEALTH OF VIRGINIA--RUANE, JAMES L. SR. & MARY K.
RUANE, MARTIN W., EST. OF, SPURGEON, JOHN L., EXEC.--RUBESH, LELAND JAMES v. ROYAL, RANDY
RUBIN, ARTHUR S. & WENDY S.--RUBISH, VIVIAN M.
RUBISH, VIVIAN M., PERSONAL REPRESENTATIVE--RUDE, GORDON T. v. BROWN, DENNIS, ET AL
RUDERMAN v U.S.--RUECKERT, THOMAS E. v ILL., STATE OF
RUECKERT, THOMAS E. v I.R.S.--RUGGEIRO; MORIYAMA v
RUGGEIRO; MORIYAMA v--RULLO, ROLAND W. v I.R.S.
RULLO, ROLAND W. v U.S.--RUOFF, HERMANN F. & MADELEINE DUPONT
RUOSS, KONSTANTINA--RUSHING, W. B.
RUSHING, W. B. & MOZELLE--RUSSELL BOX CO. v COM.
RUSSELL, CHARLES K., EST OF--RUSSELL, HERBERT E., IN RE
RUSSELL, HERBERT E., IN RE--RUSSELL, T. C., EST. OF; U.S. v
RUSSELL, T. C., EST. OF; U.S. v--RUSSO v U.S.
RUSSO; U.S. v--RUTHERFORD, JON; U.S. v.
RUTHERFORD, JON; U.S. v.--RUTTER, THOMAS E.; MEANS, SCOTT L., II v
RUTTER, THOMAS E.; U.S. v--RYAN, GARY L. v BUREAU OF ALCOHOL, TOBACCO & FIREARMS
RYAN, GEORGE PARKER & CLARA CLARKE--RYAN, PHIL L. & GLADYS, TRANSFEREE
RYAN, RAYMOND H. & ANA A.--RYEGATE PAPER CO.
RYERSON, JOHN A. & VIRGINIA E.--RZEPLINSKI, MICHAEL; U.S. v.

S

S & A CO.; U.S. v--S & Y TREE FARMS, INC.; U.S. v
S & Y TREE, FARMS INC.; U.S. v--SACHER, CHARLES P., CO-PERSONAL REP. v U.S.
SACHS, ARTHUR (ABRAHAM) & SHIRLEY--SACRAMENTO BUSINESS SCHOOL, INC.
SACRAMENTO CABINET SUPPLY, INC.--SAFE DEPOSIT & TRUST CO. OF BALTIMORE; HELVERING v
SAFE DEPOSIT & TRUST CO. OF BALTIMORE; HELVERING v--SAGE, HENRY E.
SAGE, JOHN A. v U.S.--SAIDMAN, TRUSTEE; U.S. v
SAIDY, JOSEPH J. v. U.S.--ST. GERMAIN, D. JOSEPH & DOROTHY H. (HUSBAND & WIFE)
ST. GERMAIN FOUNDATION--ST. LOUIS CO. (DEL.)(IN DISSOLUTION), v U.S.
ST. LOUIS CO. (DEL.)(IN DISSOLUTION) v U.S.--ST. MARYS TRUST CO., EXEC. v GRANGER
ST. MATTHEW PUBLISHING, INC v U.S.--SALA, CARLOS E. v. U.S.
SALA, CARLOS E. v. U.S.--SALEH, NAIMA M.; U.S. v
SALEM, AHMED & MERRY--SALLER, M. DAVID v U.S.
SALLEY v COMM.--SALOOM, B. GEORGE & DEBORAH
SALOPEK, TERESA, ET AL v. COM.--SALUS MUNDI FOUNDATION, TRANSFEREE, ET AL.
SALUZZI, CANIO & JOAN--SAM, PETER G. v. U.S.
SAM, PETER G. v. U.S.--SAMORE, EDWARD F., TRUSTEE v I.R.S.
SAMORE, EDWARD F., TRUSTEE v OLSON, MARGARET M.--SAMPSON, WILLIAM C. & LUCILLE A.
SAMPSON, WILLIAM C. & LUCILLE A.--SAMUELS, KRAMER & CO.
SAMUELS KRAMER & CO. v COMM.--SAN JOAQUIN BRICK CO. v COMM.
SAN JOAQUIN FRUIT & INVESTMENT CO.; BURNET v--SANCHEZ, ROMEO v U.S.
SANCHEZ; U.S. v--SANDERS, DERRICK H.; U.S. v.
SANDERS, EDWARD M. v COMM.--SANDERS, PAUL
SANDERS, PAUL L.--SANDLER, KENNETH & TACY F.
SANDLER, LILLIAN--SANDSTONE EXCAVATING INC v. FREE PIPING INC, ET AL
SANDT, BERND W & NANCY T.--SANFORD, WINSTON FARRELL, IN RE
SANFORD'S EST. v COM.--SANTA FE LAND IMPROVEMENT CO. v U.S.
SANTA FE PACIFIC GOLD CO. AND SUBS.--SANTOS, JAMES A.; U.S. v.
SANTOS, JOSE M. DE LEON; U.S. v--SARACENA, JOHN v U.S.
SARANDIS, THEODORE, EXEC.--SARMIENTO, GERMAN A. v. U.S.
SARMIR MARCIA K. & ROBERT M.--SASSO, GUY T. & JEAN L.
SASSO, LEONARD P.--SATTERLEE, RONALD L. v. U.S.
SATTERLY, DONALD ROBERT v CAPPELLI, MARSHALL P.--SAUNDERS, ARTHUR T. & MARGUERET A.
SAUNDERS, ARTHUR T. & MARGUERET A. v COMM.--SAUNOOKE, CHARLES E. v U.S.
SAUNOOKE, CHARLES E. v U.S.--SAVIANO, ERNEST J. & MARGARET
SAVIGNANO, VICTOR LOUIS--SAWYER, CHARLES, JR., EST. OF
SAWYER, EST. OF v U.S.--SAYRES, MADELINE A.
SAYRES, STANLEY S.--SCANLAN, DENNIS E. v COMM.
SCANLAN, DENNIS E. v U.S.--SCHACHTER, MARK & ANNIE
SCHACHTER, MARTIN & BARBARA--SCHAEFER, WILLIBALD & CECILE L.
SCHAEFER, WILLIBALD & CECILE L. v COMM.--SCHAFFER, MICHAEL A. & JENNIFER
SCHAFFNER v BINGLER--SCHARF, HOWARD & HELEN R.
SCHARF, MORRIS N. & FRANCES S.--SCHAULTS, THOMAS v. KUBIK, DAVID
SCHAUMBURG STATE BK. v AMER. NAT. BK. & TRUST CO. OF CHICAGO--SCHEELE, D. SAM
SCHEER, E. J., INC.--SCHELLENBARG, HERBERT & CLARA
SCHELLING, EDWIN O. v. U.S.--SCHERF v COMM.
SCHERF, JOHN G., JR.--SCHIAVONE, JOSEPH & LORELEI
SCHIAVONE, MICHAEL & SONS, INC.--SCHIFINO, WILLIAM J. & LOIS A.
SCHILBACH, CHRISTHART S. & JUNE--SCHIPANI; U.S. v
SCHIPANI; U.S. v--SCHLANG, LAWRENCE H. v. COM.
SCHLANG, LAWRENCE H. & SHIRLEY A.--SCHLOSBERG, MILES S. & BETH A.
SCHLOSBERG, MILES S. v COMM.--SCHMEGNER, REINER E. v KRESS, DAVE P.
SCHMEGNER, REINER E. v KRYSZTOF, RODNEY J.--SCHMIDT, J. DONALD; U.S. v
SCHMIDT, JAMES EDWARD v. IRS--SCHMITT, FRANK J. & M. LORRAINE, EST. OF
SCHMITT, GERALD A.--SCHNEIDER, ABE & SARAH
SCHNEIDER, AGNES--SCHNEIDER v KELM
SCHNEIDER v KELM--SCHNELLER, FRED, EST. OF
SCHNELLER, JOSEPH P. v. COM.--SCHOENBALS; U.S. v
SCHOENBAUM, JOSEPH--SCHOFIELD, DOUGLAS F. & MARY D.
SCHOFIELD, DOUGLAS F. & MARY D. v COMM.--SCHONERT CONSTR., INC.; U.S. v
SCHONGALLA, EXECX. v HICKEY--SCHRADER, ERMA M. v COMM.
SCHRADER, ERMA M. v COMM.--SCHROEDER v COMM.
SCHROEDER, DAVID L. v COMM.--SCHROFF, ERWIN v COMM.
SCHROFF, ERWIN, EXEC.--SCHULMAN, ALAN M. & MARCIA F.
SCHULMAN, DORIS G., EXECX.--SCHULTZ, PAM v. U.S.
SCHULTZ, PARTICIA--SCHUMACHER v U.S.
SCHUMACHER WALL BOARD CORP.; COMM. v--SCHUSTER; U.S. v
SCHUSTERMAN, CHARLES v. U.S.--SCHWARCZ, ADOLPH
SCHWARTZ, ABE M., EST. OF--SCHWARTZ, ISIDORE, EXEC.
SCHWARTZ, ISIDORE, EXEC. v COMM.--SCHWARTZ; U.S. v
SCHWARTZ; U.S. v--SCHWEITZER, PAUL H. & FRIEDEL
SCHWEITZER, PETER J., INC.--SCIORTINO, PHILIP J.
SCIOTO PROVISION CO.--SCOTT, BENJAMIN R. & BESSIE S.
SCOTT, BENJAMIN v U.S.--SCOTT, HELEN BONNELL, EST. OF v U.S.
SCOTT v HENRICKSEN--SCOTT, MARTIN A. & ANGELA
SCOTT, MARTIN v. U.S.--SCOTT, TRUSTEE v GEARNER, ADM.
SCOTT; U.S. v--SCREVANE, PAUL R.; U.S. v
SCRIBNER, ELIZABETH L.; U.S. v--SCULLY, NADINE GAY, TR. v U.S.
SCULLY, PAULA ALYCE TR. v U.S.--SEABOARD FINANCE CO. (IDAHO)
SEABOARD FINANCE CO. (IDAHO); COMM. v--SEAGRAM & SONS, INC.; COMM. v
SEAGRAVE, BARRY v. U.S.--SEARLE, G. D. & CO. & SUBSIDIARIES
SEARLE, IRA F., EST. OF--SEATTLE FIRST INTERNAT. CORP.; U.S. v
SEATTLE FIRST NAT. BK., EXEC.--SEBBERSON, DAVID v COMM.
SEBBERSON, DAVID & PATTI A.--SECRET, ANTHONY O., JR. v. U.S.
SECRETARIO, NELSON J. & VICTORIA A.--SECURITY FLOUR MILLS CO.; COM. v
SECURITY FLOUR MILLS CO.--SECURITY-FIRST NAT. BANK OF LOS ANGELES, EXEC. (EST. OF SILLS, MILTON)
SECURITY-FIRST NAT. BANK OF LOS ANGELES, EXEC. (EST. OF YOUNG, WILLIAM M.)--SEELEY TUBE & BOX CO. v MANNING
SEELEY TUBE & BOX CO. OF N.J.; MANNING v--SEGEL, SAMUEL & MARGARET D.
SEGERS, JAMES CALVIN--SEIPPEL, WILLIAM H. v. SIDLEY, AUSTIN, BROWN & WOOD, LLP
SEIS, INC.--SELDIN, MILLARD R. & BEVERLY
SELDIN, MILLARD R. & BEVERLY--SELIGSON, STUART v COMM.
SELINGER v BIGLER--SELLS ENGRG. CO., INC. v U.S.
SELLS ENGRG., INC.; U.S. v--SEMMES, ELAINE P., EXECX. v COMM.
SEMMES, EST. OF v COMM.--SENSENBRENNER v COMM.
SENSENBRENNER , F. J.--SEQUOIA PROPERTY AND EQUIPMENT LIMITED PARTNERSHIP v. U.S.
SEQUOIA PROPERTY AND EQUIPMENT LIMITED PARTNERSHIP v. U.S.--SERRA, J. TONY; U.S. v
SERRA, J. TONY; U.S. v Court Order--SERV-TECH, INC., TMP
SESAY, MOHAMED v. IRS--SEVEN EIGHTY-EIGHT GREENWOOD AVE. CORP. v U.S.
SEVEN SEASONS, INC.; GEORGEFF, CRAIG G. v--SEWARD, WESLEY C. v ATTY. GEN.
SEWARD, WESLEY C. v. U.S.--SHAARA, JOSEPH & ROSE
SHABAZZ, KARRIEM EL-AMIN, IN RE--SHAFER, LEE R., LAST WILL & TESTAMENT OF v U.S.
SHAFER, MARILEE; U.S. v--SHAFTO; U.S. v
SHAFTO v U.S.--SHALTRY, WENDA K. ; U.S. v.
SHALTZ, STEPHEN G. & KAREN P.--SHANG, WADE VINCENT; U.S. v.
SHANGHAI CO., INC. v U.S.--SHAPERO, NATE S.
SHAPIOR, ELI & ESTHER--SHAPIRO, SAMUEL & BELLA v COMM.
SHAPIRO, SAMUEL; COMM. v--SHARON, JOANNE L.
SHARON, JOEL A. & ANN L.--SHARP, WILLIAM F., JR., EST OF v. U.S.
SHARP, WILLIAM F., JR, EST. OF v. U.S.--SHAVER, JAMES EARL (SENIOR OVERSEER) v. U.S.
SHAVER, JAMES EARL (SENIOR OVERSEER) v. U.S.--SHAW, STEVEN F.; U.S. v.
SHAW, SUSANNE--SHEA, J.J. & NINA L.
SHEA, JOHN D.--SHEARING, KENNETH v U.S.
SHEARING, KENNETH v WYO. COUNTY--SHEETS, CHARLES WESLEY v. I.R.S.
SHEETS v COMM.--SHELFER, LUCILLE P., EST OF
SHELFER, LUCILLE P., EST OF, ET AL v. COM.--SHELMAN, IN RE
SHELONZEK, HENRY JOSEPH, JR. & BARBARA JOLANTA--SHENKER, JEROME v PEEBLES INVESTMENTS, INC.
SHENKER, JEROME v REILLY, JAMES F.--SHEPHERD, CHARLES, INDEPENDENT EXEC.
SHEPHERD CONSTR. CO.--SHERBONDY, CHRISTINA v. U.S.
SHERBOURNE BLDG. CO.--SHERMAN v COM.
SHERMAN v COMM.--SHERMAN v U.S.
SHERMAN v U.S.--SHERWOOD, DEWITT M. & EDITH
SHERWOOD, EDWARD R.; U.S. v.--SHIFFMAN A. & LUCILLE S.
SHIFFMAN FOUNDATION, THE--SHIOSAKI, JAMES T.
SHIOSAKI, JAMES T.--SHISLER, DOUGLAS R. v. U.S.
SHISLER, DOUGLAS R. v. U.S.--SHOENBERG v COM.
SHOENBERG, SYDNEY M.--SHORE, JAMES R.
SHORE, JAMES R. v COMM., Court Order--SHORT, SAMUEL C., III v U.S.
SHORT, WILLIAM BRAMSWELL JR., IN RE--SHRADER, JANET E., CO-EXEC. v U.S.
SHREIBER, GERALD B. v. MASTROGIOVANNI, ROBERT A.--SHULL v COMM.
SHULL, FRANK T. & ANN R.--SHURE, JOSEPH N. & SAMUEL v U.S.
SHURE, JOSEPH N. & SAMUEL v U.S.--SIBLEY, JOHN R., EXEC. (EST. OF SIBLEY, RUFUS A.)
SIBLEY, LINDSAY & CURR CO.--SIDLEY AUSTIN BROWN & WOOD LLP; U.S. v.
SIDLEY AUSTIN BROWN & WOOD LLP; U.S. v.--SIEGEL v U.S.
SIEGEL; U.S. v--SIGMAN, ARTHUR L. & VIVIENNE J.
SIGMAN v REINECKE--SILBERMAN , ISRAEL
SILBERMAN, JOSEPH--SILMAN, RICHARD C. v COMM., Court Order
SILMAN, RICHARD C. & JOSEPHINE--SILVER PALM v U.S.
SILVER QUEEN MOTEL--SILVERMAN, JACK
SILVERMAN, JOE--SILVERSTEIN, RAFE v U.S.
SILVERSTEIN, ROSE L., EST. OF--SIMENON, GEORGES
SIMENSTAD v U.S.--SIMMONS, DARA v. U.S.
SIMMONS, DAVID BRYAN v. U.S.--SIMMONS, MARVIN ; U.S. v.
SIMMONS, MARVIN; U.S. v.--SIMON, ARTHUR L., TRANSFEREE, TRUSTEE
SIMON, BASIL T., TRUSTEE v. NEW CENTER HOSPITAL--SIMON, MORRIS v U.S.
SIMON, PATRICIA v. PLAYBOY ELSINORE ASSOCIATES--SIMONS, JEROME L.
SIMONS, JOHN B. & DELLA D.--SIMPLOT, RICHARD R., EST OF v. COM.
SIMPSON, ALBERT LEE v HUMBERT, JOSEPH G.--SIMPSON, RENEE B.
SIMPSON, ROBIN--SIMS, ROOSEVELT L. v U.S.
SIMS, ROOSEVELT L. v WENZEL, ROBERT--SINES, JOHN R. v TERRA ALTA BANK OF TERRA ALTA, W.VA., THE
SINES, JOHN R. v U.S.--SINGLETON, J. W. v MATHIS
SINGLETON, JOHN CHRISTOPHER--SIPES, BILLY W. & WALTRAUD E.
SIPKOFF v WHINSTON--SISTO FINANCIAL CORP.; COMM. v
SISTO FINANCIAL CORP.--S.J.T., INC.; U.S. v
SK FOODS, L.P., IN RE--SKELLY, MICHAEL J. v COMM.
SKELLY OIL CO.; U.S. v--SKINNER, JACK D.
SKINNER, JAMES A., JR. & BEVERLY J.--SKOURAS, GEORGE P., EXEC.
SKOURAS, SPYROS P.--SLATE, EST. OF; U.S. v
SLATER, ALBERT M. & IRENE--SLAVENS, BARBARA J. v. U.S.
SLAVIN , ARTHUR M.--SLIGH, CHARLES R., JR., CO-EXEC. v U.S.
SLIGH, THOMAS D.; U.S. v--SLOCUM; U.S. v
SLOCUM; WEINARD v--SLUTZKER, STEVEN G. v. U.S.
SLY, DONA--SMALL, RONALD J. v. I.R.S.
SMALL, SR. v U.S.--SMETHERS, CHRISTIN v. JOLIET, DAVID ET AL.
SMETON, DAVID & THERESA--SMITH, ANNA ELY, CO-EXECX. v U.S.
SMITH, ANNIE B.--SMITH, CHARLES C., EST. OF
SMITH, CHARLES E. & SONS CO.--SMITH v COM.
SMITH v COM.--SMITH, DAVID LEE v. U.S.
SMITH, DAVID LEE v. U.S.--SMITH, EDITHE L., ADMX.
SMITH, EDWARD A. & BETH K.--SMITH, FOY D. & BARBARA F.
SMITH, FRANCES G.--SMITH, GEORGE W. & BETTY
SMITH, GEORGE WYNN & MALEITA E.--SMITH, HELEN P., EST. OF; SERLING, JAMES M. v
SMITH, HELEN P., EST. OF; SERLING, JAMES M. v--SMITH, JAMES A.
SMITH, JAMES ALLEN (EXECUTOR)--SMITH, JIMMY RAY; U.S. v
SMITH, JOE ALBERT; U.S. v.--SMITH, KENNETH A. & JILL M.
SMITH, KENNETH D. & LORRAINE--SMITH, M. ALOYSIUS
SMITH, M. W., JR.--SMITH, MYRON v U.S.
SMITH, N. C.; STEWART, ROY A. v--SMITH REAL ESTATE CO. v PAGE
SMITH; REINECKE v.--SMITH, ROBERT J. v ONONDAGA COUNTY SUPPORT COLLECTION UNIT
SMITH, ROBERT J. v PERALES, CEASAR--SMITH, SCOTT E.; U.S. v.
SMITH, SR. v EDWARDS, ADM.--SMITH, TERRY E. v PIZZA PRONTO
SMITH, TERRY L. v. COM.--SMITH v U.S.
SMITH v U.S.--SMITH; U.S. v
SMITH v U.S.--SMITH, WILLIAM E. v. U.S.
SMITH, WILLIAM E.; U.S. v.--SMITH-WYNN POST NO. 96, VFW v U.S.
SMITH-WYNN POST NO. 96, VFW v U.S.--SMYTH v U.S.
SMYTHE, JAMES T. & JUDITH M.--SNELLER, BARRY L., IN RE
SNELLER, BARRY L. v U.S.--SNITE, FRED B.
SNIVELY v COMM.--SNYDER, ATLEE D.
SNYDER, ATLEE D., TRANSFEREE--SNYDER, HARRY
SNYDER, HARRY L. & M. WILROY--SNYDER, RICHARD E. v. IRS
SNYDER, RICHARD E. & MARION B.--SNYDER, WILLIAM J.
SO, DJIEN H. v. U.S.--SOCIETE FINANCIERE DE TRANSPORTS ET D'ENTREPRISES INDUSTRIELLES v U.S.
SOCIETE POUR LA FINANCE ET L'ELECTRICITE, S.A. v U.S.--SOHOSKY, JOHN J., JR. & M. JEAN
SOIFER, RENA--SOLID ROCK REFUGE, INC., THE v COX, OWEN D., JUDGE
SOLID ROCK REFUGE, INC., THE v EVERSBERG, HELEN M.--SOLOMON, GEORGE D., JR., EXEC.
SOLOMON v GROSS--SOMERMEYER v U.S.
SOMERS, CHARLES W., THE, TRUST--SONFIELD, JR.; U.S. v
SONFIELD; U.S. v--SOPKIN, RONALD B., IN RE
SORDELLO, FRANK J. & ANNA M.--SORIANO, THOMAS & CATHERINE
SORIN, ARTHUR & HENRIETTA A.--SOURAPAS, S. STEVE; U.S. v
SOUSA, NORMAN R.--SOUTH LAKE FARMS, INC.; COMM. v
SOUTH LAKE FARMS, INC.--SOUTHEAST NAT. BK.; I.R.S. v
SOUTHEAST NAT. BK.; U.S. v--SOUTHERN BELL TELEPHONE & TELEGRAPH CO.
SOUTHERN BOILER SALES & SERVICE INC--SOUTHERN HARDWOOD TRAFFIC ASSN. v U.S.
SOUTHERN IND. GAS & ELEC. CO. v U.S.--SOUTHERN SPORTSWEAR CO., INC.
SOUTHERN TANKS, INC.; I.R.S. v--SOUTHWEST CONSOL. CORP.; HELVERING v
SOUTHWEST CONSOL. CORP.; HELVERING v--SOUTHWESTERN OIL & GAS CO.
SOUTHWESTERN PORTLAND CEMENT CO.; U.S. v--SPADE v SALVATORIAN FATHERS, THE
SPAEDER, JOHN A., EXEC. v U.S.--SPANGLER, ALBERT v. DEMSHOCK, LYNN
SPANGLER, ALBERT v. HANNAH, MARY--SPARKS NUGGET, INC. v U.S.
SPARKS, ROBERT M. v I.R.S.--SPEAR, BURTON; U.S. v
SPEAR & CO.; HEINER v--SPECIALTY ENGINEERING CO.
SPECIALTY LEATHER GOODS CO., INC. v U.S.--SPEICHER, FRANKLIN S. & ELEANOR (HUSBAND & WIFE)
SPEIER, FREDRIC & CHRISTIANE--SPENCER, CHRISTIAN v BRADY, NICHOLAS F.
SPENCER, CLINT v COLE, DAVID--SPENCER, ROBERT W. & ROSALIE D.
SPENCER, RODNEY GUY, IN RE--SPERRY, CHARLES, EST. OF v BRODRICK
SPERRY, PHILLIP F.; U.S. DEPT. OF JUSTICE v.--SPIEGEL, MAURICE W.
SPIEGEL, MAY, STERN CO. v U.S.--SPINGOLO, FRANK, WAREHOUSE CO., INC.
SPINIELLO, LUKE C. & GRACE--SPIRT, S. BURTON v HARRIS, BASIL, EST. OF
SPIRT, S. BURTON v HARRIS, BASIL, EST. OF--SPOHN, HARRY C., EST. OF v COMM.
SPOHRER, ANGELIKA; U.S. v--SPRAGUE, NORMAN F., JR., TRUSTEE, TRANSFEREE v U.S.
SPRAGUE, R. PAUL v. U.S.--SPRINGER, HELEN
SPRINGER , HENRY MONROE , EST. OF--SPRINGS, ELLIOT & FRANCES LEY v U.S.
SPRINGS LAND CO., LTD. PARTNERSHIP v COMM.--SQUARE D CO & SUBSIDIARIES
SQUARE D COMPANY & SUBS.--STABLER, LEWIS L. v U.S.
STABLER, ROSE BURCH v. U.S.--STAFF, RAYMOND N., EXEC. v U.S.
STAFFILINO, FRED--STAHL, HARRY J. & THEODORA G.
STAHL, JOHN H. v. U.S.--STALKER CORP., THE v U.S.
STALKER, LOIS L.--STAMOS, FRANK W.
STAMOS, FRANK W.--STANDARD CORRUGATED CASE CORP.
STANDARD - CROWLEY - JACKSON v CREST FINANCE CO., INC.--STANDARD OIL CO. (INDIANA)
STANDARD OIL CO. (INDIANA)--STANDIFIRD, LANCE
STANDIFIRD, LANCE C.--STANG, ALAN D.
STANG, ALAN D. v. COM.--STANLEY, JOHN C., III, v U.S.
STANLEY, JOHN C., III, v U.S.--STANTON, GEORGE H.
STANTON, JACK PERSHING & VIRGINIA GAIL--STARCHER, HAROLD E. JR, IN RE
STARDAY RECORDING & PUBLG. CO., INC. v U.S.--STAR-KIST FOODS, INC. v U.S.
STARKMAN, IRVING L.--STARR, MARY W.
STARR, MARY W., EXECUTRIX--STATE FARM MUTUAL AUTOMOBILE INS. CO., ET AL. v. I.R.S. ET AL.
STATE FARM MUTUAL AUTO. INS. CO., ET AL. v. LINCOW, ARNOLD, ET AL.--STATE POLICE ASSOCIATION OF MASSACHUSETTS
STATE RAILROAD TAX CASES--STATER BROS. MARKETS (FORMERLY STATER BROS., INC.—COLTON)
STATER BROS. MARKETS (FORMERLY STATER BROS., INC.—FONTANA)--STATLER, ELLSWORTH M., TRUST OF JAN. 1, 1920, FOR ELLSWORTH MORGAN STATLER, KATHERINE M. ZELLER, FRANK C. MOORE & THE MARINE TR. CO. OF WESTERN N.Y., TRUSTEES
STATLER, ELLSWORTH M., TRUST OF JAN. 1, 1920 FOR MARIAN F. STATLER, ELLSWORTH M. STATLER PORTION, KATHERINE M. ZELLER, FRANK C. MOORE & THE MARINE TR. CO. OF WESTERN N.Y., TRUSTEES v COMM.--STAZER, ALAN K. KATALIN V.
STEAD, IAN MICHAEL v. U.S.--STECKLER, DON BERNARD, BANKRUPT, IN RE
STECKLER, DONALD LOUIS v. U.S.--STEELE, BETTY W. v SECY. OF TREAS.
STEELE, BRIAN L.; U.S. v.--STEELMASTERS, INC.
STEELY, EDWARD O. v COMM.--STEFFENS, FRED W. v COMM.
STEFFENS, FRED W. & MARGARET T.--STEIN, GABOR v. U.S.
STEIN; HELVERING v--STEIN; U.S. v
STEIN; U.S. v--STEINER v COMM.
STEINER, ERVIN & OLGA--STEINHAGEN RICE MILLING CO. v SCOFIELD
STEINHARDT, AKA MORTON--STELLAR, ROBERT W., EST. OF v U.S.
STELLAR, ROBERT W., EST. OF v U.S.--STEPHANATOS, BASIL N. v. COHEN, MARY ANN ET AL.
STEPHANATOS, BASIL N. v. U.S.--STEPHENS, LAWRENCE v. U.S.
STEPHENS, LIONEL DALE, IN RE--STEPHENSON, CHARLES V. v GUTIERREZ, RICHARD J.
STEPHENSON, CHARLES V. v HENDERSON, JOHN W.--STEPNOWSKI, CHARLES
STEPNOWSKI, CHARLES v. HERCULES, INC.--STERN, EDGAR B., JR., EXECUTOR
STERN, EDITH R., EST. OF--STERN, SIDNEY v U.S.
STERN & STERN TEXTILES, INC. v COMM.--STERNSTEIN, DAVID; U.S. v
STERNSTEIN, DAVID; U.S. v--STEVENS, CHARLES THOMAS v. COLT, KEN
STEVENS, CHARLES THOMAS v. COLT, KEN--STEVENS PASS, INC.
STEVENS, PATRICK D.--STEVENSON, ROBERT J. & ETHEL B.
STEVENSON, ROBERT LOUIS, APARTMENTS, INC.--STEWART, CONNIE L. v U.S.
STEWART, CYRUS Q., JR., EXEC. v U.S.--STEWART, MARY E.
STEWART, MARY W., WILL OF v U.S.--STEWART TITLE CO. v LEON CONSTR. CO.
STEWART TITLE CO. v MIDWEST FEDERAL SAVINGS & LOAN ASSN.--STICKELL, DOUGLAS L. v TOOHILL, JOSEPH V.
STICKELL, DOUGLAS L. v U.S.--STILES v COM.
STILES CORPORATION v. IRS--STIMSON MILL CO.; COM. v
STIMSON MILL CO.--STIPE, KATHLEEN SUSAN
STIPEK, ALBERT F. & ELINORE L.--STOCK, CLYDE WALLACE v. COM.
STOCK, CLYDE WALLACE v. COM.--STOCKTON v U.S.
STOCKTON, WILLIAM H.--STOETZEL, DOROTHY L. & RALPH S.
STOEWER, ROGER--STOKES, VENE P. & CLERC J.
STOKES, W. CLEVE--STOLZ, EDWARD R., II
STOLZ, ZOE--STONE v GRANQUIST
STONE, H. C., EST. OF--STONE, N. LOUIS & MARGARET M.
STONE, NATHANIEL M. & EVA P.--STONEHILL, HARRY S., TRUSTEE; U.S. v
STONEHILL, HARRY S.; U.S. v--STORAGE AND OFFICE SYSTEMS, LLC v. U.S.
STORAGE & RENTAL CO. OF ARLINGTON, INC.; U.S. v--STOUFFER v U.S.
STOUGAARD, NORMAN F. & MONA L.--STOVALL, WILLIE v GILES, LEWIS
STOVALL, WILLIE v U.S.--STRAIN, ARTHUR WALDO, JR., TRUST NO. CR-1, BRIGHAM YOUNG UNIVERSITY, TRUSTEE
STRAIN, HARRIET--STRASBURGER, W. F. & MILDRED
STRASSBURGER, J.A. EST OF v. U.S.--STRAUB, TECLA M.
STRAUB, TECLA M., EST. OF v GRANGER--STRAW, KEITH R. v U.S.
STRAW, KEITH v U.S.--STREETER, FRANK S., EXEC. v COMM.
STREETER, FRANK S., EXEC. v COMM.--STRICKLAND, J. & CO., v U.S.
STRICKLAND, J. & CO. v U.S.--STROFF, MARK E.
STROGOFF, EDWARD M. & DIANE F.--STRONG, WILLIAM H. v COMM.
STRONG, WILLIAM H. & ELLA K.--STRYKER, MAX H.
STUART, ALAN K.; HUCKABEE, CHARLES D. v--STUBBLEFIELD, BEAUREGARD, SR. v. COM.
STUBBLEFIELD, BEAUREGARD; U.S. v--STUERMER, EMMA H., EST. OF v U.S.
STUERMER, PAUL J. & LOUISE--STURGILL, CHARLIE & CHRISTINE
STURGILL, CHARLIE, MOTOR CO.--SUAREZ, SORGA; U.S. v.
SUAREZ, SYBIL; U.S. v.--SUFFOLK , MARGUERITE HYDE & BERKS
SUGANUMA, LEIGHTON; U.S. v.--SULLIVAN, BARRY M., TRUST v U.S.
SULLIVAN, BARRY M. v U.S.--SULLIVAN, HENRY S.; U.S. v.
SULLIVAN; INTERNAL REVENUE AGENT v--SULLIVAN; U.S. v
SULLIVAN v U.S.--SUMMERS, JAMES V
SUMMERS, JIM; U.S. v.--SUN CHEMICAL CORP. v U.S.
SUN CLIFFE, INC., IN RE--SUNDBERG, SETH C.; U.S. v.
SUNDBERG, SETH C.; U.S. v.--SUNLAND INDUSTRIES, INC. v U.S.
SUNLEAF, ROSE MARIE--SUNSHINE BEHAVIORAL HEALTH SERVICES, INC. v. U.S.
SUNSHINE, DAVID v. U.S.--SUPERIOR PLASTICS, INC.
SUPERIOR POCAHONTAS COAL CO.--SURGICK, ZEFFIE NETIA v. CIRELLA, ACQUANETTA
SURI, B,--SUTAIN, ABRAHAM & MILDRED
SUTAIN, ABRAHAM v SHAPIRO, CLARENCE--SUTTER, RICHARD A.
SUTTER VILLAGE CORP. v U.S.--SVENDSEN, DARRELL K. & JANELLE E.
SVENDSEN, EVERETT GEORGE & PENELOPE ANNE--SWAN, EST. OF; U.S. v
SWAN, HOWARD W. & FRANCES E.--SWANSON, ERNEST R. & MARY ANN
SWANSON FLO-SYSTEMS CO.; U.S. v.--SWARTZ, EDWARD G., INC.
SWARTZ, EDWARD P., DR.; U.S. v--SWEENEY, ELSIE I.
SWEENEY, EST. OF v COM.--SWEETS CO. OF AMERICA , INC ., THE
SWEETSER, WILMER T.; U.S. v--SWIFT, LORI v U.S.
SWIFT MFG. CO. v U.S.--SWITLIK , WALTER
SWITOW, H. R. & FLORENCE K.--SYKES, MARY JEAN, IN RE
SYKES & SONS INC, IN RE--SYPHRETT, BOBBY E. & JANICE D.
SYPOLT, MICHAEL G. & DARLENE B.--SZYMCZAK, STANLEY v U.S.

T

T. C. HEYWARD & CO. v U.S.--TAFFI, DONALD v. U.S.
TAFFI, DONALD v. U.S.--TAI, A. RAZZAK v. U.S.
TAIBO, AMARO A.--TALBOT, ROBERT v. U.S.
TALBOT, RUTH M., ADM.--TALMAGE, RONALD B. v. COM.
TALMAGE, STEPHEN V.--TANDON, MAHENDRA K.
TANDON, MAHENDRA K. v. COM.--TANNER, DEBORAH G. & ALLEN C., JR. v U.S.
TANNER, DOUGLAS H.--TAPROOT ADMINISTRATIVE SERVICES, INC v. COM.
TAPROOT ADMINISTRATIVE SERVICES, INC.--TARRANT, MARLENE U.S. v
TARRICONE, SALVATORE G.--TATE v U.S.
TATE v U.S.--TAUTER, CHARLES J. & MARION M.
TAUTOLO, DAVID F. & FAAMAISE V.--TAX ANALYSTS v. IRS
TAX ANALYSTS v. I.R.S.--TAX REFORM RESEARCH GROUP v I.R.S.
TAX REFORM RESEARCH GROUP v I.R.S.--TAYLOR BLVD. THEATRE INC v. U.S.
TAYLOR, BOB; U.S. v--TAYLOR, DONALD P. v. U.S.
TAYLOR, DONALD P. v. U.S.--TAYLOR, HARDEN F.
TAYLOR, HARDEN F. & ELLA W.--TAYLOR, KENDALL B. & ROSE M.
TAYLOR, L. HICKS; U.S. v--TAYLOR, RALPH E., IN RE
TAYLOR, RALPH E., IN RE--TAYLOR, THOMASITA
TAYLOR, THOMASITA v. COM.--TCHAKARSKI, POLET v. IRS
TCHAKARSKI, POLET v. IRS--TEBB, FRED R. & CLAIR F.
TEBB, GRACE EXECX. (EST. OF TEBB, THOMAS W.)--TEEL, THERON C. & LYNN W.
TEEL, THERON C. & LYNN W. v COMM.--TEICHGRAEBER, BERNARD E., EXEC.
TEICHGRAEBER, BERNARD E., EXEC.--TELEPHONE DIRECTORY ADVERTISING CO. v U.S.
TELEPHONE & RADIO ANSWERING SERVICE CO., INC. (MARYLAND) v COMM.--TELLO, JOHN v. COM.
TELLO, JOHN, ET AL. v. COM.--TEMPO II SUNRISE, INC.
TEMSCO HELICOPTERS, INC. v. U.S.--TENN. SECURITIES, INC.
TENN. SECURITIES, INC. v COMM.--TERACHTER, GERALD; U.S. v
TERAUDS, ASTRIDA--TERRELL, JACK A.; U.S. v
TERRELL, JAMES; U.S. v--TERVORT, ALLAN D.; U.S., ET AL.; v.
TERWILLIGER BROS., INC.--TEXACO INC v. COM.
TEXACO, INC. (FORMERLY THE TEXAS CO.) v U.S.--TEXAS INDEPENDENT PRODUCERS LEGAL ACTION ASSN. v I.R.S.
TEXAS INSTRUMENTS INC. & ITS CONSOL. SUBSIDIARIES--TEXAS-EMPIRE PIPE LINE CO.
TEXAS-EMPIRE PIPE LINE CO.--THACKER, CURTIS H. & BETTY L.
THACKER, GEORGE & REBA--THAYER, ANGELA M.
THAYER, ANNA-MARY, EXEC. (EST. OF THAYER, PHILIP R.)--THEBAUT; COMM v
THEBAUT, JOSEPHINE N.--THERMAL POWER CO.
THERMAL POWER CO. v COMM.--THIELKING, ARMIN F. & GLORIA J.
THIELKING, PAUL W., O. D., P. C.--THOM, JAMES L. v. U.S.
THOM, RONALD D. v. U.S.--THOMAS COMMUNICATIONS, INC. v ALLIED FINANCIAL CORP., II, ET AL
THOMAS, CONSTANTINE--THOMAS, GEORGE J. v COMM.
THOMAS, GEORGE J. v COMM.--THOMAS , JOSEPH B.
THOMAS, JOSEPH, EXEC. (EST. OF, WEISBERGER, ALLEN L.)--THOMAS, PAUL F. v U.S.
THOMAS, PAUL L.--THOMAS, TUNDE F. v. U.S.
THOMAS v U.S.--THOMMEN, JOHN E. v. COM.
THOMPKINS, DON C. & DIANE C.--THOMPSON, DANIEL L.; U.S. v.
THOMPSON, DANIEL W. ET AL v. U.S.--THOMPSON, GORDON G., EST OF, TRANSFEREE
THOMPSON, GORDON H.; JOYNER, NEEDHAM GRAY, JR. v--THOMPSON, JOHN T. & JUDITH
THOMPSON, JOHN W., EST. OF--THOMPSON, MELVILLE G. v U.S., EX REL
THOMPSON, MELVILLE W.--THOMPSON v U.S.
THOMPSON; U.S. v--THOMPSON-PERRY, LINDA, ET AL. v. U.S.
THOMS, ALFRED H.--THOR ENERGY RESOURCES & SUBSIDIARIES
THOR POWER TOOL CO.--THORNTON, JUEL A.
THORNTON, LINDA G.--THOSTESON, PETER v. U.S.
THOURON, JOHN R.H., EST v. U.S.--353 LEXINGTON AVE. CORP.
360 ACRES OF LAND IN THE COUNTY OF KERN, STATE OF CALIF.; U.S. v--THUN, JOHN
THUNDER ISLAND AMUSEMENTS, INC. v. EWALD, KELLY L.--TIBBETTS, JEFFREY C. v U.S.
TIBBETTS, JOHN E. v COMM.--TIDEWATER TRANSIT, INC. v U.S.
TIDEWATER VESSELS, INC. v U.S.--TIFFANY FINE ARTS, INC. & SUBSIDIARIES; U.S. v
TIFFANY FINE ARTS, INC. v U.S.--TILLERY MECHANICAL CONTRACTORS INC., IN RE
TILLES, CAP ANDREW--TIMANUS v COM.
TIMANUS, G. LOUTRELL & HELEN--TIMMONS, ANNIE MARY, Court Order
TIMMONS v COMM.--TINNERMAN, WILLIAM R.
TINNERMAN, WILLIAM R. v. COM.--TISHBERG, MARK S.; U.S. v
TISHMAN, EXEC. v U.S.--TITUS, LOUIS T. v. COM.
TITUS OIL &I NVEST . CO.--TOBIAS, CHARLES DEWEY JR. v. TWO RECORDS OF LIEN
TOBIAS, JAMES R., EST OF--TODD, DONNA L. v WINTRODE, R. S., JR.
TODD, DONNA L. v WINTRODE, R. S., JR.--TOKH, AZIZ A. v. COM.
TOKH, AZIZ A. & SUSAN K.--TOLIVER, MICHAEL v ZABLOCKI, C.
TOLIVER, NICHOLAS M. v. U.S.--TOMAR HILLS, INC.; U.S. v.
TOMASELLO, PETER A. v U.S.--TOMPKINS, J. L., III, ADM. v U.S.
TOMPKINS, JOHN E., EXEC. v U.S.--TONNINGSEN v COM.
TONNINGSEN, JOHN, ET AL.--TOPPIN, ROBERT T.
TOPPING, LINWOOD E.--TORRES, ANTONIO RIVERA; U.S. v.
TORRES, ANTONIO RIVERA; U.S. v.--TOTEM LAKE FORD/TOYOTA
TOTH, JOSEPH--TOVREA LAND & CATTLE CO.
TOVREA LAND & CATTLE CO. v U.S.--TOWLE, ELMER A.
TOWLE, JANICE MCNEAR, EST. OF--TOWNSEND, ARTHUR M., III, IN RE
TOWNSEND v COM.--TOYOTA MOTOR SALES CO., LTD.; U.S. v
TOYOTA MOTOR SALES U.S.A., INC.,; U.S. v--TRADERS NAT. BANK OF KANSAS CITY, EXEC. (EST. OF KOINM, CHARLES HERMAN)
TRADERS NAT. BANK OF KANSAS CITY, EXEC. v U.S.--TRAMMELL, CHARLES M. v CAPLIN
TRAMMELL, CHARLES M. v CAPLIN--TRANSAMERICA CORP. v U.S.
TRANSAMERICA CORP. v U.S.--TRANSPAC DRILLING VENTURE, 1983-14 v. U.S.
TRANSPAC DRILLING VENTURE, 1983-2 v. U.S.--TRANSWESTERN PIPELINE CO. v U.S.
TRANS-WORLD BANK; U.S. v--TRAVELERS INDEMNITY CO.; U.S. v
TRAVELERS INDEMNITY CO.; U.S. v--TRAVIS, STUART v BOROWSKI, JAMES R.
TRAVIS, STUART v BOROWSKI, JAMES R.--TREGO COUNTY COOPERATIVE ASSN.
TREGRE, PAUL L., JR.,--TRENT v THROWER
TRENT v U.S.--TRIBUNE PUBLISHING CO. v U.S.
TRICALA & WILLIE, L.C., TRUSTEE v U.S.--TRINITY CORP.
TRINITY CORP. v COMM.--TRIPLETT, JAMES v. U.S.
TRIPLETT, MARK L.--TROESCHER, LOREN C. v. U.S.
TROESCHER, LOREN C.; U.S. v.--TROTT, SEYMOUR S., EXEC.
TROTTE, CARL--TROWNSELL; U.S. v
TROXEL MFG. CO.--TRUE, H. A., JR. v COMM.
TRUE, H. A., JR. v U.S.--TRUMAN, TOM v CERTAIN-TEED PRODUCTS CORP.
TRUMAN, TOM v PROGAR, WALTER L.--TRUST CO. OF GA., EXEC. v ROSS
TRUST CO. OF GA.; ROSE v--TRZECIAK, MARC A. & MIRIAM
T.S. & M. CO. v U.S.--TUBELITE CO., INC. v U.S.
TUBOSCOPE CO.; PHINNEY v--TUCKER, ESTYRE VINOCUR, TRANSFEREE
TUCKER, ESTYRE VINOCUR, TRANSFEREE (BENEFIT OF JUDY & SHIRLEY TUCKER, MORRIS & DAVID A. VINOCUR, TRUSTEES)--TUCKER, WALTER R., III; U.S. v.
TUCKER, WILLIAM E. v U.S.--TULL, JACKLYN v. U.S.
TULL, MARGARET M., EST. OF v U.S.--TUNNINGLEY, MELVIN E.
TUNNINSEN, ELMER A.--TURECAMO, ALFRED H. & FRANCES
TUREM, JERRY S.--TURNER, A.H. & EDITH v U.S.
TURNER, ALBERT W. v COMM.--TURNER, DOUGLAS A., IN RE
TURNER, ELIZABETH H. & ALBERT B.--TURNER, JOHN R., CO-TRUSTEE v TURNER, GLENN W.
TURNER, JOHN R., CO-TRUSTEE v U.S.--TURNER SPRAYING SERVICE, IN RE
TURNER SPRAYING SERVICE v I.R.S.--TURRISH, HENRY
TURRISH; LYNCH v--TWEEDDALE, THOMAS A.
TWEEDDALE, THOMAS A.--TWIN CITY FEDERAL SVGS. & LOAN ASSN.; U.S. v
TWIN CITY SKATELAND, IN RE--TWO-L REALTY CO., INC.
TWOMBLY, HARRY F.--TYLER v TOMLINSON
TYLER v U.S.--TYSON, RICHARD R.
TYSON, ROB & SHIRLEY--TYUS, MARGARET M., IN RE

U

U S L BATTERY CORP.--UHRIG, EDWARD O. v U.S.
UHRIG, EDWARD O. v U.S.--ULLOA, RICHARD v. U.S.
ULLOA, RICHARD v. U.S.--UNDERHILL, RODMAN & CARMEN I.
UNDERHILL, WINGATE E. & MATTIE, R.--UNGER v CAMPBELL, JR.
UNGER, FREDERICK I. & JACQUELINE M.--UNION BLEACHERY, SUCCESSOR TO UNION BLEACHING & FINISHING CO.
UNION BLEACHERY v U.S.--UNION LEAGUE CLUB OF CHICAGO v U.S.
UNION LIFE INS. CO. v PERKINS--UNION PACIFIC R.R. CO.; U.S. EX REL. BLAIR v
UNION PACIFIC R.R. CO.--UNION TRUST CO. v COMM.
UNION TRUST CO. OF BUTLER v COMM.--UNITED BANK OF ARIZ.; U.S. v
UNITED BANK OF ARIZ.; U.S. v--UNITED DAIRY FARMERS INC, ET AL v. U.S.
UNITED DAIRY FARMERS, INC v. U.S.--UNITED INDUSTRIAL CORP. & SUBSIDIARY COMPANIES
UNITED INDUSTRIAL CORP. & SUBSIDIARY COMPANIES v COMM.--UNITED PACIFIC INS. CO. v LAUREL CTY.
UNITED PACIFIC INS. CO. v LAUREL CTY.--U.S. COIN & CURRENCY (ANGELINI); U.S. v
U.S. COIN & CURRENCY; U.S. v--U.S. JR. CHAMBER OF COMMERCE, THE v U.S.
U.S. LIFE INS. CO. v U.S.--U.S. STEEL CORP.; U.S. v
U.S. STEEL CORP.--U.S. TRUST CO. OF N.Y., EXEC.
U.S. TRUST CO. OF N.Y., EXEC.--UNIVERSAL CHURCH OF SCIENTIFIC TRUTH, INC. v U.S.
UNIVERSAL CITY STUDIOS, INC. v AMER. BROADCASTING COMPANIES, INC.--UNIVERSAL RACQUETBALL ROCKVILLE CENTRE CORP.
UNIVERSAL RESEARCH & DEVELOPMENT PARTNERSHIP NO. 1 (OTHER THAN TMP)--UNLIMITED FINANCING, INC.
UNO, INC.--UPHAM, JOHN D. v COMM.
UPHAM, JOHN D., PERSONAL REPRESENTATIVE--UPTON, GEORGE L.; U.S. v.
UPTON, GLEN A.; U.S. v.--URBANEK, IRENE, EST. OF v U.S.
URBANEK, JOHN J.: U.S. v--URSO, JOHN E. & JEAN E.
URSO, MITCHELL H. & AMELIA MARIA--USLANDER, RUBIN & GENEVIEVE
USLIFE TITLE INS. CO. OF DALLAS v HARBISON, PAUL R.--UTLEY, EXEC. v U.S.
UTLEY, EXEC. v U.S.--UZOEFUNE, PATRICK; U.S. v.

V

V. BROWN FLOOR, INC.; U.S. v--VAIL ASSOCIATES, INC.
VAIL, C. JORDAN & NANCY B.--VALENCIA, THARON JOE; U.S. v.
VALENCIA, THARON JOE; U.S. v.--VALLEAU, BLAKE W.; U.S. v.
VALLEAU, JOAN ; U.S. v.--VALLEY TITLE CO.
VALLEY TITLE CO. v COMM.--VAN CAMP & BENNION, P.S. v. U.S.
VAN CAMP & BENNION v. U.S.--VAN DYKE, L. J.; U.S. v
VAN DYKE, L. J. v U.S.--VAN HORNE, WAYNE; BJORN, LYLE J. v
VAN HORNE, WAYNE U.S. v--VAN ORMAN, F. HAROLD JR. v U.S.
VAN ORMAN, JR. v COMM.--VAN SUETENDAEL, ARCHILLE O. & ELIZABETH P.
VAN SUETENDAEL v COM.--VANCAMPEN, DALE V. v. U.S.
VANCANAGAN, WILLIAM K. v. U.S.--VANDER LINDEN, KENNETH E. v U.S.
VANDER LUGT, KENNETH L. v U.S.--VANERIO, DELFO
VANERIO, DELFO v I.R.S.--VARDINE; U.S. v
VARDOULAKIS, GEORGE M., ET AL.; U.S. v.--VASQUEZ, BENITO S.; U.S. v.
VASQUEZ, GILBERT--VAUGHAN, GEORGE FRANKLIN, JR., IN RE
VAUGHAN, GEORGE FRANKLIN, JR., IN RE--VAUGHN v U.S.
VAUGHN v U.S.--VEGA, RAFAEL ROBLEDO; U.S. v.
VEGA, TRINIDAD Q., ADMRX--VELVET HORN, INC.
VELVET O'DONNELL CORP. v U.S.--VENTURE COAL SALES CO. v. U.S.
VENTURE COAL SALES COMPANY v. U.S.--VERITO, FRANK, W., TRANSFEREE
VERITO, WILLIAM J., TRANSFEREE--VERMILLION COAL CO.
VERMILLION, W. R., CO., INC. v U.S.--VERRAN, NORMAN C. v I.R.S.
VERRAN, NORMAN C. v I.R.S.--VESTAL, SR., TRANSFEREE v COMM.
VESTAR, INC. v U.S.--VICKERS, ERNEST, JR. & ELIZABETH
VICKERS, INC.--VIDRA, PATRICIA M. v EGGER, ROSCOE
VIDRINE, MARTIN L., JR. & DEBBIE B.--VILES, HARVEY v COMM.
VILES, MINNIE--VINCENT, MARY ASHER; U.S. v.
VINCENT, NANCY J.--VIOLA, LANCE; U.S. v.
VIOLETTE, CHARLES H.--VA. STEVEDORING CORP. v COMM.
VIRGINIA TOURS v U.S.--VISTOSO PARTNERS, LLC; U.S. v.
VISTOSO PARTNERS, LLC; U.S. v.--VIZCAINO, DONNA, ET AL v. MICROSOFT CORP
VIZCAINO, DONNA, ET AL v. MICROSOFT CORP--VOGEL, PAUL
VOGEL, RED & R.--VOKOVAN, PAUL EDWARD
VOLCKENING , INC.--VON DER AHE, WALTER BRUNO, TRUST; T. A. VON DER AHE, TRUSTEE
VON DER AHE, WILFRED LUER, TRUST; T. A. VON DER AHE, TRUSTEE--VONSTILLE, W.T. v. U.S.
VOORHEES, RUSSELL L.--VOSS v HINDS
VOSS INDUSTRIES INC. v. U.S.--VUKASOVICH, INC.
VUKASOVICH, INC. v. COMM.--VUXTA, ANDREA J.

W

W. & B. LIQUIDATING CORP., TRUST--WACHTELL, LIPTON, ROSEN & KATZ v. COM.
WACHTER, RAYMOND J. v U.S.--WADE, STANLEY LEO, ET AL; U.S. v.
WADE, STANLEY LEO; U.S. v.--WAGENET, DAVID J. v. U.S.
WAGENKNECHT, CARL R., ET AL, v. U.S., ET AL--WAGNER, DON; WANDLER, DONALD J. v
WAGNER v DUDLEY--WAGNER, WILLIAM F.
WAGNER-TAYLOR-EDSON CO., INC.--WAITKUS; U.S. v
WAITS, DANIEL LLOYD, IN RE--WALDKIRCH, RAYMOND M., TESTAMENTARY TRUST v. U.S.
WALDMAN, BERTHA S. v U.S.--WALFORD, DONALD L. v. COM.
WALFORD, SCOTT J.; U.S. v.--WALKER, ELBRIDGE L. & DOROTHY U.
WALKER, ERIC--WALKER, L. A., III & LINDA J.
WALKER, L. B. & MILDRED O.--WALKER, THOMAS C. & JANICE G.
WALKER, THOMAS F. v MURRAY--WALL INDUSTRIES, INC. v U.S.
WALL, JOHN E.--WALLACE, KENNETH E. & BRONICE
WALLACE, KENNETH E. v COMM.--WALLACE, WILLIAM R. v. U.S.
WALLACH, ELI v U.S.--WALLIS, DONALD W. & KATHRYN W.
WALLIS, FRANK B., EXEC.--WALSH, EDWARD A. & VIRGINIA N.
WALSH, EDWARD M., TRUSTEE v CEDOR, MICHAEL W.--WALSH, WILLIAM J. & LOIS M.
WALSH, WILLIAM J. & LOIS M.--WALTER, H. CALVIN v COMM.
WALTER, HORACE R. v. U.S.--WALTHER, JOSEPH E. & MARY MARGARET
WALTHER, JUDITH--WANAMAKER PHILADELPHIA v COM.
WANAMAKER PHILADELPHIA v COM.--WAPNICK, RUTH, ET AL v. U.S.
WAPNICK, RUTH, ET AL v. U.S.--WARD, GERALD D. & JOAN
WARD, GERALD D. & JOAN--WARD, ROBERT C. v. I.R.S.
WARD, ROBERT E. & DARLENE K.--WARDLAW, C. W., EST. OF v U.S.
WARDLAW; U.S. v--WARFIELD-PRATT-HOWELL CO.
WARFSMAN, RICHARD N. & ANGELA L.--WARNER v FITZPATRICK
WARNER, FRANK A. v U.S.--WARNING, DAVID P. v. U.S.
WARNKE, MICHAEL A., REVEREND v. U.S.--WARREN JONES CO. v COM.
WARREN, JR., ADM. v COMM.--WARWICK, R.I., CITY OF; U.S. v
WARWICK v U.S.--WASHER, EXEC.; COMM. v
WASHINGTON, ALEX D., ET AL; U.S. v.--WASHINGTON PACKAGE STORE, INC.
WASHINGTON PARK CEMETERY ASSN., INC.--WASNOK, STEPHEN P. & MARY ALICE
WASOWSKI, WALTER J.--WATERMAN, KAREL
WATERMAN, KAREL--WATERS; U.S. v
WATERS, WILLIAM ROGER, CO-EXEC.--WATKINS, VIRGIL C., JR.
WATKINS, VIVIAN N.--WATSON, DORA COBB, IN RE
WATSON, DORA COBB v I.R.S.--WATSON LAND CO. v COMM.
WATSON, LAURA, CO-EXEC.--WATSON v U.S.
WATSON v U.S.--WATTS v U.S.
WATTS, WILLIE v. U.S.--WAYNE INDUSTRIES, INC.; WILSON v
WAYNE MFG. CO. v U.S.--WEATHERFORD v U.S.
WEATHERFORD v U.S.--WEAVER POPCORN CO., INC.
WEAVER POTATO CHIP CO., INC., IN RE--WEBB, JERRY D.
WEBB, JERRY D.--WEBBER v COM.
WEBBER, DOUGLAS G.--WEBER, LEONA v EVERSBERG, HELEN M.
WEBER, LEONA v GARZA, RUDY--WEBSTER, JR. v GIDEON, EXEC.
WEBSTER, JR. v MALONEY--WEED; COMM. v
WEED, ELEANOR M., EST. OF--WEGGE, JOHN HARRISON v MEYER, TED
WEGGE, JOHN HARRISON v U.S.--WEIDMANN, RAYMOND C. v DEPT. OF TREAS.
WEIDNER, JOHN M., IN RE--WEIL v COMM.
WEIL v COMM.--WEIN, SIDNEY, EXEC. v COMM.
WEINBAUM, EST. OF, IN RE--WEINGARDEN, EARL v COMM.
WEINGARDEN, EARL & SHIRLEY--WEINSTOCK, HELEN & RALPH
WEINSTOCK JOSEPH & SHIRLEY--WEISBART, EMANUEL v. U.S.
WEISBART, EMANUEL v. U.S. DEPT. OF TAXATION--WEISKOPF, ANN K. v COMM.
WEISKOPF, ANNE E., EXECX. v COMM.--WEISS, HAROLD; U.S. v
WEISS, HERBERT--WEISSMAN, DAVID H. & ANNE
WEISSMAN, DAVID J. & ANNE M.--WELCH, HARRY C. & JILL
WELCH; HASSETT v--WELD, EDWARD W. v. U.S.
WELD v NICHOLS--WELLONS, HARRY A., JR., M.D., S.C.
WELLONS, HARRY A., JR., M.D., S.C. v. COM.--WELLS FARGO BK.; VAN DEN BERG, JOAN M. v
WELLS FARGO & CO AND SUBSIDIARIES v. COM.--WELLS, ROBERT L.
WELLS, RONALD DEAN; U.S. v.--WELSH HOMES, INC.
WELSH, JAMES A., IN RE--WENDELL, ELFREDA E., TRANSFEREE
WENDELL , GEORGE B.--WENINGER, ROMAN G. v HULL, ALAN T.
WENINGER, ROMAN G. v LAMM, RICHARD--WERNENTIN v U.S.
WERNER; ALLEN v--WESLEY, JOSEPH, IN RE
WESLEY, MARY; U.S. v.--WEST, CHARLES R. & BEULAH
WEST CHESTER FEED & SUPPLY CO., INC. v COMM.--WEST JEFFERSON JAYCEES; U.S. v
WEST, JOE H. & LESSIE M.--WEST SIDE FED. SAVINGS & LOAN ASSN. OF FAIRVIEW PARK v U.S.
WEST SIDE TENNIS CLUB--WEST, WILLIAM G. v. U.S.
WEST, WILLIAM N. & POLLY A.--WESTERMAN, RICHARD L. & PHYLLIS M.
WESTERMAN, ROBERT ROWAN--WESTERN LANES, INC.
WESTERN LIBERTY TRUST, IN RE--WESTERN PACIFIC R.R. CORP. v WESTERN PACIFIC R.R. CO.
WESTERN PACIFIC R.R. CORP. v WESTERN PACIFIC R.R. CO.--WESTERN WHOLESALE DRUG CO. v U.S.
WESTERN WINE & LIQUOR CO.; COM. v--WESTON, SHANN CATHRO
WESTORY CORPORATION v U.S.--WETTEROFF, IN RE
WETTEROFF, IN RE v GRAND, TRUSTEE--WEYL v COMM.
WEYLAND, RICHARD v. BIRKHOLZ, PETER--WHATLEY, REGINALD F. v COMM.
WHATLEY, RICHARD ROBERT; U.S. v.--WHEELER, E.M. v. I.R.S.
WHEELER, EUGENE M.--WHEELER; U.S. v
WHEELER; U.S. v--WHELPLEY v KNOX
WHELPLEY, WILLIAM JR.--WHITAKER, LUCIAN C., II & ELIZABETH O.
WHITAKER, MATT F.; U.S. v--WHITE, CARL HICKS, TRUST U/W OF,
WHITE , CARL L.--WHITE, EDITH G.
WHITE, EDWARD H., III, INDEPENDENT CO-EXEC.--WHITE, JAMES M., EXEC.; U.S. v
WHITE, JAMES R.--WHITE, LETITIA H.
WHITE, LETITIA H., ADMX.--WHITE, ROBERT I.; U.S. v
WHITE, ROBERT I.; U.S. v--WHITE; U.S. v
WHITE; U.S. v--WHITEHEAD, ELEANOR E.
WHITEHEAD, ELNOR; U.S. v.--WHITEMAN, MARVIN E., EST OF v. U.S.
WHITEMAN, MARVIN E., EST. OF v U.S.--WHITLEY, ELSIE; U.S. v
WHITLEY, JOHN LEE; KAISER, RICHARD D. v--WHITMIRE, ROBERT L.
WHITMIRE, ROBERT L. v. COM.--WHITT, AUDRY, J., EST. OF
WHITT, ELBERT B., EST. OF--WHITTINGTON, H.G. ET AL. v. U.S.
WHITTINGTON, H.G. ET AL. v. U.S.--WICKER, CARL E., JR.; GREGORY, JOHNNY R., JR. v
WICKER, CARL E., JR.; I.R.S. v--WIDMAN, LEONARD; U.S. v.
WIDMER, LEROY & BONITA J.--WIENER, EST. OF v U.S.
WIENER; FERNANDEZ v--WIGET v BECKER
WIGFALL, DORRIS EDWARD & MABLE LENE--WIKSELL, DAVID L. & CARPENDER, MARGARET ANN
WIKSELL, DAVID L. v. COM.--WILCOX, LAIRD & MAUD
WILCOX , LUCIAN T.--WILDES, VIRGINIA H., CO-EXECX.
WILDMAN, EVELYN LANDSDALE, EST. OF--WILHELM, JOYCE P., IN RE
WILHELM, KARL K. & SHIRLEY R.--WILKINS, ELZA H. & DORIS J.
WILKINS, EST. OF v U.S.--WILKOF, ERVIN & MARIE
WILKOF, ERVIN & MARIE v COMM.--WILLDEN, NORMAN D.; U.S. v
WILLENBERG, MICHAEL J. v. RAMOS, JOSEPHINE--WILLGING, INDIV. & EXECX. v U.S.
WILLGING, INDIV. & EXECX. v U.S.--WILLIAMS, BEN, SR. v. COM.
WILLIAMS, BEN, SR. v. COM.--WILLIAMS, CLAUDE M., MRS. v U.S.
WILLIAMS, CLYDE v. IRS, ET AL.--WILLIAMS, ELMER & MARGARET v U.S.
WILLIAMS, ERNEST C. v U.S.--WILLIAMS INVESTMENT CO. v U.S.
WILLIAMS v I.R.S.--WILLIAMS, JIMMY LEE; U.S.
WILLIAMS, JOHN A.; U.S. v.--WILLIAMS, LLOYD E., JR. v COMM.
WILLIAMS, LLOYD E., JR. & MILDRED A.--WILLIAMS, PATRICIA v. COM.
WILLIAMS, PATRICIA, EST. OF, THE--WILLIAMS, S. PRESTON
WILLIAMS, SHAHEER v. U.S.--WILLIAMS v U.S.
WILLIAMS v U.S.--WILLIAMSON v COYLE, JR.
WILLIAMSON, DAN H., JR. v U.S.--WILLIAMSON v U.S.
WILLIAMSON v U.S.--WILLIS, DONALD R.
WILLIS, ELMER D. & PEARL--WILLMUT GAS & OIL CO. v FLY
WILLMUT GAS & OIL CO. v FLY, HENRY, ADM. (EST. OF EUGENE FLY)--WILMINGTON PARTNERS L.P., ET AL
WILMINGTON TR CO., EXEC. v U.S.--WILSON, AGNES E.
WILSON, ALAN VERNON, JR., IN RE--WILSON; COMM v
WILSON v COMM.--WILSON FURNITURE CO.
WILSON FURS, INC.--WILSON, JAMES B.
WILSON, JAMES & BETTY J.--WILSON, MARIE C., EXECX.
WILSON, MARJORIE E.--WILSON, ROBERT L. & EVELYN M.
WILSON, ROBERT M. v. U.S.--WILSON v U.S.
WILSON, U.S. v--WIMBERLY, B. FOSTER & MARION
WIMBISH, JR. v U.S.--WINDFELDER, DONALD HERBERT; U.S. v
WINDFELDER, DONALD HERBERT; U.S. v--WINFED DISTRIBUTING CO.
WINFIELD v COMM.--WINKLER, ELMER L., CO-EXEC. v U.S.
WINKLER, EMERSON, EST OF--WINOGRAD, MORRIS & IDA v COMM.
WINOKUR v A'HEARN--WINTER & HIRSCH, INC. v U.S.
WINTER HOLDING CORP.--WINTERS, SIDNEY v BOROWSKI, JAMES R.
WINTERS, SIDNEY v BOROWSKI, JAMES R.--WIRTZ, PHILLIP M. v U.S.
WIRTZ, ROSELLA S., EST. OF--WIS. VALLEY TRUST CO., CO-EXECX.
WIS. VALLEY TR. CO.; U.S. v--WISEMAN, RAY D. & JOY
WISEMAN, SHIRLEY MCVAY--WITHERS, LAVAR M. & MARLENE
WITHERSPOON, EVELYN GLADNEY, TRANSFEREE--WITTLIEF, LAURENCE A. v U.S.
WITTMAN, JOSEPH, EST. OF--WOFFORD, GEORGE WILLIAM v. U.S.
WOFFORD, G.T.--WOLDER, VICTOR R., EXEC. v COMM.
WOLDER, VICTOR R. & MARJORIE--WOLF, KATE, ADMX.
WOLF, LAWRENCE v. U.S.--WOLFE, HAROLD E. & ADA M.
WOLFE, JAMES J.--WOLFSEN LAND & CATTLE CO.
WOLFSEN v SMYTH--WOLRICH; U.S. v
WOLSHIN, STEVE v. BONILLA, JEANNETTE,--WONG, NORMAN S. & LANA
WONG, PEGGY FONG--WOOD, EDITH R.
WOOD, EDWARD H & ADELE B.; U.S. v--WOOD, LEONARD A., EST. OF
WOOD, LEONARD A., EST. OF v COMM.--WOOD; U.S. v
WOOD v U.S.--WOODARD, SHERRY S.; U.S. v
WOODARD, SHERRY W.; U.S. v--WOODHAM v COMM.
WOODHAM, WOODROW W., EST. OF--WOODRUM, JEFFREY L.; U.S. v.
WOODS, A. H., THEATRE CO.--WOODS, SARA S.; U.S. v
WOODS, STEPHANIE S.; U.S. v.--WOODWARD, EMMETT E. v. U.S.
WOODWARD, F. R. & M. JEANNE--WOOL DISTRIBUTING CORP.
WOOLARD, LELAND W.--WOOTEN, ELLA LOUISE
WOOTEN, ELLA LOUISE--WORKMAN, LESTER J.
WORKMAN, LESTER J.--WORLEY, DONALD J. & MARY A.
WORLEY, GLENN A., IN RE--WORTHINGTON, JACK L.
WORTHINGTON, JACK L.--WRAY-DICKINSON CO., INC.
W-R-B CONSTRUCTION CO.--WRIGHT EQUIPMENT CO. v SCOTT, J. BRUCE
WRIGHT EQUIPMENT CO. v U.S.--WRIGHT, JOHN T & SUSAN L.
WRIGHT, JUANITA v. ROSSOTTI, CHARLES O.--WRIGHT & REEVES v MID-CAPE FILLET CORP.
WRIGHT & REEVES v U.S. (I.R.S.)--WRIGHT-BERNET, INC. v COM.
WRIGHTSMAN, C. J.--WURLITZER v HELVERING
WURLITZER, RUDOLPH, CO.--WYLY, CHARLES J., SR., EST. OF
WYLY, CHARLES J., SR., EST. OF v COM.--WYNNE, J. A., CO., INC. v TENNECO OIL CO.
WYNNE, J. A., CO., INC. v U.S.--WYTTENBACH, WILLIAM H. v. COM.

X

X v CONFEDERATION (SWISS) TAX ADMINISTRATION--XUNCAX, EFRAIN J. & JOSEFINA

Y

YABLUN, BARBARA H. v ACKERMAN, DAVID C.--YAMASAKI, JOHN K.
YAMASHITA, DORA; U.S., ET AL--YARDAS, CINDYLOU A. (WILSON) v U.S.
YARDAS, CINDYLOU A. (WILSON) v WILSON, PAUL L.--YAWKEY , CYRUS C., EST . OF
YAWMAN, VICTOR F., EST. OF v U.S.--YELLOW CAB CO. v COMM.
YELLOW CAB CO. OF ALAMEDA COUNTY v U.S.--YOAK, LEORA A., TRUSTEE v COMM.
YOAK, ROBERT W., v COMM.--YORK ELECTRIC CONSTRUCTION CO.; U.S. v
YORK, J. W. & MARY P.--YOUNG & CO.; WEINARD v
YOUNG v COM.--YOUNG, JERRY L. v I.R.S.
YOUNG, JERRY L. v WELLS, ANITA--YOUNG, QUEN W. & SUZANNE O.
YOUNG, R. & G. VINEYARDS, INC. v COMM.--YOUNG, VIRGINIA R., EST. OF
YOUNG, WALLACE C. v U.S.--YOURMAN v U.S.
YOUSKITES, EDWARD; U.S. v.--Y.Y. CORP. v U.S. (I.R.S.)

Z

ZAAL, IVAN ANDRE--ZACK, THOMAS F.; U.S. v
ZACK, WILLIAM D.--ZAJAC, JOSEPH J., III v. U.S.
ZAJAC, JOSEPH J., III v. U.S.--ZANE, WILLIAM; U.S. v.
ZANESVILLE INVESTMENT CO., THE v COMM.--ZARZECKI, CHARLES M.; U.S. v
ZASTROW, CURTIS F.--ZEHMAN, SIDNEY & IRENE (HUSBAND & WIFE), ¶
ZEHNDER, MARY E., IN RE--ZEMCO CORP. v U.S.
ZEMEL, REUBEN & AIDA--ZEROPACK CO., THE
ZERVIGON, ALDO & ROSALINA--ZIER, HERMAN; U.S. v
ZIER, ROBERT v. U.S.--ZIMMERMAN, DONALD v. U.S.
ZIMMERMAN, DONALD v. U.S.--ZIMMERMAN v U.S.
ZIMMERMANN v COMM.--ZIONS FIRST NAT. BANK, EXEC.
ZIONS FIRST NAT. BANK, EXEC. v COMM.--ZNIDER, JOHN F. v U.S.
ZOBEL, ERNST EST. OF--ZORNIGER, FRANK E.
ZORNIGER, MARY A.--ZULUAGA, CARLOS v U.S.
ZUMMO, ANTHONY; U.S. v--ZYLSTRA, GERALD G. v U.S.

A & C Circulars [Obsolete]

ACCIR 2315, 1951-2 CB 196--ACCIR 1798, 1945 CB 327

Actions on Decisions

AOD 2012-006, 2013 USTR ¶86,100--AOD 2001-005, 2001 USTR ¶86,380
AOD 2001-004, 2001 USTR ¶86,379--AOD 1996-016
AOD 1996-015--AOD 1992-010
AOD 1992-009--AOD 1990-016
AOD 1990-015--AOD 1975-244

Announcements

ANN, 1991 Fed 2nd ¶86,234--ANN 2012-37, 2012 USTR ¶86,392
ANN 2012-36, 2012 USTR ¶86,403--ANN 2011-68, 2011 USTR ¶86,477
ANN 2011-67, 2011 USTR ¶86,476--ANN 2011-17, 2011 USTR ¶86,098
ANN 2011-16, 2011 USTR ¶86,063--ANN 2010-61, 2010 USTR ¶86,366
ANN 2010-60, 2010 USTR ¶86,365--ANN 2010-11, 2010 USTR ¶86,099
ANN 2010-10, 2010 USTR ¶86,076--ANN 2009-53, 2009 USTR ¶86,257
ANN 2009-52, 2009 USTR ¶86,256--ANN 2009-3, 2009 USTR ¶86,062
ANN 2009-2, 2009 USTR ¶86,057--ANN 2008-80, 2008 USTR ¶86,458
ANN 2008-79, 2008 USTR ¶86,443--ANN 2008-29, 2008 USTR ¶86,217
ANN 2008-28, 2008 USTR ¶86,209--ANN 2007-94, 2007 USTR ¶86,573
ANN 2007-93, 2007 USTR ¶86,572--ANN 2007-44, 2007-1 CB 1238
ANN 2007-43, 2007-1 CB 1038--ANN 2006-99, 2006-2 CB 1139
ANN 2006-98, 2006-2 CB 1139--ANN 2006-49, 2006-2 CB 89
ANN 2006-48, 2006-2 CB 135--ANN 2005-88, 2005-2 CB 1145
ANN 2005-87, 2005-2 CB 1144--ANN 2005-38, 2005-1 CB 1097
ANN 2005-37, 2005-1 CB 1096--ANN 2004-91, 2004-2 CB 835
ANN 2004-90, 2004-2 CB 835--ANN 2004-39, 2004-1 CB 840
ANN 2004-38, 2004-1 CB 878--ANN 2003-81, 2003-2 CB 1220
ANN 2003-80, 2003-2 CB 1220--ANN 2003-28, 2003-1 CB 899
ANN 2003-27, 2003-1 CB 862--ANN 2002-93, 2002-2 CB 709
ANN 2002-92, 2002-2 CB 709--ANN 2002-43, 2002-1 CB 793
ANN 2002-42, 2002-1 CB 739--ANN 2001-117, 2001-2 CB 567
ANN 2001-116, 2001-2 CB 539--ANN 2001-67, 2001-1 CB 1356
ANN 2001-66, 2001-1 CB 1345--ANN 2001-17, 2001-1 CB 716
ANN 2001-16, 2001-1 CB 715--ANN 2000-69, 2000-2 CB 183
ANN 2000-68, 2000-2 CB 161--ANN 2000-19, 2000-1 CB 973
ANN 2000-18, 2000-1 CB 846--ANN 99-85, 1999-2 CB 248
ANN 99-84, 1999-2 CB 248--ANN 99-35, 1999-1 CB 887
ANN 99-34, 1999-1 CB 906--ANN 98-99, 1998-2 CB 650
ANN 98-98, 1998-2 CB 577--ANN 98-49, 1998-1 CB 1209
ANN 98-48, 1998-1 CB 1225--ANN 97-123, 1997 USTR ¶86,487
ANN 97-122, 1997 USTR ¶86,460--ANN 97-75, 1997 USTR ¶86,296
ANN 97-74, 1997 USTR ¶86,310--ANN 97-25, 1997 USTR ¶101,357
ANN 97-24, 1997 USTR ¶86,095--ANN 96-110, 1996 USTR ¶86,407
ANN 96-109, 1996 USTR ¶86,406--ANN 96-60, 1996 USTR ¶86,256
ANN 96-59, 1996 USTR ¶86,252--ANN 96-10, 1996 USTR ¶86,080
ANN 96-9, 1996 USTR ¶101,334--ANN 95-67, 1995 USTR ¶86,322
ANN 95-66, 1995 USTR ¶86,307--ANN 95-17, 1995 USTR ¶86,092
ANN 95-14, 1995 USTR ¶86,068--ANN 94-108, 1994 USTR ¶86,381
ANN 94-107, 1994 USTR ¶86,380--ANN 94-52, 1994 USTR ¶86,195
ANN 94-51, 1994 USTR ¶101,246--ANN 94-1, 1994 USTR ¶86,011
ANN 93-150, 1994 USTR ¶86,019--ANN 93-98, 1993 USTR ¶86,253
ANN 93-97, 1993 USTR ¶86,252--ANN 93-40, 1993 USTR ¶86,121
ANN 93-39, 1993 USTR ¶86,115--ANN 92-149, 1992 USTR ¶86,470
ANN 92-148--ANN 92-77, 1992 Fed 2nd ¶86,239
ANN 92-74, 1992 Fed 2nd ¶86,238--ANN 92-10
ANN 92-9, 1992 Fed 2nd ¶86,057--ANN 91-116, 1991 Fed 2nd ¶86,284
ANN 91-112, 1991 Fed 2nd ¶86,283--ANN 91-30, 1991 Fed 2nd ¶86,107
ANN 91-28, 1991 Fed 2nd ¶86,098--ANN 90-110, 1990 PH ¶86,355
ANN 90-109, 1990 PH ¶86,354--ANN 90-44, 1990 PH ¶86,143
ANN 90-43, 1990 PH ¶86,142--ANN 89-151, 1989 PH ¶55,175
ANN 89-150, 1989 PH ¶55,183--ANN 89-92, 1989 PH ¶54,998
ANN 89-91, 1989 PH ¶54,997--ANN 89-38, 1989 PH ¶54,785
ANN 89-37, 1989 PH ¶54,784--ANN 88-124, 1988 PH ¶55,226
ANN 88-123, 1988 PH ¶55,219--ANN 88-70, 1988 PH ¶54,944
ANN 88-69, 1988 PH ¶54,938--ANN 86-60, 1986 PH ¶55,052
ANN 86-43, 1986 PH ¶55,003--ANN 59-52, 1959 PH ¶54,695

ARM [Obsolete]

ARM 220, 1 CB 78--ARM 89, 3 CB 361
ARM 88, 3 CB 271--ARM 1, 1 CB 66

ARR [Obsolete]

ARR, 4 CB 172--ARR 4899, 1 CB 56
ARR 4884, 1 CB 385--ARR 2766, 2 CB 259
ARR 2698, 2 CB 76--ARR 968, 1 CB 348
ARR 965, 2 CB 116--ARR 652, 5 CB 9
ARR 651, 5 CB 274--ARR 467, 4 CB 403
ARR 464, 4 CB 17--ARR 321, 3 CB 126
ARR 315, 3 CB 341--ARR 110, 2 CB 303
ARR 104, 2 CB 301--ARR 6, 1 CB 30

AT [Obsolete]

AT 2, 1938-2 CB 487--AT 1, 1937-2 CB 545

ATBM [Obsolete]

ATBM 86, 1 CB 106--ATBM 2, 1 CB 181

Bureau Customs Cir. Letters [Obsolete]

BCCL 2861, 1969-1 CB 357--BCCL 2861, 1969-1 CB 357

CAT [Obsolete]

CAT 19, 1939-2 CB 294--CAT 1, 1938-1 CB 479

Chief Counsel Announcements [Obsolete]

CCA 1969-1, 1969-2 CB 19--CCA 1969-1, 1969-2 CB 19

Commissioner's Delegation Orders

CDELORD 6 (Rev), 1957-2 CB 1088--CDELORD 1, 1955-2 CB 893

Commissioner's Reorganization Orders [Obsolete]

CRO NYC-1, 1952 PH TC ¶76,302--CRO 3, 1952 PH TC ¶76,269

CRTD

CRTD 2063, 1998-36 IRB 13--CRTD 2006, 1981-1 CB 373
CRTD 2005, 1981-1 CB 324--CRTD 1956, 1973-1 CB 325
CRTD 1955, 1973-1 CB 609--CRTD 1903, 1965-2 CB 220
CRTD 1902, 1965-2 CB 446--CRTD 1852, 1960-2 CB 474
CRTD 1851, 1960-2 CB 33--CRTD 1794, 1956-1 CB 639
CRTD 1793, 1956-1 CB 609--CRTD 40, 1 CB 308

CST [Obsolete]

CST 13, 1945 CB 430--CST 1, 2 CB 315

Delegation Orders

CDO, 1974 PH ¶55,612--CDO 93 (Rev 7), 1980-1 CB 573
CDO 93 (Rev 6), 1979-1 CB 476--CDO 77 (Rev 21)
CDO 77 (Rev 2), 1968-1 CB 740--CDO 66 (Rev 8), 1978-2 CB 473
CDO 66 (Rev 7), 1978-2 CB 472--CDO 5 (Rev 7), 1974-2 CB 463
CDO 5 (Rev 6), 1971-2 CB 524--CDO 4 (Rev 4)
CDO 4 (Rev 3), 1975-2 CB 537--CDO 236 (Rev 2), 1996-1 CB 355
CDO 236 (Rev 1), 1994-1 CB 326--CDO 183 (Rev 4), 1992-2 CB 358
CDO 183 (Rev 3)--CDO 156 (Rev 7), 1986 PH ¶55,099
CDO 156 (Rev 6), 1985-2 CB 399--CDO 139 (Rev 4), 1978-2 CB 483
CDO 139 (Rev 3), 1978-1 CB 518--CDO 113 (Rev 6), 1978-2 CB 482
CDO 113 (Rev 5), 1978-2 CB 481--CDO 109 (Rev 3), 1978-2 CB 479
CDO 109 (Rev 2), 1971-1 CB 657--CDO 182, 1979-2 CB 494
CDO 181, 1979-2 CB 494--CDO 111, 1969 PH TC ¶55,445
CDO 109, 1969-1 CB 380--CDO 25-17, 2012 USTR ¶86,338
CDO 25-07, 2008 USTR ¶86,374--CDO (Rev 5)

DOL Releases [Obsolete]

DLR, 1959 PH TC ¶54,824--DLR, 1956 PH TC ¶76,702

EMT [Obsolete]

EMT 449, 1951-1 CB 1366--EMT 419, 1941-2 CB 223

EPC [Obsolete]

EPC 45, 1950-2 CB 68--EPC 2, 1946-2 CB 110

ET [Obsolete]

ET 23, 1950-1 CB 133--ET 1, 2 CB 320

Executive Orders

EO 13239, 2001 USTR ¶86,603--EO 11461, 1969-1 CB 301
EO 11457, 1969-1 CB 301--EO 10966, 1961-2 CB 228
EO 10962, 1961-2 CB 229--EO 10161, 1953 PH TC ¶11,761-A, ¶14,285
EO 10137--EO 6166, 1954 PH TC ¶18,650

General Counsel Memorandums

GCM 95-2, 1995 USTR ¶86,165--GCM 38962
GCM 38955--GCM 30742
GCM 27491, 1952-2 CB 221--GCM 24810, 1946-1 CB 55
GCM 24749, 1945 CB 237--GCM 23164, 1942-1 CB 168
GCM 23162, 1942-1 CB 106--GCM 22116, 1940-2 CB 100
GCM 22113, 1940-1 CB 123--GCM 20965, 1939-1 CB 194
GCM 20960, 1939-2 CB 175--GCM 18972, 1937-2 CB 231
GCM 18929, 1937-2 CB 91--GCM 17025, 2 CB 155
GCM 17014, 2 CB 317--GCM 15215, 2 CB 162
GCM 15101, 2 CB 65--GCM 13620, 2 CB 179
GCM 13602, 2 CB 62--GCM 12207, 2 CB 83
GCM 12206, 2 CB 395--GCM 11519, 1 CB 449
GCM 11503, 1 CB 181--GCM 10431, 1 CB 37
GCM 10423, 2 CB 127--GCM 9466, 1 CB 133
GCM 9461, 1 CB 120--GCM 8426, 2 CB 92
GCM 8375, 2 CB 157--GCM 7408, 1 CB 108
GCM 7407, 1 CB 90--GCM 6273, 1 CB 168
GCM 6272, 1 CB 170--GCM 5169, 2 CB 74
GCM 5148, 2 CB 60--GCM 4196, 2 CB 241
GCM 4120, 2 CB 108--GCM 2861, 1 CB 255
GCM 2856, 1 CB 128--GCM 2020, 2 CB 137
GCM 2019, 2 CB 128--GCM 1342, 1 CB 177
GCM 1310, 1 CB 101--GCM 681, 2 CB 228
GCM 674, 2 CB 237--GCM 1, 2 CB 91

ICC Rulings [Obsolete]

ICCR, 1959 PH TC ¶54,802--ICCR, 1959 PH TC ¶54,802

Industry Circulars [Obsolete]
Information Releases

2013

IR 2013-59--IR 2013-10
IR 2013-9--IR 2013-1

2012

IR 2012-105--IR 2012-56
IR 2012-55--IR 2012-6
IR 2012-5--IR 2012-1

2011

IR 2011-126--IR 2011-78
IR 2011-77--IR 2011-27
IR 2011-26--IR 2011-1

2010

IR 2010-129--IR 2010-79
IR 2010-78--IR 2010-29
IR 2010-28--IR 2010-1

2009

IR 2009-122--IR 2009-73, 2009 USTR ¶86,306, 2009 USTR (E&G) ¶144,562, 2009 USTR (Excise) ¶101,586
IR 2009-72, 2009 USTR ¶86,305--IR 2009-23, 2009 USTR ¶86,097
IR 2009-22, 2009 USTR ¶86,096--IR 2009-1, 2009 USTR ¶86,004

2008

IR 2008-144, 2008 USTR ¶86,632--IR 2008-94, 2008 USTR ¶86,405, 2008 USTR (Excise) ¶101,573
IR 2008-93, 2008 USTR ¶86,404--IR 2008-44, 2008 USTR ¶86,178
IR 2008-43, 2008 USTR ¶86,162--IR 2008-1, 2008 USTR ¶86,002

2007

IR 2007-213, 2007 USTR ¶86,702, 2008 USTR ¶86,028--IR 2007-164, 2007 USTR ¶86,555
IR 2007-163, 2007 USTR ¶86,554--IR 2007-114, 2007 USTR ¶86,342, 2007 USTR (Excise) ¶101,555
IR 2007-113, 2007 USTR ¶86,341--IR 2007-64, 2007 USTR ¶86,178
IR 2007-63, 2007 USTR ¶86,177--IR 2007-15, 2007 USTR ¶86,059
IR 2007-14, 2007 USTR ¶86,058--IR 2007-1, 2007 USTR ¶86,004

2006

IR 2006-196, 2006 USTR ¶86,658--IR 2006-146, 2006 USTR ¶86,474
IR 2006-145, 2006 USTR ¶86,472--IR 2006-96, 2006 USTR ¶86,314
IR 2006-95, 2006 USTR ¶86,305--IR 2006-46, 2006 USTR ¶86,148
IR 2006-45, 2006 USTR ¶86,147--IR 2006-1, 2006 USTR ¶86,001

2005

IR 2005-165, 2006 USTR ¶86,544--IR 2005-101, 2005 USTR ¶86,410
IR 2005-100, 2005 USTR ¶86,409--IR 2005-51, 2005 USTR ¶86,202
IR 2005-50, 2005 USTR ¶86,201--IR 2005-1, 2004 USTR ¶86,634

2004

IR 2004-156, 2004 USTR ¶86,622--IR 2004-107, 2004 USTR ¶86,421
IR 2004-106, 2004 USTR ¶86,420--IR 2004-57, 2004 USTR ¶86,209
IR 2004-56, 2004 USTR ¶86,198--IR 2004-7, 2004 USTR ¶86,008
IR 2004-6, 2004 USTR ¶86,007--IR 2004-1, 2003 USTR ¶86,649

2003

IR 2003-148, 2003 USTR ¶86,648--IR 2003-99, 2003 USTR ¶86,435
IR 2003-98, 2003 USTR ¶86,427--IR 2003-49, 2003 USTR ¶86,175
IR 2003-48, 2003 USTR ¶86,174--IR 2003-1, 2003 USTR ¶86,001

2002

IR 2002-142, 2002 USTR ¶86,607--IR 2002-93, 2002 USTR ¶86,383
IR 2002-92, 2002 USTR ¶86,382--IR 2002-43, 2002 USTR ¶86,159
IR 2002-42, 2002 USTR ¶86,157--IR 2002-1, 2001 USTR ¶86,592

2001

IR 2001-121, 2002 USTR ¶86,580--IR 2001-72, 2001 USTR ¶86,377
IR 2001-71, 2001 USTR ¶86,376--IR 2001-22, 2001 USTR ¶86,115
IR 2001-21, 2001 USTR ¶86,114--IR 2001-1, 2001 USTR ¶86,020

2000

IR 2000-90, 2001 USTR ¶86,003--IR 2000-40, 2000 USTR ¶86,261
IR 2000-39, 2000 USTR ¶86,253, 2000 USTR (E&G) ¶144,376, 2000 USTR (Excise) ¶101,419--IR 2000-1, 2000 USTR ¶86,027

1999

IR 1999-105, 2000 USTR ¶86,018--IR 1999-56, 1999 USTR ¶86,276
IR 1999-55, 1999 USTR ¶86,267--IR 1999-5, 1999 USTR ¶86,035
IR 1999-4, 1999 USTR ¶86,034--IR 1999-1, 1999 USTR ¶86,027

1998

IR 98-76, 1999 USTR ¶86,019--IR 98-10, 1998 USTR ¶86,102
IR 98-8, 1998 USTR ¶86,095--IR 98-1, 1998 USTR (Excise) ¶101,375

1997
1996
1995
1994
1993

IR 93-125, 1994 USTR ¶86,031--IR 93-17, 1993 USTR ¶86,082
IR 93-3, 1993 USTR ¶86,064--IR 93-2, 1993 USTR ¶86,060

1992
1991
1990
1989
1988

IR 88-169, 1988 PH ¶55,321--IR 88-79, 1988 PH ¶54,962
IR 88-78, 1988 PH ¶54,963--IR 88-1, 1988 PH ¶54,756

1987

IR 87-186, 1988 PH ¶54,745--IR 87-78, 1987 PH ¶54,894
IR 87-77, 1987 PH ¶54,892--IR 87-3, 1987 PH ¶196,186

1986

IR 86-183, 1986 PH ¶55,308--IR 86-53, 1986 PH ¶55,049
IR 86-52, 1986 PH ¶55,032--IR 86-2, 1986 PH ¶54,858

1985

IR 85-177, 1986 PH ¶54,821--IR 85-54, 1985 PH ¶54,951
IR 85-53, 1985 PH ¶54,939--IR 85-1, 1985 PH ¶54,658

1984

IR 84-134, 1985 PH ¶54,653--IR 84-77, 1984 PH ¶55,170
IR 84-76, 1984 PH ¶55,169--IR 84-1, 1984 PH ¶54,837

1983

IR 83-162, 1984 PH ¶54,832--IR 83-72, 1983 PH ¶54,980
IR 83-71, 1983 PH ¶54,979--IR 83-1, 1983 PH ¶196,407

1982

IR 82-177, 1982 PH ¶55,341--IR 82-45, 1982 PH ¶54,940
IR 82-44, 1982 PH ¶54,939--IR 82-1, 1982 PH ¶54,731

1981

IR 81-216, 1981 PH ¶55,449--IR 81-56, 1981 PH ¶55,286
IR 81-52, 1981 PH ¶55,258, ¶55,259--IR 81-1, 1981 PH ¶54,960

1980

IR 80-134, 1981 PH ¶54,949--IR 80-23, 1980 PH ¶54,910
IR 80-21, 1980 PH ¶55,515--IR 2187, 1980 PH ¶54,718

1979

IR 2180, 1979 PH ¶55,805--IR 2104, 1979 PH ¶55,182
IR 2103, 1979 PH ¶55,181--IR 1261, 1979 PH ¶55,635

1978

IR 2063, 1978 PH ¶55,662--IR 1999, 1978 PH ¶55,168, ¶55,170
IR 1997, 1978 PH ¶55,167--IR 1934, 1978 PH ¶54,822
IR 1930, 1978 PH ¶54,820--IR 2068

1977

IR 1911, 1977 PH ¶56,074--IR 1842, 1977 PH ¶55,627
IR 1839, 1977 PH ¶55,622--IR 1777, 1977 PH ¶55,332, ¶55,333
IR 1776, 1977 PH ¶142,263, ¶55,331--IR 1714, 1977 PH ¶55,065
IR 1713, 1977 PH ¶55,062--IR 1697, 1977 PH ¶55,206

1976

IR 1699, 1976 PH ¶55,748--IR 1637, 1976 PH ¶55,386
IR 1636, 1976 PH ¶196,943--IR 1563, 1976 PH ¶55,018
IR 1562, 1976 PH ¶55,017--IR 1600

1975
1974
1973
1972
1971
1970
1969
1968
1967
1966
1963
1962

IOD Del. Nos. [Obsolete]

IODD 22, 1956-1 CB 1014--IODD 22, 1956-1 CB 1014

IR Cir. [Obsolete]

IRCIRC 55-83, 1955 PH TC ¶77,310--IRCIRC 54-22, 1954 PH TC ¶76,729

IR Mim. [Obsolete]

IRMIM 34-Amend. No. 1, 1952-2 CB 240--IRMIM 19, 1952-2 CB 212

IR News Release [Obsolete]

IRNR IR-121, 1955 PH TC ¶77,401--IRNR IR-111, 1955-1 CB 141

IRS Doc. [Obsolete]

IRDOC 5640, 1966 PH TC ¶54,747--IRDOC 5049, 1963 PH TC ¶54,670

IRS Memorandums [Obsolete]

IRSMEMO, 1992 Fed 2nd ¶86,277--IRSMEMO, 1991 Fed 2nd ¶86,374

IT [Obsolete]

IT 2560 A, 1 CB 155--IT 4065, 1951-2 CB 74
IT 4064, 1951-2 CB 15--IT 4015, 1950-1 CB 23
IT 4014, 1950-1 CB 67--IT 3965, 1949-2 CB 58
IT 3964, 1949-2 CB 45--IT 3912, 1948-2 CB 68
IT 3911, 1948-1 CB 66--IT 3860, 1947-2 CB 70
IT 3859, 1947-2 CB 98--IT 3808, 1946-2 CB 58
IT 3807, 1946-2 CB 67--IT 3758, 1945 CB 159
IT 3757, 1945 CB 200--IT 3707, 1945 CB 114
IT 3706, 1945 CB 87--IT 3653, 1944 CB 75
IT 3652, 1944 CB 118--IT 3602, 1943 CB 64
IT 3601, 1943 CB 412--IT 3547, 1942-1 CB 138
IT 3546, 1942-1 CB 90--IT 3496, 1941-2 CB 107
IT 3495, 1941-2 CB 195--IT 3442, 1941-1 CB 212
IT 3441, 1941-1 CB 208--IT 3392, 1940-2 CB 68
IT 3391, 1940-2 CB 179--IT 3340, 1939-2 CB 167
IT 3339, 1939-2 CB 106--IT 3284, 1939-1 CB 407
IT 3283, 1939-1 CB 81--IT 3233, 1938-2 CB 192
IT 3232, 1938-1 CB 70--IT 3181, 1938-1 CB 336
IT 3180, 1938-1 CB 196--IT 3121, 1937-2 CB 138
IT 3120, 1937-2 CB 593--IT 3069, 1937-1 CB 59
IT 3068, 1937-1 CB 70--IT 3016, 2 CB 73
IT 3015, 2 CB 136--IT 2963, 1 CB 85
IT 2962, 1 CB 100--IT 2912, 2 CB 75
IT 2911, 2 CB 73--IT 2858, 1 CB 147
IT 2857, 1 CB 127--IT 2803, 2 CB 51
IT 2801, 2 CB 147--IT 2747, 2 CB 70
IT 2746, 2 CB 422--IT 2694, 1 CB 107
IT 2693, 1 CB 59--IT 2642, 2 CB 44
IT 2641, 2 CB 31--IT 2590, 2 CB 195
IT 2589, 2 CB 156--IT 2534, 1 CB 107
IT 2533, 1 CB 129--IT 2482, 2 CB 89
IT 2481, 2 CB 291--IT 2429, 2 CB 158
IT 2428, 2 CB 294--IT 2375, 2 CB 76
IT 2373, 2 CB 19--IT 2320, 2 CB 183
IT 2319, 2 CB 140--IT 2268, 1 CB 120
IT 2267, 1 CB 84--IT 2215, 2 CB 103
IT 2214, 2 CB 46--IT 2163, 1 CB 54
IT 2162, 1 CB 29--IT 2111, 2 CB 329
IT 2110, 2 CB 287--IT 2054, 2 CB 156
IT 2053, 2 CB 107--IT 2000, 1 CB 290
IT 1999, 1 CB 263--IT 1950, 1 CB 350
IT 1949, 1 CB 334--IT 1898, 1 CB 26
IT 1897, 1 CB 298--IT 1843, 2 CB 72
IT 1842, 2 CB 47--IT 1781, 2 CB 157
IT 1780, 2 CB 121--IT 1725, 2 CB 209
IT 1724, 4 CB 181--IT 1668, 1 CB 138
IT 1667, 1 CB 83--IT 1612, 1 CB 90
IT 1611, 1 CB 87--IT 1558, 1 CB 184
IT 1557, 1 CB 172--IT 1508, 2 CB 26
IT 1505, 2 CB 112--IT 1454, 2 CB 180
IT 1453, 2 CB 144--IT 1401, 2 CB 32
IT 1400, 2 CB 249--IT 1349, 1 CB 99
IT 1348, 1 CB 51--IT 1295, 1 CB 139
IT 1293, 1 CB 63--IT 1242, 1 CB 61
IT 1241, 1 CB 234--IT 1191, 1 CB 76
IT 1190, 1 CB 49--IT 737, 3 CB 49

LO [Obsolete]

LO 916A, 1 CB 10--LO 1036, Dec 20 ST CB 120
LO 1035 (Rev), 3 CB 160--LO 897, 1 CB 263
LO 895, 1 CB 91--LO 112, 2 CB 34

Mims. [Obsolete]

MIM 6800, 1952-1 CB 150--MIM 6503, 1950-1 CB 56
MIM 6495, 1950-1 CB 137--MIM 6125 (Amend 1), 1951-2 CB 52
MIM 6125, 1947-1 CB 40--MIM 5796, 1945 CB 379
MIM 5790, 1945 CB 72--MIM 5204, 1941-1 CB 286
MIM 5202, 1941-2 CB 241--MIM 4676, 1937-2 CB 97
MIM 4672, 1937-2 CB 145--MIM 4284, 1 CB 128
MIM 4281, 1 CB 92--MIM 3990, 1 CB 97
MIM 3988, 2 CB 25--MIM 3584, 2 CB 72
MIM 3569, 2 CB 300--MIM 3201, 1 CB 346
MIM 3199, 1 CB 233--MIM 2420, 2 CB 202
MIM 2383, 2 CB 202--MIM 51, 1952-2 CB 65

MS [Obsolete]

MS 349, 1950-2 CB 206--MS 300, 1946-2 CB 256
MS 299, 1946-1 CB 317--MS 250, 1942-1 CB 354
MS 249, 1942-1 CB 353--MS 200, 1938-1 CB 586
MS 199, 1938-1 CB 582--MS 150, 1 CB 547
MS 149, 1 CB 546--MS 100, 1 CB 405
MS 99, 1 CB 404--MS 50, 1 CB 428
MS 49, 2 CB 319--MS 1, 2 CB 353

MT [Obsolete]

MT 45, 1952-2 CB 269--MT 1, 1942-1 CB 279

News Releases [Obsolete]

NR IR-949, 1968 PH TC ¶55,472--NR IR-570, 1962 PH TC ¶55,020
NR IR-568, 1962 PH TC ¶55,012--NR IR-130, 1955 PH TC ¶77,491
NR IR-1050, 1970 PH TC ¶55,210--NR 78-13, 1978 PH ¶54,892

Notices

NOT, 1956-42 IRB 6--NOT 2012-77, 2012 USTR ¶86,438
NOT 2012-76, 2012 USTR ¶86,437--NOT 2012-28, 2012 USTR ¶86,149
NOT 2012-27, 2012 USTR ¶86,141--NOT 2011-78, 2011 USTR ¶86,410
NOT 2011-76, 2011 USTR ¶86,382--NOT 2011-26, 2011 USTR ¶86,146
NOT 2011-25, 2011 USTR ¶86,129--NOT 2010-70, 2010 USTR ¶86,382
NOT 2010-69, 2010 USTR ¶86,387--NOT 2010-20, 2010 USTR ¶86,069
NOT 2010-19, 2010 USTR ¶86,060, 2010 USTR (E&G) ¶144,570--NOT 2009-68, 2009 USTR ¶86,342
NOT 2009-67, 2009 USTR ¶86,341--NOT 2009-18, 2009 USTR ¶86,067, 2009 USTR (E&G) ¶144,553
NOT 2009-17, 2009 USTR ¶86,060--NOT 2008-84, 2008 USTR ¶86,483
NOT 2008-83, 2008 USTR ¶86,494--NOT 2008-34, 2008 USTR ¶86,126
NOT 2008-33, 2008 USTR ¶86,159--NOT 2007-85, 2007 USTR ¶86,587
NOT 2007-84, 2007 USTR ¶86,578--NOT 2007-35, 2007-1 CB 940
NOT 2007-34, 2007-1 CB 996--NOT 2006-96, 2006-2 CB 902
NOT 2006-95, 2006-2 CB 848--NOT 2006-46, 2006-1 CB 1044
NOT 2006-45, 2006-1 CB 891--NOT 2005-97, 2005-2 CB 1210
NOT 2005-96, 2005-2 CB 1209--NOT 2005-47, 2005-1 CB 1373
NOT 2005-46, 2005-1 CB 1372--NOT 2004-81, 2004-2 CB 996
NOT 2004-80, 2004-2 CB 963--NOT 2004-31, 2004-1 CB 830
NOT 2004-30, 2004-1 CB 828--NOT 2003-62, 2003-2 CB 576
NOT 2003-61, 2003-2 CB 851--NOT 2003-12, 2003-1 CB 422
NOT 2003-11, 2003-1 CB 422--NOT 2002-42, 2002-2 CB 36
NOT 2002-41, 2002-1 CB 1153--NOT 2001-76, 2001-2 CB 613
NOT 2001-75, 2001-2 CB 590--NOT 2001-26, 2001-1 CB 942
NOT 2001-25, 2001-1 CB 941--NOT 2000-42, 2000-2 CB 302
NOT 2000-41, 2000-2 CB 177--NOT 99-53, 1999-2 CB 565
NOT 99-52, 1999-2 CB 525--NOT 99-3, 1999-1 CB 271
NOT 99-2, 1999-1 CB 269--NOT 98-20, 1998-1 CB 776
NOT 98-19, 1998-1 CB 775--NOT 97-46, 1997-2 CB 300
NOT 97-45, 1997-2 CB 296--NOT 96-64, 1996-2 CB 229
NOT 96-63, 1996-2 CB 228--NOT 96-14, 1996-1 CB 367
NOT 96-13, 1996-1 CB 366--NOT 95-30, 1995-1 CB 307
NOT 95-29, 1995-1 CB 307--NOT 94-83, 1994-2 CB 558
NOT 94-82, 1994-2 CB 558--NOT 94-33, 1994-1 CB 346
NOT 94-32, 1994-1 CB 346--NOT 93-43, 1993-2 CB 333
NOT 93-42, 1993-2 CB 332--NOT 92-54, 1992-2 CB 384
NOT 92-53, 1992-2 CB 384--NOT 92-4, 1992-1 CB 494
NOT 92-3, 1992-1 CB 494--NOT 90-72, 1990-2 CB 353
NOT 90-71, 1990-2 CB 353--NOT 90-22, 1990-1 CB 334
NOT 90-21, 1990-1 CB 332--NOT 89-86, 1989-2 CB 405
NOT 89-85, 1989-2 CB 403--NOT 89-35, 1989-1 CB 675
NOT 89-34, 1989-1 CB 674--NOT 88-121, 1988-2 CB 457
NOT 88-120, 1988-2 CB 454--NOT 88-71, 1988-2 CB 374
NOT 88-70, 1988-2 CB 369--NOT 88-21, 1988-1 CB 488
NOT 88-20, 1988-1 CB 487--NOT 87-27, 1987-1 CB 471
NOT 87-26, 1987-1 CB 470--NOT 81-16, 1981-2 CB 545

OD [Obsolete]

OD Reg 1, Amend 1, 1955 PH TC ¶77,454--OD 1095, 5 CB 248
OD 1094, 5 CB 229--OD 1041, 5 CB 190
OD 1039, 5 CB 130--OD 983, 5 CB 102
OD 982, 5 CB 300--OD 930, 4 CB 404
OD 929, 4 CB 363--OD 880, 4 CB 254
OD 879, 4 CB 142--OD 827, 4 CB 102
OD 826, 4 CB 95--OD 774, 4 CB 31
OD 773, 4 CB 164--OD 721, 3 CB 169
OD 720, 3 CB 145--OD 665, 3 CB 194
OD 664, 3 CB 131--OD 607, 3 CB 265
OD 606, 3 CB 211--OD 553, 2 CB 101
OD 552, 2 CB 73--OD 499, 2 CB 197
OD 498, 2 CB 163--OD 446, 2 CB 87
OD 445, 2 CB 58--OD 393, 2 CB 195
OD 392, 2 CB 191--OD 332, 1 CB 253
OD 331, 1 CB 252--OD 278, 1 CB 175
OD 277, 1 CB 162--OD 217, 1 CB 151
OD 216, 1 CB 126--OD 141, 1 CB 174
OD 140, 1 CB 174--OD 80, 1 CB 272
OD 79, 1 CB 272--OD 11, 1 CB 66
OD 10, 1 CB 64--OD 1, 1 CB 14

Office Memo, Asst. Comm. [Obsolete]

OM, 1959 PH ¶54,537--OM, 1959 PH TC ¶54,672

Op. AG NY [Obsolete]

OAGNY, 1964 PH TC ¶55,076--OAGNY, 1964 PH TC ¶55,076

Op. Attorney General [Obsolete]

OAG, 1937-1 CB 328--OAG 1,

Op. CG [Obsolete]

OPCG B-158810, 1966 PH TC ¶54,919--OPCG 474,

Op. GC [Obsolete]

OPGC 13-60, V.A., 1960 PH TC ¶55,129--OPGC 13-60, V.A., 1960 PH TC ¶55,129

Operations Reorganization Orders [Obsolete]

ORO 15, 1953-2 CB 505--ORO 15, 1953-2 CB 505

Pres. Proc. [Obsolete]

PRESPROC, 1959 PH TC ¶198,053--PRESPROC, 1959 PH TC ¶198,053

Press Release

PR IR-080, 1954 PH TC ¶76,983--PR IR-080, 1954 PH TC ¶76,983

Private Letter Rulings

2013
2012

PLR 201249018, 2012 USTR ¶86,448--PLR 201212021, 2012 USTR ¶86,139
PLR 201210046, 2012 USTR ¶86,132--PLR 201203003, 2012 USTR ¶86,062

2011
2010
2009
2008
2007
2006
2005
2004
2003
2002
2001
2000
1999

PLR 199952075--PLR 199906039, 1999 USTR ¶86,113
PLR 199906014, 1999 USTR (E&G) ¶144,332--PLR 199903030, 1999 USTR ¶86,091

1998

PLR 9853002, 1999 USTR ¶86,028--PLR 9820021, 1998 USTR ¶86,249
PLR 9820018, 1998 USTR ¶86,240--PLR 9803009, 1998 USTR ¶86,065

1997

PLR 9751012--PLR 9713002, 1997 USTR ¶86,128
PLR 9712033--PLR 9701002

1996

PLR 9649045, 1996 USTR ¶86,501--PLR 9615001, 1996 USTR ¶86,159
PLR 9614004, 1996 USTR ¶86,151--PLR 9601002, 1996 USTR ¶144,214

1995
1994
1993
1992

PLR 9246005--PLR 9209008
PLR 9209003--PLR 9202004

1991

PLR 9152006--PLR 9121001
PLR 9119008--PLR 9101002

1990

PLR 9051002--PLR 9010007
PLR 9010006--PLR 9001001

1989

PLR 8950011--PLR 8914036, 1989 PH ¶196,355
PLR 8914031, 1989 PH ¶196,354--PLR 8901003, 1989 PH ¶142,035

1988

PLR 8852026, 1989 PH ¶196,334--PLR 8819001, 1988 PH ¶142,283
PLR 8817004--PLR 8802005, 1988 PH ¶142,268

1987

PLR 8752064, 1988 PH ¶142,265--PLR 8723007, 1987 PH ¶142,237
PLR 8722010, 1987 PH ¶142,236--PLR 8701003, 1987 PH ¶142,217

1986

PLR 8651007, 1987 PH ¶196,187--PLR 8622022, 1986 PH ¶142,192
PLR 8622013, 1986 PH ¶196,154--PLR 8601017, 1986 PH ¶142,168

1985

PLR 8552005, 1986 PH ¶196,110, ¶54,848--PLR 8531003, 1985 PH ¶142,150
PLR 8531002, 1986 PH ¶54,847--PLR 8510002, 1985 PH ¶142,119
PLR 8509005, 1985 PH ¶142,116--PLR 8501005, 1985 PH ¶142,105

1984

PLR 8453073, 1985 PH ¶54,672--PLR 8428021, 1984 PH ¶142,275
PLR 8428001, 1984 PH ¶196,525--PLR 8401006, 1984 PH ¶142,224

1983

PLR 8352112, 1984 PH ¶142,222--PLR 8335011, 1983 PH ¶196,473
PLR 8334087, 1982 PH 55,561--PLR 8314006, 1983 PH ¶55,204
PLR 8314001, 1983 PH ¶142,166, ¶142,167--PLR 8301050, 1983 PH ¶142,145

1982

PLR 8252159--PLR 8240002, 1982 PH ¶196,369
PLR 8239117, 1982 PH ¶55,313--PLR 8227004, 1982 PH ¶142,116
PLR 8227001, 1982 PH ¶55,141--PLR 8211002, 1982 PH ¶54,878
PLR 8210089, 1982 PH ¶196,321--PLR 8201002, 1982 PH ¶54,732

1981

PLR 8151114, 1982 PH ¶54,730--PLR 8139097, 1981 PH ¶55,522
PLR 8139004, 1981 PH ¶55,523--PLR 8127011, 1981 PH ¶196,244
PLR 8127005, 1981 PH ¶55,356--PLR 8115028, 1981 PH ¶55,212
PLR 8115025, 1981 PH ¶55,211--PLR 8102010, 1981 PH ¶55,001
PLR 8102009, 1981 PH ¶142,572--PLR 8102009, 1981 PH ¶142,572

1980

PLR 8052038--PLR 8038020, 1980 PH ¶55,398
PLR 8037116, 1980 PH ¶142,537--PLR 8022021, 1980 PH ¶142,495
PLR 8022019, 1980 PH ¶55,136--PLR 8006079, 1980 PH ¶54,848
PLR 8006053--PLR 8001007, 1980 PH ¶54,787

1979

PLR 796001, 1979 PH 142,413--PLR 7934002, 1979 PH ¶142,361
PLR 79334002, 1979 PH 142,458--PLR 7910042, 1979 PH ¶142,275
PLR 7908056, 1979 PH ¶142,272--PLR 7902020, 1979 PH ¶142,243

1978
1977
Pre-1977

Prohibited Transaction Exemption

PTE 77-5, 1977-1 CB 366--PTE 76-1, 1976-1 CB 358

PS [Obsolete]

PS 51 Part A, 1945 PH TC ¶76,276--PS 23, 1944 PH TC ¶66,366
PS 22, 1944 PH TC ¶66,365--PS 1, 1944 PH TC ¶66,328

PT [Obsolete]

PT 35, 1937-2 CB 530--PT 1, 2 CB 432

Public Law [Obsolete]

PLCITE 88-428, 1964-2 CB 600--PLCITE 88-428, 1964-2 CB 600

Revenue Procedures

REVP 97-32A, 1997 USTR ¶86,325--REVP 2013-14, 2013 USTR ¶86,024
REVP 2013-13, 2013 USTR ¶86,032--REVP 2012-12, 2012 USTR ¶86,014
REVP 2012-11, 2012 USTR ¶86,075--REVP 2011-23, 2011 USTR ¶86,127
REVP 2011-22, 2011 USTR ¶86,142--REVP 2010-25, 2010 USTR ¶86,247
REVP 2010-24, 2010 USTR ¶86,227--REVP 2009-31, 2009 USTR ¶86,243
REVP 2009-30, 2009 USTR ¶86,273--REVP 2008-53, 2008 USTR ¶86,426
REVP 2008-52, 2008 USTR ¶86,425--REVP 2008-3, 2008 USTR ¶86,038
REVP 2008-2, 2008 USTR ¶86,037--REVP 2007-25, 2007-1 CB 761
REVP 2007-24, 2007-1 CB 692--REVP 2006-31, 2006-2 CB 32
REVP 2006-30, 2006-2 CB 110--REVP 2005-59, 2005-2 CB 412
REVP 2005-58, 2005-2 CB 402--REVP 2005-9, 2005-1 CB 303
REVP 2005-8, 2005-1 CB 243--REVP 2004-32, 2004-1 CB 988
REVP 2004-31, 2004-1 CB 986--REVP 2003-68, 2003-2 CB 398
REVP 2003-67, 2003-2 CB 397--REVP 2003-18, 2003-1 CB 439
REVP 2003-17, 2003-1 CB 427--REVP 2002-43, 2002-2 CB 99
REVP 2002-42, 2002-1 CB 1188--REVP 2001-54, 2001-2 CB 530
REVP 2001-53, 2001-2 CB 506--REVP 2001-4, 2001-1 CB 121
REVP 2001-3, 2001-1 CB 111--REVP 2000-4, 2000-1 CB 115
REVP 2000-3, 2000-1 CB 103--REVP 99-4, 1999-1 CB 115
REVP 99-3, 1999-1 CB 103--REVP 98-19, 1998-1 CB 547
REVP 98-18, 1998-1 CB 435--REVP 97-30, 1997-1 CB 702
REVP 97-29, 1997-1 CB 698--REVP 96-44, 1996-2 CB 330
REVP 96-43, 1996-2 CB 330--REVP 95-49, 1995-2 CB 419
REVP 95-48, 1995-2 CB 418--REVP 94-78, 1994-2 CB 833
REVP 94-77, 1994-2 CB 825--REVP 94-28, 1994-1 CB 614
REVP 94-27, 1994-1 CB 613--REVP 93-29, 1993-2 CB 344
REVP 93-28, 1993-2 CB 344--REVP 92-83, 1992-2 CB 487
REVP 92-82, 1992-2 CB 482--REVP 92-33, 1992-1 CB 782
REVP 92-32, 1992-1 CB 776--REVP 91-53, 1991-2 CB 782
REVP 91-52, 1991-2 CB 781--REVP 91-3, 1991-1 CB 364
REVP 91-2, 1991-1 CB 350--REVP 90-21, 1990-1 CB 499
REVP 90-20, 1990-1 CB 495--REVP 89-38, 1989-1 CB 920
REVP 89-37, 1989-1 CB 919--REVP 88-46, 1988-2 CB 634
REVP 88-45, 1988-2 CB 634--REVP 87-60, 1987-2 CB 765
REVP 87-59, 1987-2 CB 764--REVP 87-10, 1987-1 CB 545
REVP 87-9, 1987-1 CB 368--REVP 86-8, 1986-1 CB 530
REVP 86-7, 1986-1 CB 510--REVP 85-17, 1985-1 CB 517
REVP 85-16, 1985-1 CB 517--REVP 84-53, 1984-2 CB 488
REVP 84-52, 1984-1 CB 551--REVP 84-3, 1984-1 CB 361
REVP 84-2, 1984-1 CB 354--REVP 83-44, 1983-1 CB 779
REVP 83-43, 1983-1 CB 778--REVP 82-63, 1982-2 CB 851
REVP 82-62, 1982-2 CB 851--REVP 82-13, 1982-1 CB 447
REVP 82-12, 1982-1 CB 429--REVP 81-35, 1981-2 CB 588
REVP 81-34, 1981-2 CB 565--REVP 80-46, 1980-2 CB 779
REVP 80-45, 1980-2 CB 778--REVP 79-64, 1979-2 CB 579
REVP 79-63, 1979-2 CB 578--REVP 79-14, 1979-1 CB 496
REVP 79-13, 1979-1 CB 493--REVP 78-4, 1978-1 CB 555
REVP 78-3, 1978-1 CB 552--REVP 77-1, 1977-1 CB 534
REVP 76-47, 1976-2 CB 670--REVP 75-112, 1975-1 CB 653
REVP 75-85, 1975-1 CB 239--REVP 75-8, 1975-1 CB 648
REVP 75-7, 1975-1 CB 648--REVP 74-16, 1974-1 CB 438
REVP 74-16, 1974-1 CB 438--REVP 73-9, 1973-1 CB 758
REVP 73-8, 1973-1 CB 754--REVP 72-16, 1972-1 CB 738
REVP 72-15, 1972-1 CB 737--REVP 71-8, 1971-1 CB 676
REVP 71-7, 1971-1 CB 671--REVP 69-19, 1969-2 CB 301
REVP 69-18, 1969-2 CB 300--REVP 68-16, 1968-1 CB 770
REVP 68-15, 1968-1 CB 769--REVP 67-9, 1967-1 CB 583
REVP 67-8, 1967-1 CB 582--REVP 66-19, 1966-1 CB 647
REVP 66-18, 1966-1 CB 646--REVP 65-2, 1965-1 CB 715
REVP 65-1, 1965-1 CB 714--REVP 64-6, 1964-1 CB 664
REVP 64-5, 1964-1 CB 663--REVP 62-24, 1962-2 CB 489
REVP 62-23, 1962-2 CB 487--REVP 61-17, 1961-2 CB 549
REVP 61-16, 1961-2 CB 548--REVP 60-2, 1960-1 CB 875
REVP 60-1, 1960-1 CB 874--REVP 58-16, 1958-2 CB 1127
REVP 58-15, 1958-2 CB 1126--REVP 57-8, 1957-1 CB 732
REVP 57-7, 1957-1 CB 730--REVP 55-15, 1955-2 CB 919
REVP 55-14, 1955-2 CB 918--REVP 55-1, 1955-2 CB 897

Revenue Rulings

REVR 95-29A, 1995-1 CB 85, 1995-2 CB 66--REVR 2012-7, 2012 USTR ¶86,049
REVR 2012-6, 2012 USTR ¶86,048--REVR 2010-20, 2010 USTR ¶86,306
REVR 2010-19, 2010 USTR ¶86,271--REVR 2009-11, 2009 USTR ¶86,169
REVR 2009-10, 2009 USTR ¶86,109--REVR 2008-15, 2008 USTR ¶86,146
REVR 2008-14, 2008 USTR ¶86,172--REVR 2007-37, 2007-1 CB 1390
REVR 2007-36, 2007-1 CB 1339--REVR 2006-50, 2006-2 CB 672
REVR 2006-49, 2006-2 CB 584--REVR 2005-79, 2005-2 CB 1197
REVR 2005-78, 2005-2 CB 1157--REVR 2005-29, 2005-1 CB 1080
REVR 2005-28, 2005-1 CB 997--REVR 2004-92, 2004-2 CB 446
REVR 2004-91, 2004-2 CB 357--REVR 2004-42, 2004-1 CB 824
REVR 2004-41, 2004-1 CB 845--REVR 2003-120, 2003-2 CB 1154
REVR 2003-119, 2003-2 CB 1094--REVR 2003-70, 2003-2 CB 3
REVR 2003-69, 2003-1 CB 1118--REVR 2003-20, 2003-1 CB 465
REVR 2003-19, 2003-1 CB 468--REVR 2002-61, 2002-2 CB 639
REVR 2002-60, 2002-2 CB 641--REVR 2002-11, 2002-1 CB 608
REVR 2002-10, 2002-1 CB 616--REVR 2001-27, 2001-1 CB 1299
REVR 2001-26, 2001-1 CB 1297--REVR 2000-36, 2000-2 CB 140
REVR 2000-35, 2000-2 CB 138--REVR 286, 1953-2 CB 20
REVR 285, 1953-2 CB 435--REVR 226, 1953-2 CB 500
REVR 225, 1953-2 CB 467--REVR 167, 1953-2 CB 428
REVR 165, 1953-2 CB 422--REVR 100, 1953-1 CB 461
REVR 99-58, 1999-2 CB 701--REVR 99-9, 1999-1 CB 465
REVR 99-8, 1999-1 CB 436--REVR 98-22, 1998-1 CB 999
REVR 98-21, 1998-1 CB 975--REVR 97-30, 1997-2 CB 99
REVR 97-29, 1997-2 CB 22--REVR 96-46, 1996-2 CB 40
REVR 96-45, 1996-2 CB 4--REVR 95-78, 1995-2 CB 269
REVR 95-77, 1995-2 CB 122--REVR 95-28, 1995-1 CB 74
REVR 95-27, 1995-1 CB 164--REVR 94-59, 1994-2 CB 88
REVR 94-58, 1994-2 CB 274--REVR 94-9, 1994-1 CB 209
REVR 94-8, 1994-1 CB 18--REVR 93-50, 1993-2 CB 310
REVR 93-49, 1993-2 CB 308--REVR 92-111, 1992-2 CB 58
REVR 92-110, 1992-2 CB 311--REVR 92-61, 1992-2 CB 7
REVR 92-60, 1992-2 CB 68--REVR 92-11, 1992-1 CB 188
REVR 92-10, 1992-1 CB 187--REVR 91-32, 1991-1 CB 107
REVR 91-31, 1991-1 CB 19--REVR 90-95, 1990-2 CB 67
REVR 90-94, 1990-2 CB 261--REVR 90-44, 1990-1 CB 54
REVR 90-43, 1990-1 CB 13--REVR 89-126, 1989-2 CB 99
REVR 89-125, 1989-2 CB 257--REVR 89-76, 1989-1 CB 24
REVR 89-75, 1989-1 CB 319--REVR 89-26, 1989-1 CB 87
REVR 89-25, 1989-1 CB 79--REVR 88-82, 1988-2 CB 336
REVR 88-81, 1988-2 CB 127--REVR 88-32, 1988-1 CB 113
REVR 88-31, 1988-1 CB 302--REVR 87-125, 1987-2 CB 146
REVR 87-124, 1987-2 CB 205--REVR 87-75, 1987-2 CB 152
REVR 87-74, 1987-2 CB 141--REVR 87-25, 1987-1 CB 254
REVR 87-24, 1987-1 CB 151--REVR 86-133, 1986-2 CB 59
REVR 86-132, 1986-2 CB 137--REVR 86-83, 1986-1 CB 251
REVR 86-82, 1986-1 CB 253--REVR 86-33, 1986-1 CB 287
REVR 86-32, 1986-1 CB 252--REVR 85-184, 1985-2 CB 84
REVR 85-183, 1985-2 CB 11--REVR 85-134, 1985-2 CB 160
REVR 85-133, 1985-2 CB 192--REVR 85-84, 1985-1 CB 326
REVR 85-83, 1985-1 CB 291--REVR 85-34, 1985-1 CB 134
REVR 85-33, 1985-1 CB 335--REVR 84-165, 1984-2 CB 305
REVR 84-164, 1984-2 CB 63--REVR 84-115, 1984-2 CB 118
REVR 84-114, 1984-2 CB 90--REVR 84-65, 1984-1 CB 229
REVR 84-64, 1984-1 CB 20--REVR 84-15, 1984-1 CB 158
REVR 84-14, 1984-1 CB 147--REVR 83-152, 1983-2 CB 172
REVR 83-151, 1983-2 CB 105--REVR 83-102, 1983-2 CB 198
REVR 83-101, 1983-2 CB 147--REVR 83-52, 1983-1 CB 87
REVR 83-51, 1983-1 CB 48--REVR 83-2, 1983-1 CB 42
REVR 83-1, 1983-1 CB 3--REVR 82-181, 1982-2 CB 117
REVR 82-180, 1982-2 CB 113--REVR 82-131, 1982-2 CB 83
REVR 82-130, 1982-2 CB 83--REVR 82-81, 1982-1 CB 109
REVR 82-80, 1982-1 CB 89--REVR 82-31, 1982-1 CB 166
REVR 82-30, 1982-1 CB 165--REVR 81-293, 1981-2 CB 218
REVR 81-292, 1981-2 CB 158--REVR 81-243, 1981-2 CB 149
REVR 81-242, 1981-2 CB 147--REVR 81-193, 1981-2 CB 52
REVR 81-192, 1981-2 CB 50--REVR 81-143, 1981-1 CB 587
REVR 81-142, 1981-1 CB 371--REVR 81-93, 1981-1 CB 322
REVR 81-92, 1981-1 CB 133--REVR 81-43, 1981-1 CB 350
REVR 81-42, 1981-1 CB 216--REVR 80-360, 1980-2 CB 142
REVR 80-359, 1980-2 CB 136--REVR 80-310, 1980-2 CB 319
REVR 80-309, 1980-2 CB 183--REVR 80-260, 1980-2 CB 277
REVR 80-259, 1980-2 CB 192--REVR 80-210, 1980-2 CB 251
REVR 80-209, 1980-2 CB 248--REVR 80-160, 1980-1 CB 230
REVR 80-159, 1980-1 CB 206--REVR 80-110, 1980-1 CB 190
REVR 80-109, 1980-1 CB 129--REVR 80-60, 1980-1 CB 97
REVR 80-59, 1980-1 CB 191--REVR 80-10, 1980-1 CB 21
REVR 80-9, 1980-1 CB 11--REVR 79-395, 1979-2 CB 263
REVR 79-394, 1979-2 CB 141--REVR 79-345, 1979-2 CB 44
REVR 79-344, 1979-2 CB 42--REVR 79-295, 1979-2 CB 349
REVR 79-294, 1979-2 CB 305--REVR 79-245, 1979-2 CB 380
REVR 79-244, 1979-2 CB 378--REVR 79-195, 1979-1 CB 177
REVR 79-194, 1979-1 CB 145--REVR 79-145, 1979-1 CB 360
REVR 79-144, 1979-1 CB 219--REVR 79-95, 1979-1 CB 331
REVR 79-94, 1979-1 CB 296--REVR 79-45, 1979-1 CB 284
REVR 79-44, 1979-1 CB 265--REVR 78-444, 1978-2 CB 193
REVR 78-443, 1978-2 CB 193--REVR 78-394, 1978-2 CB 264
REVR 78-393, 1978-2 CB 262--REVR 78-344, 1978-2 CB 334
REVR 78-343, 1978-2 CB 326--REVR 78-294, 1978-2 CB 141
REVR 78-293, 1978-2 CB 266--REVR 78-244, 1978-1 CB 433
REVR 78-243, 1978-1 CB 416--REVR 78-194, 1978-1 CB 24
REVR 78-193, 1978-1 CB 12--REVR 78-144, 1978-1 CB 168
REVR 78-143, 1978-1 CB 161--REVR 78-94, 1978-1 CB 58
REVR 78-93, 1978-1 CB 38--REVR 78-44, 1978-1 CB 216
REVR 78-43, 1978-1 CB 164--REVR 77-486, 1977-2 CB 297
REVR 77-485, 1977-2 CB 296--REVR 77-436, 1977-2 CB 25
REVR 77-435, 1977-2 CB 491--REVR 77-385, 1977-2 CB 331
REVR 77-384, 1977-2 CB 198--REVR 77-336, 1977-2 CB 202
REVR 77-335, 1977-2 CB 95--REVR 77-286, 1977-2 CB 228
REVR 77-285, 1977-2 CB 213--REVR 77-236, 1977-2 CB 84
REVR 77-235, 1977-2 CB 45--REVR 77-186, 1977-1 CB 22
REVR 77-185, 1977-1 CB 48--REVR 77-136, 1977-1 CB 167
REVR 77-135, 1977-1 CB 133--REVR 77-86, 1977-1 CB 241
REVR 77-85, 1977-1 CB 12--REVR 77-36, 1977-1 CB 347
REVR 77-35, 1977-1 CB 337--REVR 76-554, 1976-2 CB 342
REVR 76-553, 1976-2 CB 341--REVR 76-504, 1976-2 CB 286
REVR 76-503, 1976-2 CB 275--REVR 76-454, 1976-2 CB 102
REVR 76-453, 1976-2 CB 86--REVR 76-404, 1976-2 CB 294
REVR 76-403, 1976-2 CB 229--REVR 76-355, 1976-2 CB 201
REVR 76-354, 1976-2 CB 179--REVR 76-305, 1976-2 CB 350
REVR 76-304, 1976-2 CB 269--REVR 76-255, 1976-2 CB 40
REVR 76-254, 1976-2 CB 332--REVR 76-205, 1976-1 CB 154
REVR 76-204, 1976-1 CB 152--REVR 76-155, 1976-1 CB 286
REVR 76-154, 1976-1 CB 191--REVR 76-105, 1976-1 CB 304
REVR 76-104, 1976-1 CB 301--REVR 76-55, 1976-1 CB 174
REVR 76-54, 1976-1 CB 96--REVR 76-5, 1976-1 CB 146
REVR 76-4, 1976-1 CB 145--REVR 75-522, 1975-2 CB 241
REVR 75-521, 1975-2 CB 120--REVR 75-472, 1975-2 CB 208
REVR 75-471, 1975-2 CB 207--REVR 75-422, 1975-2 CB 238
REVR 75-421, 1975-2 CB 108--REVR 75-372, 1975-2 CB 73
REVR 75-371, 1975-2 CB 52--REVR 75-322, 1975-2 CB 310
REVR 75-321, 1975-2 CB 123--REVR 75-272, 1975-2 CB 421
REVR 75-271, 1975-2 CB 23--REVR 75-222, 1975-1 CB 105
REVR 75-221, 1975-1 CB 76--REVR 75-172, 1975-1 CB 145
REVR 75-171, 1975-1 CB 140--REVR 75-122, 1975-1 CB 87
REVR 75-121, 1975-1 CB 70--REVR 75-73, 1975-1 CB 313
REVR 75-72, 1975-1 CB 310--REVR 75-23, 1975-1 CB 290
REVR 75-22, 1975-1 CB 49--REVR 74-600, 1974-2 CB 385
REVR 74-599, 1974-2 CB 350--REVR 74-550, 1974-2 CB 209
REVR 74-549, 1974-2 CB 186--REVR 74-500, 1974-2 CB 91
REVR 74-499, 1974-2 CB 397--REVR 74-450, 1974-2 CB 388
REVR 74-449, 1974-2 CB 352--REVR 74-400, 1974-2 CB 179
REVR 74-399, 1974-2 CB 172--REVR 74-350, 1974-2 CB 139
REVR 74-349, 1974-2 CB 91--REVR 74-300, 1974-1 CB 169
REVR 74-299, 1974-1 CB 154--REVR 74-250, 1974-1 CB 202
REVR 74-249, 1974-1 CB 189--REVR 74-200, 1974-1 CB 312
REVR 74-199, 1974-1 CB 285--REVR 74-150, 1974-1 CB 241
REVR 74-149, 1974-1 CB 157--REVR 74-100, 1974-1 CB 308
REVR 74-99, 1974-1 CB 131--REVR 74-50, 1974-1 CB 22
REVR 74-49, 1974-1 CB 318--REVR 73-613, 1973-2 CB 385
REVR 73-612, 1973-2 CB 322--REVR 73-563, 1973-2 CB 24
REVR 73-562, 1973-2 CB 434--REVR 73-513, 1973-2 CB 281
REVR 73-512, 1973-2 CB 413--REVR 73-463, 1973-2 CB 34
REVR 73-462, 1973-2 CB 22--REVR 73-413, 1973-2 CB 143
REVR 73-412, 1973-2 CB 126--REVR 73-363, 1973-2 CB 383
REVR 73-362, 1973-2 CB 367--REVR 73-313, 1973-2 CB 174
REVR 73-312, 1973-2 CB 142--REVR 73-263, 1973-1 CB 49
REVR 73-262, 1973-1 CB 437--REVR 73-213, 1973-1 CB 426
REVR 73-212, 1973-1 CB 422--REVR 73-163, 1973-1 CB 417
REVR 73-162, 1973-1 CB 417--REVR 73-113, 1973-1 CB 65
REVR 73-112, 1973-1 CB 47--REVR 73-63, 1973-1 CB 69
REVR 73-62, 1973-1 CB 56--REVR 73-14, 1973-1 CB 117
REVR 73-13, 1973-1 CB 42--REVR 72-591, 1972-2 CB 84
REVR 72-590, 1972-2 CB 571--REVR 72-541, 1972-2 CB 645
REVR 72-540, 1972-2 CB 641--REVR 72-491, 1972-2 CB 104
REVR 72-490, 1972-2 CB 100--REVR 72-441, 1972-2 CB 465
REVR 72-440, 1972-2 CB 225--REVR 72-391, 1972-2 CB 249
REVR 72-390, 1972-2 CB 227--REVR 72-341, 1972-2 CB 32
REVR 72-340, 1972-2 CB 31--REVR 72-291, 1972-1 CB 36
REVR 72-290, 1972-1 CB 385--REVR 72-241, 1972-1 CB 108
REVR 72-240, 1972-1 CB 108--REVR 72-191, 1972-1 CB 45
REVR 72-190, 1972-1 CB 29--REVR 72-141, 1972-1 CB 266
REVR 72-140, 1972-1 CB 211--REVR 72-91, 1972-1 CB 400
REVR 72-90, 1972-1 CB 334--REVR 72-41, 1972-1 CB 353
REVR 72-40, 1972-1 CB 342--REVR 71-590, 1971-2 CB 124
REVR 71-589, 1971-2 CB 94--REVR 71-540, 1971-2 CB 206
REVR 71-539, 1971-2 CB 199--REVR 71-490, 1971-2 CB 379
REVR 71-489, 1971-2 CB 64--REVR 71-440, 1971-2 CB 326
REVR 71-439, 1971-2 CB 321--REVR 71-390, 1971-2 CB 82
REVR 71-389, 1971-2 CB 341--REVR 71-340, 1971-2 CB 383
REVR 71-339, 1971-2 CB 382--REVR 71-290, 1971-2 CB 340
REVR 71-289, 1971-2 CB 339--REVR 71-240, 1971-1 CB 372
REVR 71-239, 1971-1 CB 371--REVR 71-190, 1971-1 CB 70
REVR 71-189, 1971-1 CB 32--REVR 71-140, 1971-1 CB 161
REVR 71-139, 1971-1 CB 143--REVR 71-91, 1971-1 CB 116
REVR 71-90, 1971-1 CB 115--REVR 71-41, 1971-1 CB 223
REVR 71-40, 1971-1 CB 135--REVR 70-654, 1970-2 CB 49
REVR 70-653, 1970-2 CB 48--REVR 70-604, 1970-2 CB 9
REVR 70-603, 1970-2 CB 258--REVR 70-554, 1970-2 CB 285
REVR 70-553, 1970-2 CB 266--REVR 70-504, 1970-2 CB 204
REVR 70-503, 1970-2 CB 203--REVR 70-454, 1970-2 CB 296
REVR 70-453, 1970-2 CB 287--REVR 70-404, 1970-2 CB 5
REVR 70-403, 1970-2 CB 3--REVR 70-354, 1970-2 CB 50
REVR 70-353, 1970-2 CB 39--REVR 70-306, 1970-1 CB 179
REVR 70-305, 1970-1 CB 169--REVR 70-256, 1970-1 CB 69
REVR 70-255, 1970-1 CB 80--REVR 70-206, 1970-1 CB 177
REVR 70-205, 1970-1 CB 174--REVR 70-156, 1970-1 CB 190
REVR 70-155, 1970-1 CB 189--REVR 70-106, 1970-1 CB 70
REVR 70-105, 1970-1 CB 70--REVR 70-56, 1970-1 CB 233
REVR 70-55, 1970-1 CB 225--REVR 70-6, 1970-1 CB 172
REVR 70-5, 1970-1 CB 142--REVR 69-618, 1969-2 CB 110
REVR 69-617, 1969-2 CB 57--REVR 69-568, 1969-2 CB 209
REVR 69-567, 1969-2 CB 204--REVR 69-518, 1969-2 CB 154
REVR 69-517, 1969-2 CB 149--REVR 69-468, 1969-2 CB 150
REVR 69-467, 1969-2 CB 142--REVR 69-418, 1969-2 CB 196
REVR 69-417, 1969-2 CB 132--REVR 69-368, 1969-2 CB 27
REVR 69-367, 1969-2 CB 13--REVR 69-318, 1969-1 CB 275
REVR 69-317, 1969-1 CB 269--REVR 69-268, 1969-1 CB 160
REVR 69-267, 1969-1 CB 160--REVR 69-218, 1969-1 CB 136
REVR 69-217, 1969-1 CB 115--REVR 69-168, 1969-1 CB 24
REVR 69-167, 1969-1 CB 294--REVR 69-118, 1969-1 CB 135
REVR 69-117, 1969-1 CB 102--REVR 69-69, 1969-1 CB 159
REVR 69-68, 1969-1 CB 153--REVR 69-19, 1969-1 CB 197
REVR 69-18, 1969-1 CB 188--REVR 68-644, 1968-2 CB 468
REVR 68-643, 1968-2 CB 76--REVR 68-594, 1968-2 CB 339
REVR 68-593, 1968-2 CB 182--REVR 68-544, 1968-2 CB 581
REVR 68-543, 1968-2 CB 471--REVR 68-494, 1968-2 CB 432
REVR 68-493, 1968-2 CB 426--REVR 68-444, 1968-2 CB 430
REVR 68-443, 1968-2 CB 304--REVR 68-394, 1968-2 CB 338
REVR 68-393, 1968-2 CB 292--REVR 68-344, 1968-1 CB 569
REVR 68-343, 1968-1 CB 491--REVR 68-294, 1968-1 CB 46
REVR 68-293, 1968-1 CB 43--REVR 68-244, 1968-1 CB 158
REVR 68-243, 1968-1 CB 157--REVR 68-194, 1968-1 CB 87
REVR 68-193, 1968-1 CB 79--REVR 68-144, 1968-1 CB 85
REVR 68-143, 1968-1 CB 559--REVR 68-94, 1968-1 CB 511
REVR 68-93, 1968-1 CB 488--REVR 68-44, 1968-1 CB 191
REVR 68-43, 1968-1 CB 146--REVR 67-463, 1967-2 CB 327
REVR 67-462, 1967-2 CB 168--REVR 67-413, 1967-2 CB 372
REVR 67-412, 1967-2 CB 317--REVR 67-363, 1967-2 CB 118
REVR 67-362, 1967-2 CB 117--REVR 67-314, 1967-2 CB 416
REVR 67-313, 1967-2 CB 413--REVR 67-264, 1967-2 CB 196
REVR 67-263, 1967-2 CB 318--REVR 67-214, 1967-2 CB 160
REVR 67-213, 1967-2 CB 149--REVR 67-164, 1967-1 CB 88
REVR 67-163, 1967-1 CB 43--REVR 67-114, 1967-1 CB 85
REVR 67-113, 1967-1 CB 55--REVR 67-64, 1967-1 CB 150
REVR 67-63, 1967-1 CB 47--REVR 67-14, 1967-1 CB 61
REVR 67-13, 1967-1 CB 46--REVR 66-349, 1966-2 CB 460
REVR 66-348, 1966-2 CB 433--REVR 66-299, 1966-2 CB 14
REVR 66-298, 1966-2 CB 48--REVR 66-249, 1966-2 CB 494
REVR 66-248, 1966-2 CB 303--REVR 66-199, 1966-2 CB 491
REVR 66-198, 1966-2 CB 488--REVR 66-149, 1966-1 CB 146
REVR 66-148, 1966-1 CB 143--REVR 66-99, 1966-1 CB 315
REVR 66-98, 1966-1 CB 200--REVR 66-49, 1966-1 CB 36
REVR 66-48, 1966-1 CB 9--REVR 65-319, 1965-2 CB 513
REVR 65-318, 1965-2 CB 498--REVR 65-270, 1965-2 CB 160
REVR 65-269, 1965-2 CB 159--REVR 65-220, 1965-2 CB 317
REVR 65-219, 1965-2 CB 168--REVR 65-171, 1965-1 CB 496
REVR 65-170, 1965-1 CB 486--REVR 65-121, 1965-1 CB 582
REVR 65-120, 1965-1 CB 473--REVR 65-71, 1965-1 CB 601
REVR 65-70, 1965-1 CB 584--REVR 65-21, 1965-1 CB 174
REVR 65-20, 1965-1 CB 124--REVR 64-314, 1964-2 CB 167
REVR 64-313, 1964-2 CB 146--REVR 64-264, 1964-2 CB 438
REVR 64-263, 1964-2 CB 432--REVR 64-215, 1964-2 CB 19
REVR 64-214, 1964-2 CB 472--REVR 64-166, 1964-1 CB 378
REVR 64-165, 1964-1 CB 378--REVR 64-116, 1964-1 CB 165
REVR 64-115, 1964-1 CB 106--REVR 64-66, 1964-1 CB 393
REVR 64-65, 1964-1 CB 133--REVR 64-16, 1964-1 CB 576
REVR 64-15, 1964-1 CB 576--REVR 63-246, 1963-2 CB 611
REVR 63-245, 1963-2 CB 144--REVR 63-196, 1963-2 CB 480
REVR 63-195, 1963-2 CB 671--REVR 63-146, 1963-2 CB 460
REVR 63-145, 1963-2 CB 86--REVR 63-96, 1963-1 CB 383
REVR 63-95, 1963-1 CB 363--REVR 63-46, 1963-1 CB 85
REVR 63-45, 1963-1 CB 36--REVR 63-7, 1963-1 CB 188
REVR 63-6, 1963-1 CB 126--REVR 62-184, 1962-2 CB 244
REVR 62-183, 1962-2 CB 143--REVR 62-134, 1962-2 CB 236
REVR 62-133, 1962-2 CB 45--REVR 62-84, 1962-1 CB 195
REVR 62-83, 1962-1 CB 175--REVR 62-34, 1962-1 CB 207
REVR 62-33, 1962-1 CB 202--REVR 61-209, 1961-2 CB 173
REVR 61-208, 1961-2 CB 148--REVR 61-160, 1961-2 CB 178
REVR 61-159, 1961-2 CB 170--REVR 61-110, 1961-1 CB 847
REVR 61-109, 1961-1 CB 479--REVR 61-60, 1961-1 CB 515
REVR 61-59, 1961-1 CB 418--REVR 61-10, 1961-1 CB 143
REVR 61-9, 1961-1 CB 813--REVR 60-354, 1960-2 CB 558
REVR 60-353, 1960-2 CB 591--REVR 60-304, 1960-2 CB 343
REVR 60-303, 1960-2 CB 335--REVR 60-254, 1960-2 CB 42
REVR 60-253, 1960-2 CB 327--REVR 60-204, 1960-1 CB 640
REVR 60-203, 1960-1 CB 41--REVR 60-154, 1960-1 CB 400
REVR 60-153, 1960-1 CB 182--REVR 60-104, 1960-1 CB 425
REVR 60-103, 1960-1 CB 255--REVR 60-54, 1960-1 CB 266
REVR 60-53, 1960-1 CB 185--REVR 60-4, 1960-1 CB 303
REVR 60-3, 1960-1 CB 284--REVR 59-379, 1959-2 CB 51
REVR 59-378, 1959-2 CB 574--REVR 59-329, 1959-2 CB 138
REVR 59-328, 1959-2 CB 379--REVR 59-279, 1959-2 CB 177
REVR 59-278, 1959-2 CB 174--REVR 59-229, 1959-2 CB 180
REVR 59-228, 1959-2 CB 59--REVR 59-179, 1959-1 CB 300
REVR 59-178, 1959-1 CB 298--REVR 59-129, 1959-1 CB 58
REVR 59-128, 1959-1 CB 709--REVR 59-79, 1959-1 CB 15
REVR 59-78, 1959-1 CB 690--REVR 59-29, 1959-1 CB 123
REVR 59-28, 1959-1 CB 120--REVR 58-601, 1958-2 CB 81
REVR 58-600, 1958-2 CB 29--REVR 58-551, 1958-2 CB 747
REVR 58-550, 1958-2 CB 724--REVR 58-501, 1958-2 CB 262
REVR 58-500, 1958-2 CB 21--REVR 58-453, 1961-2 CB 41
REVR 58-453, 1961-2 CB 38--REVR 58-415, 1958-2 CB 985
REVR 58-414, 1958-2 CB 959--REVR 58-365, 1958-2 CB 809
REVR 58-364, 1958-2 CB 807--REVR 58-316, 1958-1 CB 583
REVR 58-315, 1958-1 CB 473--REVR 58-266, 1958-1 CB 520
REVR 58-265, 1958-1 CB 127--REVR 58-216, 1958-1 CB 489
REVR 58-215, 1958-1 CB 439--REVR 58-166, 1958-1 CB 324
REVR 58-165, 1958-1 CB 209--REVR 58-116, 1958-1 CB 410
REVR 58-115, 1958-1 CB 409--REVR 58-69, 1958-1 CB 254
REVR 58-68, 1958-1 CB 183--REVR 58-19, 1958-1 CB 251
REVR 58-18, 1958-1 CB 237--REVR 57-586, 1957-2 CB 249
REVR 57-585, 1957-2 CB 175--REVR 57-537, 1957-2 CB 52
REVR 57-536, 1957-2 CB 52--REVR 57-487, 1957-2 CB 157
REVR 57-486, 1957-2 CB 135--REVR 57-437, 1957-2 CB 717
REVR 57-436, 1957-2 CB 588--REVR 57-387, 1957-2 CB 225
REVR 57-386, 1957-2 CB 107--REVR 57-337, 1957-2 CB 745
REVR 57-336, 1957-2 CB 325--REVR 57-287, 1957-1 CB 517
REVR 57-286, 1957-1 CB 497--REVR 57-235, 1957-1 CB 275
REVR 57-234, 1957-1 CB 263--REVR 57-185, 1957-1 CB 454
REVR 57-184, 1957-1 CB 421--REVR 57-135, 1957-1 CB 307
REVR 57-134, 1957-1 CB 210--REVR 57-85, 1957-1 CB 624
REVR 57-84, 1957-1 CB 564--REVR 57-35, 1957-1 CB 495
REVR 57-34, 1957-1 CB 434--REVR 56-686, 1956-2 CB 880
REVR 56-685, 1956-2 CB 811--REVR 56-636, 1956-2 CB 522
REVR 56-635, 1956-2 CB 501--REVR 56-586, 1956-2 CB 214
REVR 56-585, 1956-2 CB 166--REVR 56-536, 1956-2 CB 1040
REVR 56-535, 1956-2 CB 1032--REVR 56-486, 1956-2 CB 309
REVR 56-485, 1956-2 CB 176--REVR 56-436, 1956-2 CB 520
REVR 56-435, 1956-2 CB 506--REVR 56-386, 1956-2 CB 1059
REVR 56-385, 1956-2 CB 1060--REVR 56-336, 1956-2 CB 1023
REVR 56-335, 1956-2 CB 1024--REVR 56-286, 1956-1 CB 172
REVR 56-285, 1956-1 CB 134--REVR 56-236, 1956-1 CB 705
REVR 56-235, 1956-1 CB 704--REVR 56-186, 1956-1 CB 441
REVR 56-185, 1956-1 CB 202--REVR 56-136, 1956-1 CB 92
REVR 56-135, 1956-1 CB 56--REVR 56-86, 1956-1 CB 449
REVR 56-85, 1956-1 CB 433--REVR 56-36, 1956-1 CB 455
REVR 56-35, 1956-1 CB 453--REVR 55-750, 1955-2 CB 424
REVR 55-749, 1955-2 CB 295--REVR 55-700, 1955-2 CB 569
REVR 55-699, 1955-2 CB 481--REVR 55-650, 1955-2 CB 497
REVR 55-649, 1955-2 CB 473--REVR 55-600, 1955-2 CB 576
REVR 55-599, 1955-2 CB 461--REVR 55-550, 1955-2 CB 475
REVR 55-549, 1955-2 CB 699--REVR 55-500, 1955-2 CB 398
REVR 55-499, 1955-2 CB 379--REVR 55-450, 1955-2 CB 653
REVR 55-449, 1955-2 CB 599--REVR 55-400, 1955-1 CB 599
REVR 55-399, 1955-1 CB 572--REVR 55-350, 1955-1 CB 290
REVR 55-349, 1955-1 CB 232--REVR 55-300, 1955-1 CB 406
REVR 55-299, 1955-1 CB 402--REVR 55-250, 1955-1 CB 270
REVR 55-249, 1955-1 CB 218--REVR 55-200, 1955-1 CB 633
REVR 55-199, 1955-1 CB 511--REVR 55-150, 1955-1 CB 14
REVR 55-149, 1955-1 CB 139--REVR 55-101, 1955-1 CB 566
REVR 55-100, 1955-1 CB 565--REVR 55-51, 1955-1 CB 514
REVR 55-50, 1955-1 CB 506--REVR 55-1, 1955-1 CB 26
REVR 55, 1953-1 CB 259--REVR 54-578, 1954-2 CB 84
REVR 54-577, 1954-2 CB 592--REVR 54-528, 1954-2 CB 584
REVR 54-527, 1954-2 CB 570--REVR 54-478, 1954-2 CB 463
REVR 54-477, 1954-2 CB 459--REVR 54-428, 1954-2 CB 43
REVR 54-427, 1954-2 CB 42--REVR 54-380, 1954-2 CB 155
REVR 54-379, 1954-2 CB 121--REVR 54-330, 1954-2 CB 409
REVR 54-329, 1954-2 CB 405--REVR 54-264, 1954-2 CB 57
REVR 54-258, 1954-2 CB 461--REVR 54-181, 1954-1 CB 251
REVR 54-179, 1954-1 CB 129--REVR 54-106, 1954-1 CB 28
REVR 54-105, 1954-1 CB 12--REVR 54-44, 1954-1 CB 126
REVR 54-43, 1954-1 CB 119--REVR 22, 1953-1 CB 84
REVR 20, 1953-1 CB 426--REVR 1, 1953-1 CB 36

SIL [Obsolete]

SIL 5, 2 CB 490--SIL 1, 2 CB 542

SM [Obsolete]

SM 5783, 1 CB 121--SM 4665A, 1 CB 256
SM 4647, 2 CB 74--SM 3790, 2 CB 61
SM 3781, 2 CB 21--SM 2846, 1 CB 102
SM 2843, 1 CB 150--SM 2368, 2 CB 225
SM 2357, 2 CB 262--SM 2073, 2 CB 322
SM 2072, 2 CB 124--SM 1549, 1 CB 301
SM 1538, 1 CB 349--SM 1217, 1 CB 120
SM 1202, 1 CB 148--SM 920, 1 CB 239
SM 10, Dec 20 ST CB 64--SM 10, Dec 20 ST CB 64

Sol. Op. [Obsolete]

SO 160, 2 CB 60--SO 86, 4 CB 138
SO 83, 4 CB 300--SO 4, 2 CB 307

SR [Obsolete]

SR 9610, 2 CB 189--SR 1987, 1 CB 161
SR 1981, 1 CB 272--SR 6, 2 CB 50

SST [Obsolete]

SST 418, 1941-1 CB 416--SST 363, 1939-1 CB 291
SST 362, 1939-1 CB 302--SST 308, 1938-2 CB 281
SST 307, 1938-2 CB 279--SST 251, 1938-1 CB 450
SST 250, 1938-1 CB 440--SST 197, 1937-2 CB 392
SST 196, 1937-2 CB 451--SST 145, 1937-1 CB 443
SST 144, 1937-1 CB 436--SST 92, 1937-1 CB 388
SST 91, 1937-1 CB 367--SST 37, 2 CB 380
SST 36, 2 CB 413--SST 2, 1 CB 473

ST [Obsolete]

ST 382A, 2 CB 290--ST 895, 1940-1 CB 257
ST 894, 1939-2 CB 376--ST 841, 2 CB 359
ST 840, 2 CB 332--ST 789, 2 CB 394
ST 788, 2 CB 436--ST 737, 1 CB 426
ST 736, 1 CB 377--ST 685, 1 CB 404
ST 684, 1 CB 454--ST 634, 1 CB 422
ST 633, 1 CB 409--ST 583, 2 CB 489
ST 582, 2 CB 472--ST 531, 2 CB 463
ST 530, 2 CB 537--ST 481, 2 CB 479
ST 480, 2 CB 478--ST 430, 2 CB 300
ST 428, 2 CB 310--ST 379, 1 CB 443
ST 378, 1 CB 440--ST 170, Dec 21 ST CB 41
ST 169, Dec 21 ST CB 38--ST 120, Jun 21 ST CB 46
ST 119, Jun 21 ST CB 46--ST 70, Jun 21 ST CB 83
ST 69, Jun 21 ST CB 83--ST 19, Dec 20 ST CB 87
ST 18, Dec 20 ST CB 87--ST 1, Dec 20 ST CB 26

Tax Court Rules [Obsolete]

TC, 1957 PH TC ¶76,649--TC, 1957 PH TC ¶76,649

TBR [Obsolete]

TBR 71, 1 CB 44--TBR 3, 1 CB 29
TBR 2, 1 CB 307--TBR 2, 1 CB 307

TD Cir. [Obsolete]

TDCIR 92 (Rev 2), 1967 PH TC ¶55,194--TDCIR 1-80, 1980-1 CB 714

TD Release [Obsolete]

TDREL R-2615, 1984 PH ¶142,251--TDREL, 1953 PH TC ¶76,496

TDO [Obsolete]

TDO 240 (Rev 1), 1978-2 CB 568--TDO 165-9, 1958-2 CB 1086
TDO 165-6, ¶44,927.4 PH TC 1957--TDO 150-37,
TDO 150-36, 1954-2 CB 733--TDO 111-1, 1979-1 CB 627

Technical Information Releases [Obsolete]

TIR TIR-390, 1962 PH ¶54, 692--TIR 1408, 1975 PH TC ¶55,757
TIR 1407, 1975 PH TC ¶142,199, ¶55,718--TIR 1358, 1975 PH TC ¶55,174
TIR 1357, 1975 PH TC ¶55,152--TIR 1305, 1972 PH TC ¶55,402
TIR 1304, 1972 PH TC ¶55,401--TIR 1252, 1973 PH TC ¶55,457
TIR 1251, 1973 PH TC ¶55,456--TIR 1197, 1972 PH TC ¶196,204
TIR 1196, 1972 PH TC ¶55,326--TIR 1135, 1972 PH TC ¶54,794
TIR 1134, 1972 PH TC ¶54,793--TIR 1083, 1971 PH TC ¶55,228
TIR 1082, 1971 PH TC ¶55,226--TIR 1028, 1970 PH TC ¶54,785
TIR 1027, 1970 PH TC ¶54,766--TIR 970, 1968 PH TC ¶196,533
TIR 969, 1968 PH TC ¶196,536--TIR 919, 1967 PH TC ¶55,047
TIR 918, 1967 PH TC ¶196,365--TIR 868, 1966 PH TC ¶55,218
TIR 867, 1966 PH TC ¶196,235--TIR 818, 1966 PH TC ¶54,875
TIR 817, 1966 PH TC ¶54,851--TIR 765, 1965 PH TC ¶55,039
TIR 764, 1965 PH TC ¶55,029--TIR 715, 1965 PH TC ¶54,800
TIR 713, 1965 PH TC ¶54,799--TIR 657, 1964 PH TC ¶55,169
TIR 656, 1964 PH TC ¶55,160--TIR 600, 1964 PH TC ¶54,888
TIR 599, 1964 PH TC ¶196,593--TIR 549, 1964 PH TC ¶54,745
TIR 548, 1964 PH TC ¶54,728--TIR 494, 1963 PH TC ¶54,934
TIR 493, 1963 PH TC ¶54,933--TIR 441, 1963 PH TC ¶54,657
TIR 440, 1963 PH TC ¶54,652--TIR 386, 1962 PH TC ¶54,799
TIR 385, 1962 PH TC ¶54,798--TIR 327, 1961 PH TC ¶198,615
TIR 326, 1961 PH TC ¶54,839--TIR 273, 1960 PH TC ¶55,104
TIR 272, 1960 PH TC ¶55,091--TIR 215, 1960 PH TC ¶54,750
TIR 214, 1960 PH TC ¶54,739--TIR 157, 1959 PH TC ¶54,903
TIR 156, 1959 PH TC ¶54,892--TIR 98, 1958 PH TC ¶55,103
TIR 96, 1958 PH TC ¶55,092--TIR 1, 1956 PH TC ¶34,176

Tobacco Tax

TT, 1956 PH TC ¶44,222--TT, 1956 PH TC ¶44,222

Treasury Certificates [Obsolete]

TRESCRT, 1956 PH TC ¶76,662--TRESCRT, 1956 PH TC ¶76,662

Treasury Decisions

TD 73 (Nar), 1964-1 CB 414--TD 9585, 2012 USTR ¶86,176
TD 9584, 2012 USTR ¶86,170--TD 9535, 2011 USTR ¶86,289
TD 9534, 2011 USTR ¶86,314--TD 9486, 2010 USTR ¶86,232, 2010 USTR (Excise) ¶101,598
TD 9485, 2010 USTR ¶86,231--TD 9436, 2008 USTR ¶86,644
TD 9435, 2008 USTR ¶86,615--TD 9386, 2008 USTR ¶86,154
TD 9385, 2008 USTR ¶86,135--TD 9336, 2007 USTR ¶86,431
TD 9335, 2007 USTR ¶86,394--TD 9286, 2006-2 CB 750
TD 9285, 2006-2 CB 656--TD 9236, 2006-1 CB 382
TD 9235, 2006-1 CB 338--TD 9186, 2005-1 CB 790
TD 9185, 2005-1 CB 749--TD 9136, 2004-2 CB 112
TD 9135, 2004-2 CB 69--TD 9086, 2003-2 CB 817
TD 9085, 2003-2 CB 775--TD 9036, 2003-1 CB 533
TD 9035, 2003-1 CB 528--TD 8986, 2002-1 CB 780
TD 8985, 2002-1 CB 707--TD 8937, 2001-1 CB 806
TD 8936, 2001-1 CB 720--TD 8887, 2000-1 CB 1269
TD 8886, 2000-2 CB 3--TD 8837, 1999-2 CB 426
TD 8836, 1999-2 CB 411--TD 8787, 1998-2 CB 621
TD 8786, 1998-2 CB 563--TD 8737, 1997-2 CB 273
TD 8736, 1997-2 CB 249--TD 8687, 1996-2 CB 47
TD 8686, 1996-2 CB 152--TD 8637, 1996-1 CB 232
TD 8636, 1996-1 CB 308--TD 8587, 1995-1 CB 207
TD 8586, 1995-1 CB 147--TD 8537, 1994-1 CB 230
TD 8536, 1994-1 CB 261--TD 8487, 1993-2 CB 193
TD 8486, 1993-2 CB 184--TD 8437, 1992-2 CB 110
TD 8436, 1992-2 CB 284--TD 8387, 1992-1 CB 306
TD 8386, 1992-1 CB 403--TD 8337, 1991-1 CB 92
TD 8336, 1991-1 CB 209--TD 8287, 1990-1 CB 130
TD 8286, 1990-1 CB 138--TD 8237, 1989-1 CB 180
TD 8236, 1989-1 CB 228--TD 8186, 1988-1 CB 37
TD 8185, 1988-1 CB 381--TD 8136, 1987-1 CB 257
TD 8135, 1987-1 CB 312--TD 8086, 1986-1 CB 76
TD 8085, 1986-1 CB 207--TD 8036, 1985-2 CB 208
TD 8035, 1985-2 CB 6--TD 7986, 1984-2 CB 64
TD 7985, 1984-2 CB 299--TD 7936, 1984-1 CB 162
TD 7935, 1984-1 CB 136--TD 7886, 1983-1 CB 342
TD 7885, 1983-1 CB 338--TD 7836, 1982-2 CB 91
TD 7835, 1982-2 CB 111--TD 7786, 1981-2 CB 174
TD 7785, 1981-2 CB 233--TD 7736, 1981-1 CB 412
TD 7735, 1981-1 CB 217--TD 7686, 1980-1 CB 248
TD 7685, 1980-1 CB 192--TD 7636, 1979-2 CB 162
TD 7635, 1979-2 CB 265--TD 7586, 1979-1 CB 228
TD 7585, 1979-1 CB 63--TD 7536, 1978-1 CB 317
TD 7535, 1978-1 CB 84--TD 7486, 1977-1 CB 353
TD 7485, 1977-1 CB 304--TD 7436, 1976-2 CB 116
TD 7435, 1976-2 CB 238--TD 7386, 1976-2 CB 451
TD 7385, 1976-2 CB 298--TD 7336, 1975-1 CB 272
TD 7335, 1975-1 CB 136--TD 7286, 1973-2 CB 149
TD 7285, 1973-2 CB 163--TD 7235, 1973-1 CB 209
TD 7234, 1973-1 CB 603--TD 7186, 1972-2 CB 553
TD 7185, 1972-1 CB 425--TD 7135, 1971-2 CB 154
TD 7134, 1971-2 CB 200--TD 7085, 1971-1 CB 155
TD 7084, 1971-1 CB 230--TD 7032, 1970-1 CB 511
TD 7031, 1970-1 CB 308--TD 6982, 1968-2 CB 168
TD 6981, 1968-2 CB 314--TD 6932, 1967-2 CB 637
TD 6931, 1967-2 CB 12--TD 6882, 1966-1 CB 244
TD 6881, 1966-1 CB 247--TD 6831, 1965-2 CB 957
TD 6830, 1965-2 CB 77--TD 6781, 1965-1 CB 320
TD 6780, 1965-1 CB 96--TD 6731, 1964-1 CB 11
TD 6730, 1964-1 CB 501--TD 6681, 1963-2 CB 233
TD 6680, 1963-2 CB 417--TD 6632, 1963-1 CB 465
TD 6631, 1963-1 CB 120--TD 6582, 1962-1 CB 177
TD 6581, 1962-1 CB 281--TD 6532, 1961-1 CB 117
TD 6531, 1961-1 CB 387--TD 6481, 1960-2 CB 159
TD 6480, 1960-2 CB 120--TD 6431, 1960-1 CB 755
TD 6430, 1960-1 CB 520--TD 6380, 1959-1 CB 63
TD 6379, 1959-1 CB 541--TD 6330, 1958-2 CB 873
TD 6329, 1958-2 CB 921--TD 6280, 1957-2 CB 70
TD 6279, 1957-2 CB 190--TD 6230, 1957-1 CB 269
TD 6229, 1957-1 CB 287--TD 6181, 1956-1 CB 800
TD 6180, 1956-1 CB 753--TD 6131, 1955-1 CB 721
TD 6130, 1955-1 CB 665--TD 6081, 1954-2 CB 118
TD 6080, 1954-2 CB 117--TD 5908, 1952-1 CB 143
TD 5906, 1952-1 CB 155--TD 5532, 1946-2 CB 73
TD 5515, 1946-1 CB 26--TD 5278, 1943 CB 478
TD 5277, 1943 CB 927--TD 4906, 1939-2 CB 404
TD 4897, 1939-1 CB 404--TD 4254, 1 CB 165
TD 4252, 2 CB 290--TD 3471, 1 CB 181
TD 3467, 1 CB 104--TD 2925, 1 CB 157
TD 2923, 1 CB 185--TD 48, 1954-2 CB 440

Treasury Dept. Circulars [Obsolete]

CIRC 980, 1956 PH TC ¶76,662--CIRC 1-64, 1964 PH TC ¶54,669

Treasury Document [Obsolete]

TRESDOC 5407, 1963 PH TC ¶54,634--TRESDOC 5407, 1963 PH TC ¶54,634

Treasury News Releases [Obsolete]

TNR R-946, 1982 PH ¶55,285--TNR, 1978 PH ¶55,030
TNR, 1978 PH ¶54,985--TNR, 1977 PH TC ¶55,788