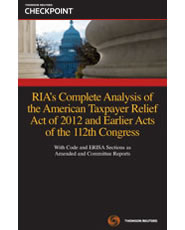 Complete Analysis of American Tax Payer Relief Act

Product Information
Brand:

Research Institute of America
RIA's Complete Analysis of the American Taxpayer Relief Act of 2012 and Earlier Acts of the 112th Congress explains critically important tax changes for businesses and individuals in The American Taxpayer Relief Act of 2012. It also includes all the tax provisions in earlier acts passed by the 112th congress.
The Complete Analysis provides practical guidance, planning strategies and tips on how to avoid pitfalls created by the new legislation. It also includes the Code sections as amended, along with the applicable Committee Reports, sample client letters, finding tables and a comprehensive index for easy navigation.
The Complete Analysis includes:
Continuation of the lower "Bush-era" income tax rates for individuals with taxable income up to $400,000 ($450,000 for married joint filers) but with a higher 39.6% rate above those thresholds
A permanent "patch" to the Alternative Minimum Tax (AMT)
An increase in the top rate for dividends and capital gains, from 15% to 20%, for taxpayers subject to the new 39.6% rate
Restoration of the "PEP and Pease" phase-outs of personal exemptions and itemized deductions for high earners
Transfer tax relief, making the $5 million exemption permanent (as indexed for inflation), but also increasing the top estate, gift, and generation-skipping transfer tax rate from 35% to 40%
Extensions of over 25 tax breaks for businesses, including the research credit, various depreciation and expensing provisions, a wide variety of business and investment tax credits, the exception under Subpart F for active financing income
Extensions of numerous tax breaks for individuals, including:
the option to deduct state and local sales tax instead of state and local income tax
the deduction for teachers' expenses
the exclusion for discharge of qualified principal residence debt
parity for the exclusions for employer-provided mass transit and parking benefits
treatment of mortgage insurance premiums as qualified residence interest
the special rule for contributions of capital gain real property made for conservation purposes
the above-the-line deduction for qualified tuition and related expenses
tax-free distributions from IRAs for charitable purposes
Extensions of a dozen energy-related tax breaks, and several disaster relief provisions
A change for 401(k) plans to allow participants to make certain rollover transfers to designated Roth accounts
NEW! Five FREE Special Studies on the American Taxpayer Relief Act.
---