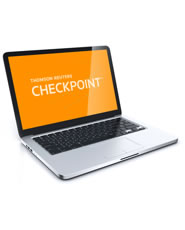 Core Treatise Library

The Core Treatise Library offers unlimited access to the entire line of WG&L federal, state & local, and international treatises on Checkpoint -- vital information for anyone with tax responsibilities in your firm.
Keep informed with daily updates of primary source materials. Use alone or add this library to your core research library for the best of both worlds.
WG&L Federal Treatises
The Alternative Minimum Tax
The Consolidated Tax Return
Electronic Commerce: Taxation and Planning
Federal Income Taxation of Banks & Financial Institutions
Federal Income Taxation of Corporations & Shareholders
Federal Income Taxation of Corporations & Shareholders: Forms
Federal Income Taxation of Individuals
Federal Income Taxation of Intellectual Properties & Intangible Assets
Federal Income Taxation of Passive Activities
Federal Income Taxation of Real Estate
Federal Income Taxation of S Corporations
Federal Tax Accounting
Federal Tax Collections, Liens & Levies
Federal Taxation of Financial Instruments & Transactions
Federal Taxation of Income, Estates & Gifts
Federal Taxation of Partnerships & Partners
IRS Practice & Procedure
IRS Procedural Forms & Analysis
Limited Liability Companies: Tax & Business Law
Litigation of Federal Civil Tax Controversies
Partnership Taxation
Principles of Financial Derivatives: U.S. and International Taxation
Real Estate Forms: Tax Analysis & Checklists
Structuring and Drafting Partnership Agreements
Subchapter S Taxation
Taxation of Regulated Investment Companies & Their Shareholders
Tax Fraud & Evasion: Offenses, Trials, Civil Penalties [Vol. 1]
Tax Fraud & Evasion: Money Laundering, Asset Forfeiture, Sentencing [Vol. 2]
Tax Planning for Transfers of Business Interests
Taxation of Exempt Organizations
WG&L Tax Dictionary

WG&L State & Local Treatise

State Taxation

WG&L International Treatises

Foreign Tax Credits
Income Tax Treaties of the United States
International Transfer Pricing: OECD Guidelines
US International Taxation: Practice & Procedure
US International Taxation
US International Tax Forms Manual: Compliance & Reporting
US International Taxation: Agreements, Checklists & Commentary
US Taxation of Foreign-Controlled Businesses
US Taxation of International Mergers, Acquisitions & Joint Ventures
US International Transfer Pricing

International Material

US Bilateral Tax Treaties Database
List of Content (Click any title to expand the list)
Bittker & Eustice: Federal Income Taxation of Corporations & Shareholders
Chapter 1: Introductory
Chapter 2: Definition of "Corporation"
Chapter 3: Organization of a Corporation: Section 351 and Related Problems
Chapter 4: Corporation's Capital Structure: Debt vs. Equity

A. Debt Versus Equity: Problems of Classification
B. Debt Versus Equity: Major Income Tax Considerations
C. Original Issue and Market Discount
D. Convertible Debt and Other Equity-Flavored Securities

Chapter 5: The Corporation Income Tax
Chapter 6: Corporate Elections Under Subchapter S
Chapter 7: Penalty Taxes on Undistributed Corporate Income

A. The Accumulated Earnings Tax
B. The Tax on Personal Holding Companies

Chapter 8: Dividends and Other Nonliquidating Distributions

A. Distributions of Money and General Rules
B. Distributions of Property Other Than Money
C. Distributions of Corporation's Own Stock and Stock Rights
D. Preferred Stock Bailouts and Section 306

Chapter 9: Stock Redemptions

A. Sale Versus § 301 Treatment
B. Collateral Consequences to Shareholders and the Distributing Corporation

Chapter 10: Complete Liquidations and Other Taxable Dispositions of Corporate Stock and Assets in Bulk

A. General Rule: Complete Liquidations Treated as Sales of Liquidating Corporation's Stock and Assets
B. Subsidiary Liquidations
C. Taxable Acquisitions
D. Collapsible Corporations

Chapter 11: Corporate Divisions
Chapter 12: Corporate Reorganizations

A. General Considerations
B. "Reorganization" Defined
C. Treatment of Parties to a Reorganization
D. Special Problems in Reorganizations

Chapter 13: Affiliated Corporations

A. Multiple Corporations Generally
B. Transactions Between Affiliated Corporations: § 482 and Related Provisions
C. Consolidated Returns

Chapter 14: Corporate Tax Attributes: Survival and Transfer

A. Background and Introduction
B. Carryover Items and Computation Mechanics: § 381(c)
C. Limitations on Enjoyment of Corporate Tax Attributes

Chapter 15: Foreign Corporations and Foreign-Source Income

A. Taxation of Foreign Corporations in General
B. Domestic Corporations With Foreign-Source Income
C. Foreign Personal Holding Companies and Foreign Investment Companies
D. Controlled Foreign Corporations
E. Organization, Liquidation, and Reorganization of Foreign Corporations: § 367 and Related Provisions