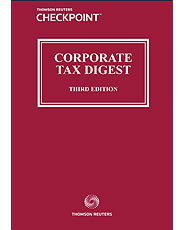 Corporate Tax Digest

An easy-to-use guide to cases and rulings concerning corporate taxation!
Corporate Tax Digest provides a comprehensive reference to important federal corporate tax cases and rulings rendered since 1954. All relevant reported decisions of federal courts and the Internal Revenue Service have been carefully reviewed, selected, and edited to present concise and easily understandable abstracts of complex cases.
The Digest summarizes the facts, gives the holding, states the name of the case or ruling, and provides the most up-to-date citation to where the decision or ruling is printed. You get the relevant information you need quickly and easily.
---