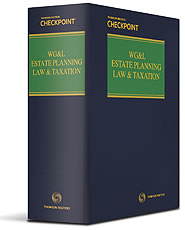 Estate Planning Law and Taxation

This practical, hands-on guide focuses on the tax consequences of estate planning decisions. Look to this Fourth Edition of Estate Planning Law & Taxation for direction on prudent income, gift, estate, and generation-skipping tax management.
Build a comprehensive and thorough estate plan by weighing tax pros and cons of each planning decision. Get detailed guidance on separation agreements, premarital agreements, arrangements for disabilities of clients and beneficiaries, generation-skipping transfer tax, and more.
Estate Planning Law and Taxation - Westfall & Mair

Part I GENERAL CONSIDERATIONS

Chapter 1: Overview of State Law and Federal Taxes in Estate Planning

Chapter 2: Basis and Valuation of Property

Part II SPECIALLY TREATED PROPERTY

Chapter 3: Jointly Owned Property

Chapter 4: Community Property and Other Marital Interests

Chapter 5: Life Insurance

Chapter 6: Qualified Retirement Plans, Individual Retirement Arrangements, and Other Employee Benefits

Chapter 7: Business Interests

Part III LIFETIME ARRANGEMENTS

Chapter 8: Using Lifetime Transfers to Save Estate Taxes

Chapter 9: Gifts

Chapter 10: Sales, Loans, and Other Lifetime Arrangements

Chapter 11: Premarital Agreements

Chapter 12: Separation Agreements and Alternative Arrangements in Estate Planning

Chapter 13: Planning for Incapacity and Financing Long-Term Care

Part IV ARRANGEMENTS EFFECTIVE UPON DEATH

Chapter 14: Wills, Probate Estates, and Other Arrangements Effective Upon Death

Chapter 15: Arrangements to Save Estate Taxes

Chapter 16: The Marital Deduction

Part V TRUSTS AND BENEFICIARIES

Chapter 17: Noncharitable Trusts: Income Tax Aspects for Grantors, Beneficiaries, and Power Holders

Chapter 18: Powers of Appointment: Estate and Gift Tax Aspects

Chapter 19: Split-Interest Trusts and Other Charitable Arrangements

Chapter 20: The Generation-Skipping Transfer Tax

Appendix 0. Sample Forms

Appendix 0. Sample Forms
---