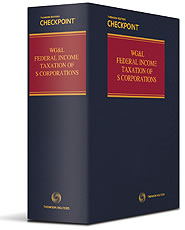 Federal Income Taxation of S Corporations

The new Fifth Edition of Federal Income Taxation of S Corporations provides comprehensive, up-to-date guidance on the election, operation, and termination of S corporation status. You'll get the information you need concerning the federal tax regulations that govern S corporations, how the rules apply to daily business operations, and all relevant court decisions and Private Letter Rulings that could affect your business or your clients.
The authors, James S. Eustice, Joel D. Kuntz, and John A. Bogdanski, long recognized as authorities on federal income taxation, combine the highest level of tax analysis with practical guidance. They provide planning strategies, useful examples, and realistic solutions to every facet of the benefits and challenges that S corporations offer.
Federal Income Taxation of S Corporations will help you:
Reach your answers quickly with in-depth guidance on properly electing and maintaining S corporation status, including the mechanics of a qualified election, limits on the type and number of shareholders, class of stock, permitted taxable year, capitalization, shareholders' agreements, and allowable ownership of subsidiaries
Understand the rules governing the pass-through of income, losses, deductions, and credits from an S corporation to its shareholders
Get the details on all the considerations involved in mergers with related corporations, Type D reorganizations, and other consolidations, transfers, and acquisitions of stock or property
Easily compare the advantages and disadvantages of S corporations with other closely held entities such as C corporations, limited liability companies, and family-owned partnerships, and the effect that interrelationships with these entities may have on the qualification of an S corporation
Navigate the requirements of terminating S corporation status, revoking a termination, and avoiding inadvertent termination
Take advantage of time-saving, ready-to-use, S corporation-specific checklists and IRS forms
This treatise also offers authoritative, easy-to-use guidance on avoiding costly pitfalls and securing the maximum benefits from S corporation status.
Eustice, Kuntz & Bogdanski: Federal Income Taxation of S Corporations

Chapter 1: History and Future of Subchapter S

Chapter 2: Uses of S Corporations

Chapter 3: Eligibility to Elect Under Subchapter S

Chapter 4: Mechanics of S Corporation Election

Chapter 5: Termination of Subchapter S Status

Chapter 6: Organization, Capitalization, and Shareholders' Agreements

Chapter 7: Taxation of Income, Losses, Deductions, and Credits

Chapter 8: Distributions

Chapter 9: Basis of Stock and Debt

Chapter 10: S Corporations in Partnerships and Limited Liability Companies

Chapter 11: Compensation

Chapter 12: Corporate Reorganizations and Divisions

Chapter 13: Redemptions, Liquidations, Sales, and Purchases

Chapter 14: Financially Distressed S Corporations and Shareholders

Chapter 15: Death of a Shareholder or Trust Beneficiary

Chapter 16: Procedural Matters

Chapter 17: Tax Pitfalls

Appendix A. Checklists and Forms

Appendix B. Legislative History of Subchapter S

Appendix C. Table of Articles
---