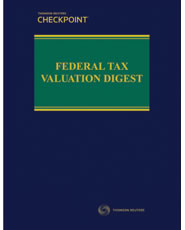 Federal Tax Valuation Digest

Product Information
Frequency of Updates:




Annually

Brand:

WGL
Federal Tax Valuation Digest provides hundreds of case digests that analyze court decisions and the reasoning behind them. The Digest shows how all courts have ruled on similar questions, the factors involved, the key points the courts relied on, and a clear explanation of each decision.
By using the reasoning of the courts, you can support your position and find new approaches to valuing business interests and resolving income, estate, and gift tax assessments. Because your valuations will be based on actual court decisions, you will have the "substantial authority" the IRS requires as back up. This can prove invaluable in helping your client avoid penalties and unnecessary taxes.
All the cases are in digest form, organized, and cross-referenced to save you valuable research time. All pertinent data about the valuations for a case are easily accessible. In addition, there are sections organized by specialized topics that enable you to immediately pinpoint particular aspects of a case.
---