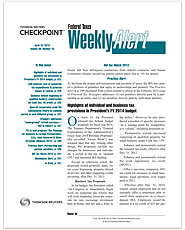 Federal Taxes Weekly Alert

Product Information
Frequency of Updates:




Daily

Brand:

Research Institute of America
Federal Taxes Weekly Alert lets you stay on top of fast-breaking developments in Congress, the courts, the Treasury, the IRS, and other federal agencies.
Status updates on pending legislation help you track important developments as they unfold. Authoritative and concise analysis of the issues and their potential impact provides timely tax-saving tips and guidance. Front cover table of contents lets you quickly check for articles of interest. Extensive cross-referencing allows you easy access to a more in-depth look at the topic.
The Checkpoint version includes an archive of prior issues back to 1995.
Federal Taxes Weekly Alert Newsletter

Preview Documents for the week of 05/04/2017 - Volume 63, No. 18

2017

04/27/2017 - Volume 63, No. 17

Articles

WG&L Journal Insights

In Brief

04/20/2017 - Volume 63, No. 16

Articles

WG&L Journal Insights

In Brief

04/13/2017 - Volume 63, No. 15

Articles

WG&L Journal Insights

In Brief

04/06/2017 - Volume 63, No. 14

03/30/2017 - Volume 63, No. 13

Articles

WG&L Journal Insights

In Brief

03/23/2017 - Volume 63, No. 12

Articles

WG&L Journal Insights

In Brief

03/16/2017 - Volume 63, No. 11

Articles

WG&L Journal Insights

In Brief

03/09/2017 - Volume 63, No. 10

Articles

WG&L Journal Insights

In Brief

03/02/2017 - Volume 63, No. 9

Articles

WG&L Journal Insights

In Brief

02/23/2017 - Volume 63, No. 8

Articles

WG&L Journal Insights

In Brief

02/16/2017 - Volume 63, No. 7

Articles

WG&L Journal Insights

In Brief

02/09/2017 - Volume 63, No. 6

02/02/2017 - Volume 63, No. 5

Articles

WG&L Journal Insights

In Brief

01/26/2017 - Volume 63, No. 4

Articles

WG&L Journal Insights

In Brief

01/19/2017 - Volume 63, No. 3

01/12/2017 - Volume 63, No. 2

Articles

WG&L Journal Insights

In Brief

01/05/2017 - Volume 63, No. 1

Articles

WG&L Journal Insights

In Brief

2016

12/29/2016 - Volume 62, No. 53

12/22/2016 - Volume 62, No. 52

Articles

WG&L Journal Insights

In Brief

12/15/2016 - Volume 62, No. 51

Articles

WG&L Journal Insights

In Brief

12/08/2016 - Volume 62, No. 50

Articles

WG&L Journal Insights

In Brief

12/01/2016 - Volume 62, No. 49

Articles

WG&L Journal Insights

In Brief

11/23/2016 - Volume 62, No. 48

Articles

WG&L Journal Insights

In Brief

11/17/2016 - Volume 62, No. 47

Articles

WG&L Journal Insights

In Brief

11/10/2016 - Volume 62, No. 46

11/03/2016 - Volume 62, No. 45

10/27/2016 - Volume 62, No. 44

Articles

WG&L Journal Insights

In Brief

10/20/2016 - Volume 62, No. 43

Articles

WG&L Journal Insights

In Brief

10/13/2016 - Volume 62, No. 42

Articles

WG&L Journal Insights

In Brief

10/06/2016 - Volume 62, No. 41

09/29/2016 - Volume 62, No. 40

Articles

WG&L Journal Insights

In Brief

09/22/2016 - Volume 62, No. 39

Articles

WG&L Journal Insights

In Brief

09/15/2016 - Volume 62, No. 38

Articles

WG&L Journal Insights

In Brief

09/08/2016 - Volume 62, No. 37

Articles

WG&L Journal Insights

In Brief

09/01/2016 - Volume 62, No. 36

Articles

WG&L Journal Insights

In Brief

08/25/2016 - Volume 62, No. 35

Articles

WG&L Journal Insights

In Brief

08/18/2016 - Volume 62, No. 34

Articles

WG&L Journal Insights

In Brief

08/11/2016 - Volume 62, No. 33

08/04/2016 - Volume 62, No. 32

07/28/2016 - Volume 62, No. 31

Articles

WG&L Journal Insights

In Brief

07/21/2016 - Volume 62, No. 30

Articles

WG&L Journal Insights

In Brief

07/14/2016 - Volume 62, No. 29

Articles

WG&L Journal Insights

In Brief

07/07/2016 - Volume 62, No. 28

06/30/2016 - Volume 62, No. 27

06/23/2016 - Volume 62, No. 26

Articles

WG&L Journal Insights

In Brief

06/16/2016 - Volume 62, No. 25

Articles

WG&L Journal Insights

In Brief

06/09/2016 - Volume 62, No. 24

Articles

WG&L Journal Insights

In Brief

06/02/2016 - Volume 62, No. 23

05/26/2016 - Volume 62, No. 22

Articles

WG&L Journal Insights

In Brief

05/19/2016 - Volume 62, No. 21

Articles

WG&L Journal Insights

In Brief

05/12/2016 - Volume 62, No. 20

Articles

WG&L Journal Insights

In Brief

05/05/2016 - Volume 62, No. 19

Articles

WG&L Journal Insights

In Brief

04/28/2016 - Volume 62, No. 18

04/21/2016 - Volume 62, No. 17

Articles

WG&L Journal Insights

In Brief

04/14/2016 - Volume 62, No. 16

Articles

WG&L Journal Insights

In Brief

04/07/2016 - Volume 62, No. 15

Articles

WG&L Journal Insights

In Brief

03/31/2016 - Volume 62, No. 14

Articles

WG&L Journal Insights

In Brief

03/24/2016 - Volume 62, No. 13

Articles

WG&L Journal Insights

In Brief

03/17/2016 - Volume 62, No. 12

Articles

WG&L Journal Insights

In Brief

03/10/2016 - Volume 62, No. 11

Articles

WG&L Journal Insights

In Brief

03/03/2016 - Volume 62, No. 10

Articles

WG&L Journal Insights

In Brief

02/25/2016 - Volume 62, No. 9

Articles

WG&L Journal Insights

In Brief

02/18/2016 - Volume 62, No. 8

Articles

WG&L Journal Insights

In Brief

02/11/2016 - Volume 62, No. 7

02/04/2016 - Volume 62, No. 6

01/28/2016 - Volume 62, No. 5

Articles

WG&L Journal Insights

In Brief

01/21/2016 - Volume 62, No. 4

01/14/2016 - Volume 62, No. 3

Articles

WG&L Journal Insights

In Brief

01/07/2016 - Volume 62, No. 2

Articles

WG&L Journal Insights

In Brief

2015

12/31/2015 - Volume 62, No. 1

Articles

WG&L Journal Insights

In Brief

12/24/2015 - Volume 61, No. 52

Articles

WG&L Journal Insights

In Brief

12/17/2015 - Volume 61, No. 51

12/10/2015 - Volume 61, No. 50

Articles

WG&L Journal Insights

In Brief

12/03/2015 - Volume 61, No. 49

11/25/2015 - Volume 61, No. 48

11/19/2015 - Volume 61, No. 47

Articles

WG&L Journal Insights

In Brief

11/12/2015 - Volume 61, No. 46

Articles

WG&L Journal Insights

In Brief

11/05/2015 - Volume 61, No. 45

10/29/2015 - Volume 61, No. 44

Articles

WG&L Journal Insights

In Brief

10/22/2015 - Volume 61, No. 43

Articles

WG&L Journal Insights

In Brief

10/15/2015 - Volume 61, No. 42

Articles

WG&L Journal Insights

In Brief

10/08/2015 - Volume 61, No. 41

10/01/2015 - Volume 61, No. 40

09/24/2015 - Volume 61, No. 39

Articles

WG&L Journal Insights

In Brief

09/17/2015 - Volume 61, No. 38

Articles

WG&L Journal Insights

In Brief

09/10/2015 - Volume 61, No. 37

09/03/2015 - Volume 61, No. 36

08/27/2015 - Volume 61, No. 35

Articles

WG&L Journal Insights

In Brief

08/20/2015 - Volume 61, No. 34

Articles

WG&L Journal Insights

In Brief

08/13/2015 - Volume 61, No. 33

Articles

WG&L Journal Insights

In Brief

08/06/2015 - Volume 61, No. 32

Articles

WG&L Journal Insights

In Brief

07/30/2015 - Volume 61, No. 31

Articles

WG&L Journal Insights

In Brief

07/23/2015 - Volume 61, No. 30

07/16/2015 - Volume 61, No. 29

Articles

WG&L Journal Insights

In Brief

07/09/2015 - Volume 61, No. 28

Articles

WG&L Journal Insights

In Brief

07/02/2015 - Volume 61, No. 27

06/25/2015 - Volume 61, No. 26

Articles

WG&L Journal Insights

In Brief

06/18/2015 - Volume 61, No. 25

Articles

WG&L Journal Insights

In Brief

06/11/2015 - Volume 61, No. 24

Articles

WG&L Journal Insights

In Brief

06/04/2015 - Volume 61, No. 23

Articles

WG&L Journal Insights

In Brief

05/28/2015 - Volume 61, No. 22

Articles

WG&L Journal Insights

In Brief

05/21/2015 - Volume 61, No. 21

Articles

WG&L Journal Insights

In Brief

05/14/2015 - Volume 61, No. 20

Articles

WG&L Journal Insights

In Brief

05/07/2015 - Volume 61, No. 19

Articles

WG&L Journal Insights

In Brief

04/30/2015 - Volume 61, No. 18

04/23/2015 - Volume 61, No. 17

Articles

WG&L Journal Insights

In Brief

04/16/2015 - Volume 61, No. 16

Articles

WG&L Journal Insights

In Brief

04/09/2015 - Volume 61, No. 15

04/02/2015 - Volume 61, No. 14

Articles

WG&L Journal Insights

In Brief

03/26/2015 - Volume 61, No. 13

Articles

WG&L Journal Insights

In Brief

03/19/2015 - Volume 61, No. 12

Articles

WG&L Journal Insights

In Brief

03/12/2015 - Volume 61, No. 11

03/05/2015 - Volume 61, No. 10

02/26/2015 - Volume 61, No. 9

Articles

WG&L Journal Insights

In Brief

02/19/2015 - Volume 8, No. 61

Articles

WG&L Journal Insights

In Brief

02/12/2015 - Volume 61, No. 7

02/05/2015 - Volume 61, No. 6

Articles

WG&L Journal Insights

In Brief

01/29/2015 - Volume 61, No. 5

Articles

WG&L Journal Insights

In Brief

01/22/2015 - Volume 61, No. 4

01/15/2015 - Volume 61, No. 3

01/08/2015 - Volume 61, No. 2

Articles

WG&L Journal Insights

In Brief

01/02/2015 - Volume 61, No. 1

Articles

WG&L Journal Insights

In Brief

2014

12/24/2014 - Volume 60, No. 52

Articles

WG&L Journal Insights

In Brief

12/18/2014 - Volume 60, No. 51

Articles

WG&L Journal Insights

In Brief

12/11/2014 - Volume 60, No. 50

12/04/2014 - Volume 60, No. 49

Articles

WG&L Journal Insights

In Brief

11/26/2014 - Volume 60, No. 48

Articles

WG&L Journal Insights

In Brief

11/20/2014 - Volume 60, No. 47

Articles

WG&L Journal Insights

In Brief

11/13/2014 - Volume 60, No. 46

11/06/2014 - Volume 60, No. 45

Articles

WG&L Journal Insights

In Brief

10/30/2014 - Volume 60, No. 44

Articles

WG&L Journal Insights

In Brief

10/23/2014 - Volume 60, No. 43

Articles

WG&L Journal Insights

In Brief

10/16/2014 - Volume 60, No. 42

Articles

WG&L Journal Insights

In Brief

10/09/2014 - Volume 60, No. 41

Articles

WG&L Journal Insights

In Brief

10/02/2014 - Volume 60, No. 40

Articles

WG&L Journal Insights

In Brief

09/25/2014 - Volume 60, No. 39

Articles

WG&L Journal Insights

In Brief

09/18/2014 - Volume 60, No. 38

Articles

WG&L Journal Insights

In Brief

09/11/2014 - Volume 60, No. 37

Articles

WG&L Journal Insights

In Brief

09/04/2014 - Volume 60, No. 36

08/28/2014 - Volume 60, No. 35

08/21/2014 - Volume 60, No. 34

Articles

WG&L Journal Insights

In Brief

08/14/2014 - Volume 60, No. 33

08/07/2014 - Volume 60, No. 32

Articles

WG&L Journal Insights

In Brief

07/31/2014 - Volume 60, No. 31

Articles

WG&L Journal Insights

In Brief

07/24/2014 - Volume 60, No. 30

Articles

WG&L Journal Insights

In Brief

07/17/2014 - Volume 60, No. 29

Articles

WG&L Journal Insights

In Brief

07/10/2014 - Volume 60, No. 28

07/03/2014 - Volume 60, No. 27

06/26/2014 - Volume 60, No. 26

06/19/2014 - Volume 60, No. 25

Articles

WG&L Journal Insights

In Brief

06/12/2014 - Volume 60, No. 24

06/05/2014 - Volume 60, No. 23

Articles

WG&L Journal Insights

In Brief

05/29/2014 - Volume 60, No. 22

Articles

WG&L Journal Insights

In Brief

05/22/2014 - Volume 60, No. 21

05/15/2014 - Volume 60, No. 20

05/08/2014 - Volume 60, No. 19

05/01/2014 - Volume 60, No. 18

Articles

WG&L Journal Insights

In Brief

04/24/2014 - Volume 60, No. 17

Articles

WG&L Journal Insights

In Brief

04/17/2014 - Volume 60, No. 16

Articles

WG&L Journal Insights

In Brief

04/10/2014 - Volume 60, No. 15

Articles

WG&L Journal Insights

In Brief

04/03/2014 - Volume 60, No. 14

Articles

WG&L Journal Insights

In Brief

03/27/2014 - Volume 60, No. 13

03/20/2014 - Volume 60, No. 12

Articles

WG&L Journal Insights

In Brief

03/13/2014 - Volume 60, No. 11

Articles

WG&L Journal Insights

In Brief

03/06/2014 - Volume 60, No. 10

02/27/2014 - Volume 60, No. 9

Articles

WG&L Journal Insights

In Brief

02/20/2014 - Volume 60, No. 8

Articles

WG&L Journal Insights

In Brief

02/13/2014 - Volume 60, No. 7

Articles

WG&L Journal Insights

In Brief

02/06/2014 - Volume 60, No. 6

Articles

WG&L Journal Insights

In Brief

01/30/2014 - Volume 60, No. 5

Articles

WG&L Journal Insights

In Brief

01/23/2014 - Volume 60, No. 4

Articles

WG&L Journal Insights

In Brief

01/16/2014 - Volume 60, No. 3

01/09/2014 - Volume 60, No. 2

Articles

WG&L Journal Insights

In Brief

01/02/2014 - Volume 60, No. 1

2013

12/26/2013 - Volume 59, No. 52

Articles

WG&L Journal Insights

In Brief

12/19/2013 - Volume 59, No. 51

Articles

WG&L Journal Insights

In Brief

12/12/2013 - Volume 59, No. 50

12/05/2013 - Volume 59, No. 49

Articles

WG&L Journal Insights

In Brief

11/27/2013 - Volume 59, No. 48

Articles

WG&L Journal Insights

In Brief

11/21/2013 - Volume 59, No. 47

Articles

WG&L Journal Insights

In Brief

11/14/2013 - Volume 59, No. 46

Articles

WG&L Journal Insights

In Brief

11/07/2013 - Volume 59, No. 45

10/31/2013 - Volume 59, No. 44

Articles

WG&L Journal Insights

In Brief

10/24/2013 - Volume 59, No. 43

Articles

WG&L Journal Insights

In Brief

10/17/2013 - Volume 59, No. 42

Articles

WG&L Journal Insights

In Brief

10/10/2013 - Volume 59, No. 41

10/03/2013 - Volume 59, No. 40

09/26/2013 - Volume 59, No. 39

Articles

WG&L Journal Insights

In Brief

09/19/2013 - Volume 59, No. 38

Articles

WG&L Journal Insights

In Brief

09/12/2013 - Volume 59, No. 37

09/05/2013 - Volume 59, No. 36

Articles

WG&L Journal Insights

In Brief

08/29/2013 - Volume 59, No. 35

Articles

WG&L Journal Insights

In Brief

08/22/2013 - Volume 59, No. 34

Articles

WG&L Journal Insights

In Brief

08/15/2013 - Volume 59, No. 33

Articles

WG&L Journal Insights

In Brief

08/08/2013 - Volume 59, No. 32

Articles

WG&L Journal Insights

In Brief

08/01/2013 - Volume 59, No. 31

Articles

WG&L Journal Insights

In Brief

07/25/2013 - Volume 59, No. 30

Articles

WG&L Journal Insights

In Brief

07/18/2013 - Volume 59, No. 29

07/11/2013 - Volume 59, No. 28

07/03/2013 - Volume 59, No. 27

06/27/2013 - Volume 59, No. 26

Articles

WG&L Journal Insights

In Brief

06/20/2013 - Volume 59, No. 25

Articles

WG&L Journal Insights

In Brief

06/13/2013 - Volume 59, No. 24

Articles

WG&L Journal Insights

In Brief

06/06/2013 - Volume 59, No. 23

Articles

WG&L Journal Insights

In Brief

05/30/2013 - Volume 59, No. 22

05/23/2013 - Volume 59, No. 21

Articles

WG&L Journal Insights

In Brief

05/16/2013 - Volume 59, No. 20

Articles

WG&L Journal Insights

In Brief

05/09/2013 - Volume 59, No. 19

05/02/2013 - Volume 59, No. 18

04/25/2013 - Volume 59, No. 17

Articles

WG&L Journal Insights

In Brief

04/18/2013 - Volume 59, No. 16

Articles

WG&L Journal Insights

In Brief

04/11/2013 - Volume 59, No. 15

Articles

WG&L Journal Insights

In Brief

04/04/2013 - Volume 59, No. 14

Articles

WG&L Journal Insights

In Brief

03/28/2013 - Volume 59, No. 13

Articles

WG&L Journal Insights

In Brief

03/21/2013 - Volume 59, No. 12

Articles

WG&L Journal Insights

In Brief

03/14/2013 - Volume 59, No. 11

Articles

WG&L Journal Insights

In Brief

03/07/2013 - Volume 59, No. 10

02/28/2013 - Volume 59, No. 9

Articles

WG&L Journal Insights

In Brief

02/21/2013 - Volume 59, No. 8

02/14/2013 - Volume 59, No. 7

Articles

WG&L Journal Insights

In Brief

02/07/2013 - Volume 59, No. 6

Articles

WG&L Journal Insights

In Brief

01/31/2013 - Volume 59, No. 5

01/24/2013 - Volume 59, No. 4

Articles

WG&L Journal Insights

In Brief

01/17/2013 - Volume 59, No. 3

01/10/2013 - Volume 59, No. 2

Articles

WG&L Journal Insights

WG&L Journal Insights

In Brief

01/03/2013 - Volume 59, No. 1

2012

12/27/2012 - Volume 58, No. 52

Articles

WG&L Journal Insights

In Brief

12/20/2012 - Volume 58, No. 51

Articles

WG&L Journal Insights

In Brief

12/13/2012 - Volume 58, No. 50

Articles

WG&L Journal Insights

In Brief

12/06/2012 - Volume 58, No. 49

Articles

WG&L Journal Insights

In Brief

11/29/2012 - Volume 58, No. 48

Articles

WG&L Journal Insights

In Brief

11/21/2012 - Volume 58, No. 47

11/15/2012 - Volume 58, No. 46

Articles

WG&L Journal Insights

In Brief

11/08/2012 - Volume 58, No. 45

Articles

WG&L Journal Insights

In Brief

11/01/2012 - Volume 58, No. 44

10/25/2012 - Volume 58, No. 43

10/18/2012 - Volume 58, No. 42

10/11/2012 - Volume 58, No. 41

Articles

WG&L Journal Insights

In Brief

10/04/2012 - Volume 58, No. 40

Articles

WG&L Journal Insights

In Brief

09/27/2012 - Volume 58, No. 39

Articles

WG&L Journal Insights

In Brief

09/20/2012 - Volume 58, No. 38

Articles

WG&L Journal Insights

In Brief

09/13/2012 - Volume 58, No. 37

09/06/2012 - Volume 58, No. 36

08/30/2012 - Volume 58, No. 35

Articles

WG&L Journal Insights

In Brief

08/23/2012 - Volume 58, No. 34

Articles

WG&L Journal Insights

In Brief

08/16/2012 - Volume 58, No. 33

Articles

WG&L Journal Insights

In Brief

08/09/2012 - Volume 45, No. 32

Articles

WG&L Journal Insights

In Brief

08/02/2012 - Volume 58, No. 31

Articles

WG&L Journal Insights

In Brief

07/26/2012 - Volume 58, No. 30

07/19/2012 - Volume 58, No. 29

Articles

WG&L Journal Insights

In Brief

07/12/2012 - Volume 58, No. 28

07/05/2012 - Volume 58, No. 27

06/28/2012 - Volume 58, No. 26

Articles

WG&L Journal Insights

In Brief

06/21/2012 - Volume 58, No. 25

06/14/2012 - Volume 58, No. 24

Articles

WG&L Journal Insights

In Brief

06/07/2012 - Volume 58, No. 23

Articles

WG&L Journal Insights

In Brief

05/31/2012 - Volume 58, No. 22

Articles

WG&L Journal Insights

In Brief

05/24/2012 - Volume 58, No. 21

05/17/2012 - Volume 58, No. 20

Articles

WG&L Journal Insights

In Brief

05/10/2012 - Volume 58, No. 19

Articles

WG&L Journal Insights

In Brief

05/03/2012 - Volume 58, No. 18

04/26/2012 - Volume 58, No. 17

Articles

WG&L Journal Insights

In Brief

04/19/2012 - Volume 58, No. 16

Articles

WG&L Journal Insights

In Brief

04/12/2012 - Volume 58, No. 15

Articles

WG&L Journal Insights

In Brief

04/05/2012 - Volume 58, No. 14

Articles

WG&L Journal Insights

In Brief

03/29/2012 - Volume 58, No. 13

03/22/2012 - Volume 58, No. 12

Articles

WG&L Journal Insights

In Brief

03/15/2012 - Volume 58, No. 11

Articles

WG&L Journal Insights

In Brief

03/08/2012 - Volume 58, No. 10

Articles

WG&L Journal Insights

In Brief

03/01/2012 - Volume 58, No. 9

Articles

WG&L Journal Insights

In Brief

02/23/2012 - Volume 58, No. 8

02/16/2012 - Volume 58, No. 7

Articles

WG&L Journal Insights

In Brief

02/09/2012 - Volume 58, No. 6

02/02/2012 - Volume 58, No. 5

Articles

WG&L Journal Insights

In Brief

01/26/2012 - Volume 58, No. 4

Articles

WG&L Journal Insights

In Brief

01/19/2012 - Volume 58, No. 3

Articles

WG&L Journal Insights

In Brief

01/12/2012 - Volume 58, No. 2

Articles

WG&L Journal Insights

In Brief

01/05/2012 - Volume 58, No. 1

2011

12/29/2011 - Volume 57, No. 52

12/22/2011 - Volume 57, No. 51

Articles

WG&L Journal Insights

In Brief

12/15/2011 - Volume 57, No. 50

Articles

WG&L Journal Insights

In Brief

12/08/2011 - Volume 57, No. 49

12/01/2011 - Volume 57, No. 48

Articles

WG&L Journal Insights

In Brief

11/23/2011 - Volume 57, No. 47

Articles

WG&L Journal Insights

In Brief

11/17/2011 - Volume 57, No. 46

Articles

WG&L Journal Insights

In Brief

11/10/2011 - Volume 57, No. 45

Articles

WG&L Journal Insights

In Brief

11/03/2011 - Volume 57, No. 44

Articles

WG&L Journal Insights

In Brief

10/27/2011 - Volume 57, No. 43

Articles

WG&L Journal Insights

In Brief

10/20/2011 - Volume 57, No. 42

Articles

WG&L Journal Insights

In Brief

10/13/2011 - Volume 57, No. 41

10/06/2011 - Volume 57, No. 40

09/29/2011 - Volume 57, No. 39

09/22/2011 - Volume 57, No. 38

09/15/2011 - Volume 57, No. 37

09/08/2011 - Volume 57, No. 36

09/01/2011 - Volume 57, No. 35

Articles

WG&L Journal Insights

In Brief

08/25/2011 - Volume 57, No. 34

Articles

WG&L Journal Insights

In Brief

08/18/2011 - Volume 57, No. 33

08/11/2011 - Volume 57, No. 32

Articles

WG&L Journal Insights

In Brief

08/04/2011 - Volume 57, No. 31

Articles

WG&L Journal Insights

In Brief

07/28/2011 - Volume 57, No. 30

Articles

WG&L Journal Insights

In Brief

07/21/2011 - Volume 57, No. 29

07/14/2011 - Volume 57, No. 28

Articles

WG&L Journal Insights

In Brief

07/07/2011 - Volume 57, No. 27

Articles

WG&L Journal Insights

In Brief

06/30/2011 - Volume 57, No. 26

Articles

WG&L Journal Insights

In Brief

06/23/2011 - Volume 57, No. 25

Articles

WG&L Journal Insights

In Brief

06/16/2011 - Volume 57, No. 24

06/09/2011 - Volume 57, No. 23

Articles

WG&L Journal Insights

In Brief

06/02/2011 - Volume 57, No. 22

Articles

WG&L Journal Insights

In Brief

05/26/2011 - Volume 57, No. 21

Articles

WG&L Journal Insights

In Brief

05/19/2011 - Volume 57, No. 20

Articles

WG&L Journal Insights

In Brief

05/12/2011 - Volume 57, No. 19

Articles

WG&L Journal Insights

In Brief

05/05/2011 - Volume 57, No. 18

04/28/2011 - Volume 57, No. 17

04/21/2011 - Volume 57, No. 16

Articles

WG&L Journal Insights

In Brief

04/14/2011 - Volume 57, No. 15

04/07/2011 - Volume 57, No. 14

Articles

WG&L Journal Insights

In Brief

03/31/2011 - Volume 57, No. 13

03/24/2011 - Volume 57, No. 12

Articles

WG&L Journal Insights

In Brief

03/17/2011 - Volume 57, No. 11

03/10/2011 - Volume 57, No. 10

Articles

WG&L Journal Insights

In Brief

03/03/2011 - Volume 57, No. 9

02/24/2011 - Volume 57, No. 8

Articles

WG&L Journal Insights

In Brief

02/17/2011 - Volume 57, No. 7

Articles

WG&L Journal Insights

In Brief

02/10/2011 - Volume 57, No. 6

Articles

WG&L Journal Insights

In Brief

02/03/2011 - Volume 57, No. 5

Articles

WG&L Journal Insights

In Brief

01/27/2011 - Volume 57, No. 4

Articles

WG&L Journal Insights

In Brief

01/20/2011 - Volume 57, No. 3

Articles

WG&L Journal Insights

In Brief

01/13/2011 - Volume 57, No. 2

Articles

WG&L Journal Insights

In Brief

01/06/2011 - Volume 57, No. 1

Articles

WG&L Journal Insights

In Brief

2010

12/30/2010 - Volume 56, No. 52

Articles

WG&L Journal Insights

In Brief

12/23/2010 - Volume 56, No. 51

Articles

WG&L Journal Insights

In Brief

12/16/2010 - Volume 56, No. 50

12/09/2010 - Volume 56, No. 49

Articles

WG&L Journal Insights

In Brief

12/02/2010 - Volume 56, No. 48

Articles

WG&L Journal Insights

In Brief

11/24/2010 - Volume 56, No. 47

Articles

WG&L Journal Insights

In Brief

11/18/2010 - Volume 56, No. 46

Articles

WG&L Journal Insights

In Brief

11/11/2010 - Volume 56, No. 45

Articles

WG&L Journal Insights

In Brief

11/04/2010 - Volume 56, No. 44

10/28/2010 - Volume 56, No. 43

10/21/2010 - Volume 56, No. 42

Articles

WG&L Journal Insights

In Brief

10/14/2010 - Volume 56, No. 41

Articles

WG&L Journal Insights

In Brief

10/07/2010 - Volume 56, No. 40

09/30/2010 - Volume 56, No. 39

Articles

WG&L Journal Insights

In Brief

09/23/2010 - Volume 56, No. 38

Articles

WG&L Journal Insights

In Brief

09/16/2010 - Volume 56, No. 37

Articles

WG&L Journal Insights

In Brief

09/09/2010 - Volume 56, No. 36

09/02/2010 - Volume 56, No. 35

08/26/2010 - Volume 56, No. 34

Articles

WG&L Journal Insights

In Brief

08/19/2010 - Volume 56, No. 33

Articles

WG&L Journal Insights

In Brief

08/12/2010 - Volume 56, No. 32

08/05/2010 - Volume 56, No. 31

07/29/2010 - Volume 56, No. 30

Articles

WG&L Journal Insights

In Brief

07/22/2010 - Volume 56, No. 29

07/15/2010 - Volume 56, No. 28

Articles

WG&L Journal Insights

In Brief

07/08/2010 - Volume 56, No. 27

Articles

WG&L Journal Insights

In Brief

07/01/2010 - Volume 56, No. 26

Articles

WG&L Journal Insights

In Brief

06/24/2010 - Volume 56, No. 25

Articles

WG&L Journal Insights

In Brief

06/17/2010 - Volume 56, No. 24

Articles

WG&L Journal Insights

In Brief

06/10/2010 - Volume 56, No. 23

Articles

WG&L Journal Insights

In Brief

06/03/2010 - Volume 56, No. 22

Articles

WG&L Journal Insights

In Brief

05/27/2010 - Volume 56, No. 21

Articles

WG&L Journal Insights

In Brief

05/20/2010 - Volume 56, No. 20

Articles

In Brief

Articles

In Brief

05/13/2010 - Volume 56, No. 19

Articles

WG&L Journal Insights

In Brief

05/06/2010 - Volume 56, No. 18

Articles

WG&L Journal Insights

In Brief

04/29/2010 - Volume 56, No. 17

Articles

WG&L Journal Insights

In Brief

04/22/2010 - Volume 56, No. 16

Articles

WG&L Journal Insights

In Brief

04/15/2010 - Volume 56, No. 15

04/08/2010 - Volume 56, No. 14

Articles

WG&L Journal Insights

In Brief

04/01/2010 - Volume 56, No. 13

Articles

WG&L Journal Insights

In Brief

03/25/2010 - Volume 56, No. 12

03/18/2010 - Volume 56, No. 11

Articles

WG&L Journal Insights

In Brief

03/11/2010 - Volume 56, No. 10

Articles

WG&L Journal Insights

In Brief

03/04/2010 - Volume 56, No. 9

Articles

WG&L Journal Insights

In Brief

02/25/2010 - Volume 56, No. 8

Articles

WG&L Journal Insights

In Brief

02/18/2010 - Volume 56, No. 7

02/11/2010 - Volume 56, No. 6

Articles

WG&L Journal Insights

In Brief

02/04/2010 - Volume 56, No. 5

Articles

WG&L Journal Insights

In Brief

01/28/2010 - Volume 56, No. 4

Articles

WG&L Journal Insights

In Brief

01/21/2010 - Volume 56, No. 3

01/14/2010 - Volume 56, No. 2

01/07/2010 - Volume 56, No. 1

Articles

WG&L Journal Insights

In Brief

2009

12/24/2009 - Volume 55, No. 52

Articles

WG&L Journal Insights

In Brief

12/17/2009 - Volume 55, No. 51

12/10/2009 - Volume 55, No. 50

Articles

WG&L Journal Insights

In Brief

12/03/2009 - Volume 55, No. 49

Articles

WG&L Journal Insights

In Brief

11/25/2009 - Volume 55, No. 48

11/19/2009 - Volume 55, No. 47

Articles

WG&L Journal Insights

In Brief

11/12/2009 - Volume 55, No. 46

Articles

WG&L Journal Insights

In Brief

11/05/2009 - Volume 55, No. 45

Articles

WG&L Journal Insights

In Brief

10/29/2009 - Volume 55, No. 44

Articles

WG&L Journal Insights

In Brief

10/22/2009 - Volume 55, No. 43

Articles

WG&L Journal Insights

In Brief

10/15/2009 - Volume 55, No. 42

Articles

WG&L Journal Insights

In Brief

10/08/2009 - Volume 55, No. 41

Articles

WG&L Journal Insights

In Brief

10/01/2009 - Volume 55, No. 40

Articles

WG&L Journal Insights

In Brief

09/24/2009 - Volume 55, No. 39

Articles

WG&L Journal Insights

In Brief

09/17/2009 - Volume 55, No. 38

09/10/2009 - Volume 55, No. 37

Articles

WG&L Journal Insights

In Brief

09/03/2009 - Volume 55, No. 36

Articles

WG&L Journal Insights

In Brief

08/27/2009 - Volume 55, No. 35

Articles

WG&L Journal Insights

In Brief

08/20/2009 - Volume 55, No. 34

Articles

WG&L Journal Insights

In Brief

08/13/2009 - Volume 55, No. 33

Articles

WG&L Journal Insights

In Brief

08/06/2009 - Volume 55, No. 32

Articles

WG&L Journal Insights

In Brief

07/30/2009 - Volume 55, No. 31

07/23/2009 - Volume 55, No. 30

Articles

WG&L Journal Insights

In Brief

07/16/2009 - Volume 55, No. 29

07/09/2009 - Volume 55, No. 28

Articles

WG&L Journal Insights

In Brief

07/02/2009 - Volume 55, No. 27

Articles

WG&L Journal Insights

In Brief

06/25/2009 - Volume 55, No. 26

Articles

WG&L Journal Insights

In Brief

06/18/2009 - Volume 55, No. 25

Articles

WG&L Journal Insights

In Brief

06/11/2009 - Volume 55, No. 24

06/04/2009 - Volume 55, No. 23

Articles

WG&L Journal Insights

In Brief

05/28/2009 - Volume 55, No. 22

Articles

WG&L Journal Insights

In Brief

05/21/2009 - Volume 55, No. 21

05/14/2009 - Volume 55, No. 20

Articles

WG&L Journal Insights

In Brief

05/07/2009 - Volume 55, No. 19

Articles

WG&L Journal Insights

In Brief

04/30/2009 - Volume 55, No. 18

Articles

WG&L Journal Insights

In Brief

04/23/2009 - Volume 55, No. 17

04/16/2009 - Volume 55, No. 16

Articles

WG&L Journal Insights

In Brief

04/09/2009 - Volume 55, No. 15

Articles

WG&L Journal Insights

In Brief

04/02/2009 - Volume 55, No. 14

Articles

WG&L Journal Insights

In Brief

03/26/2009 - Volume 55, No. 13

Articles

WG&L Journal Insights

In Brief

03/19/2009 - Volume 55, No. 12

Articles

WG&L Journal Insights

In Brief

03/12/2009 - Volume 55, No. 11

Articles

WG&L Journal Insights

In Brief

03/05/2009 - Volume 55, No. 10

Articles

WG&L Journal Insights

In Brief

02/26/2009 - Volume 55, No. 9

Articles

WG&L Journal Insights

In Brief

02/19/2009 - Volume 55, No. 8

02/12/2009 - Volume 55, No. 7

Articles

WG&L Journal Insights

In Brief

02/05/2009 - Volume 55, No. 6

Articles

WG&L Journal Insights

In Brief

01/29/2009 - Volume 55, No. 5

Articles

WG&L Journal Insights

In Brief

01/22/2009 - Volume 55, No. 4

Articles

WG&L Journal Insights

In Brief

01/15/2009 - Volume 55, No. 3

Articles

WG&L Journal Insights

In Brief

01/08/2009 - Volume 55, No. 2

Articles

WG&L Journal Insights

In Brief

01/02/2009 - Volume 55, No. 1

Articles

WG&L Journal Insights

In Brief

2008

12/24/2008 - Volume 54, No. 52

Articles

WG&L Journal Insights

In Brief

12/18/2008 - Volume 54, No. 51

12/11/2008 - Volume 54, No. 50

Articles

WG&L Journal Insights

In Brief

12/04/2008 - Volume 54, No. 49

Articles

WG&L Journal Insights

In Brief

11/26/2008 - Volume 54, No. 48

Articles

WG&L Journal Insights

In Brief

11/20/2008 - Volume 54, No. 47

11/13/2008 - Volume 54, No. 46

Articles

WG&L Journal Insights

In Brief

11/06/2008 - Volume 54, No. 45

Articles

WG&L Journal Insights

In Brief

10/30/2008 - Volume 54, No. 44

Articles

WG&L Journal Insights

In Brief

10/23/2008 - Volume 54, No. 43

Articles

WG&L Journal Insights

In Brief

10/16/2008 - Volume 54, No. 42

10/09/2008 - Volume 54, No. 41

Articles

WG&L Journal Insights

In Brief

10/02/2008 - Volume 54, No. 40

Articles

WG&L Journal Insights

In Brief

09/25/2008 - Volume 54, No. 39

09/18/2008 - Volume 54, No. 38

Articles

WG&L Journal Insights

In Brief

09/11/2008 - Volume 54, No. 37

09/04/2008 - Volume 54, No. 36

Articles

WG&L Journal Insights

In Brief

08/28/2008 - Volume 54, No. 35

Articles

WG&L Journal Insights

In Brief

08/21/2008 - Volume 54, No. 34

08/14/2008 - Volume 54, No. 33

Articles

WG&L Journal Insights

In Brief

08/07/2008 - Volume 54, No. 32

Articles

WG&L Journal Insights

In Brief

07/31/2008 - Volume 54, No. 31

Articles

WG&L Journal Insights

In Brief

07/24/2008 - Volume 54, No. 30

Articles

WG&L Journal Insights

In Brief

07/17/2008 - Volume 54, No. 29

07/10/2008 - Volume 54, No. 28

Articles

WG&L Journal Insights

In Brief

07/03/2008 - Volume 54, No. 27

Articles

WG&L Journal Insights

In Brief

06/26/2008 - Volume 54, No. 26

Articles

WG&L Journal Insights

In Brief

06/19/2008 - Volume 54, No. 25

Articles

WG&L Journal Insights

In Brief

06/12/2008 - Volume 54, No. 24

06/05/2008 - Volume 54, No. 23

05/29/2008 - Volume 54, No. 22

Articles

WG&L Journal Insights

In Brief

05/22/2008 - Volume 54, No. 21

Articles

WG&L Journal Insights

In Brief

05/15/2008 - Volume 54, No. 20

05/08/2008 - Volume 54, No. 19

Articles

WG&L Journal Insights

In Brief

05/01/2008 - Volume 54, No. 18

Articles

WG&L Journal Insights

In Brief

04/24/2008 - Volume 54, No. 17

Articles

WG&L Journal Insights

In Brief

04/17/2008 - Volume 54, No. 16

Articles

WG&L Journal Insights

In Brief

04/10/2008 - Volume 54, No. 15

Articles

WG&L Journal Insights

In Brief

04/03/2008 - Volume 54, No. 14

Articles

WG&L Journal Insights

In Brief

03/27/2008 - Volume 54, No. 13

Articles

WG&L Journal Insights

In Brief

03/20/2008 - Volume 54, No. 12

Articles

WG&L Journal Insights

In Brief

03/13/2008 - Volume 54, No. 11

Articles

WG&L Journal Insights

In Brief

03/06/2008 - Volume 54, No. 10

Articles

WG&L Journal Insights

In Brief

02/28/2008 - Volume 54, No. 9

Articles

WG&L Journal Insights

In Brief

02/21/2008 - Volume 54, No. 8

Articles

WG&L Journal Insights

In Brief

02/14/2008 - Volume 54, No. 7

Articles

WG&L Journal Insights

In Brief

02/07/2008 - Volume 54, No. 6

Articles

WG&L Journal Insights

In Brief

01/31/2008 - Volume 54, No. 5

Articles

WG&L Journal Insights

In Brief

01/24/2008 - Volume 54, No. 4

01/17/2008 - Volume 54, No. 3

Articles

WG&L Journal Insights

In Brief

01/10/2008 - Volume 54, No. 2

01/03/2008 - Volume 54, No. 1

2007

12/27/2007 - Volume 53, No. 52

Articles

In Brief

Articles

In Brief

12/20/2007 - Volume 53, No. 51

Articles

WG&L Journal Insights

In Brief

12/13/2007 - Volume 53, No. 50

12/06/2007 - Volume 53, No. 49

Articles

WG&L Journal Insights

In Brief

11/29/2007 - Volume 53, No. 48

Articles

WG&L Journal Insights

In Brief

11/21/2007 - Volume 53, No. 47

11/15/2007 - Volume 53, No. 46

11/08/2007 - Volume 53, No. 45

Articles

WG&L Journal Insights

In Brief

11/01/2007 - Volume 53, No. 44

Articles

WG&L Journal Insights

In Brief

10/25/2007 - Volume 53, No. 43

10/18/2007 - Volume 53, No. 42

Articles

WG&L Journal Insights

In Brief

10/11/2007 - Volume 53, No. 41

Articles

WG&L Journal Insights

In Brief

10/04/2007 - Volume 53, No. 40

Articles

WG&L Journal Insights

In Brief

09/27/2007 - Volume 53, No. 39

Articles

WG&L Journal Insights

In Brief

09/20/2007 - Volume 53, No. 38

Articles

WG&L Journal Insights

In Brief

09/13/2007 - Volume 53, No. 37

Articles

WG&L Journal Insights

In Brief

09/06/2007 - Volume 53, No. 36

Articles

WG&L Journal Insights

In Brief

08/30/2007 - Volume 53, No. 35

Articles

WG&L Journal Insights

In Brief

08/23/2007 - Volume 53, No. 34

Articles

WG&L Journal Insights

In Brief

08/16/2007 - Volume 53, No. 33

08/09/2007 - Volume 53, No. 32

Articles

WG&L Journal Insights

In Brief

08/02/2007 - Volume 53, No. 31

Articles

WG&L Journal Insights

In Brief

07/26/2007 - Volume 53, No. 30

07/19/2007 - Volume 53, No. 29

Articles

WG&L Journal Insights

In Brief

07/12/2007 - Volume 53, No. 28

Articles

WG&L Journal Insights

In Brief

07/05/2007 - Volume 53, No. 27

06/28/2007 - Volume 53, No. 26

Articles

WG&L Journal Insights

In Brief

06/21/2007 - Volume 53, No. 25

06/14/2007 - Volume 53, No. 24

Articles

WG&L Journal Insights

In Brief

06/07/2007 - Volume 53, No. 23

Articles

WG&L Journal Insights

In Brief

05/31/2007 - Volume 53, No. 22

Articles

WG&L Journal Insights

In Brief

05/24/2007 - Volume 53, No. 21

05/17/2007 - Volume 53, No. 20

Articles

WG&L Journal Insights

In Brief

05/10/2007 - Volume 53, No. 19

Articles

WG&L Journal Insights

In Brief

05/03/2007 - Volume 53, No. 18

Articles

WG&L Journal Insights

In Brief

04/26/2007 - Volume 53, No. 17

Articles

WG&L Journal Insights

In Brief

04/19/2007 - Volume 53, No. 16

04/12/2007 - Volume 53, No. 15

Articles

WG&L Journal Insights

In Brief

04/05/2007 - Volume 53, No. 14

03/29/2007 - Volume 53, No. 13

Articles

WG&L Journal Insights

In Brief

03/22/2007 - Volume 53, No. 12

03/15/2007 - Volume 53, No. 11

Articles

WG&L Journal Insights

In Brief

03/08/2007 - Volume 53, No. 10

Articles

WG&L Journal Insights

In Brief

03/01/2007 - Volume 53, No. 9

Articles

WG&L Journal Insights

In Brief

02/22/2007 - Volume 53, No. 8

Articles

WG&L Journal Insights

In Brief

02/15/2007 - Volume 53, No. 7

Articles

WG&L Journal Insights

In Brief

02/08/2007 - Volume 53, No. 6

02/01/2007 - Volume 53, No. 5

Articles

WG&L Journal Insights

In Brief

01/25/2007 - Volume 53, No. 4

Articles

WG&L Journal Insights

In Brief

01/18/2007 - Volume 53, No. 3

01/11/2007 - Volume 53, No. 2

Articles

WG&L Journal Insights

In Brief

01/04/2007 - Volume 53, No. 1

2006

12/28/2006 - Volume 52, No. 52

Articles

WG&L Journal Insights

In Brief

12/21/2006 - Volume 52, No. 51

Articles

WG&L Journal Insights

In Brief

12/14/2006 - Volume 52, No. 50

12/07/2006 - Volume 52, No. 49

Articles

WG&L Journal Insights

In Brief

11/30/2006 - Volume 52, No. 48

Articles

WG&L Journal Insights

In Brief

11/22/2006 - Volume 52, No. 47

Articles

WG&L Journal Insights

In Brief

11/16/2006 - Volume 52, No. 46

11/09/2006 - Volume 52, No. 45

Articles

WG&L Journal Insights

In Brief

11/02/2006 - Volume 52, No. 44

Articles

WG&L Journal Insights

In Brief

10/26/2006 - Volume 52, No. 43

Articles

WG&L Journal Insights

In Brief

10/19/2006 - Volume 52, No. 42

Articles

WG&L Journal Insights

In Brief

10/12/2006 - Volume 52, No. 41

10/05/2006 - Volume 52, No. 40

Articles

WG&L Journal Insights

In Brief

09/28/2006 - Volume 52, No. 39

Articles

WG&L Journal Insights

In Brief

09/21/2006 - Volume 52, No. 38

Articles

WG&L Journal Insights

In Brief

09/14/2006 - Volume 52, No. 37

09/07/2006 - Volume 52, No. 36

08/31/2006 - Volume 52, No. 35

Articles

WG&L Journal Insights

In Brief

08/24/2006 - Volume 52, No. 34

Articles

WG&L Journal Insights

In Brief

08/17/2006 - Volume 52, No. 33

Articles

WG&L Journal Insights

In Brief

08/10/2006 - Volume 52, No. 32

Articles

WG&L Journal Insights

In Brief

08/03/2006 - Volume 52, No. 31

Articles

WG&L Journal Insights

In Brief

07/27/2006 - Volume 52, No. 30

07/20/2006 - Volume 52, No. 29

Articles

WG&L Journal Insights

In Brief

07/13/2006 - Volume 52, No. 28

Articles

WG&L Journal Insights

In Brief

07/06/2006 - Volume 52, No. 27

Articles

WG&L Journal Insights

In Brief

06/29/2006 - Volume 52, No. 26

Articles

WG&L Journal Insights

In Brief

06/22/2006 - Volume 52, No. 25

Articles

WG&L Journal Insights

In Brief

06/15/2006 - Volume 52, No. 24

Articles

WG&L Journal Insights

In Brief

06/08/2006 - Volume 52, No. 23

06/01/2006 - Volume 52, No. 22

Articles

WG&L Journal Insights

In Brief

05/25/2006 - Volume 52, No. 21

05/18/2006 - Volume 52, No. 20

Articles

WG&L Journal Insights

In Brief

05/11/2006 - Volume 52, No. 19

Articles

WG&L Journal Insights

In Brief

05/04/2006 - Volume 52, No. 18

Articles

WG&L Journal Insights

In Brief

04/27/2006 - Volume 52, No. 17

Articles

WG&L Journal Insights

In Brief

04/20/2006 - Volume 52, No. 16

Articles

WG&L Journal Insights

In Brief

04/13/2006 - Volume 52, No. 15

Articles

WG&L Journal Insights

In Brief

04/06/2006 - Volume 52, No. 14

03/30/2006 - Volume 52, No. 13

Articles

WG&L Journal Insights

In Brief

03/23/2006 - Volume 52, No. 12

Articles

WG&L Journal Insights

In Brief

03/16/2006 - Volume 52, No. 11

Articles

WG&L Journal Insights

In Brief

03/09/2006 - Volume 52, No. 10

03/02/2006 - Volume 52, No. 9

Articles

WG&L Journal Insights

In Brief

02/23/2006 - Volume 52, No. 8

Articles

WG&L Journal Insights

In Brief

02/16/2006 - Volume 52, No. 7

02/09/2006 - Volume 52, No. 6

Articles

WG&L Journal Insights

In Brief

02/02/2006 - Volume 52, No. 5

Articles

WG&L Journal Insights

In Brief

01/26/2006 - Volume 52, No. 4

Articles

WG&L Journal Insights

In Brief

01/19/2006 - Volume 52, No. 3

Articles

WG&L Journal Insights

In Brief

01/12/2006 - Volume 52, No. 2

Articles

WG&L Journal Insights

In Brief

01/05/2006 - Volume 52, No. 1

2005

12/29/2005 - Volume 51, No. 52

Articles

WG&L Journal Insights

In Brief

12/22/2005 - Volume 51, No. 51

Articles

WG&L Journal Insights

In Brief

12/15/2005 - Volume 51, No. 50

Articles

WG&L Journal Insights

In Brief

12/08/2005 - Volume 51, No. 49

Articles

WG&L Journal Insights

In Brief

12/01/2005 - Volume 51, No. 48

Articles

WG&L Journal Insights

In Brief

11/23/2005 - Volume 51, No. 47

Articles

WG&L Journal Insights

In Brief

11/17/2005 - Volume 51, No. 46

Articles

WG&L Journal Insights

In Brief

11/10/2005 - Volume 51, No. 45

Articles

WG&L Journal Insights

In Brief

11/03/2005 - Volume 51, No. 44

Articles

WG&L Journal Insights

In Brief

10/27/2005 - Volume 51, No. 43

Articles

WG&L Journal Insights

In Brief

10/20/2005 - Volume 51, No. 42

Articles

WG&L Journal Insights

In Brief

10/13/2005 - Volume 51, No. 41

Articles

WG&L Journal Insights

In Brief

10/06/2005 - Volume 51, No. 40

Articles

WG&L Journal Insights

In Brief

09/29/2005 - Volume 51, No. 39

Articles

WG&L Journal Insights

In Brief

09/22/2005 - Volume 51, No. 38

09/15/2005 - Volume 51, No. 37

Articles

WG&L Journal Insights

In Brief

09/08/2005 - Volume 51, No. 36

09/01/2005 - Volume 51, No. 35

Articles

WG&L Journal Insights

In Brief

08/25/2005 - Volume 51, No. 34

Articles

WG&L Journal Insights

In Brief

08/18/2005 - Volume 51, No. 33

Articles

WG&L Journal Insights

In Brief

08/11/2005 - Volume 51, No. 32

Articles

WG&L Journal Insights

In Brief

08/04/2005 - Volume 51, No. 31

07/28/2005 - Volume 51, No. 30

Articles

WG&L Journal Insights

In Brief

07/21/2005 - Volume 51, No. 29

07/14/2005 - Volume 51, No. 28

Articles

WG&L Journal Insights

In Brief

07/07/2005 - Volume 51, No. 27

Articles

WG&L Journal Insights

In Brief

06/30/2005 - Volume 51, No. 26

Articles

WG&L Journal Insights

In Brief

06/23/2005 - Volume 51, No. 25

06/16/2005 - Volume 51, No. 24

Articles

WG&L Journal Insights

In Brief

06/09/2005 - Volume 51, No. 23

Articles

WG&L Journal Insights

In Brief

06/02/2005 - Volume 51, No. 22

Articles

WG&L Journal Insights

In Brief

05/26/2005 - Volume 51, No. 21

Articles

WG&L Journal Insights

In Brief

05/19/2005 - Volume 51, No. 20

Articles

WG&L Journal Insights

In Brief

05/12/2005 - Volume 51, No. 19

Articles

WG&L Journal Insights

In Brief

05/05/2005 - Volume 51, No. 18

Articles

WG&L Journal Insights

In Brief

04/28/2005 - Volume 51, No. 17

Articles

WG&L Journal Insights

In Brief

04/21/2005 - Volume 51, No. 16

Articles

WG&L Journal Insights

In Brief

04/14/2005 - Volume 51, No. 15

Articles

WG&L Journal Insights

In Brief

04/07/2005 - Volume 51, No. 14

Articles

WG&L Journal Insights

In Brief

03/31/2005 - Volume 51, No. 13

Articles

WG&L Journal Insights

In Brief

03/24/2005 - Volume 51, No. 12

Articles

WG&L Journal Insights

In Brief

03/17/2005 - Volume 51, No. 11

Articles

WG&L Journal Insights

In Brief

03/10/2005 - Volume 51, No. 10

03/03/2005 - Volume 51, No. 9

Articles

WG&L Journal Insights

In Brief

02/24/2005 - Volume 51, No. 8

Articles

WG&L Journal Insights

In Brief

02/17/2005 - Volume 51, No. 7

Articles

WG&L Journal Insights

In Brief

02/10/2005 - Volume 51, No. 6

Articles

WG&L Journal Insights

In Brief

02/03/2005 - Volume 51, No. 5

Articles

WG&L Journal Insights

In Brief

01/27/2005 - Volume 51, No. 4

Articles

WG&L Journal Insights

In Brief

01/20/2005 - Volume 51, No. 3

Articles

WG&L Journal Insights

In Brief

01/13/2005 - Volume 51, No. 2

Articles

WG&L Journal Insights

In Brief

01/06/2005 - Volume 51, No. 1

2004

12/30/2004 - Volume 50, No. 52

Articles

WG&L Journal Insights

In Brief

12/23/2004 - Volume 50, No. 51

Articles

WG&L Journal Insights

In Brief

12/13/2004 - Volume 50, No. 50

Articles

WG&L Journal Insights

In Brief

12/01/2004 - Volume 50, No. 49

Articles

WG&L Journal Insights

In Brief

11/18/2004 - Volume 50, No. 48

Articles

WG&L Journal Insights

In Brief

11/11/2004 - Volume 50, No. 47

Articles

WG&L Journal Insights

In Brief

11/04/2004 - Volume 50, No. 46

Articles

WG&L Journal Insights

In Brief

10/28/2004 - Volume 50, No. 45

Articles

WG&L Journal Insights

In Brief

10/21/2004 - Volume 50, No. 44

10/14/2004 - Volume 50, No. 43

Articles

WG&L Journal Insights

In Brief

10/07/2004 - Volume 50, No. 42

Articles

WG&L Journal Insights

In Brief

09/30/2004 - Volume 50, No. 41

Articles

WG&L Journal Insights

In Brief

09/23/2004 - Volume 50, No. 40

Articles

WG&L Journal Insights

In Brief

09/16/2004 - Volume 50, No. 39

09/09/2004 - Volume 50, No. 38

09/02/2004 - Volume 50, No. 37

Articles

WG&L Journal Insights

In Brief

08/26/2004 - Volume 50, No. 36

Articles

WG&L Journal Insights

In Brief

08/19/2004 - Volume 50, No. 35

Articles

WG&L Journal Insights

In Brief

08/12/2004 - Volume 50, No. 34

Articles

WG&L Journal Insights

In Brief

08/05/2004 - Volume 50, No. 33

Articles

WG&L Journal Insights

In Brief

07/29/2004 - Volume 50, No. 32

Articles

WG&L Journal Insights

In Brief

07/22/2004 - Volume 50, No. 31

Articles

WG&L Journal Insights

In Brief

07/15/2004 - Volume 50, No. 30

Articles

WG&L Journal Insights

In Brief

07/08/2004 - Volume 50, No. 29

Articles

WG&L Journal Insights

In Brief

07/01/2004 - Volume 50, No. 28

Articles

WG&L Journal Insights

In Brief

06/24/2004 - Volume 50, No. 27

Articles

WG&L Journal Insights

In Brief

06/17/2004 - Volume 50, No. 26

Articles

WG&L Journal Insights

In Brief

06/10/2004 - Volume 50, No. 25

Articles

WG&L Journal Insights

In Brief

06/03/2004 - Volume 50, No. 24

Articles

WG&L Journal Insights

In Brief

05/27/2004 - Volume 50, No. 23

05/20/2004 - Volume 50, No. 22

Articles

WG&L Journal Insights

In Brief

05/13/2004 - Volume 50, No. 21

Articles

WG&L Journal Insights

In Brief

05/06/2004 - Volume 50, No. 20

Articles

WG&L Journal Insights

In Brief

04/29/2004 - Volume 50, No. 19

Articles

WG&L Journal Insights

In Brief

04/22/2004 - Volume 50, No. 18

Articles

WG&L Journal Insights

In Brief

04/15/2004 - Volume 50, No. 17

Articles

WG&L Journal Insights

In Brief

04/08/2004 - Volume 50, No. 16

Articles

WG&L Journal Insights

In Brief

04/01/2004 - Volume 50, No. 15

Articles

WG&L Journal Insights

In Brief

03/25/2004 - Volume 50, No. 14

Articles

WG&L Journal Insights

In Brief

03/18/2004 - Volume 50, No. 13

Articles

WG&L Journal Insights

In Brief

03/11/2004 - Volume 50, No. 12

03/04/2004 - Volume 50, No. 11

Articles

WG&L Journal Insights

In Brief

02/26/2004 - Volume 50, No. 10

Articles

WG&L Journal Insights

In Brief

02/19/2004 - Volume 50, No. 9

Articles

WG&L Journal Insights

In Brief

02/12/2004 - Volume 50, No. 8

02/05/2004 - Volume 50, No. 7

Articles

WG&L Journal Insights

In Brief

01/29/2004 - Volume 50, No. 6

Articles

WG&L Journal Insights

In Brief

01/22/2004 - Volume 50, No. 5

01/15/2004 - Volume 50, No. 4

Articles

WG&L Journal Insights

In Brief

01/08/2004 - Volume 50, No. 3

01/02/2004 - Volume 50, No. 2

2003

12/26/2003 - Volume 50, No. 1

Articles

WG&L Journal Insights

In Brief

12/18/2003 - Volume 49, No. 52

Articles

WG&L Journal Insights

In Brief

12/11/2003 - Volume 49, No. 51

Articles

WG&L Journal Insights

In Brief

12/04/2003 - Volume 49, No. 50

Articles

WG&L Journal Insights

In Brief

11/26/2003 - Volume 49, No. 49

Articles

WG&L Journal Insights

In Brief

11/20/2003 - Volume 49, No. 48

Articles

WG&L Journal Insights

In Brief

11/13/2003 - Volume 49, No. 47

Articles

WG&L Journal Insights

In Brief

11/06/2003 - Volume 49, No. 46

Articles

WG&L Journal Insights

In Brief

10/30/2003 - Volume 49, No. 45

Articles

WG&L Journal Insights

In Brief

10/23/2003 - Volume 49, No. 44

Articles

WG&L Journal Insights

In Brief

10/16/2003 - Volume 49, No. 43

Articles

WG&L Journal Insights

In Brief

10/09/2003 - Volume 49, No. 42

Articles

WG&L Journal Insights

In Brief

10/02/2003 - Volume 49, No. 41

Articles

WG&L Journal Insights

In Brief

09/25/2003 - Volume 49, No. 40

Articles

WG&L Journal Insights

In Brief

09/18/2003 - Volume 49, No. 39

Articles

WG&L Journal Insights

In Brief

09/11/2003 - Volume 49, No. 38

Articles

WG&L Journal Insights

In Brief

09/04/2003 - Volume 49, No. 37

08/28/2003 - Volume 49, No. 36

Articles

WG&L Journal Insights

In Brief

08/21/2003 - Volume 49, No. 35

08/14/2003 - Volume 49, No. 34

Articles

WG&L Journal Insights

In Brief

08/07/2003 - Volume 49, No. 33

Articles

WG&L Journal Insights

In Brief

07/31/2003 - Volume 49, No. 32

Articles

WG&L Journal Insights

In Brief

07/24/2003 - Volume 49, No. 31

Articles

WG&L Journal Insights

In Brief

07/17/2003 - Volume 49, No. 30

Articles

WG&L Journal Insights

In Brief

07/10/2003 - Volume 49, No. 29

Articles

WG&L Journal Insights

In Brief

07/03/2003 - Volume 49, No. 28

Articles

WG&L Journal Insights

In Brief

06/26/2003 - Volume 49, No. 27

06/19/2003 - Volume 49, No. 26

Articles

WG&L Journal Insights

In Brief

06/12/2003 - Volume 49, No. 25

Articles

WG&L Journal Insights

In Brief

06/05/2003 - Volume 49, No. 24

Articles

WG&L Journal Insights

In Brief

05/29/2003 - Volume 49, No. 23

Articles

WG&L Journal Insights

In Brief

05/22/2003 - Volume 49, No. 22

Articles

WG&L Journal Insights

In Brief

05/15/2003 - Volume 49, No. 21

Articles

WG&L Journal Insights

In Brief

05/08/2003 - Volume 49, No. 20

Articles

WG&L Journal Insights

In Brief

05/01/2003 - Volume 49, No. 19

Articles

WG&L Journal Insights

In Brief

04/24/2003 - Volume 49, No. 18

04/17/2003 - Volume 49, No. 17

Articles

WG&L Journal Insights

In Brief

04/10/2003 - Volume 49, No. 16

Articles

WG&L Journal Insights

In Brief

04/03/2003 - Volume 49, No. 15

Articles

WG&L Journal Insights

In Brief

03/27/2003 - Volume 49, No. 14

Articles

WG&L Journal Insights

In Brief

03/20/2003 - Volume 49, No. 13

Articles

WG&L Journal Insights

In Brief

03/13/2003 - Volume 49, No. 12

Articles

WG&L Journal Insights

In Brief

03/06/2003 - Volume 49, No. 11

02/27/2003 - Volume 49, No. 10

02/20/2003 - Volume 49, No. 9

Articles

WG&L Journal Insights

In Brief

02/13/2003 - Volume 49, No. 8

Articles

WG&L Journal Insights

In Brief

02/06/2003 - Volume 49, No. 7

01/30/2003 - Volume 49, No. 6

Articles

WG&L Journal Insights

In Brief

01/23/2003 - Volume 49, No. 5

Articles

WG&L Journal Insights

In Brief

01/16/2003 - Volume 49, No. 4

01/09/2003 - Volume 49, No. 3

01/02/2003 - Volume 49, No. 2

Articles

WG&L Journal Insights

In Brief

2002

12/26/2002 - Volume 49, No. 1

12/19/2002 - Volume 48, No. 52

Articles

WG&L Journal Insights

In Brief

12/12/2002 - Volume 48, No. 51

Articles

WG&L Journal Insights

In Brief

12/05/2002 - Volume 48, No. 50

Articles

WG&L Journal Insights

In Brief

11/27/2002 - Volume 48, No. 49

Articles

WG&L Journal Insights

In Brief

11/21/2002 - Volume 48, No. 48

Articles

WG&L Journal Insights

In Brief

11/14/2002 - Volume 48, No. 47

11/07/2002 - Volume 48, No. 46

Articles

WG&L Journal Insights

In Brief

10/31/2002 - Volume 48, No. 45

Articles

WG&L Journal Insights

In Brief

10/24/2002 - Volume 48, No. 44

Articles

WG&L Journal Insights

In Brief

10/17/2002 - Volume 48, No. 43

Articles

WG&L Journal Insights

In Brief

10/10/2002 - Volume 48, No. 42

Articles

WG&L Journal Insights

In Brief

10/03/2002 - Volume 48, No. 41

Articles

WG&L Journal Insights

In Brief

09/26/2002 - Volume 48, No. 40

Articles

WG&L Journal Insights

In Brief

09/19/2002 - Volume 48, No. 39

Articles

WG&L Journal Insights

In Brief

09/12/2002 - Volume 48, No. 38

Articles

WG&L Journal Insights

In Brief

09/05/2002 - Volume 48, No. 37

Articles

WG&L Journal Insights

In Brief

08/29/2002 - Volume 48, No. 36

Articles

WG&L Journal Insights

In Brief

08/22/2002 - Volume 48, No. 35

Articles

WG&L Journal Insights

In Brief

08/15/2002 - Volume 48, No. 34

Articles

WG&L Journal Insights

In Brief

08/08/2002 - Volume 48, No. 33

Articles

WG&L Journal Insights

In Brief

08/01/2002 - Volume 48, No. 32

Articles

WG&L Journal Insights

In Brief

07/25/2002 - Volume 48, No. 31

Articles

WG&L Journal Insights

In Brief

07/18/2002 - Volume 48, No. 30

07/11/2002 - Volume 48, No. 29

Articles

WG&L Journal Insights

In Brief

07/03/2002 - Volume 48, No. 28

06/27/2002 - Volume 48, No. 27

Articles

WG&L Journal Insights

In Brief

06/20/2002 - Volume 48, No. 26

Articles

WG&L Journal Insights

In Brief

06/13/2002 - Volume 48, No. 25

Articles

WG&L Journal Insights

In Brief

06/06/2002 - Volume 48, No. 24

Articles

WG&L Journal Insights

In Brief

05/30/2002 - Volume 48, No. 23

Articles

WG&L Journal Insights

In Brief

05/23/2002 - Volume 48, No. 22

Articles

WG&L Journal Insights

In Brief

05/16/2002 - Volume 48, No. 21

05/09/2002 - Volume 48, No. 20

Articles

WG&L Journal Insights

In Brief

05/02/2002 - Volume 48, No. 19

Articles

WG&L Journal Insights

In Brief

04/25/2002 - Volume 48, No. 18

Articles

WG&L Journal Insights

In Brief

04/18/2002 - Volume 48, No. 17

04/11/2002 - Volume 48, No. 16

Articles

WG&L Journal Insights

In Brief

04/04/2002 - Volume 48, No. 15

03/28/2002 - Volume 48, No. 14

Articles

WG&L Journal Insights

In Brief

03/21/2002 - Volume 48, No. 13

Articles

WG&L Journal Insights

In Brief

03/14/2002 - Volume 48, No. 12

Articles

WG&L Journal Insights

In Brief

03/07/2002 - Volume 48, No. 11

Articles

WG&L Journal Insights

In Brief

02/28/2002 - Volume 48, No. 10

Articles

WG&L Journal Insights

In Brief

02/21/2002 - Volume 48, No. 9

Articles

WG&L Journal Insights

In Brief

02/14/2002 - Volume 48, No. 8

Articles

WG&L Journal Insights

In Brief

02/07/2002 - Volume 48, No. 7

01/31/2002 - Volume 48, No. 6

Articles

WG&L Journal Insights

In Brief

01/24/2002 - Volume 48, No. 5

01/17/2002 - Volume 48, No. 4

Articles

WG&L Journal Insights

In Brief

01/10/2002 - Volume 48, No. 3

Articles

WG&L Journal Insights

In Brief

01/03/2002 - Volume 48, No. 2

Articles

WG&L Journal Insights

In Brief

2001

12/27/2001 - Volume 48, No. 1

Articles

WG&L Journal Insights

In Brief

12/20/2001 - Volume 47, No. 52

Articles

WG&L Journal Insights

In Brief

12/13/2001 - Volume 47, No. 51

Articles

WG&L Journal Insights

In Brief

12/06/2001 - Volume 47, No. 50

11/29/2001 - Volume 47, No. 49

Articles

WG&L Journal Insights

In Brief

11/21/2001 - Volume 47, No. 48

Articles

WG&L Journal Insights

In Brief

11/15/2001 - Volume 47, No. 47

Articles

WG&L Journal Insights

In Brief

11/08/2001 - Volume 47, No. 46

11/01/2001 - Volume 47, No. 45

Articles

WG&L Journal Insights

In Brief

10/25/2001 - Volume 47, No. 44

Articles

WG&L Journal Insights

In Brief

10/18/2001 - Volume 47, No. 43

Articles

WG&L Journal Insights

In Brief

10/11/2001 - Volume 47, No. 42

Articles

WG&L Journal Insights

In Brief

10/04/2001 - Volume 47, No. 41

Articles

WG&L Journal Insights

In Brief

09/27/2001 - Volume 47, No. 40

Articles

WG&L Journal Insights

In Brief

09/20/2001 - Volume 47, No. 39

Articles

WG&L Journal Insights

In Brief

09/13/2001 - Volume 47, No. 38

Articles

WG&L Journal Insights

In Brief

09/06/2001 - Volume 47, No. 37

08/30/2001 - Volume 47, No. 36

Articles

WG&L Journal Insights

In Brief

08/23/2001 - Volume 47, No. 35

08/16/2001 - Volume 47, No. 34

Articles

WG&L Journal Insights

In Brief

08/09/2001 - Volume 47, No. 33

Articles

WG&L Journal Insights

In Brief

08/02/2001 - Volume 47, No. 32

Articles

WG&L Journal Insights

In Brief

07/26/2001 - Volume 47, No. 31

Articles

WG&L Journal Insights

In Brief

07/19/2001 - Volume 47, No. 30

07/12/2001 - Volume 47, No. 29

Articles

WG&L Journal Insights

In Brief

07/05/2001 - Volume 47, No. 28

Articles

WG&L Journal Insights

In Brief

06/28/2001 - Volume 47, No. 27

Articles

WG&L Journal Insights

In Brief

06/21/2001 - Volume 47, No. 26

06/14/2001 - Volume 47, No. 25

Articles

WG&L Journal Insights

In Brief

06/07/2001 - Volume 47, No. 24

Articles

WG&L Journal Insights

In Brief

05/31/2001 - Volume 47, No. 23

Articles

WG&L Journal Insights

In Brief

05/24/2001 - Volume 47, No. 22

05/17/2001 - Volume 47, No. 21

Articles

WG&L Journal Insights

In Brief

05/10/2001 - Volume 47, No. 20

Articles

WG&L Journal Insights

In Brief

05/03/2001 - Volume 47, No. 19

Articles

WG&L Journal Insights

In Brief

04/26/2001 - Volume 47, No. 18

Articles

WG&L Journal Insights

In Brief

04/19/2001 - Volume 47, No. 17

Articles

WG&L Journal Insights

In Brief

04/12/2001 - Volume 47, No. 16

Articles

WG&L Journal Insights

In Brief

04/05/2001 - Volume 47, No. 15

03/29/2001 - Volume 47, No. 14

Articles

WG&L Journal Insights

In Brief

03/22/2001 - Volume 47, No. 13

Articles

WG&L Journal Insights

In Brief

03/15/2001 - Volume 47, No. 12

03/08/2001 - Volume 47, No. 11

Articles

WG&L Journal Insights

In Brief

03/01/2001 - Volume 47, No. 10

Articles

WG&L Journal Insights

In Brief

02/22/2001 - Volume 47, No. 9

Articles

WG&L Journal Insights

In Brief

02/15/2001 - Volume 47, No. 8

Articles

WG&L Journal Insights

In Brief

02/08/2001 - Volume 47, No. 7

Articles

WG&L Journal Insights

In Brief

02/01/2001 - Volume 47, No. 6

Articles

WG&L Journal Insights

In Brief

01/25/2001 - Volume 47, No. 5

01/18/2001 - Volume 47, No. 4

Articles

WG&L Journal Insights

In Brief

01/11/2001 - Volume 47, No. 3

Articles

WG&L Journal Insights

In Brief

01/04/2001 - Volume 47, No. 2

2000

12/28/2000 - Volume 47, No. 1

Articles

WG&L Journal Insights

In Brief

12/21/2000 - Volume 46, No. 52

Articles

WG&L Journal Insights

In Brief

12/14/2000 - Volume 46, No. 51

Articles

WG&L Journal Insights

In Brief

12/07/2000 - Volume 46, No. 50

Articles

WG&L Journal Insights

In Brief

11/30/2000 - Volume 46, No. 49

Articles

WG&L Journal Insights

In Brief

11/22/2000 - Volume 46, No. 48

11/16/2000 - Volume 46, No. 47

11/09/2000 - Volume 46, No. 46

Articles

WG&L Journal Insights

In Brief

11/02/2000 - Volume 46, No. 45

Articles

WG&L Journal Insights

In Brief

10/26/2000 - Volume 46, No. 44

Articles

WG&L Journal Insights

In Brief

10/19/2000 - Volume 46, No. 43

10/12/2000 - Volume 46, No. 42

Articles

WG&L Journal Insights

In Brief

10/05/2000 - Volume 46, No. 41

Articles

WG&L Journal Insights

In Brief

09/28/2000 - Volume 46, No. 40

Articles

WG&L Journal Insights

In Brief

09/21/2000 - Volume 46, No. 39

09/14/2000 - Volume 46, No. 38

Articles

WG&L Journal Insights

In Brief

09/07/2000 - Volume 46, No. 37

Articles

WG&L Journal Insights

In Brief

08/31/2000 - Volume 46, No. 36

Articles

WG&L Journal Insights

In Brief

08/24/2000 - Volume 46, No. 35

Articles

WG&L Journal Insights

In Brief

08/17/2000 - Volume 46, No. 34

Articles

WG&L Journal Insights

In Brief

08/10/2000 - Volume 46, No. 33

Articles

WG&L Journal Insights

In Brief

08/03/2000 - Volume 46, No. 32

Articles

WG&L Journal Insights

In Brief

07/27/2000 - Volume 46, No. 31

Articles

WG&L Journal Insights

In Brief

07/20/2000 - Volume 46, No. 30

Articles

WG&L Journal Insights

In Brief

07/13/2000 - Volume 46, No. 29

Articles

WG&L Journal Insights

In Brief

07/06/2000 - Volume 46, No. 28

06/29/2000 - Volume 46, No. 27

06/22/2000 - Volume 46, No. 26

06/15/2000 - Volume 46, No. 25

06/08/2000 - Volume 46, No. 24

06/01/2000 - Volume 46, No. 23

05/25/2000 - Volume 46, No. 22

05/18/2000 - Volume 46, No. 21

05/11/2000 - Volume 46, No. 20

05/04/2000 - Volume 46, No. 19

04/27/2000 - Volume 46, No. 18

04/20/2000 - Volume 46, No. 17

04/13/2000 - Volume 46, No. 16

04/06/2000 - Volume 46, No. 15

03/30/2000 - Volume 46, No. 14

03/23/2000 - Volume 46, No. 13

03/16/2000 - Volume 46, No. 12

03/09/2000 - Volume 46, No. 11

03/02/2000 - Volume 46, No. 10

02/24/2000 - Volume 46, No. 9

02/17/2000 - Volume 46, No. 8

02/10/2000 - Volume 46, No. 7

02/03/2000 - Volume 46, No. 6

01/27/2000 - Volume 46, No. 5

01/20/2000 - Volume 46, No. 4

01/13/2000 - Volume 46, No. 3

01/06/2000 - Volume 46, No. 2

1999

12/30/1999 - Volume 46, No. 1

12/23/1999 - Volume 45, No. 52

12/16/1999 - Volume 45, No. 51

12/09/1999 - Volume 45, No. 50

12/02/1999 - Volume 45, No. 49

11/24/1999 - Volume 45, No. 48

11/18/1999 - Volume 45, No. 47

11/11/1999 - Volume 45, No. 46

11/04/1999 - Volume 45, No. 45

10/28/1999 - Volume 45, No. 44

10/21/1999 - Volume 45, No. 43

10/14/1999 - Volume 45, No. 42

10/07/1999 - Volume 45, No. 41

09/30/1999 - Volume 45, No. 40

09/23/1999 - Volume 45, No. 39

09/16/1999 - Volume 45, No. 38

09/09/1999 - Volume 45, No. 37

09/02/1999 - Volume 45, No. 36

08/26/1999 - Volume 45, No. 35

08/19/1999 - Volume 45, No. 34

08/12/1999 - Volume 45, No. 33

08/05/1999 - Volume 45, No. 32

07/29/1999 - Volume 45, No. 31

07/23/1999 - Volume 45, No. 30SR

07/22/1999 - Volume 45, No. 30

07/15/1999 - Volume 45, No. 29

07/08/1999 - Volume 45, No. 28

07/01/1999 - Volume 45, No. 27

06/24/1999 - Volume 45, No. 26

06/17/1999 - Volume 45, No. 25

06/10/1999 - Volume 45, No. 24

06/03/1999 - Volume 45, No. 23

05/27/1999 - Volume 45, No. 22

05/20/1999 - Volume 45, No. 21

05/13/1999 - Volume 45, No. 20

05/06/1999 - Volume 45, No. 19

04/29/1999 - Volume 45, No. 18

04/22/1999 - Volume 45, No. 17

04/15/1999 - Volume 45, No. 16

04/08/1999 - Volume 45, No. 15

04/01/1999 - Volume 45, No. 14

03/25/1999 - Volume 45, No. 13

03/18/1999 - Volume 45, No. 12

03/11/1999 - Volume 45, No. 11

03/04/1999 - Volume 45, No. 10

02/25/1999 - Volume 45, No. 9

02/18/1999 - Volume 45, No. 8

02/11/1999 - Volume 45, No. 7

02/04/1999 - Volume 45, No. 6

01/28/1999 - Volume 45, No. 5

01/21/1999 - Volume 45, No. 4

01/14/1999 - Volume 45, No. 3

01/07/1999 - Volume 45, No. 2

1998

12/31/1998 - Volume 45, No. 1

12/23/1998 - Volume 44, No. 52

12/17/1998 - Volume 44, No. 51

12/10/1998 - Volume 44, No. 50

12/03/1998 - Volume 44, No. 49

11/25/1998 - Volume 44, No. 48

11/19/1998 - Volume 44, No. 47

11/12/1998 - Volume 44, No. 46

11/05/1998 - Volume 44, No. 45

10/29/1998 - Volume 44, No. 44

10/22/1998 - Volume 44, No. 43

10/15/1998 - Volume 44, No. 42

10/08/1998 - Volume 44, No. 41

10/01/1998 - Volume 44, No. 40

09/24/1998 - Volume 44, No. 39

09/17/1998 - Volume 44, No. 38

09/10/1998 - Volume 44, No. 37

09/03/1998 - Volume 44, No. 36

08/27/1998 - Volume 44, No. 35

08/20/1998 - Volume 44, No. 34

08/13/1998 - Volume 44, No. 33

08/06/1998 - Volume 44, No. 32

07/30/1998 - Volume 44, No. 31

07/23/1998 - Volume 44, No. 30

07/16/1998 - Volume 44, No. 29

07/09/1998 - Volume 44, No. 28

07/02/1998 - Volume 44, No. 27

06/25/1998 - Volume 44, No. 26

06/18/1998 - Volume 44, No. 25

06/11/1998 - Volume 44, No. 24

06/04/1998 - Volume 44, No. 23

05/28/1998 - Volume 44, No. 22

05/21/1998 - Volume 44, No. 21

05/14/1998 - Volume 44, No. 20

05/07/1998 - Volume 44, No. 19

04/30/1998 - Volume 44, No. 18

04/23/1998 - Volume 44, No. 17

04/16/1998 - Volume 44, No. 16

04/09/1998 - Volume 44, No. 15

04/02/1998 - Volume 44, No. 14

03/26/1998 - Volume 44, No. 13

03/19/1998 - Volume 44, No. 12

03/12/1998 - Volume 44, No. 11

03/05/1998 - Volume 44, No. 10

02/26/1998 - Volume 44, No. 9

02/19/1998 - Volume 44, No. 8

02/12/1998 - Volume 44, No. 7

02/05/1998 - Volume 44, No. 6

01/29/1998 - Volume 44, No. 5

01/22/1998 - Volume 44, No. 4

01/15/1998 - Volume 44, No. 3

01/08/1998 - Volume 44, No. 2

01/02/1998 - Volume 43, No. 1

1997

12/24/1997 - Volume 43, No. 52

12/18/1997 - Volume 43, No. 51

12/11/1997 - Volume 43, No. 50

12/04/1997 - Volume 43, No. 49

11/26/1997 - Volume 43, No. 48

11/20/1997 - Volume 43, No. 47

11/13/1997 - Volume 43, No. 46

11/06/1997 - Volume 43, No. 45

10/30/1997 - Volume 43, No. 44

10/23/1997 - Volume 43, No. 43

10/16/1997 - Volume 43, No. 42

10/09/1997 - Volume 43, No. 41

10/02/1997 - Volume 43, No. 40

09/25/1997 - Volume 43, No. 39

09/18/1997 - Volume 43, No. 38

09/11/1997 - Volume 43, No. 37

09/04/1997 - Volume 43, No. 36

08/28/1997 - Volume 43, No. 35

08/21/1997 - Volume 43, No. 34

08/14/1997 - Volume 43, No. 33

08/07/1997 - Volume 43, No. 32

07/31/1997 - Volume 43, No. 31

07/24/1997 - Volume 43, No. 30

07/17/1997 - Volume 43, No. 29

07/10/1997 - Volume 43, No. 28

07/03/1997 - Volume 43, No. 27

06/27/1997 - Volume 43, No. 26B

06/26/1997 - Volume 43, No. 26

06/20/1997 - Volume 43, No. 25B

06/19/1997 - Volume 43, No. 25

06/12/1997 - Volume 43, No. 24

06/05/1997 - Volume 43, No. 23

05/29/1997 - Volume 43, No. 22

05/22/1997 - Volume 43, No. 21

05/15/1997 - Volume 43, No. 20

05/08/1997 - Volume 43, No. 19

05/01/1997 - Volume 43, No. 18

04/24/1997 - Volume 43, No. 17

04/17/1997 - Volume 43, No. 16

04/10/1997 - Volume 43, No. 15

04/03/1997 - Volume 43, No. 14

03/27/1997 - Volume 43, No. 13

03/20/1997 - Volume 43, No. 12

03/13/1997 - Volume 43, No. 11

03/06/1997 - Volume 43, No. 10

02/27/1997 - Volume 43, No. 9

02/20/1997 - Volume 43, No. 8

02/13/1997 - Volume 43, No. 7

02/06/1997 - Volume 43, No. 6

01/30/1997 - Volume 43, No. 5

01/23/1997 - Volume 43, No. 4

01/16/1997 - Volume 43, No. 3

01/09/1997 - Volume 43, No. 2

01/02/1997 - Volume 43, No. 1

1996

12/26/1996 - Volume 42, No. 52

12/19/1996 - Volume 42, No. 51

12/12/1996 - Volume 42, No. 50

12/05/1996 - Volume 42, No. 49

11/27/1996 - Volume 42, No. 48

11/21/1996 - Volume 42, No. 47

11/14/1996 - Volume 42, No. 46

11/07/1996 - Volume 42, No. 45

10/31/1996 - Volume 42, No. 44

10/24/1996 - Volume 42, No. 43

10/17/1996 - Volume 42, No. 42

10/10/1996 - Volume 42, No. 41

10/03/1996 - Volume 42, No. 40

09/26/1996 - Volume 42, No. 39

09/19/1996 - Volume 42, No. 38

09/12/1996 - Volume 42, No. 37

09/05/1996 - Volume 42, No. 36

08/29/1996 - Volume 42, No. 35

08/22/1996 - Volume 42, No. 34

08/15/1996 - Volume 42, No. 33

08/08/1996 - Volume 42, No. 32

08/01/1996 - Volume 42, No. 31

07/25/1996 - Volume 42, No. 30

07/19/1996 - Volume 42, No. 29B

07/18/1996 - Volume 42, No. 29

07/11/1996 - Volume 42, No. 28

07/03/1996 - Volume 42, No. 27

06/27/1996 - Volume 42, No. 26

06/20/1996 - Volume 42, No. 25

06/13/1996 - Volume 42, No. 24

06/06/1996 - Volume 42, No. 23

05/30/1996 - Volume 42, No. 22

05/23/1996 - Volume 42, No. 21

05/16/1996 - Volume 42, No. 20

05/09/1996 - Volume 42, No. 19

05/02/1996 - Volume 42, No. 18

04/25/1996 - Volume 42, No. 17

04/18/1996 - Volume 42, No. 16

04/11/1996 - Volume 42, No. 15

04/04/1996 - Volume 42, No. 14

03/28/1996 - Volume 42, No. 13

03/21/1996 - Volume 42, No. 12

03/14/1996 - Volume 42, No. 11

03/07/1996 - Volume 42, No. 10

02/29/1996 - Volume 42, No. 9

02/22/1996 - Volume 42, No. 8

02/15/1996 - Volume 42, No. 7

02/08/1996 - Volume 42, No. 6

02/01/1996 - Volume 42, No. 5

01/25/1996 - Volume 42, No. 4

01/18/1996 - Volume 42, No. 3

01/11/1996 - Volume 42, No. 2

01/04/1996 - Volume 42, No. 1

1995

12/28/1995 - Volume 41, No. 52

12/21/1995 - Volume 41, No. 51

12/14/1995 - Volume 41, No. 50

12/07/1995 - Volume 41, No. 49

11/30/1995 - Volume 41, No. 48

11/22/1995 - Volume 41, No. 47

11/16/1995 - Volume 41, No. 46

11/09/1995 - Volume 41, No. 45

11/02/1995 - Volume 41, No. 44

10/27/1995 - Volume 41, No. 43B

10/26/1995 - Volume 41, No. 43

10/19/1995 - Volume 41, No. 42

10/12/1995 - Volume 41, No. 41

10/05/1995 - Volume 41, No. 40

09/28/1995 - Volume 41, No. 39

09/21/1995 - Volume 41, No. 38

09/14/1995 - Volume 41, No. 37

09/07/1995 - Volume 41, No. 36

08/31/1995 - Volume 41, No. 35

08/24/1995 - Volume 41, No. 34

08/17/1995 - Volume 41, No. 33

08/10/1995 - Volume 41, No. 32

08/03/1995 - Volume 41, No. 31

07/27/1995 - Volume 41, No. 30

07/20/1995 - Volume 41, No. 29

07/13/1995 - Volume 41, No. 28

07/06/1995 - Volume 41, No. 27

06/29/1995 - Volume 41, No. 26

06/23/1995 - Volume 41, No. 25

06/15/1995 - Volume 41, No. 24
---