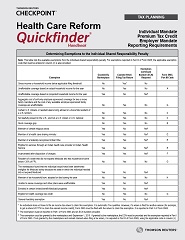 Health Care Reform Quickfinder Handbook
The 2013 tax year print and ProView eBook editions will be available in December 2013. You can pre-order your edition today.
Health Care Reform will have wide-ranging implications for individuals and employers. Employer mandates to provide insurance coverage, individual mandates to obtain coverage, credits and subsidies to help individuals purchase coverage, exchanges for acquiring coverage, new reporting requirements and taxes are a few of the many changes that will impact your clients. They are likely to have questions. We've got the answers. Our new Health Care Reform Quickfinder Handbook makes it easy for you to quickly locate answers and respond to the many questions your clients are asking.
Topics covered in the Handbook will include:
Health Insurance Mandate for Individuals
Obtaining Insurance through a State Exchange/Market
Premium and Cost Sharing assistance for Individuals
Health Insurance Mandate for Employers
Penalty for not providing insurance to Employees
Employees of Small Employers eligible for State Exchange participation
Other taxes
Notice and Reporting requirements