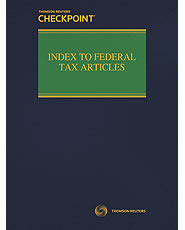 Index to Federal Tax Articles

Product Information
Frequency of Updates:

4 times/year

Brand:

WGL
Developed by sophisticated tax researchers, Index to Federal Tax Articles enables you to identify significant articles relevant to any federal income, estate, or gift tax issue you're researching -- from a listing of more than 40,000 articles dating back to 1913.
Covers a broad range of periodicals across many disciplines, such as legal journals, specialized tax journals, economic journals, and major tax institutes. Cited articles in Index to Federal Tax Articles are given in reverse chronological order so you'll always find the latest information up front. And, you can access articles by either topic or author, whichever method is easiest for the problem you're researching.
The Topical Index is essentially an easy-to-use key-word index that is periodically expanded to reflect new developments. The Author Index repeats all the entries under the author's name so there's no need to "hop" between the topic and author indexes. The Index User's Guide offers a complete list of the over 1,500 subject headings covered in the Index, a table of periodical abbreviations, and a concise "How to Use the Index" section. Extensive cross-references throughout the volumes guide you to the articles you need to complete your research with a minimum of effort.
You get comprehensive coverage in nine information-packed volumes:
Volumes 1 and 2 -- list every significant tax article from 1913 to mid-1974 by topic
Volume 3 -- the complete list of entries from 1913 to mid-1974 by author's name
The 1974-1981 Cumulation, 1982-1983 Cumulation, 1984-1987 Cumulation, 1988-1992 Cumulation, 1993-1996, and 1997-2004 Cumulation in the same topic and author formats
The most current cumulative supplement, replaced four times a year, covering 2005 to the present
The User's Guide with over 1,500 headings and explanations on how to use the Index
Authors:
Gersham Goldstein
Isa Lang
Michael Lang