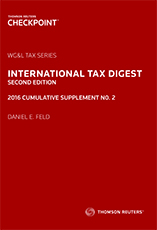 International Tax Digest

Instant access to the most important U.S. international taxation cases and rulings since 1990.
In one convenient volume, International Tax Digest contains the digests of the most important cases, rulings, and articles focusing on international taxation.
Included with these summaries are international taxation articles excerpted from WG&L's Journal of Taxation, Journal of International Taxation, and Estate Planning, articles that analyze the tax laws of foreign countries as well as those of the United States.
All relevant reported decisions of federal courts and the IRS can be found in International Tax Digest. The decisions have been carefully reviewed, selected, and edited to ensure clarity and brevity.
Each digest summarizes the facts of the case or ruling and gives the holding of the court or the IRS on the important legal issues. Citations for each digest include the name of the case or ruling, the court, the volume and page number of the law reporters where the decision appears and the year the case was decided.
---