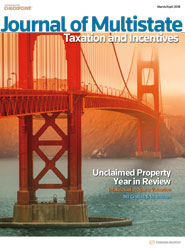 Journal of Multistate Taxation and Incentives

Product Information
Frequency of Updates:




Monthly

Brand:

Research Institute of America
The Journal of Multistate Taxation and Incentives will keep you informed of critical developments and never-ending changes in state and local taxation. This practical Journal provides targeted tax planning strategies specific to companies involved in multistate operations and individuals with assets or investments in more than one state. Written by state and local tax practitioners, the up-to-date analysis and informative articles provide timely answers to your most pressing state tax questions. The Journal also provides expanded coverage of the incentives offered by states to encourage business growth and expansion.
The Journal covers: Corporate Franchise and Income Taxes, S Corporations, Partnerships, LLCs, Sales and Use Taxes, Property Taxes, Compensation and Benefits, Individual Income Taxes, and U.S. Supreme Court reviews of state tax cases.
With this essential reference, you'll be able to:
Stay on top of important state and local tax issues and new state, local, and federal incentives programs
Gain access to analysis and perspectives from leading state and local tax practitioners
Rely on authoritative articles that have been cited by state courts and administrative tribunals
The online version of the Journal contains a searchable archive of all articles dating back to 1991.
 
Journal of Multistate Taxation and Incentives (WG&L)

Journal of Multistate Taxation and Incentives

Preview Issue in Progress

2017

Volume 27, Number 04, July 2017

Recent Developments

Articles

Columns

Volume 27, Number 03, June 2017

Advertisers for June 2017

Recent Developments

Articles

Columns

Volume 27, Number 02, May 2017

Advertisers for May 2017

Recent Developments

Articles

Columns

Volume 27, Number 01, March/April 2017

Advertisers for March/April 2017

Recent Developments

Articles

Columns

Volume 26, Number 10, February 2017

Advertisers for February 2017

Recent Developments

Articles

Columns

Volume 26, Number 09, January 2017

Advertisers for January 2017

Recent Developments

Articles

Columns

2016

Volume 26, Number 08, November/December 2016

Advertisers for November/December 2016

Recent Developments

Articles

Columns

Volume 26, Number 07, October 2016

Advertisers for October 2016

Recent Developments

Articles

Columns

Volume 26, Number 06, September 2016

Advertisers for September 2016

Recent Developments

Articles

Columns

Volume 26, Number 05, August 2016

Advertisers for August 2016

Recent Developments

Articles

Columns

Volume 26, Number 04, July 2016

Advertisers for July 2016

Recent Developments

Articles

Columns

Volume 26, Number 03, June 2016

Advertisers for June 2016

Recent Developments

Articles

Columns

Volume 26, Number 02, May 2016

Advertisers for May 2016

Recent Developments

Articles

Columns

Volume 26, Number 01, March/April 2016

Advertisers for March/April 2016

Recent Developments

Articles

Columns

Volume 25, Number 10, February 2016

Recent Developments

Articles

Columns

Volume 25, Number 09, January 2016

Advertisers for January 2016

Recent Developments

Articles

Columns

2015

Volume 25, Number 08, November/December 2015

Advertisers for November/December 2015

Recent Developments

Articles

Columns

Volume 25, Number 07, October 2015

Advertisers for October 2015

Recent Developments

Articles

Columns

Volume 25, Number 06, September 2015

Advertisers for September 2015

Recent Developments

Articles

Columns

Volume 25, Number 05, August 2015

Advertisers for August 2015

Recent Developments

Articles

Columns

Volume 25, Number 04, July 2015

Advertisers for July 2015

Recent Developments

Articles

Columns

Volume 25, Number 03, June 2015

Advertisers for June 2015

Recent Developments

Articles

Columns

Volume 25, Number 05, May 2015

Advertisers for May 2015

Recent Developments

Articles

Columns

Volume 25, Number 01, March/April 2015

Advertisers for March/April 2015

Recent Developments

Articles

Columns

Volume 24, Number 10, February 2015

Advertisers for February 2015

Recent Developments

Articles

Columns

Volume 24, Number 09, January 2015

Advertisers for January 2015

Recent Developments

Articles

Columns

2014

Volume 24, Number 08, November/December 2014

Advertisers for November/December 2014

Recent Developments

Articles

Columns

Volume 24, Number 07, October 2014

Recent Developments

Articles

Columns

Volume 24, Number 06, September 2014

Advertisers for September 2014

Recent Developments

Articles

Columns

Volume 24, Number 05, August 2014

Recent Developments

Articles

Columns

Volume 24, Number 04, July 2014

Advertisers for July 2014

Recent Developments

Articles

Columns

Volume 24, Number 03, June 2014

Advertisers for June 2014

Recent Developments

Articles

Columns

Volume 24, Number 02, May 2014

Advertisers for May 2014

Recent Developments

Articles

Columns

Volume 24, Number 01, March/April 2014

Advertisers for March/April 2014

Recent Developments

Articles

Columns

Volume 23, Number 10, February 2014

Advertisers for February 2014

Recent Developments

Articles

Columns

Volume 23, Number 09, January 2014

Advertisers for January 2014

Recent Developments

Articles

Columns

2013

Volume 23, Number 08, November/December 2013

Advertisers for November/December 2013

Recent Developments

Articles

Columns

Volume 23, Number 07, October 2013

Advertisers for October 2013

Recent Developments

Articles

Columns

Volume 23, Number 06, September 2013

Advertisers for September 2013

Recent Developments

Articles

Columns

Volume 23, Number 05, August 2013

Advertisers for August 2013

Recent Developments

Articles

Columns

Volume 23, Number 04, July 2013

Advertisers for July 2013

Recent Developments

Articles

Columns

Volume 23, Number 03, June 2013

Advertisers for June 2013

Recent Developments

Articles

Columns

Volume 23, Number 02, May 2013

Advertisers for May 2013

Recent Developments

Articles

Columns

Volume 23, Number 01, March/April 2013

Advertisers for March/April 2013

Recent Developments

Articles

Columns

Volume 22, Number 10, February 2013

Advertisers for February 2013

Recent Developments

Articles

Columns

Volume 22, Number 09, January 2013

Advertisers for January 2013

Recent Developments

Articles

Columns

2012

Volume 22, Number 08, November/December 2012

Advertisers for November/December 2012

Recent Developments

Articles

Columns

Volume 22, Number 07, October 2012

Advertisers for October 2012

Recent Developments

Articles

Columns

Volume 22, Number 06, September 2012

Advertisers for September 2012

Recent Developments

Articles

Columns

Volume 22, Number 05, August 2012

Advertisers for August 2012

Recent Developments

Articles

Columns

Volume 22, Number 04, July 2012

Advertisers for July 2012

Recent Developments

Articles

Columns

Volume 22, Number 03, June 2012

Advertisers for June 2012

Recent Developments

Articles

Columns

Volume 22, Number 02, May 2012

Advertisers for May 2012

Recent Developments

Articles

Columns

Volume 22, Number 01, March/April 2012

Advertisers for March/April 2012

Recent Developments

Articles

Columns

Volume 21, Number 10, February 2012

Advertisers for February 2012

Recent Developments

Articles

Columns

Volume 21, Number 09, January 2012

Advertisers for January 2012

Recent Developments

Articles

Columns

2011

Volume 21, Number 08, November/December 2011

Advertisers for November/December 2011

Recent Developments

Articles

Columns

Volume 21, Number 07, October 2011

Advertisers for October 2011

Recent Developments

Articles

Columns

Volume 21, Number 06, September 2011

Advertisers for September 2011

Recent Developments

Articles

Columns

Volume 21, Number 05, August 2011

Advertisers for August 2011

Recent Developments

Articles

Columns

Volume 21, Number 04, July 2011

Advertisers for July 2011

Recent Developments

Articles

Columns

Volume 21, Number 03, June 2011

Advertisers for June 2011

Recent Developments

Articles

Columns

Volume 21, Number 02, May 2011

Advertisers for May 2011

Recent Developments

Articles

Columns

Volume 21, Number 01, March/April 2011

Advertisers for March/April 2011

Recent Developments

Articles

Columns

Volume 20, Number 10, February 2011

Advertisers for February 2011

Recent Developments

Articles

Columns

Volume 20, Number 09, January 2011

Advertisers for January 2011

Recent Developments

Articles

Columns

2010

Volume 20, Number 08, November/December 2010

Advertisers for November/December 2010

Recent Developments

Articles

Columns

Volume 20, Number 07, October 2010

Advertisers for October 2010

Recent Developments

Articles

Columns

Volume 20, Number 06, September 2010

Advertisers for September 2010

Recent Developments

Articles

Columns

Volume 20, Number 05, August 2010

Advertisers for August 2010

Recent Developments

Articles

Columns

Volume 20, Number 04, July 2010

Recent Developments

Articles

Columns

Volume 20, Number 03, June 2010

Advertisers for June 2010

Recent Developments

Articles

Columns

Volume 20, Number 02, May 2010

Advertisers for May 2010

Recent Developments

Articles

Columns

Volume 20, Number 01, March/April 2010

Advertisers for March/April 2010

Recent Developments

Articles

Columns

Volume 19, Number 10, February 2010

Advertisers for February 2010

Recent Developments

Articles

Columns

Volume 19, Number 09, January 2010

Advertisers for January 2010

Recent Developments

Articles

Columns

2009

Volume 19, Number 08, November/December 2009

Advertisers for November/December 2009

Recent Developments

Articles

Columns

Volume 19, Number 07, October 2009

Advertisers for October 2009

Recent Developments

Articles

Columns

Volume 19, Number 06, September 2009

Advertisers for September 2009

Recent Developments

Articles

Columns

Volume 19, Number 05, August 2009

Advertisers for August 2009

Recent Developments

Articles

Columns

Volume 19, Number 04, July 2009

Advertisers for July 2009

Recent Developments

Articles

Columns

Volume 19, Number 03, June 2009

Advertisers for June 2009

Recent Developments

Articles

Columns

Volume 19, Number 02, May 2009

Advertisers for May 2009

Recent Developments

Articles

Columns

Volume 19, Number 01, March/April 2009

Advertisers for March/April 2009

Recent Developments

Articles

Columns

Volume 18, Number 10, February 2009

Advertisers for February 2009

Recent Developments

Articles

Columns

Volume 18, Number 09, January 2009

Advertisers for January 2009

Recent Developments

Articles

Columns

2008

Volume 18, Number 08, November/December 2008

Advertisers for November/December 2008

Recent Developments

Articles

Columns

Volume 18, Number 07, October 2008

Advertisers for October 2008

Recent Developments

Articles

Columns

Volume 18, Number 06, September 2008

Advertisers for September 2008

Recent Developments

Articles

Columns

Volume 18, Number 05, August 2008

Advertisers for August 2008

Recent Developments

Articles

Columns

Volume 18, Number 04, July 2008

Advertisers for July 2008

Recent Developments

Articles

Columns

Volume 18, Number 03, June 2008

Advertisers for June 2008

Recent Developments

Articles

Columns

Volume 18, Number 02, May 2008

Advertisers for May 2008

Recent Developments

Articles

Columns

Volume 18, Number 01, March/April 2008

Advertisers for March/April 2008

Recent Developments

Articles

Columns

Volume 17, Number 10, February 2008

Advertisers for February 2008

Recent Developments

Articles

Columns

Volume 17, Number 09, January 2008

Advertisers for January 2008

Recent Developments

Articles

Columns

2007

Volume 17, Number 08, November/December 2007

Advertisers for November/December 2007

Recent Developments

Articles

Columns

Volume 17, Number 07, October 2007

Advertisers for October 2007

Recent Developments

Articles

Columns

Volume 17, Number 06, September 2007

Advertisers for September 2007

Recent Developments

Articles

Columns

Volume 17, Number 05, August 2007

Advertisers for August 2007

Recent Developments

Articles

Columns

Volume 17, Number 04, July 2007

Advertisers for July 2007

Recent Developments

Articles

Columns

Volume 17, Number 03, June 2007

Advertisers for June 2007

Recent Developments

Articles

Volume 17, Number 02, May 2007

Advertisers for May 2007

Recent Developments

Articles

Columns

Volume 17, Number 01, March/April 2007

Advertisers for March/April 2007

Recent Developments

Articles

Columns

Volume 16, Number 10, February 2007

Advertisers for February 2007

Recent Developments

Articles

Columns

Volume 16, Number 09, January 2007

Advertisers for January 2007

Recent Developments

Articles

Columns

2006

Volume 16, Number 08, November/December 2006

Advertisers for November/December 2006

Recent Developments

Articles

Volume 16, Number 07, October 2006

Advertisers for October 2006

Recent Developments

Articles

Columns

Volume 16, Number 06, September 2006

Advertisers for September 2006

Recent Developments

Articles

Columns

Volume 16, Number 05, August 2006

Advertisers for August 2006

Recent Developments

Articles

Columns

Volume 16, Number 04, July 2006

Advertisers for July 2006

Recent Developments

Articles

Columns

Volume 16, Number 03, June 2006

Advertisers for June 2006

Recent Developments

Articles

Columns

Volume 16, Number 02, May 2006

Advertisers for May 2006

Recent Developments

Articles

Columns

Volume 16, Number 01, March/April 2006

Advertisers for March/April 2006

Recent Developments

Articles

Columns

Volume 15, Number 10, February 2006

Advertisers for February 2006

Recent Developments

Articles

Columns

Volume 15, Number 09, January 2006

Advertisers for January 2006

Recent Developments

Articles

Columns

2005

Volume 15, Number 07, November/December 2005

Advertisers for November/December 2005

Recent Developments

Articles

Volume 15, Number 07, October 2005

Advertisers for October 2005

Recent Developments

Articles

Columns

Volume 15, Number 06, September 2005

Advertisers for September 2005

Recent Developments

Articles

Columns

Volume 15, Number 05, August 2005

Advertisers for August 2005

Recent Developments

Articles

Columns

Volume 15, Number 04, July 2005

Advertisers for July 2005

Recent Developments

Articles

Columns

Volume 15, Number 03, June 2005

Advertisers for June 2005

Recent Developments

Articles

Volume 15, Number 02, May 2005

Advertisers for May 2005

Recent Developments

Articles

Columns

Volume 15, Number 01, March/April 2005

Advertisers for March/April 2005

Recent Developments

Articles

Columns

Volume 14, Number 09, February 2005

Advertisers for February 2005

Recent Developments

Articles

Columns

Volume 14, Number 09, January 2005

Advertisers for January 2005

Recent Developments

Articles

Columns

2004

Volume 14, Number 07, November/December 2004

Advertisers for November/December 2004

Recent Developments

Articles

Volume 14, Number 06, October 2004

Advertisers for October 2004

Recent Developments

Articles

Columns

Volume 14, Number 05, September 2004

Advertisers for September 2004

Recent Developments

Articles

Columns

Volume 14, Number 05, August 2004

Advertisers for August 2004

Recent Developments

Articles

Columns

Volume 14, Number 04, July 2004

Advertisers for July 2004

Recent Developments

Articles

Columns

Volume 14, Number 03, June 2004

Advertisers for June 2004

Recent Developments

Articles

Volume 14, Number 02, May 2004

Advertisers for May 2004

Recent Developments

Articles

Columns

Volume 14, Number 01, March/April 2004

Advertisers for March/April 2004

Recent Developments

Articles

Columns

Volume 13, Number 10, February 2004

Advertisers for February 2004

Recent Developments

Articles

Columns

Volume 13, Number 09, January 2004

Recent Developments

Articles

Columns

2003

Volume 13, Number 08, November/December 2003

Advertisers for November/December 2003

Recent Developments

Articles

Volume 13, Number 07, October 2003

Advertisers for October 2003

Recent Developments

Articles

Columns

Volume 13, Number 06, September 2003

Advertisers for September 2003

Recent Developments

Articles

Columns

Volume 13, Number 05, August 2003

Advertisers for August 2003

Recent Developments

Articles

Columns

Volume 13, Number 04, July 2003

Advertisers for July 2003

Recent Developments

Articles

Columns

Volume 13, Number 03, June 2003

Recent Developments

Articles

Volume 13, Number 02, May 2003

Recent Developments

Articles

Columns

Volume 13, Number 01, March/April 2003

Recent Developments

Articles

Columns

Volume 12, Number 10, February 2003

Recent Developments

Articles

Columns

Volume 12, Number 09, January 2003

Recent Developments

Articles

Columns

2002

Volume 12, Number 08, November/December 2002

Recent Developments

Articles

Volume 12, Number 07, October 2002

Recent Developments

Articles

Columns

Volume 12, Number 06, September 2002

Recent Developments

Articles

Columns

Volume 12, Number 05, August 2002

Recent Developments

Articles

Columns

Volume 12, Number 04, July 2002

Recent Developments

Articles

Columns

Volume 12, Number 03, June 2002

Recent Developments

Articles

Volume 12, Number 02, May 2002

Recent Developments

Articles

Columns

Volume 12, Number 01, March/April 2002

Recent Developments

Articles

Columns

Volume 11, Number 10, February 2002

Recent Developments

Articles

Columns

Volume 11, Number 09, January 2002

Recent Developments

Articles

Columns

2001

Volume 11, Number 08, November/December 2001

Recent Developments

Articles

Volume 11, Number 07, October 2001

Recent Developments

Articles

Columns

Volume 11, Number 06, September 2001

Recent Developments

Articles

Columns

Volume 11, Number 05, August 2001

Recent Developments

Articles

Columns

Volume 11, Number 04, July 2001

Recent Developments

Articles

Columns

Volume 11, Number 03, June 2001

Recent Developments

Articles

Volume 11, Number 02, May 2001

Recent Developments

Articles

Columns

Volume 11, Number 01, March/April 2001

Recent Developments

Articles

Columns

Volume 10, Number 10, February 2001

Recent Developments

Articles

Columns

Volume 10, Number 09, January 2001

Recent Developments

Articles

Columns

2000

Volume 10, Number 08, November/December 2000

Recent Developments

Articles

Volume 10, Number 07, October 2000

Recent Developments

Articles

Columns

Volume 10, Number 06, September 2000

Recent Developments

Articles

Columns

Volume 10, Number 05, August 2000

Recent Developments

Articles

Columns

Volume 10, Number 04, July 2000

Recent Developments

Articles

Columns

Volume 10, Number 03, June 2000

Recent Developments

Articles

Volume 10, Number 02, May 2000

Recent Developments

Articles

Columns

Volume 10, Number 01, March/April 2000

Recent Developments

Articles

Columns

Volume 09, Number 10, February 2000

Recent Developments

Articles

Columns

Volume 09, Number 09, January 2000

Recent Developments

Articles

Columns

1999

Volume 9, Number 8, November/December 1999

Recent Developments

Articles

Volume 9, Number 7, October 1999

Recent Developments

Articles

Columns

Volume 9, Number 6, September 1999

Recent Developments

Articles

Columns

Volume 9, Number 5, August 1999

Recent Developments

Articles

Columns

Volume 9, Number 4, July 1999

Recent Developments

Articles

Columns

Volume 9, Number 3, June 1999

Recent Developments

Articles

Columns

Volume 9, Number 2, May 1999

Recent Developments

Articles

Columns

Volume 9, Number 1, March/April 1999

Recent Developments

Articles

Columns

Volume 8, Number 6, January/February 1999

Recent Developments

Articles

Columns

1998

Volume 8, Number 5, November/December 1998

Recent Developments

Articles

Columns

Volume 8, Number 4, September/October 1998

Recent Developments

Articles

Columns

Volume 8, Number 3, July/August 1998

Recent Developments

Articles

Columns

Volume 8, Number 2, May/June 1998

Recent Developments

Articles

Columns

Volume 8, Number 1, March/April 1998

Recent Developments

Articles

Columns

Volume 7, Number 6, January/February 1998

Recent Developments

Articles

Columns

1997

Volume 7, Number 5, Nov/December 1997

Recent Developments

Articles

Columns

Volume 7, Number 4, Sept/Oct 1997

Recent Developments

Articles

Columns

Volume 7, Number 3, July/August 1997

Recent Developments

Articles

Columns

Volume 7, Number 2, May/June 1997

Recent Developments

Articles

Columns

Volume 7, Number 1, March/April 1997

Recent Developments

Articles

Columns

Volume 6, Number 6, January/February 1997

Recent Developments

Articles

Columns

1996

Volume 6, Number 5, November/December 1996

Recent Developments

Articles

Columns

Volume 6, Number 4, September/October 1996

Recent Developments

Articles

Columns

Volume 6, Number 3, July/August 1996

Recent Developments

Articles

Columns

Volume 6, Number 2, May/June 1996

Recent Developments

Articles

Columns

Volume 6, Number 1, March/April 1996

Recent Developments

Articles

Columns

Volume 5, Number 6, January/February 1996

Recent Developments

Articles

Columns

1995

Volume 5, Number 5, November/December 1995

Recent Developments

Articles

Columns

Volume 5, Number 4, September/October 1995

Recent Developments

Articles

Columns

Volume 5, Number 3, July/August 1995

Recent Developments

Articles

Columns

Volume 5, Number 2, May/June 1995

Recent Developments

Articles

Columns

Volume 5, Number 1, March/April 1995

Recent Developments

Articles

Columns

Volume 4, Number 6, January/February 1995

Recent Developments

Articles

Columns

1994

Volume 4, Number 5, Nov/Dec 1994

Recent Developments

Articles

Columns

Volume 4, Number 4, September/October 1994

Recent Developments

Articles

Columns

Volume 4, Number 3, July/August 1994

Recent Developments

Articles

Columns

Volume 4, Number 2, May/June 1994

Recent Developments

Articles

Columns

Volume 4, Number 1, March/April 1994

Recent Developments

Articles

Columns

Volume 3, Number 6, January/February 1994

Recent Developments

Articles

Columns

1993

Volume 3, Number 5, November/December 1993

Recent Developments

Articles

Columns

Volume 3, Number 4, September/October 1993

Recent Developments

Articles

Columns

Volume 3, Number 3, July/August 1993

Recent Developments

Articles

Columns

Volume 3, Number 2, May/June 1993

Recent Developments

Articles

Columns

Volume 3, Number 1, March/April 1993

Recent Developments

Articles

Columns

Volume 2, Number 6, January/February 1993

Recent Developments

Articles

Columns

1992

Volume 2, Number 5, November/December 1992

Recent Developments

Articles

Columns

Volume 2, Number 4, September/October 1992

Recent Developments

Articles

Columns

Volume 2, Number 3, July/August 1992

Recent Developments

Articles

Columns

Volume 2, Number 2, May/June 1992

Recent Developments

Articles

Columns

Volume 2, Number 1, March/April 1992

Recent Developments

Articles

Columns

Volume 1, Number 6, January/February 1992

Recent Developments

Articles

Columns

1991

Volume 1, Number 5, November/December 1991

Recent Developments

Articles

Columns

Volume 1, Number 4, September/October 1991

Recent Developments

Articles

Columns

Volume 1, Number 3, July/August 1991

Recent Developments

Articles

Columns

Volume 1, Number 2, May/June 1991

Recent Developments

Articles

Columns

Volume 1, Number 1, March/April 1991

Recent Developments

Articles

Columns
---