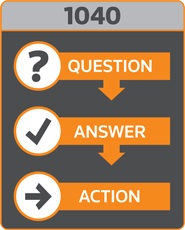 PPC's 1040 Deskbook
Product Information
Frequency of Updates:

Annually with one Supplement (as needed)

Brand:

Practitioners Publishing
The 2013 tax year print and ProView eBook editions will be available in December 2013. You can pre-order your edition today.
PPC's 1040 Deskbook provides detailed, easy-to-understand, and affordable tax return focused guidance, complete with real-life examples and illustrations of filled-in forms, so owners and/or staff can quickly and easily resolve the key issues encountered when preparing individual tax returns. The Deskbook provides workflow guidance, tools and other practice aids that will save time, help ensure returns are accurately prepared, and enable owners and/or staff to identify potential tax planning opportunities for clients.
This Deskbook provides the practical, how-to guidance needed for preparing Form 1040 by any level of preparer. It identifies the key issues and covers the complex, unusual topics with workable solutions, examples, filled-in forms, and practice aids to resolve these issues in a timely, efficient manner. The Deskbook contains a unique Quick Reference Binder containing numerous tables, elections, worksheets, checklists, flowcharts, and other tools that place important information at the return preparer's fingertips to save valuable time. It also includes a Roadmap to help identify individual tax planning engagements by simply reviewing a completed Form 1040 tax return.
Some of the key highlights include:
Detailed coverage of the 3.8% net investment income tax (3.8% NIIT)
Detailed coverage of the additional 0.9% Medicare tax on earned income
Updated discussion and examples for the new higher ordinary income and capital gain tax rates
Expanded guidance for filing status of same-sex couples due to the Supreme Court's Windsor case.
Added coverage of the new home office safe harbor rules
Recent case law developments regarding S corporation shareholder stock and debt basis
Revised and updated discussion of charitable deduction for easements due to evolving case law
New developments regarding the effect of demutualization of insurance companies
Added discussion on the tax consequences of in-plan Roth rollovers
Expanded coverage of Section 179 deduction and carryover for Qualified Real Property
Expanded discussion of passive activities for the effect of the 3.8% NIIT
Our editorial staff constantly monitors legislative, judicial, and administrative developments to provide the most comprehensive tax return preparation guidance. We also enlist the services of respected practitioners and other experts to assist our editors in making this Deskbook as complete and useful as possible.
List of Content (Click any title to expand the list)
TOC for TDB
INTRODUCTORY MATERIAL

ABOUT THE AUTHORS . . .
LIST OF SUBSTANTIVE CHANGES AND ADDITIONS
FILING STATUS AND EXEMPTIONS

Chapter 1: Filing Status

Introduction
KEY ISSUE 1A Filing Status in Year of Spouse's Death.

Qualifications for a Joint Return
Advantages of Filing a Joint Return
Disadvantages of Filing Jointly
Filing as a Qualified Widow or Widower

KEY ISSUE 1B Tax Effects of Using Married Filing Separate Status.

Changing Filing Status after Return Is Filed

KEY ISSUE 1C Implications of Joint and Separate Filing Status for Married Taxpayers.

Implications of Filing a Joint Return
Implications of Filing Separate Returns

KEY ISSUE 1D Deciding on Filing Status in Community Property States.
KEY ISSUE 1E Eligibility for Head of Household Status.

Requirements for Head of Household Status
Married Persons Living Apart

KEY ISSUE 1F Claiming Head of Household Status in Divorce Situations.
KEY ISSUE 1G Filing Status for "Nontraditional" Couples.

Chapter 2: Personal Exemptions

Introduction
KEY ISSUE 2A Dependency Tests and Claiming a Personal Exemption.

General Rules for Dependent Status and Claiming a Personal Exemption
Qualifying Child
Qualifying Relative

KEY ISSUE 2B Parents Claiming an Exemption for a Married Child.
KEY ISSUE 2C Dependents of a Noncustodial Parent in Divorce and Separation Situations.

Custodial and Noncustodial Parent
Requirements for Noncustodial Parent to Claim Dependent

KEY ISSUE 2D Claiming the Exemption in Multiple Support Situations.
ILLUSTRATION 2-1: Completed Form 2120: Agreement Not to Claim Exemption
INCOME AND ADJUSTMENTS

Chapter 3: Wages and Salaries

Introduction
KEY ISSUE 3A Analyzing Selected Items Reported on Form W-2.
KEY ISSUE 3B What to Do If Form W-2 Is Incorrect or Not Received.
ILLUSTRATION 3-1: Form W-2 Reporting for Value of Group-term Life Insurance
ILLUSTRATION 3-2: Form 1040 Reporting Payroll Taxes Due on the Value of Group-term Life Insurance

Chapter 4: Interest and Dividend Income

Introduction
KEY ISSUE 4A Qualified Dividends Taxed at Lower Rates.

What Is a Qualified Dividend?
How Qualified Dividends Are Taxed

KEY ISSUE 4B Avoiding IRS Matching Problems When Reporting Interest and Dividends.
KEY ISSUE 4C Securities Purchased at a Discount.

Original Issue Discount Bonds
Market Discount Bonds
Market Discount and OID

KEY ISSUE 4D Securities Purchased at a Premium.

General Rules for Premium Amortization
Amortizing Premium on Callable Bonds

KEY ISSUE 4E Offsetting Income for Purchased Interest.
KEY ISSUE 4F Electing to Accrue Interest from U.S. Savings Bonds.

General Rules
When to Consider Making the Election
Calculating the Annual Income Accrual

KEY ISSUE 4G Reporting Interest on Treasury Inflation-protection Securities.

How Security Holders Are Taxed

ILLUSTRATION 4-1: Schedule B Reporting Income Actually Received in the Following Year
ILLUSTRATION 4-2: Schedule B Reporting Nominee Distribution
ILLUSTRATION 4-3: Schedule B Reporting OID and Accrued Interest on Bond Purchased in Secondary Market
ILLUSTRATION 4-4: Form 8949 Reporting Accrued Market Discount

Chapter 5: Pension and Retirement Income

Introduction
KEY ISSUE 5A Calculating Taxable Social Security Benefits.

General Rules
Lump-sum Social Security Payments
Repayment of Social Security Benefits
Interaction of Taxable Social Security Benefits with IRA Deduction

KEY ISSUE 5B Distributions from Traditional IRAs.

Only Deductible Contributions Made to Traditional IRAs
Nondeductible Contributions Made to Traditional IRAs

KEY ISSUE 5C Distributions from Roth IRAs.

Taxation of Distributions
Application of Minimum Distribution Rule
Distributions Following Roth IRA Conversions
Roth IRA Rollovers

KEY ISSUE 5D Converting Traditional IRAs into Roth IRAs.

Conversion Requirements
Tax Consequences of Conversion
Reversing a Rollover or Conversion

KEY ISSUE 5E Simplified Methods for Taxing Annuity Payments from Qualified Plans.
KEY ISSUE 5F Rolling Over Qualified Retirement Plan and IRA Distributions.

Rolling Over Distributions from Qualified Retirement Plans
Rolling Over Distributions from IRAs
Inherited Retirement Accounts
Invalid Rollovers

KEY ISSUE 5G Reporting Income from Withdrawal of Excess IRA Contributions.
KEY ISSUE 5H Divorce-related Transfers of Retirement Plan Assets.

Qualified Retirement Plan Benefits
IRAs

KEY ISSUE 5I Distributions from a SIMPLE IRA Plan.
KEY ISSUE 5J Minimum Required Distribution Rules for Retirement Accounts.

Required Beginning Date
Calculating the Minimum Required Distribution (MRD)
MRDs during the Owner's Life
MRDs after the Owner's Death
Rollovers to Nonspouse Beneficiaries and the MRD Rules

KEY ISSUE 5K Distributions from Commercial Variable Annuities.

General Tax Considerations
Taxation of Annuity Payments
Taxation of Nonannuity Payments
Premature Distributions
Annuity and Partial Annuity Exchange

Chapter 6: Other Items of Income

Introduction
KEY ISSUE 6A Recapture of Excess Alimony Payments.

When Does Recapture Occur?
Amount Recaptured

KEY ISSUE 6B Reporting Ministers' Housing Allowances.

Minister Receives Cash Housing Allowance

KEY ISSUE 6C Excluding Personal Injury Awards from Gross Income.

General Rules
Determining Whether Damages or Settlements Are Taxable
Reporting Contingent Attorney Fees Associated with Personal Injury Awards

KEY ISSUE 6D Reporting Refunds of Itemized Deductions under the Tax Benefit Rule.

What Is the Tax Benefit Rule?
Reporting Partially Taxable Refunds
Recoveries Related to Medical Expenses and Casualty Losses
Effect of the Prior-year Standard Deduction
Refunds Attributable to More Than One Year
Effect of Tax Credits in Year of Deduction
Alternative Minimum Tax in Prior Year

KEY ISSUE 6E Distributions from a Health Savings Account.

Rollovers from HSAs
Divorce-related Transfers of HSAs
Transfers at the Account Beneficiary's Death

KEY ISSUE 6F Life Insurance Proceeds Received before Death.

Accelerated Life Insurance Proceeds
Viatical Settlements
Surrender of Life Insurance Contract
Definitions

KEY ISSUE 6G Long-term Care Insurance Proceeds.
KEY ISSUE 6H Understanding Education Savings Accounts.

Contribution Limitations
Gift Tax Considerations
General Rules for Distributions
Rollovers of ESAs
Other Transfers of ESA Funds

KEY ISSUE 6I Using Qualified Tuition Programs.

Contributions and Distributions
Rollovers and Beneficiary Changes

KEY ISSUE 6J Selected Other Income Items.

Disability Income
Workers' Compensation
Bartering Income
Gambling and Lottery Winnings
Military Income and Related Issues
Mortgage Assistance Payments

ILLUSTRATION 6-1: Calculating the Taxable Portion of a Refunded Itemized Deduction

Chapter 7: Adjustments to Income

Introduction
KEY ISSUE 7A Contributions to Traditional IRAs.

Maximum Allowable Contributions
Deductible Amount of IRA Contribution
Nondeductible IRA Contributions
Deadline for Making Contributions
IRA Investments and Fees
Exposure of Assets Held in Traditional IRAs to Bankruptcy Creditors
Direct Deposit of Federal Income Tax Refunds

KEY ISSUE 7B Roth IRA Contributions.

Contribution Limitations
Other Roth IRA Contribution Considerations
Choosing between Roth IRAs and Traditional IRAs
Exposure of Assets Held in Roth IRAs to Bankruptcy Creditors

KEY ISSUE 7C Keogh and SEP Deductions for Self-employed Taxpayers.

Contribution Limits
Effect of the Compensation Limit
Calculating the Maximum Contribution Deduction
Adoption and Funding Deadlines
Earned Income from Directors' Fees

KEY ISSUE 7D Employer-sponsored SIMPLE IRAs.

Contribution and Eligibility Rules
Compensation
Special Rules for Self-employed Persons
When and Where Contributions Are Deductible
Establishing SIMPLE IRA Plans

KEY ISSUE 7E Deducting Moving Expenses.

Deductible Moving Expenses
Nondeductible Moving Expenses
Move Must Be Job-related
Employer Reimbursements of Moving Expenses
Reimbursement Received and Expenses Paid in Different Tax Years

KEY ISSUE 7F Self-employed Health Insurance Deduction.

Medicare Insurance Premiums
Who Is Self-employed?
What Counts as Earned Income?

KEY ISSUE 7G Distinguishing Alimony from Nondeductible Payments.
KEY ISSUE 7H Deducting Interest Paid on Education Loans.

Maximum Allowable Deduction
Other Considerations

KEY ISSUE 7I Tuition and Fees Deduction (Expired).

Qualified Tuition and Related Expenses
Limitations on AGI and Maximum Deduction
Adjustment for Refunds and Tax-free Education Benefits
No Double Benefit
No Deduction If the American Opportunity, Hope, or Lifetime Learning Credit Is Claimed
No Deduction for Amounts Excludable Due to ESA and Other Distributions

KEY ISSUE 7J Educator's Expense Deduction (Expired).
KEY ISSUE 7K Deducting Contributions to Health Savings Accounts.

What Is an HDHP?
Deducting Contributions to HSAs

KEY ISSUE 7L Domestic Production Activities Deduction.

General Rules
Domestic Production Gross Receipts (DPGR)
Computing W-2 Wages Paid by the Taxpayer
Calculating the DPAD
Reporting the DPAD
Alternative Minimum Tax Considerations
Additional DPAD Information

ILLUSTRATION 7-1: 2012 Adjusted Gross Income Limitations for IRA Contributions
ILLUSTRATION 7-2: Form 8903 Calculating the Domestic Production Activities Deduction
BUSINESS, FARM, AND RENTAL

Chapter 8: Sole Proprietorships (Schedule C)

Introduction
KEY ISSUE 8A Distinguishing an Active Trade or Business from a Hobby.

Distinguishing between a Hobby and an Active Trade or Business
Reporting Hobby Income and Expenses When Activity Is Not Deemed to Be a Trade or Business
Safe Harbor Rule Helps Eliminate Uncertainty between a Hobby and an Active Trade or Business

KEY ISSUE 8B Oil and Gas Working Interests.

General Rules
Prepaid Drilling Costs
Intangible Drilling Costs
Depreciation
Depletion

KEY ISSUE 8C Home Office Deductions.

Regular and Exclusive Use
Principal Place of Business
Computing the Home Office Deduction

KEY ISSUE 8D Business Investigation and Start-up Costs.

Distinguishing Deductible and Amortizable Costs (Section 195) from Capitalized Costs [Section 263(a)]
Deducting Start-up Costs
Treatment of Costs after Disposition or Abandonment of Business

KEY ISSUE 8E Disposing of a Sole Proprietorship.

Gain or Loss upon Disposition
Covenants Not to Compete
Recapture Income
Short Tax Year Depreciation

ILLUSTRATION 8-1: Schedule C Reporting Oil and Gas Working Interest
ILLUSTRATION 8-2: Oil and Gas Depletion Schedule
ILLUSTRATION 8-3: Form 8829 Reporting Home Office Deductions
ILLUSTRATION 8-4: Form 8829 Including Gains from Business Property

Chapter 9: Farm Income and Expenses (Schedule F)

Introduction
KEY ISSUE 9A Reporting Cooperative Patronage Distributions.

Patronage Dividends
Losses on Co-op Equity
Per-unit Retains
Domestic Production Activities Deduction

KEY ISSUE 9B Tax Treatment of CCC Loans.
KEY ISSUE 9C Prepaid Farming Expenses.

General Rule
Exceptions to the 50% Rule

KEY ISSUE 9D Deferring Certain Crop and Livestock Income.

Crop Insurance Proceeds
Livestock Sold Because of Adverse Weather Conditions

KEY ISSUE 9E Depreciation of Farm Property.
KEY ISSUE 9F Uniform Capitalization Rules for Plants and Animals.

General Rule
Election Out of the UNICAP Rules

KEY ISSUE 9G Substantiation Requirements for Farm Vehicles.
KEY ISSUE 9H Commodity Hedging Transactions.

What Is a Hedging Transaction?
Identifying Hedging Transactions

KEY ISSUE 9I Crop-share Rental Reporting.

When Are Crop-share Rents SE Income?
Reporting Crop-share Rents

KEY ISSUE 9J Computing Tax on Farm Income Using Income Averaging.

Elected Farm Income
Making the Election
Calculating the Farm Income Averaging Tax

KEY ISSUE 9K Limitation on Deductibility of Farm Losses.

Calculating the Excess Farm Loss
Application to Partnerships and S Corporations
Coordination with Passive Activity Loss Rules

ILLUSTRATION 9-1: Calculation of Three-year Income Averaging for Farm Income

Chapter 10: Rental Property (Schedule E)

Introduction
KEY ISSUE 10A Rental of Residences and Vacation Homes.

Personal Residence with Very Limited Rental Use
Vacation Home with Both Rental and Personal Use
Rental Property with Very Limited Personal Use
Conversion from Vacation Home to Rental Property
Example of Sale of Residence Used as Both a Vacation Home and Rental Property

KEY ISSUE 10B Temporary Rental of Personal Residence Prior to Sale.

Effect of Residential Rental on the Exclusion of Gain
Reporting Income and Deductions of a Temporary Rental Activity

KEY ISSUE 10C Rental of a Portion of a Residence.
KEY ISSUE 10D Conversion of Residence to Rental Property.

Depreciating a Converted Residence
Reporting Gain or Loss on the Sale of a Converted Residence

KEY ISSUE 10E Property Rented to Related Parties.

Property Rented to a Family Member or Joint Owner
Property Rented to a Related Business

KEY ISSUE 10F Owning and Renting Timeshare Units.

Timeshare Unit Is Not Rented
Timeshare Unit Is Rented

ILLUSTRATION 10-1: Form 4797 Reporting Sale of Converted Property

Chapter 11: Tax Accounting Methods

Introduction
KEY ISSUE 11A Methods of Accounting.

Cash-basis Income
Cash-basis Expenses
Accrual Method of Accounting

KEY ISSUE 11B Implications of Maintaining Inventory.

Accrual Method of Accounting Generally Required
Special Rules for Certain Small Businesses
Valuing Inventory

KEY ISSUE 11C Changing Accounting Methods.

General Rules
Section 481(a) Adjustment
Automatic Changes in Accounting Methods
Nonautomatic Changes in Accounting Methods

Chapter 12: Travel and Entertainment

Introduction
KEY ISSUE 12A Substantiation of Travel and Entertainment Expenses.

Substantiation Requirements
Per Diem Method of Substantiating the Amount of Travel Costs
Business Requirement for Meals or Entertainment Expenses
Employee Reimbursements

KEY ISSUE 12B 50% Limitation on Meal and Entertainment Deductions.

Exceptions to 50% Disallowance Rule
Disallowance Rules Are Applicable to All Meals Not Specifically Excepted

KEY ISSUE 12C Entertainment Facilities and Club Dues.

Entertainment Facilities
Club Dues

KEY ISSUE 12D Accompanied Travel.
KEY ISSUE 12E Travel out of the Country.

Allocating Foreign Travel between Business and Personal Purposes
Attending Conventions outside North America

KEY ISSUE 12F Travel away from Home.

Determination of "Tax Home"
Temporary versus Indefinite Employment away from Home
Deducting a Saturday Night Stay

KEY ISSUE 12G Deducting Local Transportation Costs.

Commuting Expenses
Taxpayers with Home Offices
Temporary Work Locations

KEY ISSUE 12H Tickets to Athletic Events Treated as Entertainment or Gifts.

Tickets to Charitable Events
Deduction for Skybox Rental

Chapter 13: Net Operating Losses

Introduction
KEY ISSUE 13A Computing an NOL.

General Rules
Carryback Period
Carryforward Period

KEY ISSUE 13B Recomputations in NOL Carryback Years.

Recomputing Tax in the Carryback Year
Determining NOL Remaining after Carryback

KEY ISSUE 13C Application for Tentative Refund Based on an NOL Carryback.

Administrative Consequences of Filing Form 1045
General Filing Requirements

KEY ISSUE 13D Election to Forgo an NOL Carryback.

General Rules of the Election
When Should the Election Be Made?

KEY ISSUE 13E NOL Carryover and Carryback Rules When Filing Status Changes.

Carryback of a Postdivorce NOL to a Predivorce Tax Year
Carryback of a Joint Return NOL to a Premarital Tax Year
Carryover of a Joint Return NOL to a Nonmarital Tax Year

ILLUSTRATION 13-1: Computation of NOL in Year with Capital Losses
ILLUSTRATION 13-2: Form 1045--Carryback of an NOL
ILLUSTRATION 13-3: NOL Carryback Utilization
DEPRECIATION AND AUTOS

Chapter 14: Depreciation

Introduction
KEY ISSUE 14A Depreciation Methods, Recovery Periods, and Changes in Use.

Determining the Most Beneficial Depreciation Method
Determining Recovery Periods
Changes in Use of Depreciable Property

KEY ISSUE 14B Using the Section 179 Deduction.

General Rules
Amending or Revoking the Section 179 Deduction
Annual Dollar Limitation--Pass-through Entities
Qualifying Property
Taxable Income Limitation
Carryover of the Section 179 Deduction
Recapture of the Section 179 Deduction

KEY ISSUE 14C Claiming Bonus Depreciation.

Eligible Property
Qualified Reuse and Recycling Property
Qualified Leasehold Improvement Property
AMT Implications
Coordination with the Section 179 Deduction
Electing out of Bonus Depreciation

KEY ISSUE 14D Applying the Midquarter Convention.

General Rules
Determining Which Property Is Subject to Midquarter Convention
Impact of Bonus Depreciation Deduction
Convention in Year of Disposition
Pass-through Entities

KEY ISSUE 14E Depreciating Leasehold Improvements and Certain Building Improvements.

Qualified Leasehold Improvement Property
Qualified Restaurant Property
Qualified Retail Improvement Property

KEY ISSUE 14F Computing Short-year Depreciation.

When Does the Tax Year Begin?
Computing Short-year Depreciation under the Half-year Convention
Computing Short-year Depreciation under the Midquarter Convention
Effect on Bonus Depreciation
Computing Depreciation in Years Subsequent to a Short Year

KEY ISSUE 14G Amortizing Section 197 Intangible Assets.

General Rule
What Is a Section 197 Intangible?
Disposing of a Section 197 Intangible

KEY ISSUE 14H Deducting the Cost of Computer Software.

Purchased Software
Developed Software
Software Implementation and Training Costs
Website Development Costs

KEY ISSUE 14I Depreciation Allowable in Year of Disposition.
KEY ISSUE 14J Depreciating Property Acquired in a Like-kind Exchange.

Key Terminology
General Application Rules
Depreciating Exchanged Basis
Depreciating Excess Basis
Transactions Involving Nondepreciable Property
Electing Out of the Regulations

Chapter 15: Automobiles and Other Listed Property

Introduction
KEY ISSUE 15A Reporting Vehicle Expenses.
KEY ISSUE 15B Reporting Personal Use of Employer-provided Vehicles.

General Rules
Special Accounting Period
FMV of Employer-provided Vehicles When the ALV Method Is Used

KEY ISSUE 15C Depreciation and Section 179 Limitations for Vehicles.

General Limitations for Luxury Autos
Bonus Depreciation and the Section 280F Limits
Interaction with Section 179 Deduction
Vehicles Exempt from Auto Depreciation Limits
Section 179 Limitation for Certain Heavy Passenger Vehicles
Depreciating a Luxury Auto Acquired via a Trade-in

KEY ISSUE 15D Deductions for Leased Passenger Autos.
KEY ISSUE 15E Actual Cost versus Standard Mileage Rate Method.
KEY ISSUE 15F Partial Business Use of Autos.

Qualified Business Use
Adjusting Basis for Vehicles Acquired in Trade-ins
Yearly Basis Adjustments for Depreciation vs. Disposition
Reporting Gain or Loss on a Partial Business Use Vehicle

KEY ISSUE 15G Substantiating Vehicle Use.

General Rules
Qualified Nonpersonal-use Vehicles
Employer-provided Vehicles
Employee-provided Vehicles--Mileage Allowances

KEY ISSUE 15H Limitations for Other Listed Property.

General Limitations for Listed Property Other than Vehicles
Cellular Telephones
Computers

KEY ISSUE 15I Alternative Motor Vehicles and Electric Vehicles.

Claiming the Alternative Motor Vehicle Credit
Claiming the New Qualified Plug-in Electric Drive Motor Vehicle Credit (NQPEDMV)

ILLUSTRATION 15-1: Schedule C, Part IV, Reporting Use of Car by Sole Proprietor
ILLUSTRATION 15-2: Form 4562, Part V, Use of Car by Employee
ILLUSTRATION 15-3: Form 4562, Reporting Personal Use of Employer-provided Vehicles
ILLUSTRATION 15-4: Form 4797, Part IV, Recapture When Business Use Drops to 50% or Less
ILLUSTRATION 15-5: Form 4562, Part V, Reporting Partial Business Use of Other Listed Property
PASSIVE AND PASSTHROUGH

Chapter 16: Passive Activities

Introduction
KEY ISSUE 16A Definition of an Activity.

Significance of Determining an Activity
Grouping Multiple Activities

KEY ISSUE 16B Determining Material Participation.

Tests for Determining Material Participation
Exceptions to Material Participation Rules

KEY ISSUE 16C Allocating Suspended Losses to Multiple Passive Activities.

Reporting Requirements for Suspended Losses
Suspended Capital Losses

KEY ISSUE 16D Disposition of Passive Activities.

Types of Dispositions
Disposition of an Interest in a Pass-through Entity with Multiple Activities

KEY ISSUE 16E Rental Activities.

Six Exceptions to Treatment as Rental Activities
$25,000 Rental Real Estate Exception
Vacation Home Rentals

KEY ISSUE 16F Net Income from Self-rented Property.

General Treatment of Self-rented Property
Rental to C Corporations
Property Rented Incidental to a Development Activity

KEY ISSUE 16G Net Income from Rental of Nondepreciable Property.
KEY ISSUE 16H Real Estate Professionals.

Defining Real Property Trades or Businesses
Material Participation by Real Estate Professionals
Special Rule for Employees
Election to Combine Rental Real Estate Activities
Rental Real Estate Activities Held in Pass-through Entities
Coordination with $25,000 Allowance for Rental Real Estate

KEY ISSUE 16I Self-charged Interest.

Application of the Self-charged Interest Rules
Electing out of the Self-charged Interest Rules
Treatment of Other Self-charged Items

KEY ISSUE 16J Former Passive Activities.

General Impact of Former Passive Activities
Real Estate Professionals

ILLUSTRATION 16-1: Form 8582 Allocating Suspended Losses among Activities
ILLUSTRATION 16-2: Form 8582 Allocating Suspended Losses among Rental Activities
ILLUSTRATION 16-3: Form 8582 Allocating Suspended Losses among Different Capital Loss Rate Groups
ILLUSTRATION 16-4: Form 8582 Deducting Suspended Losses upon Disposition of Activity

Chapter 17: Pass-through Entities

Introduction
KEY ISSUE 17A Partner Basis and Loss Limitations.

Adjustments to Partner's Tax Basis for Partnership Items
Partner Distributions
Limitations on Losses Passed through to Partner
Effect of Domestic Production Activities Deduction (DPAD) on Partner's Basis in Partnership Interest

KEY ISSUE 17B At-risk Limitations and Carryforwards.

General Rules
Amounts Considered at Risk
Qualified Nonrecourse Financing
Limited Partners
Computing At-risk Amount
Recapture of Negative At-risk Amount

KEY ISSUE 17C S Shareholder Basis and Loss Limitations.

Computing Basis in Stock
Effect of Domestic Production Activities Deduction (DPAD) on Shareholder's Stock Basis
Establishing Debt Basis
Debt Basis and Open Account Debt
Claiming Losses and Reporting Distributions

KEY ISSUE 17D Correcting Schedule K-1 Data with Form 8082 Disclosure.
KEY ISSUE 17E Expenses Incurred by a Partner or S Corporation Shareholder.

Partners
S Corporation Shareholders

KEY ISSUE 17F Look-through Capital Gains and Losses on Sales or Exchanges of Partnership and S Corporation Interests.

Sale of an S Corporation Interest
Sale of a Partnership Interest

KEY ISSUE 17G Beneficiaries of Estates and Trusts.

Simple versus Complex Trust
Distributions from Complex Trusts and Estates within 65 Days after Year-end
Passive Activity Limitations
Trust and Estate Tax Years
Grantor Trusts

KEY ISSUE 17H Partner Guaranteed Payments.

Reporting Issues Associated with Guaranteed Payments
Payment of Health Insurance Premiums
Self-employment Tax

KEY ISSUE 17I Domestic Production Activities Deduction.

Pass-through Entities--General Rules
Reporting the Deduction
Additional DPAD Information

ILLUSTRATION 17-1: Determining Loss Limitations
ILLUSTRATION 17-2: Form 6198 Computing Amount at Risk
ILLUSTRATION 17-3: Using Form 1120S, Schedule K-1, to Determine Basis Changes
ILLUSTRATION 17-4: Form 8082 Reporting Amounts Different from K-1 Amounts
ILLUSTRATION 17-5: Schedule E Reporting Expenses Incurred by a Partner
ILLUSTRATION 17-6: Calculating the Domestic Production Activities Deduction on Form 8903
GAINS AND LOSSES

Chapter 18: Securities Transactions

Introduction
KEY ISSUE 18A Stock Holding Periods and Capital Gain Rates.

Stock Holding Periods
Capital Gain Tax Rates
Capital Losses

KEY ISSUE 18B Reporting Mutual Fund Income and Sales.

Reporting Shareholder Income
Determining Basis in Mutual Fund Shares
New Basis and Character Reporting Rules for Mutual Fund Sales

KEY ISSUE 18C Losses on Section 1244 Stock.

Section 1244 Stock Requirements
Claiming a Section 1244 Loss

KEY ISSUE 18D Losses on Worthless Securities.
KEY ISSUE 18E Publicly Traded Options and Futures Contracts.

Tax Rules for Option Writers
Tax Rules for Option Holders
Section 1256 Contracts

KEY ISSUE 18F Short Sales.

What Is a Short Sale?
General Tax Consequences
Applying the Constructive Sale Rules
Applying the Wash Sale Rules
Payments in Lieu of Dividends

KEY ISSUE 18G Employee Stock Options.

Incentive Stock Options
Nonqualified Stock Options (NQSOs)
Employee Stock Purchase Plans (ESPPs)

KEY ISSUE 18H Anticonversion Rules: Ordinary Income or Capital Gain?
KEY ISSUE 18I Qualified Small Business Stock.

50% Gain Exclusion
Rollover of QSBS Gain
Options Do Not Qualify

KEY ISSUE 18J Rollover of Publicly Traded Securities Gain.

Specialized Small Business Investment Company

KEY ISSUE 18K Wash Sale Losses.
KEY ISSUE 18L Constructive Sales of Appreciated Financial Positions.

General Rules
Definitions [IRC Sec. 1259(b) and (d)]
Exceptions to the Constructive Sale Rules

KEY ISSUE 18M Stock Trader versus Investor.

Taxation of Investors
Taxation of Traders
Summary of Taxation Rules for Traders and Investors
Distinguishing Traders from Investors

ILLUSTRATION 18-1: Form 1099-B and Partial Form 6781 Reflecting Marked-to-market Treatment of Section 1256 Contracts

Chapter 19: Installment Sales, Like-kind Exchanges, and Conversions of Property

Introduction
KEY ISSUE 19A Availability of Installment Method.

Property Eligible for Installment Reporting

KEY ISSUE 19B Installment Sales between Related Parties.

Sale of Depreciable Property between Related Parties
Two-year Disposition Rule

KEY ISSUE 19C Electing Out of the Installment Method.

Maximizing the Benefits of the Election Out
Mechanics of Making the Election Out

KEY ISSUE 19D Installment Sale Purchase Price Adjustments.
KEY ISSUE 19E Repossessing Real Estate Sold on Installment Basis.
KEY ISSUE 19F Installment Sales Using Wraparound Mortgages.

What Is a Wraparound Mortgage?
Effect of a Wraparound Mortgage on an Installment Sale

KEY ISSUE 19G Disposing of Installment Obligations.

Sale, Exchange, or Satisfaction at Other Than Face Value
Disposition Other Than by Sale
Transactions Not Considered Dispositions

KEY ISSUE 19H Like-kind Exchanges.

What Is Like-kind Property?
Purpose of Holding Property
Exchange Requirement Must Be Met
Computing Gain or Loss
Basis and Holding Period of Property Received
Depreciating Property Acquired in Like-kind Exchanges
Tax Reporting
Like-kind Property with Liabilities Attached
Related Person Exchanges
Like-kind Exchanges Involving Personal Residences or Rental Vacation Homes
Deferred Exchanges

KEY ISSUE 19I Involuntary Conversions.

Similar or Related in Service or Use
Replacement Period
Replacement Property Acquired from Related Person
Recognition of Gain
Special Rules for Property Damaged by Federally Declared Disasters

ILLUSTRATION 19-1: Form 6252 Reporting Gain Recognized on a Second Disposition by Related Party
ILLUSTRATION 19-2: Form 8824 Reporting a Like-kind Exchange
ILLUSTRATION 19-3: Form 4797 Reporting Several Like-kind Exchanges
ILLUSTRATION 19-4: Form 8824 Reporting a Like-kind Exchange with Boot

Chapter 20: Trade or Business Property Transactions

Introduction
KEY ISSUE 20A Business Property Abandonments.

Distinguishing Various Types of Abandonment Losses
Identifying an Abandonment Loss

KEY ISSUE 20B Nonrecaptured Section 1231 Loss Carryovers.

General Rules
Applying the Rules

KEY ISSUE 20C Purchase Price Allocations--Form 8594.

Identifying Assets That Constitute a Trade or Business
Reporting Requirements
Procedures for Allocating Purchase Price
Postsale Adjustments to Purchase Price

KEY ISSUE 20D Computing Depreciation Recapture.
KEY ISSUE 20E Losses on Related-party Sales.

General Rules
What Is a Related Party?
Applying the Related-party Rules

KEY ISSUE 20F Business Casualty Losses.
KEY ISSUE 20G Gains from the Sale of Depreciable Real Property.

Reporting Unrecaptured Section 1250 Gain
Installment Sales of Depreciable Real Property

ILLUSTRATION 20-1: Form 8594, Reporting Business Acquisition for Buyer
ILLUSTRATION 20-2: Form 4684, Reporting Combined Business and Personal Casualty Loss
ILLUSTRATION 20-3: Form 4797, Reporting Sale of Depreciable Real Property

Chapter 21: Bad Debt Losses, Debt Discharge Income, and Foreclosures

Introduction
KEY ISSUE 21A Deduction for Business and Nonbusiness Bad Debts.

Business Bad Debts
Nonbusiness Bad Debts
Intrafamily Loans
Loan Guarantees
Recoveries of Bad Debts

KEY ISSUE 21B Debt Discharge Income--Solvent Taxpayer.

Effect of Debt Modifications
Acquisition of Debt by Related Party
Special Rules for Farmers
Special Rules for Real Property Business Debt
Special Rules for Certain Student Loans
Special Rules for Principal Residence Debt

KEY ISSUE 21C Debt Discharge Income--Bankrupt or Insolvent Taxpayer.

Amount Excludable from Gross Income
Reduction of Tax Attributes
Basis Reduction Elections
Ordering Rules for Basis Reduction
Timing of Attribute Reduction

KEY ISSUE 21D Foreclosure by Lender--Recourse Debt.
KEY ISSUE 21E Foreclosure by Lender--Nonrecourse Debt.
KEY ISSUE 21F Reduction of Seller-financed Debt.
KEY ISSUE 21G Consumer Credit Card Debt Modification.

Applicable Exceptions to Income Recognition
The Measure of Income Recognition

ILLUSTRATION 21-1: Form 8949 Reporting Nonbusiness Bad Debt Loss
ILLUSTRATION 21-2: Form 982 Reporting Attribute Reduction for Insolvent Taxpayer
ILLUSTRATION 21-3: Form 982 Electing to Reduce Basis of Insolvent Taxpayer's Depreciable Property

Chapter 22: Personal Residence Transactions

Introduction
KEY ISSUE 22A Costs Incurred to Purchase a Home.
KEY ISSUE 22B Excluding Gain on the Sale of a Residence.

Definition of Principal Residence
Gain Exclusion Requirements
Partial Gain Exclusion
Effect of Rental or Business Use on Exclusion of Gain
Election to Not Apply Gain Exclusion
Effect of Filing Status on the Exclusion

KEY ISSUE 22C Excluding Gain in Spousal Transfers.

Dividing the Residence between Spouses in Divorce Situations
Transfer of Residence Due to Death of Spouse

KEY ISSUE 22D Reporting Requirements When a Principal Residence Is Sold.
KEY ISSUE 22E Purchase of a Taxpayer's Home by an Employer or Relocation Service Company.
ILLUSTRATION 22-1: Analysis of a Closing Statement
ILLUSTRATION 22-2: Schedule D Reporting Partially Excluded Gain from the Sale of Personal Residence
BELOW-MARKET LOANS

Chapter 23: Below-market Loans

Introduction
KEY ISSUE 23A Types of Loans Subject to the Below-market Rules.

Types of Below-market Loans
Special Rules and Definitions of Demand and Term Loans
Forgiven Interest Payments
Three-step Process to Apply the Below-market Loan Rules

KEY ISSUE 23B Step 1--Determining If the Transaction Produces a Below-market Loan.
KEY ISSUE 23C Step 2--Calculating Forgone Interest on a Below-market Loan.

Demand Loans
Term Loans Conditioned on Future Services
Term Loans
Special Rules for Gift Loans between Individuals

KEY ISSUE 23D Step 3--Determining the Character and Timing of Deemed Transfers of a Below-market Loan.

General Rules
Summary
Reporting Requirements
Withholding Requirements

KEY ISSUE 23E Applying the Below-market Loan Rules.

Term Loan--Family Gift Loan
Demand Loan--Corporation/Shareholder Loan

ILLUSTRATION 23-1: Sample Borrower Tax Return Reporting Statement for Below-market Loans (IRC Sec. 7872)
PERSONAL DEDUCTIONS

Chapter 24: Standard Deduction

Introduction
KEY ISSUE 24A Additional Standard Deduction Items.

Elderly and Blind Taxpayers

KEY ISSUE 24B Reduced Standard Deduction for Dependents.

Dependent Children
Dependent Parents

Chapter 25: Medical Expenses

Introduction
KEY ISSUE 25A Identifying Deductible Medical Expenses of a Dependent.

General Rules for Dependent's Medical Deduction
Tuition for Specialized Schooling
Specially Prepared Foods

KEY ISSUE 25B Claiming Medical Deductions for Capital Expenditures.

Residential Expenditures
Personal Property Expenditures

KEY ISSUE 25C Deducting Long-term Care Expenses and Payments to LTC Institutions.

General Guidelines for Long-term Care Expenses
Costs of Nursing Homes, Assisted Living, and Other Long-term Care Facilities

KEY ISSUE 25D Deducting In-home Health Care Costs.
KEY ISSUE 25E Deducting Retirement Community Fees (Lifetime Care).

Deducting Fees as Medical Expenses
Avoiding Imputed Interest Income on Entrance Fees

KEY ISSUE 25F Deducting Medical Expenses of a Deceased Taxpayer.
KEY ISSUE 25G Deducting Medical Care Insurance and Long-term Care Insurance.

Medical Care Insurance
Long-term Care Insurance

Chapter 26: Charitable Contributions

Introduction
KEY ISSUE 26A Applying AGI Percentage Limitations.

The 50% Limitations
The 30% Limitations
The 20% Limitation
Applying the Limitations

KEY ISSUE 26B Using Contribution Carryovers.
KEY ISSUE 26C Substantiating Contributions.

Cash Contributions of Any Amount
Property Contributions of Less Than $250
Cash and Property Contributions of $250 or More
Property Contributions of More Than $500
Property Contributions of More Than $5,000
Written Notification Requirement for Gifts of Certain Intellectual Property

KEY ISSUE 26D Charitable Contribution Deduction for Gifts of Certain Property.

Determining the Deductible Amount for Gifts of Appreciated Property
Valuing Noncash Contributions
Gift of Property That Has Decreased in Value
Stock Gifts to a Private Foundation
Gifting Nonstatutory Stock Options
Motor Vehicles, Boats, and Airplanes (Qualified Vehicles)
Conservation and Easement Contributions
Bargain Sale Rules

KEY ISSUE 26E Deducting Payments Entitling Taxpayer to Receive Goods or Services in Return (Quid Pro Quo Contributions).

Exceptions for Insubstantial Benefits
Reporting Requirements
Determining the Deductible Amount of Quid Pro Quo Contributions

KEY ISSUE 26F Claiming a Contribution Deduction Using Life Insurance.

Naming the Charity as Beneficiary
Transferring Policy Ownership to Charity

KEY ISSUE 26G Determining When a Contribution Is Made and Is Deductible.

General Rules
Credit Card Rebates
Gifts of Stock

KEY ISSUE 26H Deducting Out-of-pocket Expenses.
ILLUSTRATION 26-1: Computation of AGI Limitations
ILLUSTRATION 26-2: Form 8283 Reporting Contribution of Capital Gain Property

Chapter 27: Deductible Taxes

Introduction
KEY ISSUE 27A Distinguishing between Deductible and Nondeductible Taxes.

Income Taxes
Real Estate Taxes
Personal Property Taxes
Other Taxes
Reporting Deductible Taxes
Electing to Capitalize Real or Personal Property Taxes

KEY ISSUE 27B Deducting Year-end Tax Payments.
KEY ISSUE 27C Apportioning Real Property Taxes between Buyer and Seller.

Chapter 28: Other Itemized Deductions

Introduction
KEY ISSUE 28A Deducting Personal Casualty Losses.

Determining the Nature and Amount of a Casualty Loss
Effect of Insurance Proceeds and Certain Disaster Relief Payments
Limitations on Personal Casualty Loss Deductions
When to Report Personal Casualty and Disaster Losses

KEY ISSUE 28B Deducting Job Search Expenses.

Qualifications for Deductible Expenses
Deductible Expenses and Where to Deduct Them

KEY ISSUE 28C Deducting Employee Business Expenses.

Employer Expense Reimbursement Arrangements
Auto Allowances and Employer-provided Vehicles
When Is Form 2106 Required for Employee T&E and Auto Expenses?

KEY ISSUE 28D Deducting Work-related Educational Expenses.

General Rules
Active Trade or Business or Current Employment Is Required
Educational Expenses Not Deductible

KEY ISSUE 28E Deducting Federal Estate Tax on Income in Respect of a Decedent.
KEY ISSUE 28F Allocating Expenses to Tax-exempt Income.

Methods of Allocation
Reporting and Recordkeeping Requirements

KEY ISSUE 28G Deducting Gambling Losses.

Reporting Gambling Losses
Gambling Loss Deduction Limited
Documenting Gambling Losses

KEY ISSUE 28H Selected Other Miscellaneous Itemized Deductions.

Deducting IRA Losses
Deducting Qualified Tuition Plan and Coverdell ESA Losses
Wrap and Broker Fees
Claim of Right Adjustments

ILLUSTRATION 28-1: Form 4684 Reporting Personal Casualty Loss
ILLUSTRATION 28-2: Form 2106 Reporting Unreimbursed Meal and Entertainment Expenses Incurred by an Employee

Chapter 29: Interest Expense

Introduction
KEY ISSUE 29A Applying the Interest Tracing Rules.

General Rules
The 30-day Rule
Special 90-day Rules for Expenditures on a Residence
Using New Debt to Pay Accrued Interest
Repayment Ordering Rules for Multiple-use Debt
Installment Sale Dispositions

KEY ISSUE 29B Interest Expense Attributable to Pass-through Entities.

Debt-financed Capital Contributions or Purchase Paid to a Pass-through Entity
Debt-financed Acquisition of a Pass-through Entity Interest from Another Owner
Business Interest Expense Treatment for Debt Related to a Pass-through Entity
Entity Financing Distributions to Owners
Debt Attributable to Former Pass-through Entities
Capitalized Interest Expense via Pass-through Entity

KEY ISSUE 29C Personal Interest Expense.

Categories of Personal Interest
Interest Paid on a Tax Deficiency

KEY ISSUE 29D Qualified Residence Interest Expense.

What Is a Qualified Residence?
Acquisition Indebtedness
Home Equity Indebtedness
Secured Debt
Interest on Home Mortgage Not Meeting Qualified Residence Interest Definition
Electing Out of Treatment as Qualified Residence Debt to Maximize Interest Deductions
Deducting Mortgage Loan Points
Reverse Mortgage Loans
Mortgage Insurance Premiums

KEY ISSUE 29E Passive Activity Interest Expense.

Debt to Acquire Interest in S Corporation or Partnership
Incidental Rental of Property and Other Recharacterization Rules
Where to Report Passive Activity Interest Expense
Oil and Gas Working Interest
$25,000 Rental Real Estate Loss Allowance

KEY ISSUE 29F Investment Interest Expense.

General Definition
Net Investment Income
Electing to Include Net Capital Gain and Qualified Dividends in Investment Income
Where to Report Deductible Investment Interest Expense
Passive Activities Are Not Considered for Investment Interest Purposes
Disallowed Investment Interest Expense

KEY ISSUE 29G Interest Expense Following Termination or Change in Business.

Operating Debt of a Former Business
Debt Allocated to Capital Expenditures

KEY ISSUE 29H Interest Expense on Qualified Retirement Plan Loans.
ILLUSTRATION 29-1: Schedule E Reporting Interest Expense Allocable to S Corporation Investment
ILLUSTRATION 29-2: Schedule E Reporting Interest Expense Allocable to General Partnership Investment
ILLUSTRATION 29-3: Schedule E Reporting Interest Expense Allocable to Oil and Gas Working Interest General Partnership Investment
TAX CALCULATIONS

Chapter 30: Self-employment (SE) Tax

Introduction
KEY ISSUE 30A Net Earnings from Self-employment Defined.

Trade or Business Requirement
What Is Earned Income?
Income from Partnerships, Limited Liability Companies (LLCs), and Other Pass-through Entities
Computing SE Tax

KEY ISSUE 30B Pass-through Income and Distributions from S Corporations.

Pass-through Income (or Loss)
Salaries, Distributions, and Nontaxable Draws

KEY ISSUE 30C SE Income for Ministers with Housing Allowance Income.
KEY ISSUE 30D Minister's Election of Exemption from SE Tax.
KEY ISSUE 30E Exemptions from SE and FICA Taxes.

Termination Payments of Former Insurance Salesmen
Other Income Excludable from SE Tax

KEY ISSUE 30F Spouses Working in a Family Business.

Reporting Income Properly between Spouses
Community Property Issues
Spouse Is Employee

ILLUSTRATION 30-1: Schedule SE Reporting Minister's SE Income and Reconciliation to Schedule C
ILLUSTRATION 30-2: Schedule SE Reflecting Net Earnings from Self-employment

Chapter 31: Alternative Minimum Tax

Introduction
KEY ISSUE 31A Computing Alternative Minimum Tax (AMT).

General Rules
Itemize Deductions for AMT Savings
Computing AMT When Maximum Capital Gain Rates Apply

KEY ISSUE 31B Elections to Minimize AMT.

Elections to Minimize Depreciation AMT Adjustment
Summary of Elections to Minimize AMT

KEY ISSUE 31C Passive Activity Loss Adjustments.
KEY ISSUE 31D Calculating the AMT Adjustment for Interest Expense.

Residential Interest Expense
Investment Interest Expense

KEY ISSUE 31E Alternative Minimum Tax Net Operating Loss (AMT NOL).
KEY ISSUE 31F Minimum Tax Credit (MTC).

Computing the MTC
Refundable Minimum Tax Credit

KEY ISSUE 31G Incentive Stock Options.

Overview of ISO Tax Rules
Using Stock to Exercise ISOs

KEY ISSUE 31H Recomputing Deductions Based on a Percentage of AMT, AGI, or AMTI.

Chapter 32: Kiddie Tax

Introduction
KEY ISSUE 32A Mechanics of the Kiddie Tax.

General Rules
Definition of Support
Alternative Minimum Tax

KEY ISSUE 32B Multiple Children Subject to the Kiddie Tax.
KEY ISSUE 32C Determining Whose Income to Use When Parents Do Not File Jointly.
KEY ISSUE 32D Reporting Children's Income on Parents' Return.
ILLUSTRATION 32-1: Form 8615 Computing Kiddie Tax When Family Has Two Children
ILLUSTRATION 32-2: Form 8814 Electing to Report a Child's Income on Parents' Return

Chapter 33: Tax on Lump-sum Distributions

Introduction
KEY ISSUE 33A Lump-sum Distribution Qualifications.
KEY ISSUE 33B Distribution of Employer Securities.

General Rules
Rolling over Appreciated Employer Stock
Electing to Be Taxed on the Full Fair Market Value
Recognizing Losses in Connection with Distributions of Employer Securities

KEY ISSUE 33C Rolling Over a Lump-sum Distribution.

Chapter 34: Excise Taxes

Introduction
KEY ISSUE 34A The 6% Excess Contribution Tax on IRAs, ESAs, MSAs, and HSAs.

Excess Contributions to Traditional and Roth IRAs
Excess Contributions to Education Savings Accounts (ESAs)
Excess MSA and HSA Contributions

KEY ISSUE 34B The 10% and 25% Early (Premature) Distributions Tax on Qualified Retirement Plans.

General Rules and Exceptions to Penalty Tax
Nonqualified Distributions Following Roth IRA Conversions
25% Penalty Applicable to SIMPLE IRAs
Substantially Equal Periodic Payment Exception
10% Penalty and Withdrawals of Excess Contributions

KEY ISSUE 34C The 10% Excise Tax on Premature Distributions from Tax-deferred Annuities.
KEY ISSUE 34D The 50% Excise Tax on Failure to Make Minimum Required Distributions.
ILLUSTRATION 34-1: Partial Form 5329 Reporting 6% Tax on Excess IRA Contributions
ILLUSTRATION 34-2: Partial Form 5329 Reporting 25% Tax on SIMPLE IRA Distribution
TAX CREDITS

Chapter 35: Personal Credits

Introduction
KEY ISSUE 35A Child and Dependent Care Credit.

General Rules
Earned Income Requirement
Child Care Inside versus Outside the Home
Employer-sponsored Child Care Plans

KEY ISSUE 35B Adoption Credit and Income Exclusion.

Adoption Credit
Excluding Employer-provided Adoption Expenses
Coordination of Credit and Exclusion

KEY ISSUE 35C Child Tax Credits.

Nonrefundable Child Tax Credit
Refundable Additional Child Tax Credit

KEY ISSUE 35D American Opportunity, Hope, and Lifetime Learning Education Credits.

Common Provisions for the American Opportunity, Hope, and Lifetime Learning Credits
Provisions Unique to the American Opportunity Tax Credit
Provisions Unique to the Lifetime Learning Credit

KEY ISSUE 35E Retirement Savings Contributions Credit.

Distributions That Reduce the Eligible Contributions

KEY ISSUE 35F Claiming the Earned Income Credit.

Due Diligence and Consequences of Improperly Claiming the Credit
General EIC Requirements
Computing the Credit
Determining Earned Income
Who Is a Qualifying Child?

KEY ISSUE 35G Residential Energy Efficient Property Credit.

Limitations
Carryover of Unused Credit
Qualified Expenditures
Joint Occupancy
Cooperative Housing and Condominiums
Allocation of Expenditures
Basis Adjustments

KEY ISSUE 35H Claiming Personal Credits When Alternative Minimum Tax Applies.
ILLUSTRATION 35-1: Form 2441 Claiming Child and Dependent Care Credit for Current and Prior Year Expenses
ILLUSTRATION 35-2: Form 2441 Claiming Child and Dependent Care Credit When Spouse Is a Full-time Student
ILLUSTRATION 35-3: Form 8839 Reporting Adoption Credit
ILLUSTRATION 35-4: Computing the Additional Child Tax Credit

Chapter 36: Business Credits

Introduction
KEY ISSUE 36A Commonly Encountered Business Credits.
KEY ISSUE 36B How AMT Adjustments and Preferences Affect Business Credits.
KEY ISSUE 36C Passive Activity Credits.
ILLUSTRATION 36-1: Form 8582-CR Claiming Special Allowance for Rehabilitation Credit

Chapter 37: Foreign Tax Credit

Introduction
KEY ISSUE 37A Foreign Tax Credit versus Deduction.
KEY ISSUE 37B Limitation on the Foreign Tax Credit.

General Rules for the Limitation
Computation of Foreign-source Taxable Income
Restrictions on Income from Foreign Sources

KEY ISSUE 37C Treatment of Earned and Unearned Income.
KEY ISSUE 37D Foreign Tax Credit Used against Alternative Minimum Tax.
ILLUSTRATION 37-1: Form 1116 Claiming Foreign Tax Credit on Foreign Earned Income
ILLUSTRATION 37-2: Form 1116 Calculating Foreign Tax Credit Limitations for AMT
ILLUSTRATION 37-3: Form 6251 Claiming Foreign Tax Credit for AMT
FILING MATTERS

Chapter 38: Tax Payments

Introduction
KEY ISSUE 38A Estimated Tax Payments and the Underpayment Penalty.

Avoiding the Underpayment Penalty
Prior-year Safe Harbor
Annualization
Pass-through Entities
Switching from the Annualization Method
Late Estimated Tax Payments

KEY ISSUE 38B Estimated Tax--Farmers and Fishermen.
KEY ISSUE 38C Estimated Payments and Change in Marital Status.

Allocating Joint Payments
Determining Prior-year Tax Safe Harbor When Marital Status Changes

KEY ISSUE 38D Optional Tax Payment Methods.

General Payment Options
Paying Taxes via the Internet
Paying Taxes with a Credit Card
Installment Agreements

KEY ISSUE 38E Tax Payments and Reporting for Household Employees ("Nanny Tax").

General Rules
Who Is a Household Employee?
Wages Subject to FICA Taxes
Wages Subject to FUTA
FIT Withholding
Due Date for Reporting and Payment on Schedule H

KEY ISSUE 38F Irrevocable Election to Credit Overpayment to Succeeding Year.
ILLUSTRATION 38-1: Worksheet Determining Qualified Farmer Status
ILLUSTRATION 38-2: Form 9465 Requesting Installment Agreement
ILLUSTRATION 38-3: Schedule H and Form W-2 for Household Employee

Chapter 39: Filing Returns

Introduction
KEY ISSUE 39A Filing a Return for a Deceased Taxpayer.

Claiming Income and Deductions in Year of Death
Claiming a Refund Due
Request for Prompt Assessment of Tax

KEY ISSUE 39B Mailing Returns and Other Tax Documents.

Private Delivery Services
U.S. Postal Service
Electronically Filed Returns

KEY ISSUE 39C Filing Returns in Divorce Situations.

When Is a Marriage Terminated for Tax Purposes?
Implications of Filing Joint Returns on the Joint Tax Liability
Allocating Tax Carryforwards in Divorce
Deducting Legal and Professional Fees Paid in Connection with a Divorce

KEY ISSUE 39D Divorce--Residents of Community Property States.

Splitting Income and Deductions in the Year Divorce Is Final
Splitting Income and Deductions When Divorce Is Not Final before Year-end
Special Community Income Provisions to Consider for Divorced or Separated Taxpayers

KEY ISSUE 39E Divorce--Residents of Equitable Distribution States.

Dividing Income
Dividing Deductions

KEY ISSUE 39F Extensions.

Automatic Six-month Extension
Properly Estimating the Tax Liability
Extending the Return without Paying the Tax
Taxpayers Living Abroad
Relief for Taxpayers in Certain Disaster Areas
Taxpayers Serving in a Combat Zone or Contingency Operation

KEY ISSUE 39G Taxpayer and Preparer Signatures.

Taxpayer Signatures
Preparer Signatures

KEY ISSUE 39H Direct Deposit of Tax Refunds.
KEY ISSUE 39I Preparer Registration, Oversight, and Due Diligence.

Registration Requirements
Oversight and Competency Standards
Due Diligence in Return Preparation

KEY ISSUE 39J Reporting Foreign Assets.

Reporting Foreign Financial Assets (Form 8938)
Reporting Foreign Bank and Financial Accounts

ILLUSTRATION 39-1: Form 1040 Taxpayer Name and Address Section for Deceased Taxpayer
ILLUSTRATION 39-2: Form 1040 Signature Section for Deceased Taxpayer
ILLUSTRATION 39-3: Form 1310--Refund Claimed by Person Other Than Surviving Spouse or Personal Representative
QUICK REFERENCE TABLES

TABLE T101: Federal Tax Data Sheet--2011-2013
TABLE T102: 2012 Phase-out Ranges for Various Tax Items
TABLE T201: 2012 Tax Tables
TABLE T202: 2012 Tax Rate Schedules
TABLE T301: 2012 Filing Requirements (for Other Than Dependents)
TABLE T302: 2012 Filing Requirements (for Dependents)
TABLE T303: Reporting Foreign Assets
TABLE T401: Summary of Selected Taxpayer and Practitioner Penalties
TABLE T501: Summary of IRS Filing Addresses for 2012 Returns (2013 Filing Season)
TABLE T601: IRS Forms for Individual Income Taxation (Not All-inclusive)
TABLE T602: IRS Publications for Individual Income Taxation
TABLE T701: Interest Rates on Overpayments and Underpayments (2007-2012)
TABLE T702: 2012 Imputed Interest AFR Tables
TABLE T703: Blended Annual Rates (2003-2012)
TABLE T704: Determination of Applicable Federal Rate--Summary
TABLE T801: Depreciation Recapture
TABLE T802: Employee Treatment of Employer Reimbursements or Allowances
TABLE T803: Summary of Reductions to Personal Casualty Losses
TABLE T804: Documentation Guide for Charitable Contributions
TABLE T805: Capital Gains, Holding Periods, and Maximum Rates for 2012
TABLE T806: Tax Treatment for Computer Software
TABLE T807: Taxation of Publicly Traded Option Transactions
TABLE T808: Comparison of Series EE, Series I, and Series HH Bonds
TABLE T809: Summary of Tax Rules for Children (for 2012, based on taxable income of $35,350 or less)
TABLE T810: T&E Substantiation Requirements
TABLE T811: Deductible Travel Expenses
TABLE T901: Taxable Social Security Benefit Levels
TABLE T1001: Qualified Retirement Plans--Selected Inflation-adjusted Data
TABLE T1002: Life Expectancy Table (Single Life)
TABLE T1003: Life Expectancy Table (Joint Life and Last Survivor)
TABLE T1004: Uniform Lifetime Table for Determining Applicable Divisor
TABLE T1005: Contributions to Keogh, SEP, IRA, and SIMPLE IRA Plans (2012)
TABLE T1006: Excess Contributions to Traditional IRAs: Tax Consequences of Corrective Methods (for 2012)
TABLE T1101: Nonconventional Source Fuel Credit
TABLE T1102: Work Opportunity Tax Credit
TABLE T1103: Investment Credit for Rehabilitation Expenditures
TABLE T1104: Disabled Access Credit
TABLE T1105: Employer Social Security Credit for Employee Tips
TABLE T1106: Employer-provided Child Care Credit
TABLE T1107: Credit for Small Employer Pension Plan Start-up Costs
TABLE T1108: Small Employer Health Insurance Credit
TABLE T1201: Alternative Minimum Tax Adjustments and Preferences
DEPRECIATION TABLES

TABLE D101: Recovery Periods for Common Assets
TABLE D201: Summary of Regular Tax Depreciation Rules Assets Placed in Service after 12/31/86 (or 7/31/86, if Election Made)
TABLE D202: Summary of AMT Depreciation Rules Assets Placed in Service after 12/31/86
TABLE D203: Summary of Depreciation Allowable in Year of Disposition
TABLE D204: Recap of Required and Elective Depreciation Methods for Both Regular Tax and AMT
TABLE D301: MACRS Personal Property, Half-year Convention
TABLE D401: MACRS Personal Property, Midquarter Convention--1st Quarter
TABLE D402: MACRS Personal Property, Midquarter Convention--2nd Quarter
TABLE D403: MACRS Personal Property, Midquarter Convention--3rd Quarter
TABLE D404: MACRS Personal Property, Midquarter Convention--4th Quarter
TABLE D501: MACRS Residential Rental Property and AMT Residential Rental Property (27.5-year Property)
TABLE D601: MACRS Nonresidential Real Property (31.5-year Property)
TABLE D701: MACRS Nonresidential Real Property and AMT Nonresidential Property (39-year Property)
TABLE D702: MACRS Qualified Leasehold Improvement Property, Qualified Restaurant Property, and Qualified Retail Improvement Property [IRC Sec. 168(e)(3)(E)] (15-year Property)
AUTO TABLES

TABLE A101: Standard Mileage Rate Method for Deductions (2012)
TABLE A102: Actual Cost Method for Deductions
TABLE A103: Deductions for Leased Automobiles
TABLE A104: Deductions for Employer-provided Vehicles
TABLE A105: Vehicle Deductions for Self-employed Persons
TABLE A106: Reporting for Employer-provided Vehicles
TABLE A107: Valuing Personal Use of Employer-provided Business Autos
TABLE A108: Annual Lease Value Table for Employer-provided Autos
TABLE A201: Luxury Auto Depreciation Dollar Limits
TABLE A202: MACRS Depreciation Rates for Autos
TABLE A301: Autos Leased in 2012--Price-based Income Inclusions
TABLE A302: Autos Leased in 2011--Price-based Income Inclusions
TABLE A303: Autos Leased in 2010--Price-based Income Inclusions
ELECTIONS

ELECTION E101: Deferring Income from Crop Insurance Proceeds or Disaster Payments
ELECTION E102: Deferring Income on Livestock Sold because of Drought, Floods, or Other Weather-related Conditions
ELECTION E103: Electing out of the Uniform Capitalization Rules for Plants
ELECTION E201: Section 59(e) Optional Amortization for Certain AMT Preferences
ELECTION E301: Rollover of Securities Capital Gain into Specialized Small Business Investment Company (SSBIC)
ELECTION E302: Electing to Capitalize Carrying Charges
ELECTION E303: Electing Out of the Installment Method
ELECTION E304: Accruing Interest on U.S. Savings Bonds
ELECTION E305: Deferring Gain from Involuntary Conversions
ELECTION E306: Revoking Income Accrual Election on U.S. Savings Bonds
ELECTION E307: Request for Additional Time for Replacing Converted Property
ELECTION E308: Qualified Small Business Stock (QSBS) Capital Gain Rollover
ELECTION E309: Including Accrued Bond Market Discount in Current Income
ELECTION E310: Bond Market Discount Accrued Using the "Constant Interest Rate" Method
ELECTION E311: Treating Self-created Musical Works as Capital Assets
ELECTION E401: Electing the Alternative Minimum Tax (AMT) Depreciation Method for Regular Tax
ELECTION E402: Using Straight-line in Lieu of MACRS Depreciation
ELECTION E403: Electing Out of MACRS Depreciation
ELECTION E404: Adopting the Alternative Depreciation System (ADS) for Regular Tax
ELECTION E405: Expensing Depreciable Property (Section 179)
ELECTION E406: Electing out of Bonus Depreciation
ELECTION E407: Electing Not to Apply Regulations for MACRS Property Involved in a Like-kind Exchange
ELECTION E501: Electing Out of Treatment as Debt Secured by Qualified Residence
ELECTION E502: Including Net Capital Gain and Qualified Dividend Income in Investment Income
ELECTION E601: Electing to Adjust Basis for Unused Passive Activity Credits
ELECTION E602: Treating All Interests in Rental Real Estate Activities as a Single Activity
ELECTION E603: Electing Out of the Self-charged Interest Rules
ELECTION E604: Aggregating Activities for Passive Loss Rules
ELECTION E701: Rolling Over a Qualified Plan or IRA Distribution
ELECTION E702: Treating Surviving Spouse as Owner of Decedent's IRA
ELECTION E703: Currently Recognizing Unrealized Appreciation in Employer Securities
ELECTION E704: Recomputing Variable Annuity Exclusion When Payment Is Less Than Exclusion Amount
ELECTION E705: Recharacterizing IRA Contributions
ELECTION E706: Retirement Plan Rollover to a Nonspouse Beneficiary
ELECTION E801: Deducting Intangible Drilling Costs
ELECTION E802: Deducting Intangible Drilling Costs on Nonproductive Wells
ELECTION E901: Receipt of Restricted Property Treated as Current Compensation
ELECTION E902: Postponing Hobby Loss Determination
ELECTION E903: Limiting Taxable Amount of Lump Sum Social Security Benefit Payment
ELECTION E904: Excluding Discharge of Indebtedness Income with Respect to Qualified Real Property Business Indebtedness
ELECTION E905: Claiming Foreign Taxes as a Credit or Deduction
ELECTION E906: Reducing Depreciable Asset Basis First for Excluded Debt Discharge Income
ELECTION E907: Mark-to-market for Traders in Securities or Commodities
ELECTION E908: Consent to Treating a Partnership Interest as Depreciable Property
ELECTION E909: Spousal Joint Venture Election Out of Partnership Treatment
ELECTION E1001: Deducting Disaster Losses in Previous Tax Year
ELECTION E1002: Reducing a Charitable Contribution of Capital Gain Property
ELECTION E1003: Bond Premium Amortization
ELECTION E1004: Forgoing the NOL Carryback Period
ELECTION E1005: Deducting and Amortizing Start-up Expenditures
ELECTION E1006: Deducting Medical Expenses on Decedent's Income Tax Return
ELECTION E1007: Capitalizing Prepaid Expenses That Qualify for Deduction under the 12-month Rule
ELECTION E1008: Reducing Basis by Items of Loss or Deduction before Nondeductible Expenses and Certain Oil and Gas Depletion
ELECTION E1009: Dependency Exemption for a Child Placed with the Taxpayer for Adoption
ELECTION E1010: Electing to Capitalize Start-up Expenses
ELECTION E1101: To Request Extension of Time for Making an Election (Reg. 301.9100 Relief)
CHECKLISTS

CHECKLIST C101: Checklist for Due Diligence Review for Preparing Form 1040
CHECKLIST C102: 2012 Form 1040 Preparation Checklist (Long Form)
CHECKLIST C103: 2012 Form 1040 Preparation Checklist (Short Form)
CHECKLIST C104: Factors in Establishing a Profit Motive
CHECKLIST C105: Determining Whether a Taxpayer Is an Active Participant for the IRA Deduction Limitation
CHECKLIST C106: Due Diligence Requirements for Return Preparers Reporting the Earned Income Credit
CHECKLIST C107: Avoiding a Section 6694 Return Preparer Penalty
CHECKLIST C108: Checklist for Preparing Form 1045 (Application for Tentative Refund)
CHECKLIST C109: Checklist for the Domestic Production Activities Deduction (DPAD)
CHECKLIST C110: Form 1040 Preparation Quality Control System Checklist
WORKSHEETS

WORKSHEET W101: Cost of Maintaining a Household
WORKSHEET W102: Allocation of Income between Spouses in Community Property State
WORKSHEET W103: Schedule K-1 Accumulation Worksheet
WORKSHEET W201: Excludable Housing Allowance for Minister of the Gospel
WORKSHEET W202: Refunds of Amounts Claimed as Itemized Deductions
WORKSHEET W203: Taxable Social Security Benefits
WORKSHEET W204: Taxable Social Security Benefits with IRA Deduction Phase-out
WORKSHEET W205: Installment Sale Deferred Gain
WORKSHEET W206: Gain on Repossession of Real Property and Basis of Repossessed Real Property
WORKSHEET W207: Computational Worksheet for Like-kind Exchanges
WORKSHEET W208: Recapture of Net Section 1231 Losses
WORKSHEET W209: Mutual Fund Share Basis
WORKSHEET W210: Fringe Benefit Compensation Value for Employer-provided Vehicle
WORKSHEET W211: Computing Taxable Part of IRA Distribution When Contribution Made in the Same Year
WORKSHEET W212: Simplified General Rule for Calculating Return of Basis in an Annuity Starting before November 19, 1996
WORKSHEET W213: Simplified Method for Calculating Return of Basis in an Annuity Starting after November 18, 1996
WORKSHEET W301: 2012 Traditional IRA Deduction Computation
WORKSHEET W302: Support Test for Dependency Deduction
WORKSHEET W303: Computation of NOL (2012)
WORKSHEET W304: Utilization of NOL Carryforward or Carryback
WORKSHEET W305: NOL Carryback Following a Divorce or the Death of a Spouse
WORKSHEET W306: Interest Expense Allocation Schedule
WORKSHEET W307: Carryforward Schedule for Home Mortgage Points
WORKSHEET W308: Investment Interest Expense Carryover Schedule
WORKSHEET W309: Carryover Schedule for Charitable Contributions (2012)
WORKSHEET W310: Section 179 Carryover Schedule
WORKSHEET W311: Vehicle Mileage Log
WORKSHEET W312: Maximum Deductible SEP or Keogh Contribution for a Self-employed Individual
WORKSHEET W313: Oil and Gas Depletion Schedule
WORKSHEET W314: Cost Depletion Schedule
WORKSHEET W315: Recapture of Alimony
WORKSHEET W316: Partner's Tax Basis Calculation
WORKSHEET W317: Carryforward Worksheet for Computing Partner's Amount at Risk
WORKSHEET W318: S Corporation Shareholder's Calculation of Basis in Stock and Debt
WORKSHEET W319: Components of Suspended Loss Carryover--From S Corp or Partner Basis Limitations
WORKSHEET W320: Limit on Rental Deductions for a Dwelling Unit Used as a Home (Interest and Taxes Allocated Using IRS Method)
WORKSHEET W321: Limit on Rental Deductions for a Dwelling Unit Used as a Home (Interest and Taxes Allocated Using Tax Court Method)
WORKSHEET W322: Depreciation and Basis--Vehicle Trade-in: Replacement Vehicle Depreciated under Reg. 1.168(i)-6
WORKSHEET W323: Depreciation and Basis--Vehicle Trade-in: New Asset Treatment Election Made
WORKSHEET W401: Alternative Minimum Tax NOL Computation
WORKSHEET W402: Qualified Farmer Determination (for Estimated Tax Exception)
WORKSHEET W403: Credit Claimed under IRC Sec. 1341 (Claim of Right)
WORKSHEET W404: Foreign Tax Credit--Income Allocation Schedule
WORKSHEET W405: Calculation of Additional Credit for Child and Dependent Care Expenses Incurred in the Prior Year
OTHER PRACTICE AIDS

PRACTICE AID O101: Client Data Sheet
PRACTICE AID O102: Sample Tax Engagement Letter for Individual Clients
PRACTICE AID O103: Transmittal Letter for Tax Summary (Form 1040)
PRACTICE AID O104: Tax Summary--Direct Sellers
PRACTICE AID O105: Tax Summary--Airline Personnel
PRACTICE AID O106: Tax Summary--Realtor
PRACTICE AID O107: Tax Summary--Farmers
PRACTICE AID O108: Sample Consent to Disclosure of Form 1040 Tax Return Information
PRACTICE AID O109: Sample Disclosure for Use of Form 1040 Tax Return Information
PRACTICE AID O110: New Tax Client Acceptance Form
PRACTICE AID O111: Tax Client Evaluation (Continuance) Form
PRACTICE AID O112: Tax Return Fee Estimate Worksheet
PRACTICE AID O113: Return Preparation Practice Considerations
PRACTICE AID O201: Items Constituting Support of Dependent
PRACTICE AID O202: Dependent Status for Children of Divorced or Separated Parents
PRACTICE AID O203: Flowchart to Determine Qualification for Head of Household Status
PRACTICE AID O301: Reporting Sales of Business Property
PRACTICE AID O302: Tests for Determining Material Participation (IRC Sec. 469)
PRACTICE AID O303: Tests for Determining Application of Self-charged Interest Rules
PRACTICE AID O401: Inherited Qualified Plan and IRA Decision Tree--Death before Required Beginning Date
PRACTICE AID O402: Inherited Qualified Plan and Traditional IRA Decision Tree--Death after Required Beginning Date
PRACTICE AID O501: Determining When Transportation Costs Are Deductible
PRACTICE AID O502: Deductible and Nondeductible Medical Expenses
PRACTICE AID O503: Deductible and Nondeductible Miscellaneous Itemized Deductions
PRACTICE AID O504: Section 179 Attributes
PRACTICE AID O601: Income Items Not Subject to Self-employment (SE) Tax
PRACTICE AID O701: Flowchart to Determine Tax Treatment of Home with Rental and Personal Use
PRACTICE AID O702: Documentation of Below-market Loan
ROADMAP RM: Roadmap to Individual Tax Planning

ROADMAP RM-1: Introduction
ROADMAP RM-2: Form 1040 Roadmap--Client Summary Worksheet
ROADMAP RM-3: Roadmap--Using Form 1040 as a Tax Planning Tool
ROADMAP RM-4

ROADMAP RM-4a: Section 1: Label
ROADMAP RM-4b: Section 2: Filing Status
ROADMAP RM-4c: Section 3: Exemptions
ROADMAP RM-4d: Section 4: Income
ROADMAP RM-4e: Section 5: Adjustments to Income
ROADMAP RM-4f: Section 6: Tax and Credits
ROADMAP RM-4g: Section 7: Other Taxes
ROADMAP RM-4h: Section 8: Payments
ROADMAP RM-4i: Section 9: Itemized Deductions (Form 1040, Schedule A)
ROADMAP RM-4j: Section 10: Profit or Loss from Business

ROADMAP RM-5: Roadmap--Using Form 1040 as a Tax Planning Tool, Addendum