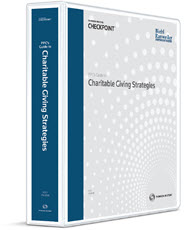 PPC's Guide to Charitable Giving Strategies

Product Information
Frequency of Updates:

Annually

Brand:

Practitioners Publishing
PPC's Guide to Charitable Giving Strategies provides step-by-step guidance on how your clients can use charitable trusts, private foundations, pooled income funds, and other strategies to accomplish their charitable giving goals and provide significant tax savings.
This Guide also includes income, gift, and estate tax considerations and planning ideas.
Includes coverage of:
Perpetual or Limited Lifespan for a Private Foundation. Private foundations have traditionally been created with the intent of lasting in perpetuity. Recently, many founders have been rethinking that theory. This year's Guide adds a new section listing the factors a founder should consider when determining the lifespan of a private foundation.
Testamentary Charitable Gift Annuities. Charitable gift annuities are not only purchased during a donor's lifetime; provisions can be included in a decedent's will authorizing the purchase of a charitable gift annuity with estate assets. A new section on the income and estate tax treatment of testamentary charitable gift annuities is added.
Defined-value Formula Clauses. Both the Tax Court and the 9th Circuit have ruled favorably on using defined-value formula clauses when gifting assets subject to valuation adjustments to family members. This year's Guide includes coverage of the Hendrix and Petter cases, where defined-value formula clauses were used to freeze the value gifted to family members.