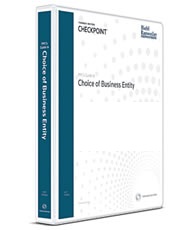 PPC's Guide to Choice of Business Entity
Product Information
Frequency of Updates:

Annually

Brand:

Practitioners Publishing
Choices of entity planning engagements take many forms and encompass a wide range of services from consulting to document drafting. PPC's Guide to Choice of Business Entity provides logical, "how to" guidance by taking the practitioner through each step of the engagement.
It provides all the reference materials and implementation tools you and your staff requires to identify, market, and implement the best course of action for your client and the strategies that will best accomplish the client's goals and objectives.
Our Portfolio team monitors current developments in tax and financial planning and captures the latest information and leading edge strategies to arrive at sound and practical guidance for your real-life situations. Selected key update features for the latest edition of the Guide include:
Higher Ordinary Tax Rates and Higher Capital Gain Tax Rates. The American Taxpayer Relief Act of 2012 imposes a new 20% capital gain tax rate and a new 39.6% tax rate on ordinary income for taxpayers with taxable income above certain thresholds. The Guide has been updated throughout to discuss these new higher rates with strategies to minimize their effect.
3.8% Net Investment Income Tax (3.8% NIIT). The 2010 Patient Protection and Affordable Care Act (2010 Health Care Act) imposes a 3.8% NIIT beginning in 2013 on certain high income individuals. The 3.8% NIIT is generally levied on income, above specific adjusted gross income thresholds, from interest, dividends, annuities, royalties, rents, and capital gains. The Guide includes information on this entirely new tax regime.
Additional 0.9% Medicare Tax on Earned Income (Additional 0.9% Medicare tax). Under the 2010 Health Care Act, beginning in 2013, individuals must pay an additional 0.9% Medicare tax on earned income (additional 0.9% Medicare tax) above certain adjusted gross income thresholds. This tax applies to both wage income and self-employment (SE) income. The Guide includes information on this new tax.
Section 179 Deduction. The 2012 Taxpayer Relief Act reinstated higher Section 179 limits for 2013. The Guide is updated to reflect these significantly higher limits allowing small business owners to maximize equipment write-offs.