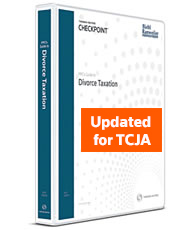 PPC's Guide to Divorce Taxation

Product Information
Frequency of Updates:

Annually

Brand:

Practitioners Publishing
PPC's Guide to Divorce Taxation gives you in-depth coverage on how to efficiently and effectively apply the special tax rules appropriate to divorcing couples. The Guide provides examples and easy-to-use guidance for the tax issues that impact clients before, during, and after divorce proceedings. 
You'll get clear explanation, analysis, and advice that can be used to quickly identify divorce issues, evaluate alternatives, ensure compliance with IRS rules and regulations, and avoid costly mistakes. You'll be able to address the essential issues encountered in divorce engagements and have critical information quickly at hand, including: 
Sample QDRO agreements and checklists that can help you quickly and efficiently monitor a plan's compliance with the various divorce issues
Guidance on how to structure agreements and property settlements that yield the desired tax results
Practical explanations of the unique approaches available under Collaborative Law
Marketing tools, letters, and step-by-step guidance that can help you obtain divorce engagements.
Authored by respected internal and external industry experts with decades of practice experience, PPC's Guide to Divorce Taxation is an invaluable resource for ensuring you have the guidance and tools you need to advise clients during divorce engagements.
PPC's Guide to Divorce Taxation: List of Substantive Changes

View