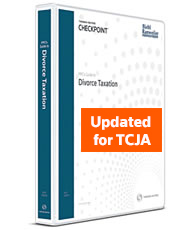 PPC's Guide to Divorce Taxation

Product Information
Frequency of Updates:




Annually

Brand:

Practitioners Publishing
PPC's Guide to Divorce Taxation gives you in-depth coverage on how to apply the special tax rules appropriate to divorcing couples. Learn how to structure agreements and property settlements that yield the desired tax results. Increase your professional expertise to include the unique approaches available under Collaborative Law. This Guide also has practical discussions on using a Qualified Domestic Relations Order (QDRO) as part of the settlement agreements and includes guidance on the effects of the definition of a qualifying child.
With this unique approach of providing guidance in easy-to understand language and time-saving practice aids, you can confidently advise clients in the following areas:
Providing advice on commonly encountered issues.
Sample QDRO agreements and checklists that can help you quickly and efficiently monitor a plan's compliance with the various divorce issues.
Advise clients on properly structuring alimony and child support payments to maximize deductions and/or minimize tax
Help clients partition assets and income/deductions in a tax-effective manner.
Address the impact of retirement assets, including designating beneficiaries and protecting these accounts in bankruptcy.
Advise clients on when innocent spouse relief may be appropriate.
Keep up to date on the latest provisions regarding same-sex marriage.
Marketing tools, letters, and step-by-step guidance that can help you obtain divorce engagements.
Authored by respected internal and external industry experts with decades of practice experience, this Guide is an invaluable resource for ensuring you have the guidance and tools you need to advise clients during divorce engagements.
Divorce Taxation

INTRODUCTORY MATERIAL

Chapter 1 A Model for Tax Planning Engagements

Chapter 2 Divorce Engagements in A Tax Practice

Chapter 3 Structuring Alimony And Child Support Payments

Chapter 4 Transferring Property in Divorce

Chapter 5 Planning for the Marital Home

Chapter 6 Splitting Retirement Plans

Chapter 7 Tax Return Filing Issues

Chapter 8 Other Matters

INDEX

--A--

--B--

--C--

--D--

--E--

--F--

--G--

--I--

--J--

--L--

--M--

--O--

--P--

--Q--

--R--

--S--

--T--
List of Substantive Changes and Additions (August 2016)

View
---