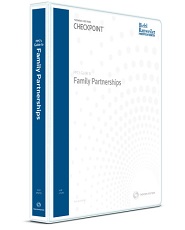 PPC's Guide to Family Partnerships

Product Information
Frequency of Updates:

Annually

Brand:

Practitioners Publishing
Increasing IRS scrutiny of family limited partnerships makes this Guide a valued addition to your library. PPC's Guide to Family Partnerships will help clients determine if a family partnership is appropriate with respect to each client's unique goals.
PPC's Guide to Family Partnerships discusses the advantages and disadvantages of family partnerships (FLPs) and family limited liability companies (FLLCs). It includes guidance on:
Forming partnerships and all the important details you need to be aware of
Funding partnerships, including knowing the appropriate assets to transfer and which ones should not be placed in an FLP or FLLC
Operating a family partnership or (FLLC), including answers questions about allocations among partners/members and distributions to partners/members
Income, gift, and estate tax considerations
Valuing gifts of partnership interests
Buy/sell agreements
Terminating a partnership
This Guide also provides numerous checklists and practice aids for planners to use when advising clients on properly forming, funding, and operating an FLP (or FLLC).
PPC's Guide to Family Partnerships: List of Substantive Changes

View