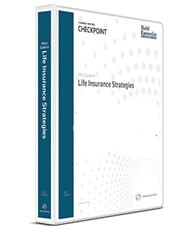 PPC's Guide to Life Insurance Strategies

Product Information
Frequency of Updates:

Annually

Brand:

Practitioners Publishing
PPC's Guide to Life Insurance Strategies is a comprehensive tool that addresses the use of life insurance to provide estate liquidity, provide for a child's education, fund a buy/sell agreement, and more. Get practical guidance about income, gift, and estate tax implications, as well as planning ideas. Learn how to evaluate life insurance needs as well as how to analyze and compare coverage. Increase your understanding of the income, gift, and estate tax implications of life insurance with this practical guidance.
The 13th edition of the Guide includes these important updates:
Consequences of Universal Life Policies with a Maturity Age of 95. Individuals need to understand the consequences of universal life policies that contain a maturity age of 95. This edition includes a brief discussion and an example of the risks of this provision as clients get older as well as a recommendation to minimize the risks.
Expanded Summary of Life Insurance Products. A comparison table summarizing the features and target clients for different types of insurance has been expanded to include additional policy types.
The Uniform Prudent Investor's Act Applies to ILIT Trustees Also. The managing and monitoring of life insurance trusts is an obligation of the trustee even though the trust has only one asset. An expanded discussion of these responsibilities is included.