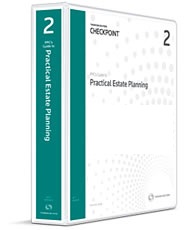 PPC's Guide to Practical Estate Planning

Product Information
Frequency of Updates:




Annually

Brand:

Practitioners Publishing
Estate planning is more than just planning for transfer taxes. The recent changes will significantly impact the focus of estate planning. It's more important than ever to revisit your clients' existing estate plans to help them plan for their financial and personal needs after retirement, as well as evaluate and help them implement their goals for transferring their wealth. Estate planning involves both tax saving and nontax planning services.  PPC's Guide to Practical Estate Planning can help you develop practical solutions to wealth transfer challenges.
This Guide covers:
How to  decide between the portability election and bypass trusts
Elder care planning
Planning for incapacity
Beneficiary designations for qualified retirement plans and IRAs and life insurance policies
Creating family limited partnerships
Retirement plan distributions
Advantages of lifetime giving
Benefits of creating life insurance trusts
Charitable transfers
Advantages of creating lifetime trusts such as grantor retained annuity trusts, granter retained unitrusts, and qualified personal residence trusts.
Also included are numerous timesaving practice aids that show you what to look for when reviewing a will or trust instrument, how to perform a life insurance checkup, and how to determine the income tax consequences of property distributions from an estate.
List of Substantive Changes and Additions (April 2014)

View
---