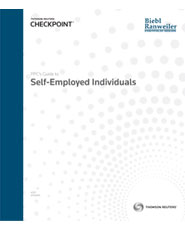 PPC's Guide to Self-Employed Individuals

Product Information
Frequency of Updates:




Annually

Brand:

Practitioners Publishing
PPC's Guide to Self Employed Individuals covers critical issues related to starting, operating, and selling a sole proprietorship.
This portfolio includes in-depth coverage of services you can offer to the growing number of self-employed and home-based workers.
The latest update of this edition includes the following new features:
Privileged Communications. Communications between clients and all federally authorized tax practitioners are privileged provided the communications relate to tax advice. The Guide has added a discussion of privileged communications including what is covered, how the privilege can be waived, responding to summons, and steps practitioners can take to ensure communication is privileged.
Consulting Services. Performing consulting services may impact a CPA's independence. The Guide includes expanded coverage of this topic, including discussion of the regulatory guidance affecting the independence standard.
Additional SE Tax. An additional 0.9% tax is imposed on SE income above certain thresholds beginning in 2013. The Guide includes a law change alert and guidance on this new tax.
Hobby Losses. The Tax Court frequently rules on hobby loss cases. The Guide includes a table of key factors present in various hobby loss decisions.
Transportation Costs. A flowchart for determining when transportation costs are deductible has been added to the Guide.
Self-Employed Individuals

Introductory Material

Chapter 1 A Model for Self-employed Individual Tax Planning

Chapter 2 Starting A Self-employment Activity

Chapter 3 Operating a Business from the Owner's Residence

Chapter 4 Compensating Family Members and Fringe Benefit Issues

Chapter 5 Retirement Plans for the Self-employed Individual

Chapter 6 Loss Limitations Affecting Self-employed Individuals

Chapter 7 Minimizing Self-employment Tax

Chapter 8 Disposing of a Proprietorship

Chapter 9 Marketing Self-employed Individual Tax Planning Services

INDEX

--A--

--B--

--C--

--D--

--E--

--F--

--G--

--H--

--I--

--K--

--M--

--O--

--P--

--Q--

--R--

--S--

--T--

--V--

--W--
List of Substantive Changes and Additions (June 2015)

View
---