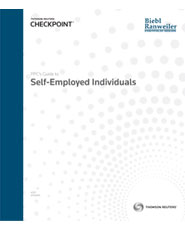 PPC's Guide to Self-Employed Individuals

Product Information
Frequency of Updates:




Annually

Brand:

Practitioners Publishing
PPC's Guide to Self-Employed Individuals covers critical issues related to starting, operating, and selling a sole proprietorship.
This portfolio includes in-depth coverage of services you can offer to the growing number of self-employed and home-based workers.
Topics include retirement plans for self-employed individuals, hobby loss limitations, compensation and fringe benefit issues, working from home issues, etc.
Self-Employed Individuals

Introductory Material

Chapter 1 A Model for Self-employed Individual Tax Planning

Chapter 2 Starting A Self-employment Activity

Chapter 3 Operating a Business from the Owner's Residence

Chapter 4 Compensating Family Members and Fringe Benefit Issues

Chapter 5 Retirement Plans for the Self-employed Individual

Chapter 6 Loss Limitations Affecting Self-employed Individuals

Chapter 7 Minimizing Self-employment Tax

Chapter 8 Disposing of a Proprietorship

Chapter 9 Marketing Self-employed Individual Tax Planning Services

INDEX

--A--

--B--

--C--

--D--

--E--

--F--

--G--

--H--

--I--

--K--

--M--

--O--

--P--

--Q--

--R--

--S--

--T--

--V--

--W--
---