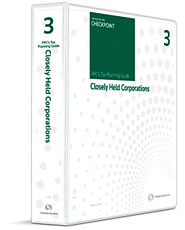 PPC's Guide to Tax Planning: Closely-Held Corporations

Product Information
Frequency of Updates:

Annually

Brand:

Practitioners Publishing
Based on the lifecycle of forming, operating, and disposing of a closely held corporation, PPC's Tax Planning Guide - Closely Held Corporations  addresses the issues that are encountered when responding to client questions or planning transactions, from forming and operating the corporation to planning a tax-favored reorganization or liquidation.
The 2013 edition of the Guide addresses the issues that are encountered when responding to client questions or planning and implementing tax saving strategies throughout a corporation's lifecycle. These include:  
Taking advantage of recent tax law changes, such as the extension of bonus depreciation and increased Section 179 expense limits.
Avoiding the new-for-2013 Medicare taxes on earned income and net investment income, as well as the increased tax rates for higher income individuals on ordinary income, capital gains, and qualified dividends.
Capitalizing newly formed corporations in the most tax advantageous manner, by qualifying stock for ordinary loss treatment as well as the 100% gain exclusion for qualified small business stock (QSBS).
Minimizing taxes from ongoing operations by deferring income, maximizing deductions, and claiming all available tax credits.
Removing income from the corporation (by compensation, bonuses, distributions, etc.) in the most tax efficient manner.
Providing tax-favored fringe benefits, deferred compensation plans, and qualified retirement plans to officers and employees.
Determining the best method for withdrawing shareholder equity from the corporation, or passing ownership on to the next generation.
Written and reviewed by experienced practitioners to provide the practical insights and tax planning tips that only years of practice can provide, the Guide has lots of examples, checklists, tables, worksheets and other tools to enable you and your staff to complete their work in a timely, consistent, and efficient manner. It also includes a Form 1120 roadmap that provides a quick and easy way to identify tax saving strategies for your clients.
PPC's Tax Planning Guide: Closely Held Corporations: List of Substantive Changes

View