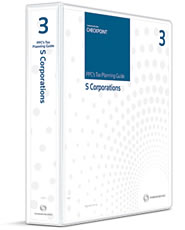 PPC's Guide to Tax Planning: S Corporations

Product Information
Frequency of Updates:

Annually

Brand:

Practitioners Publishing
PPC's Tax Planning for S Corporations explains the tax consequences of electing and maintaining S status, operating the S corporation, and terminating the S election. It covers other tax issues, too, such as reorganizing the corporation, maintaining a QSub subsidiary, redeeming S stock, or liquidating the S corporation.
The Guide also addresses owner issues, such as maximizing the shareholder's basis in stock and debt, making distributions in the most tax-efficient manner, and estate planning for S shareholders.
Since many of the issues encountered when responding to client questions or planning transactions go beyond the S corporation provisions of the Code (Subchapter S), the Guide addresses operational issues too, such as electing and maintaining a fiscal tax year, using the cash method of accounting, and passing through the Section 179 deduction, among others. The Guide also provides an entire chapter on fringe benefits, deferred compensation plans, and qualified retirement plans, with an emphasis on the special rules applicable to S corporations and 2% shareholders.
The word that defines the current federal tax planning landscape is uncertainty. The maximum ordinary income tax rate for individuals is scheduled to increase from 35% to 39.6% on January 1, 2013. On that same date, the maximum tax rate on long-term capital gains will increase from 15% to 20%, and the maximum tax rate for qualified dividends will increase from 15% to the top ordinary income tax rate - scheduled to be 39.6%. Beginning on January 1, 2013, the employee portion of the Medicare tax increases by 0.9% on wages in excess of $200,000 ($250,000 for married couples filing jointly and $125,000 for married filing separately), and individuals with modified adjusted gross income over $200,000 ($250,000 for married filing joint or a surviving spouse and $125,000 for married filing separately) must pay a 3.8% Medicare tax on their net investment income. However, Congress may revise some or all of the scheduled post-2012 tax rate changes.
The 2012 edition includes discussion and new tables that compare the 2012 and 2013 tax rates and list the expiring provisions that originated with the Bush tax cuts. You can use these practice aids to engage your clients in proactive tax planning to take advantage of the low 2012 tax rates before they expire. (For example, shareholders of corporations with significant AE&P may want to clear out the AE&P now, while a maximum 15% tax rate on dividends apples. Doing so will eliminate future dividends as well as the risk of terminating the S election from having passive investment income in excess of 25% of gross receipts for three consecutive years.) Additional discussion, examples, and planning pointers have been included to illustrate how the employee portion of the Medicare tax rate increase and the new Medicare surtax affect S corporation shareholders and S corporation planning strategies.
There are other reasons, besides the scheduled increase in income tax rates, to take action in 2012. The inflation-adjusted $5.12 million applicable exclusion amount for estate and gift tax purposes, which is scheduled to fall to $1 million next year, provides a unique giving opportunity for shareholders who want to pass stock on to younger family members. And S corporations that are planning on buying machinery or other personal property in the near future will want to take advantage of the inflation adjusted $139,000 Section 179 deduction limit for tax years beginning in 2012, which is scheduled to fall to $25,000 next year, as well as bonus deprecation (50% in 2012), which will go away completely.
The 2012 edition also covers the new tangible property temporary regulations. These regulations will change the method of accounting for materials and supplies, repairs of real tangible property and related dispositions of property affected by the repairs. To help you and your clients prepare for these changes, an extended discussion was added regarding the substantive regulatory changes involving the tax treatment of costs to acquire, produce or improve tangible or real property and opportunities to immediately expense, rather than capitalize, costs qualifying as materials and supplies, rotable and temporary small parts, and repair expenses.
The chapters are written and updated by experienced practitioners, with the concepts illustrated by hundreds of real-life examples. The Guide also includes checklists, worksheets, elections, and other practice aids to promote an efficient and knowledgeable approach to handling transactions that clients are contemplating or have completed.
And to help you and your staff transition from tax compliance to tax planning, the Guide includes a tax planning roadmap. By reviewing a client's (or potential client's) Form 1120S or Schedule K-1, you can identify potential planning strategies that can be used as a starting point for further discussions with the client.
Tax planning can solidify your relationship with your clients and save them thousands of dollars. Now in its 26th edition, PPC's Tax Planning Guide - S Corporations is the one resource you need to efficiently and effectively provide tax planning services to your S corporation clients and their shareholders throughout the year.