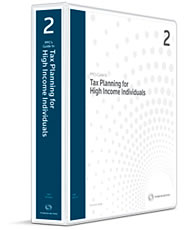 PPC's Guide to Tax Planning for High-Income Individuals

Product Information
Frequency of Updates:

Annually

Brand:

Practitioners Publishing
Beginning in 2013, provisions of the American Taxpayer Relief Act of 2012 (2012 Taxpayer Relief Act) and Affordable Care Act can adversely impact high-income taxpayers. First, the 2012 Taxpayer Relief Act significantly increases tax rates, phases out personal exemptions, and reduces certain itemized deductions. Next, the Affordable Care Act imposes two totally new tax regimes on high-income individuals.
PPC's Guide to Tax Planning for High Income Individuals contains the detailed strategies you need to help clients minimize the impact of the new 39.6% ordinary income and 20% capital gains rates. In addition, the Guide explains the 3.8% net investment income tax and additional 0.9% Medicare tax and includes the strategies necessary to limit your client's exposure to these new taxes.
This Guide contains numerous planning ideas to mitigate the impact of higher tax rates, new taxes, and limited deductions for your clients. Strategies that can be as simple as changing an investment portfolio mix, employing family members, harvesting investment losses, and bunching deductions; or as complex as a like-kind exchange, real estate activities grouping, or business ownership structure change.
Some of the many topics discussed in the Guide include:
The new 20% capital gains tax rate and new 39.6% tax rate on ordinary income for individual taxpayers including strategies to minimize their effect.
The new 3.8% net investment income tax with guidance, examples, and strategies to deal with this entirely new tax regime.
The additional 0.9% Medicare tax on earned income including examples and a client letter discussing this new tax.
Favorable tax provisions reinstated or extended by the 2012 Taxpayer Relief Act.
New home office safe harbor.
Enhanced in-plan Roth IRA provisions.
Recent guidance in the area of restricted stock and risk of forfeiture.
And many more.
PPC's Guide to Tax Planning for High Income Individuals: List of Substantive Changes

View