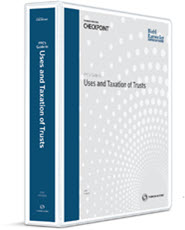 PPC's Guide to Uses and Taxation of Trusts

Product Information
Frequency of Updates:

Annually

Brand:

Practitioners Publishing
PPC's Guide to Uses and Taxations of Trusts equips you to navigate fiduciary accounting rules and gain comprehensive understanding of when, why, and how to use commonly encountered trusts (including GRATs, GRUTs, QPRTs, split interest charitable trusts, and life insurance trusts). Summarizes trust income taxation reporting and filing requirements, as well as estate planning and asset protection techniques.
The 2012 edition features the following information:
Planning in 2012 When the Future Estate and Gift Tax Is Uncertain.  Because the current law is scheduled to change significantly, with a much lower applicable exclusion amount and no opportunity for portability (the transfer of the deceased spouse's unused exclusion amount to the surviving spouse), planning in 2012 is particularly challenging. Included throughout this update are various planning tips and other considerations for 2012.
Decanting of Assets from One Trust to Another.  Some states allow the trustee to distribute all of a trust's assets into another irrevocable trust with slightly different provisions to correct drafting errors or changes in tax law without a court reformation. This allows flexibility, especially when circumstances change and the trust instrument no longer follows the grantor's intent. The IRS is studying decanting transactions for income, estate, and gift tax consequences and will not issue private letter rulings until the study is complete. This edition discusses the decanting opportunities in certain states and the IRS's study of these transactions.
Irrevocable Income Only Trust (IIOT).  This type of trust, which is gaining popularity, qualifies for Medicaid eligibility when long-term nursing care is anticipated. However, it should not be used if the grantor is likely to need trust assets for his or her living expenses. In addition, some states may require Medicaid reimbursement at the grantor's death. This edition discusses how these trusts can be used to provide for items and services to the grantor to supplement Medicaid.