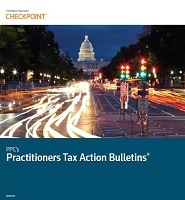 PPC's Practitioners Tax Action Bulletins

Product Information
Frequency of Updates:




Twice a month

Brand:

Practitioners Publishing
PPC's Practitioners Tax Action Bulletins goes beyond a traditional newsletter to provide you with practical, action-oriented guidance. It doesn't just report the tax news - it tells you what it means for you and your clients and what you need to do about it.
With PPC's Practitioners Tax Action Bulletins you will:
Save time. We sift through hundreds of news items and consult with leading experts to identify topics you really need to know about. You'll get a quick-read summary of current developments, plus detailed, in-depth practical guidance when needed. We'll tell you which clients are affected and what they need to do about it, and give you the tools you need to do it with.
Increase profitability. PTAB's action-oriented guidance helps to generate more business by not only telling you what has changed in the federal tax world but also explaining how the changes impact your clients and your practice.
Reduce stress and uncertainties. PTAB is written and reviewed by experienced tax practitioners who get to the bottom of what you need to know and what other practitioners are doing.
Let clients know you're watching out for them. When something happens that clients need to know about, you'll get a sample letter to send them. Plus, each annual subscription includes a mid-year and end of year planning letter, and a client survey. Better yet, you can download these letters as Word documents ready to use in your practice.
Work more efficiently. PTAB includes handy summary tables and checklists to save time on engagements. Plus, with Checkpoint delivery, you can instantly link to cited source materials (if included in another subscription) and search PTAB with other Checkpoint publications you own.
Ensure a quality work product. In addition to covering the latest changes in the tax rules, you'll get annual return preparation checklists. You'll also receive help with hard to understand tax issues and traps for the unwary.
Take advantage of our extensive archive of back issues. Checkpoint's powerful search capabilities put every issue back to January 1, 2007 right at your fingertips.
PPC's Practitioners Tax Action Bulletins

2017

May 23, 2017—No. 2017-10

May 9, 2017—No. 2017-09

April 25, 2017—No. 2017-08

April 25, 2017—No. 2017-07

April 4, 2017—No. 2017-07

March 21, 2017—No. 2017-06

March 7, 2017—No. 2017-05

February 21, 2017—No. 2017-04

February 17, 2017—No. 2017-03

February 7, 2017—No. 2017-03

January 24, 2017—No. 2017-02

January 10, 2017—No. 2017-01

2016

December 20, 2016—No. 2016-24

December 6, 2016—No. 2016-23

November 22, 2016—No. 2016-22

November 8, 2016—No. 2016-21

October 25, 2016—No. 2016-20

October 11, 2016—No. 2016-19

September 27, 2016—No. 2016-18

September 6, 2016—No. 2016-17

August 23, 2016—No. 2016-16

August 9, 2016—No. 2016-15

July 26, 2016—No. 2016-14

July 5, 2016—No. 2016-13

June 21, 2016—No. 2016-12

June 7, 2016—No. 2016-11

May 24, 2016—No. 2016-10

May 10, 2016—No. 2016-9

May 10, 2016—No. 2016-09

April 26, 2016—No. 2016-08

April 12, 2016—No. 2016-07

March 29, 2016—No. 2016-06

March 8, 2016—No. 2016-05

February 23, 2016—No. 2016-04

February 9, 2016—No. 2016-03

January 26, 2016—No. 2016-02

January 12, 2016—No. 2016-01

2015

December 22, 2015—No. 2015-24

December 8, 2015—No. 2015-23

November 24, 2015—No. 2015-22

November 10, 2015—No. 2015-21

October 27, 2015—No. 2015-20

October 13, 2015—No. 2015-19

September 29, 2015—No. 2015-18

September 8, 2015—No. 2015-17

August 25, 2015—No. 2015-16

August 11, 2015—No. 2015-15

July 28, 2015—No. 2015-14

July 14, 2015—No. 2015-13

June 23, 2015—No. 2015-12

June 9, 2015—No. 2015-11

May 26, 2015—No. 2015-10

May 12, 2015—No. 2015-09

April 28, 2015—No. 2015-08

April 7, 2015—No. 2015-07

March 24, 2015—No. 2015-06

March 10, 2015—No. 2015-05

February 24, 2015—No. 2015-04

February 10, 2015—No. 2015-03

January 27, 2015—No. 2015-02

January 13, 2015—No. 2015-01

CPE

2014

December 23, 2014—No. 2014-24

December 9, 2014—No. 2014-23

November 25, 2014—No. 2014-22

November 4, 2014—No. 2014-21

October 21, 2014—No. 2014-20

October 7, 2014—No. 2014-19

September 23, 2014—No. 2014-18

September 9, 2014—No. 2014-17

August 26, 2014—No. 2014-16

August 12, 2014—No. 2014-15

July 29, 2014—No. 2014-14

July 15, 2014—No. 2014-13

June 24, 2014—No. 2014-12

June 10, 2014—No. 2014-11

May 27, 2014—No. 2014-10

May 13, 2014—No. 2014-09

April 30, 2014—No. 2014-08

April 8, 2014—No. 2014-07

March 26, 2014—No. 2014-06

March 11, 2014—No. 2014-05

February 25, 2014—No. 2014-04

February 11, 2014—No. 2014-03

January 28, 2014—No. 2014-02

January 14, 2014—No. 2014-01

CPE

2013

December 24, 2013—No. 2013-24

December 10, 2013—No. 2013-23

November 26, 2013—No. 2013-22

November 6, 2013—No. 2013-21

October 24, 2013—No. 2013-20

October 9, 2013—No. 2013-19

September 25, 2013—No. 2013-18

September 11, 2013—No. 2013-17

August 27, 2013—No. 2013-16

August 13, 2013—No. 2013-15

July 31, 2013—No. 2013-14

July 16, 2013—No. 2013-13

June 26, 2013—No. 2013-12

June 12, 2013—No. 2013-11

May 29, 2013—No. 2013-10

May 15, 2013—No. 2013-09

April 24, 2013—No. 2013-08

April 10, 2013—No. 2013-07

March 27, 2013—No. 2013-06

March 13, 2013—No. 2013-05

February 27, 2013—No. 2013-04

February 13, 2013—No. 2013-03

January 23, 2013—No. 2013-02

January 9, 2013—No. 2013-01

CPE

2012

December 19, 2012—No. 2012-24

December 5, 2012—No. 2012-23

November 21, 2012—No. 2012-22

November 8, 2012—No. 2012-21

October 25, 2012—No. 2012-20

October 10, 2012—No. 2012-19

September 26, 2012—No. 2012-18

September 12, 2012—No. 2012-17

August 30, 2012—No. 2012-16

August 15, 2012—No. 2012-15

July 31, 2012—No. 2012-14

July 18, 2012—No. 2012-13

June 27, 2012—No. 2012-12

June 13, 2012—No. 2012-11

May 31, 2012—No. 2012-10

May 16, 2012—No. 2012-09

April 25, 2012—No. 2012-08

April 11, 2012—No. 2012-07

March 28, 2012—No. 2012-06

March 7, 2012—No. 2012-05

February 23, 2012—No. 2012-04

February 8, 2012—No. 2012-03

January 18, 2012—No. 2012-02

January 4, 2012—No. 2012-01

CPE

2011

December 14, 2011—No. 2011-24

December 7, 2011—No. 2011-23

November 23, 2011—No. 2011-22

November 2, 2011—No. 2011-21

October 20, 2011—No. 2011-20

October 5, 2011—No. 2011-19

September 21, 2011—No. 2011-18

September 7, 2011—No. 2011-17

August 25, 2011—No. 2011-16

August 10, 2011—No. 2011-15

July 27, 2011—No. 2011-14

July 13, 2011—No. 2011-13

June 29, 2011—No. 2011-12

June 7, 2011—No. 2011-11

May 24, 2011—No. 2011-10

May 11, 2011—No. 2011-09

April 26, 2011—No. 2011-08

April 13, 2011—No. 2011-07

March 30, 2011—No. 2011-06

March 9, 2011—No. 2011-05

February 23, 2011—No. 2011-04

February 9, 2011—No. 2011-03

January 19, 2011—No. 2011-02

January 3, 2011—No. 2011-01

CPE

2010

December 14, 2010—No. 2010-24

December 8, 2010—No. 2010-23

November 23, 2010—No. 2010-22

November 10, 2010—No. 2010-21

October 27, 2010—No. 2010-20

October 6, 2010—No. 2010-19

September 22, 2010—No. 2010-18

September 8, 2010—No. 2010-17

August 25, 2010—No. 2010-16

August 11, 2010—No. 2010-15

July 28, 2010—No. 2010-14

July 14, 2010—No. 2010-13

June 23, 2010—No. 2010-12

June 2, 2010—No. 2010-11

May 19, 2010—No. 2010-10

May 5, 2010—No. 2010-09

April 21, 2010—No. 2010-08

April 7, 2010—No. 2010-07

March 16, 2010—No. 2010-06

March 5, 2010—No. 2010-05

February 17, 2010—No. 2010-04

February 2, 2010—No. 2010-03

January 20, 2010—No. 2010-02

January 1, 2010—No. 2010-01

CPE

2009

December 16, 2009—No. 2009-24

December 9, 2009—No. 2009-23

November 25, 2009—No. 2009-22

November 11, 2009—No. 2009-21

October 28, 2009—No. 2009-20

October 14, 2009—No. 2009-19

September 30, 2009—No. 2009-18

September 15, 2009—No. 2009-17

August 26, 2009—No. 2009-16

August 12, 2009—No. 2009-15

July 29, 2009—No. 2009-14

July 15, 2009—No. 2009-13

June 24, 2009—No. 2009-12

June 3, 2009—No. 2009-11

May 20, 2009—No. 2009-10

May 6, 2009—No. 2009-09

April 22, 2009—No. 2009-08

April 8, 2009—No. 2009-07

March 25, 2009—No. 2009-06

March 4, 2009—No. 2009-05

February 19, 2009—No. 2009-04

February 4, 2009—No. 2009-03

January 21, 2009—No. 2009-02

January 2, 2009—No. 2009-01

CPE

2008

December 17, 2008—No. 2008-24

December 10, 2008—No. 2008-23

November 19, 2008—No. 2008-22

November 6, 2008—No. 2008-21

October 22, 2008—No. 2008-20

October 7, 2008—No. 2008-19

September 24, 2008—No. 2008-18

September 10, 2008—No. 2008-17

August 28, 2008—No. 2008-16

August 13, 2008—No. 2008-15

July 31, 2008—No. 2008-14

July 17, 2008—No. 2008-13

June 26, 2008—No. 2008-12

June 4, 2008—No. 2008-11

May 22, 2008—No. 2008-10

May 8, 2008—No. 2008-09

April 24, 2008—No. 2008-08

April 10, 2008—No. 2008-07

March 26, 2008—No. 2008-06

March 6, 2008—No. 2008-05

February 21, 2008—No. 2008-04

February 7, 2008—No. 2008-03

January 17, 2008—No. 2008-02

January 2, 2008—No. 2008-01

CPE

2007

December 17, 2007—No. 2007-24

December 13, 2007—No. 2007-23

November 20, 2007—No. 2007-22

November 8, 2007—No. 2007-21

October 25, 2007—No. 2007-20

October 11, 2007—No. 2007-19

September 26, 2007—No. 2007-18

September 11, 2007—No. 2007-17

August 30, 2007—No. 2007-16

August 16, 2007—No. 2007-15

July 26, 2007—No. 2007-14

July 12, 2007—No. 2007-13

June 27, 2007—No. 2007-12

June 5, 2007—No. 2007-11

May 23, 2007—No. 2007-10

May 8, 2007—No. 2007-09

April 25, 2007—No. 2007-08

April 10, 2007—No. 2007-07

March 27, 2007—No. 2007-06

March 6, 2007—No. 2007-05

February 20, 2007—No. 2007-04

February 6, 2007—No. 2007-03

January 16, 2007—No. 2007-02

January 2, 2007—No. 2007-01

CPE
---