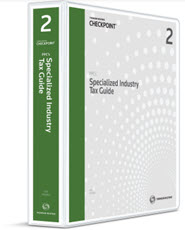 PPC's Specialized Industry Tax Guide

Product Information
Frequency of Updates:

Annually

Brand:

Practitioners Publishing
PPC's Specialized Industry Tax Guide provides an economical way to obtain the detailed information you need on the unique and varied tax planning and compliance issues facing many of the industries and professions found in your client base, including the oil and gas industry.
The Guide provides clear explanation, analysis, and advice that can be used to identify appropriate filing positions and tax saving opportunities for clients who are attorneys, physicians, dentists, architects, veterinarians, ministers, consultants, restaurants and bars, farmers and ranchers, used car dealers, small manufacturers, athletes, entertainers, home builders and contractors, real estate owners and operators, investors, traders, dealers, retail stores, nonprofits, and oil and gas operators. The Guide also covers the impact of the IRS's Market Segment Specialization Program (MSSP) on these taxpayers.
Included in the Guide are time-saving tools such as worksheets, checklists, and flowcharts that help a practitioner in addressing the tax issues facing their clients in a timely and cost efficient manner. The Guide also contains numerous examples that make it easier to understand many of the concepts covered.
The current edition has been updated for the key issues listed below in addition to numerous other topics of current interest.
Deducting vs. Capitalizing Tangible Property Expenses. The 2012 edition includes coverage of the extensive set of temporary regulations issued by the IRS on the treatment of amounts paid to acquire, produce or improve tangible property. The temporary regulations include guidance on whether expenditures qualify as currently deductible repairs or must be capitalized as improvements. They generally are effective for expenditures made on or after January 1, 2012.
Expired and Expiring Tax Provisions. The Guide includes Notes and Cautions alerting practitioners to tax provisions that have expired or that are set to expire, including those impacting leasehold improvements, bonus depreciation, certain credits, increased recovery periods for depreciable assets, reduced Section 179 deductions, and potential increased capital gain and dividend rates (in 2013).
Recurring Item Exception. New IRS guidance (1) prevents the use of the recurring item exception for leases of income-producing property when the lease extends over two calendar years, and (2) clarifies when service and warranty contracts are eligible for the recurring item exception.
Deducting Bonuses Paid after December 31. This edition has a discussion on recently issued guidance clarifying that an accrual-method employer can accrue and deduct bonuses in the year before the bonuses are paid, even if the exact amount to be paid to each employee is not known at the time of the accrual.
Worker Classification. Certain employers that have misclassified workers as independent contractors may be eligible to participate in a new IRS program that allows the employer to pay only a portion of prior-year employment taxes that would otherwise be due. Details of the Voluntary Classification Settlement Program (VCSP) are included in the current edition.
New Medicare Taxes Beginning in 2013. Under 2010 health care legislation, a new 3.8% Medicare contribution tax on net investment income will take effect beginning in 2013. The Guide has added a discussion of the tax on net investment income with strategies to minimize its impact on taxpayers.
PPC's Specialized Industry Tax Guide: List of Substantive Changes

View