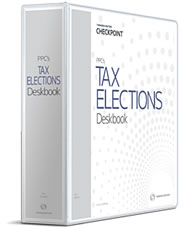 PPC's Tax Elections Deskbook

Product Information
Frequency of Updates:

Annually with one Supplement (as needed)

Brand:

Practitioners Publishing
PPC's Tax Elections Deskbook shows you and your staff exactly how and when to make more than 300 income, estate, and payroll tax elections. In addition to elections for individuals, businesses, estates, and trusts, it covers elections for specific industries, including oil and gas and farming.
The Deskbook provides fill-in-the-blank sample elections that ensure the elections you and your staff prepare meet all of the technical requirements without having to wade through the Code, regulations, and IRS pronouncements. It also shows you how to obtain relief for late or missed elections.
The Deskbook also contains guidance and samples for preparing information statements to help you quickly meet the reporting rules for many common transactions.
The current edition contains numerous new and updated elections necessitated by recent legislation including an election to:?
Consent to electronic delivery of Schedule K-1. 
Accrue interest on U.S. savings bonds upon an owner's death. 
Suspend the running of the ownership and use period for the gain exclusion rules on the sale of a residence. 
Treat real property income as income connected with U.S. business. 
Claim a credit instead of a deduction for repayments related to a claim of right adjustment.
PPC's Tax Elections Deskbook: List of Substantive Changes

View