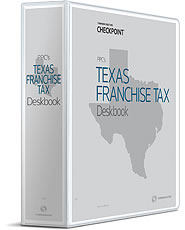 PPC's Texas Franchise Tax Deskbook

Product Information
Frequency of Updates:

Annually

Brand:

Practitioners Publishing
Everything you need to file Texas franchise (margin) tax returns and devise tax planning strategies throughout the year!
Here's a sample of the topics covered in this edition:
Filing Requirements, Due Dates, and Extensions: Covers all filing and payment requirements, including the new taxpayer-friendly interpretation of the total revenue threshold for filing a no tax due information report.
Tax Rates and Discounts: Explains the margin tax formula, including the simplified EZ tax computation method; tax rates, including the lower rate for retailers and wholesalers; and available discounts.
Taxable, Nontaxable, and Passive Entities: Answers the questions about who's taxable and who's not.
Combined Reporting: Covers this revolutionary new-for-Texas concept.
Revenue and Apportionment: The franchise tax ties revenues directly to the taxable entity's federal tax return. Five new sample filled-in worksheets for various types of entities illustrate how to transfer the numbers from the entity's federal tax return to its Texas franchise tax report.
Cost of Goods Sold and Compensation Deductions: Explains what's deductible and what's not.
Special Status Entities: A chapter devoted to special status entities and the special treatment they receive.
Allowable Deductions, Credits, and Refunds: Discusses the temporary credit and the tax credits that continue to carry over to 2009.
Accounting Methods and Periods: Also includes a discussion of the implications of the "frozen" Internal Revenue Code as defined for franchise tax purposes and its reporting implications and FIN 48-related issues.
Dealing Effectively with the Comptroller: Discusses handling franchise tax audits, refund claims, and more.
Tax Planning: A chapter devoted to tax planning for the franchise tax provides a round-up of tax planning ideas that can serve as either the basis for development of a similar planning opportunity for the taxpayer, or as a starting point for taxpayers and their representatives to develop their own individualized tax planning strategies.