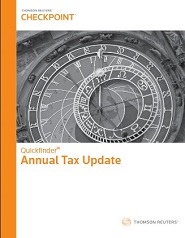 Quickfinder Annual Tax Update 2017
Product Information
The 2017 tax year editions will be available in January 2018. Pre-order your edition today.

Brand:

Quickfinder
The Quickfinder Annual Tax Update covers significant tax developments that occurred during the calendar year, making it easy to stay abreast of changes affecting your clients. It's a single go to resource that covers relevant new tax legislation, court cases, tax regulations and IRS pronouncements affecting individuals and small businesses.
This guide also includes an explanation of the tax development, as well as illustrative examples and practical insights needed to understand its impact. You'll also get handy reference tables and charts to help you quickly locate answers and respond to client questions.
Whether you are preparing for busy season, getting up to speed on new tax rules, or simply looking for a new rate or amount, the Quickfinder Annual Tax Update will save you valuable time and provide accurate answers.
See information above for new edition availability. To order the current or prior tax year editions, please call us at 800-510-8997.
---