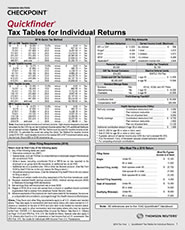 Quickfinder Tax Tables for Individual Returns
Product Information
The 2017 tax year editions will be available in December 2017. Pre-order your editions today.

Brand:

Quickfinder
Quickfinder Tax Tables for Individual Returns is a durable, laminated fold-out resource that provides the Quickfinder tables and charts you use most often in an easy-to-use reference format. This tool allows you to quickly answer client questions without searching through multiple pages. You'll always keep important tax facts and figures at your fingertips with the Quickfinder Tax Tables.
Quickfinder Tax Tables for Individual Returns includes these often-needed tables, and more:
Key current year tax amounts
Quick tax method
Filing requirements
Various tables related to children and other dependents
Summary of IRA rules
Chart of education tax incentives
AGI-phase-out amounts and ranges
Key tax amounts for next year
Quickfinder Tax Tables are easy to take with you wherever you go, so you'll never be without the key tax information at your fingertips.
See information above for new edition availability. To order the current or prior tax year editions, please call us at 800-510-8997
Individual Returns Tax Tables Quickfinder 2016

Individual Returns Tax Tables Quickfinder 2016

Children and Other Dependents
---