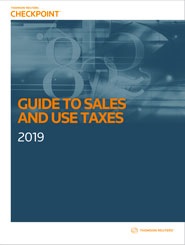 RIA Guide to Sales and Use Taxes (2015 Edition)

Product Information
Frequency of Updates:

Annually

Brand:

Research Institute of America
The 2015 print edition will be available in December 2014. You can pre-order your edition today.
For times when you need a quick look-up rather than comprehensive research, or when you need an answer for a new state, RIA's Guide to Sales & Use Taxes provides state-by-state summaries of sales and use taxes. The Guide uses a uniform format for easy access to information on liability, exemptions, basis, rates, returns, payments, refunds, and other important issues, including:
Overview of sales and use tax concepts
State by state summaries of who, what, and when

Who collects or pays the tax
What's taxable
When is the payment due

Rules for out-of-state sellers
Requirements for exemption certificates
Vendor licensing and registration
Penalties and interest
This Guide is an essential resource for any state tax professional with clients who sell in multiple states (published annually in print).