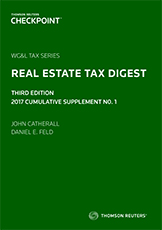 Real Estate Tax Digest

Introducing the reference of recent cases and rulings in the real estate field! You get concise, easy-to-use abstracts to help you research complex cases and rulings!
Real Estate Tax Digest, Third Edition offers you a collection of the most recent cases and rulings in the real estate taxation field in one handy volume. Each case digest gives you a concise factual summary, including the name, volume, and page number where the full text of the decisions and rulings are printed, along with the court and the year the case was decided. In addition, the holding and reasoning of the court, or the IRS's position as stated in Revenue Rulings and Procedures and Private Letter Rulings, are available.
Real Estate Tax Digest is organized by topic, helping you locate the information you need quickly and easily. Cross references to related cases and rulings digested elsewhere in the volume save you even more research time.
The Digest provides a Table of Contents that lists each topic heading and its page number in the text. In addition, each chapter starts with a synopsis listing the sections of that chapter.
Finding aids at the end of the book include:
Table of Contents
Table of Internal Revenue Code (IRC) Sections
Table of Treasury Regulations
Table of Revenue Rulings, Revenue Procedures, and Other IRS Rulings
Table of Cases
Index 
---