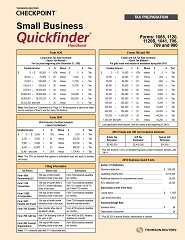 Small Business Quickfinder Handbook
Product Information
The 2017 tax year editions will be available in December 2017. Pre-order your editions today.

Brand:

Quickfinder
The Small Business Quickfinder Handbook is your trusted source for quick reference to tax principles that apply when preparing business and fiduciary income, estate and gift, tax-exempt organization, and payroll tax returns. It covers the essentials of preparing these tax filings, including detailed, true-to-life examples with filled-in forms and line-by-line explanations, and thoroughly addresses tax law changes and IRS developments, all in a concise, easy-to-use format.
From start-up to termination issues, and everything in between - including employee benefits, accounting methods and principles, deductions, credits, and tax planning - this Handbook is a unique, one-stop solution for your many tax questions.
Here's what you'll get with this useful tool:
Material that's organized in a unique tab structure based on the IRS tax forms and schedules
Loads of quick reference tables and charts to get you the answers you're looking for quickly
Examples throughout to illustrate how the tax rules apply and how to report items on the return
A What's New tab that summarizes significant current-year tax changes that are addressed throughout the Handbook, so you can quickly get up to speed on what's changed
References throughout the Handbook to relevant Internal Revenue Code sections, IRS regulations and rulings, and court cases so you can dig deeper into a subject if needed
See information above for new edition availability. To order the current or prior tax year editions, please call us at 800-510-8997.
Small Business Quickfinder Handbook 2015

Small Business Quickfinder Handbook

Tab A—Reference Materials and Worksheets

Tab B—Partnerships

Partnership Income and Expenses

Partnership Distributions

Tab C—Corporations

Section 1244 Stock Losses

Earnings and Profits (E&P)

Corporate Income and Expenses

Losses and Miscellaneous Items

Tab D—S Corporations

Tab E—Tax-Exempt Organizations

Basics of Tax-Exempt Organizations

Becoming an Exempt Organization

Form 990, 990-EZ or 990-N

Contributions to Tax-Exempt Organizations

Unrelated Business Income Tax (Form 990-T)

Tab F—Other Business Entities

Limited Liability Company (LLC)

LLCs and Entity Classification

LLC Creation and Conversions

LLCs—Other Considerations

Limited Liability Partnership (LLP)

Personal Service Corporation (PSC)

Personal Holding Company (PHC)

Tab G—Fiduciary Tax Returns (Form 1041)

Overview of Income Taxation of Trusts and Estates

Simple Trust—Detailed Example

Complex Trust—Detailed Example

Tab H—Estate and Gift Tax Returns

Taxable Income in the Year of Death

Gift Tax Return (Form 709)

Estate Tax Return (Form 706)

Comprehensive Example—Portability Election

Tab I—Payroll Tax Returns

Payroll Tax Deposit Requirements

Withholding Methods and Examples

Trust Fund Recovery Penalty

Tab J—Depreciation and Amortization

Recapture—Section 179 and Listed Property

General Asset Account (GAA) Depreciation

Tab K—Employee Benefit Plans

Basics of Employee Benefits

Health Insurance Benefits

Disability Insurance Benefits

Nonqualified Deferred-Compensation Plans

Qualified Retirement Plans

Other Employer Retirement Plans

Tab L—Accounting Methods and Principles

Uniform Capitalization Rules

Tab M—Starting a New Business

Pre-Incorporation/LLC/Partnership Agreements

Organizational and Start-Up Costs

Identifying Start-Up Costs Capitalization

Selling to U.S. Government

Buy/Sell Agreements and Succession Planning

Business Valuation Methods

Tab N—Acquisitions, Dispositions and Liquidations

Sales and Exchanges of Pass-Through Business Entity Interests

Corporate Reorganizations

Tab O—Deductions, Credits and Books vs. Tax

U.S. Production Deduction

Selected Energy Tax Incentives for Businesses

Net Income per Books vs.Taxable Income

Tab P—Tax Planning for the Small Business

Home Office for the Small Business

S Corporation vs. C Corporation

Adjustment to Basis of Partnership Property—Section 754 Election

TAB Q—What's New

Affordable Care Act— New for 2015

Back Cover
---