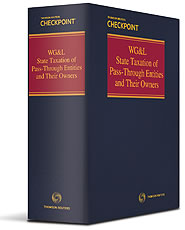 State Taxation of Pass-Through Entities and Their Owners

Product Information
Frequency of Updates:




2 times/year

Brand:

WGL
State Taxation of Pass-Through Entities and Their Owners provides practical guidance on the myriad state tax issues that uniquely affect pass-through entities operating in two or more states, and their owners.
This publication is the first to provide both an in-depth, state-by-state discussion of the manner in which each jurisdiction specifically addresses topics facing pass-through entities and their owners, and specific citations that enable tax professional to analyze the context of authority upon which conclusions are based.
State Taxation of Pass-Through Entities and Their Owners is divided into three parts:
State Income and Franchise Tax Filing Requirements and Issues
Unique State Income Tax Issues for S Corporations
State Sales and Use Tax Issues
Specific topics covered within these sections include:
Conformity to the federal check-the-box regulations
State income/franchise filing requirements for pass-through entities and their owners, including income tax withholding
The submission of nonresident income tax agreements
The availability of composite returns
Pass-through entity-level taxes - a rapidly changing area of state law
And much more
This treatise focuses on the treatment of common pass-through entities, such as general and limited partnerships, LLCs, including disregarded single-member LLCs, and S corporations, including qualified subchapter S subsidiaries (QSubs).
Also includes an appendix of 17 tables providing state-by-state summaries, with authority, of conclusions reached in the treatise to enable tax professionals to quickly compare the manner in which various jurisdictions address these issues.
Checkpoint State and Local Tax Brochure

View
---