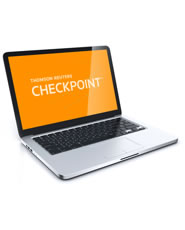 State and Local Tax Reporters: All States and D.C.

Product Information
Frequency of Updates:




Weekly

Brand:

Research Institute of America
Cut through the maze of state and local taxes with the speed and ease of Checkpoint.
State & Local gives you more state and local tax information than any other research service. It reports the full text of state tax statutes, regulations, cases, rulings, and other official material for all 51 jurisdictions. Our editorial materials offer concise explanations and annotations, with seamless linking to supporting documents.
Comprehensive coverage of each state includes:
Tax Rates and Reporting Calendars
Corporate Income
Franchise/Capital Stock
Financial Institution
Sales and Use
Personal Income
Limited Liability Companies/Partnerships
Property
Estate, Inheritance and Gift
License and Business Occupation
Fuel and Mineral
Insurance/Gross Premiums
Public Utilities
Special Local Taxes
General Administrative Provisions
Recordation
Excise and Other Taxes
Features include:
State & Local Taxes Weekly Newsletter provides a weekly recap of major developments affecting all 50 states (including daily preview)
List of Approved Laws summarizes the latest legislation in all 51 jurisdictions
StateNet® provides full text of pending and approved legislation, status of pending legislation and legislative calendars
Legislative Highlights provides summary explanation of new legislation
Also includes:
RIA's unique State Search Wizard -- provides easy access to full text of laws and regulations. Explanations and annotations are categorized by type of tax for logical retrieval
CompareIt allows you to link from a tax concept in one state to the same concept in another state -- all with the click of a button
Uniform paragraph numbering system allows you to search across multiple jurisdictions by using the paragraph number in quotes as the keyword
Extensive cross-referencing and linking-ready access to explanations, annotations and source materials
---